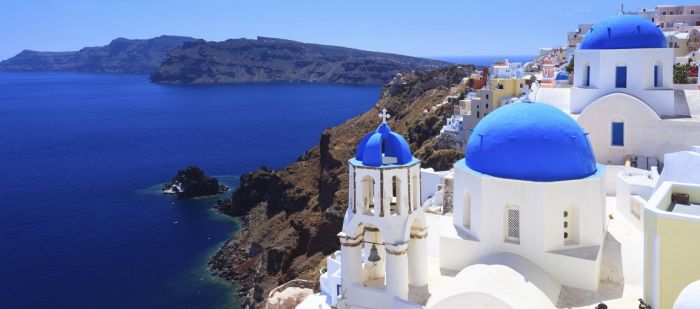 Photo Credit: Santorini Holidays
Year after year, the Greek Isles continue to top the list for sun-seeking jetsetters full of wanderlust and plenty of cash. Fortunately for last-minute travelers, the low season offers affordable lodging, thinner crowds and mild weather. October through May are the best times to visit Greece in the off season because shops, restaurants and hotels are open, ferry service is plentiful and it is not as chilly or wet as during the winter and early spring months.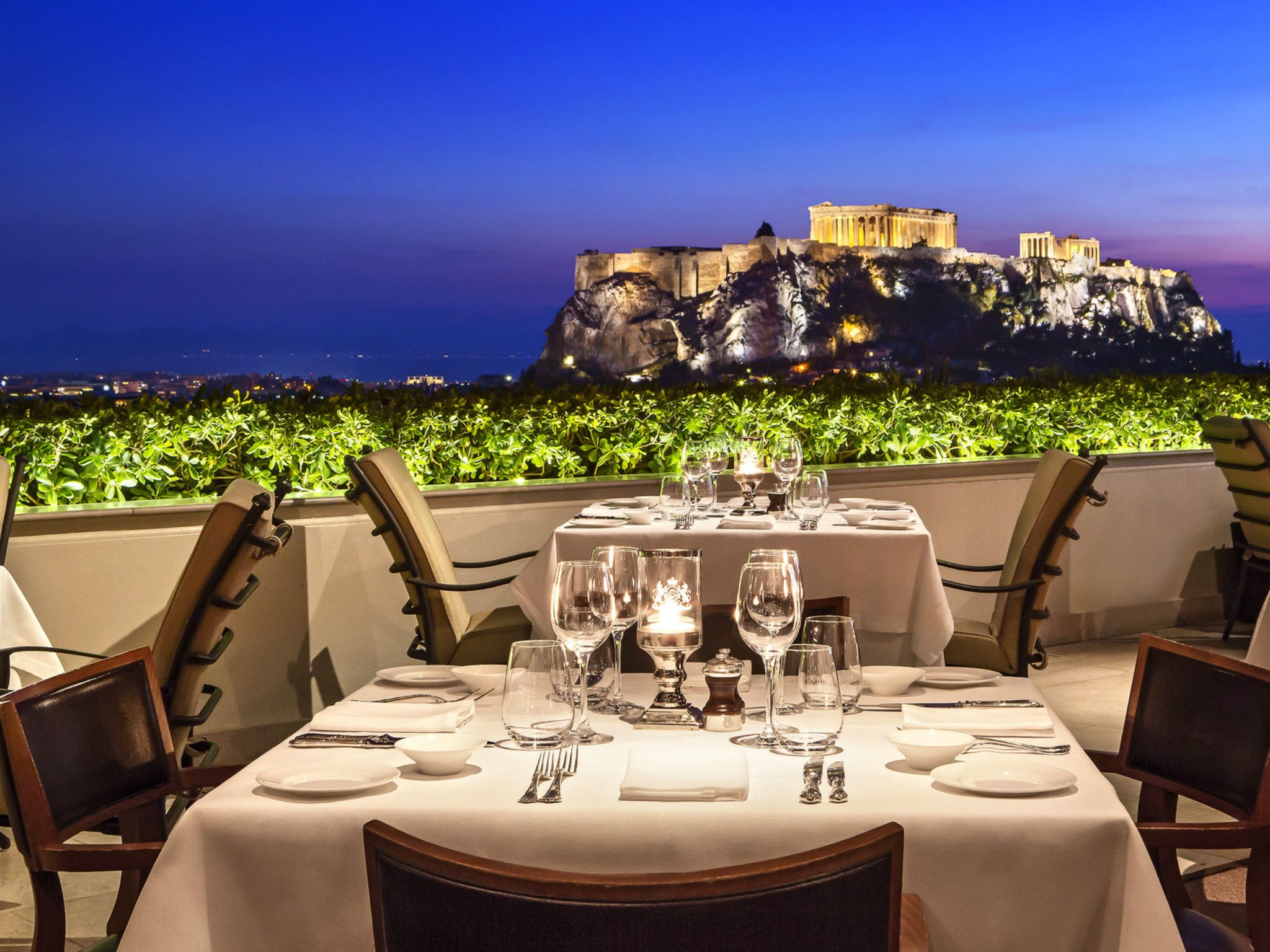 Photo Credit: Hotel Grande Bretagne
Athens is buzzing year-round with its colorful art scene, top-notch restaurants, energetic nightlife, museums and high-end boutiques. We were fortunate to stay at the perfectly situated Hotel Grande Bretagne, A Luxury Collection Hotel, during a recent visit to Athens. If dedicated customer service, opulent furnishings, unparalleled views and first-rate dining are your thing, look no further.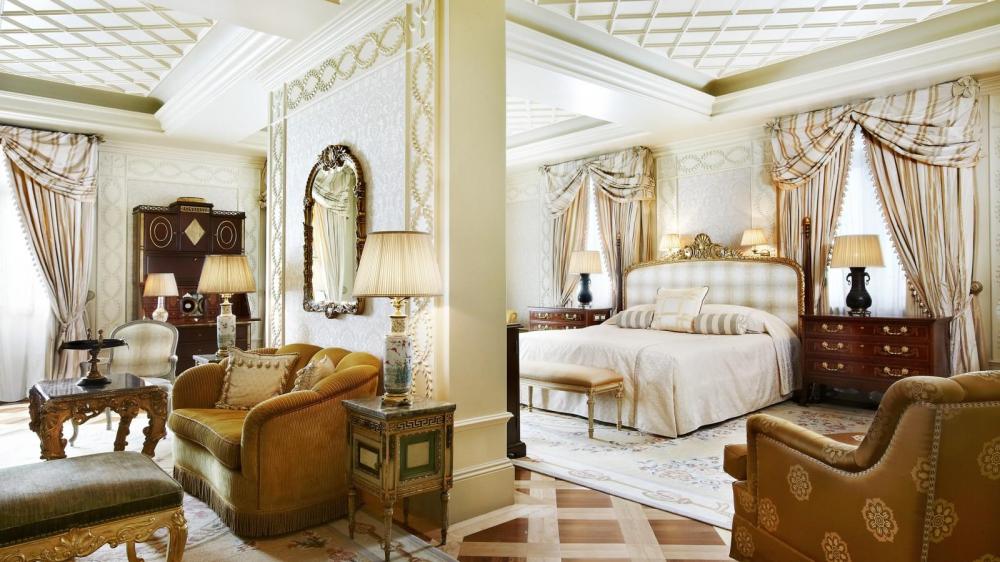 Photo Credit: Hotel Grande Bretagne
The historic Hotel Grande Bretagne's 320 rooms and suites conveniently overlook Syntagma Square, Parliament, the original Olympic Stadium and the Acropolis. Steps from the old historical neighborhood Plaka, upscale shops and restaurants, the multi-awarded Hotel Grande Bretagne is one of a handful of five-star hotels in Athens. Prepare to be held hostage as the luxury hotel offers any and everything that one could desire on a mini trip to Athens: the award winning GB Spa offering world-class treatments, the luxurious The Hair Spa to keep your locks glossy, an indoor and outdoor pool, a top-rated restaurant, three rooftop bars, a wine library, a cigar lounge, a state-of-the-art fitness center and High Tea.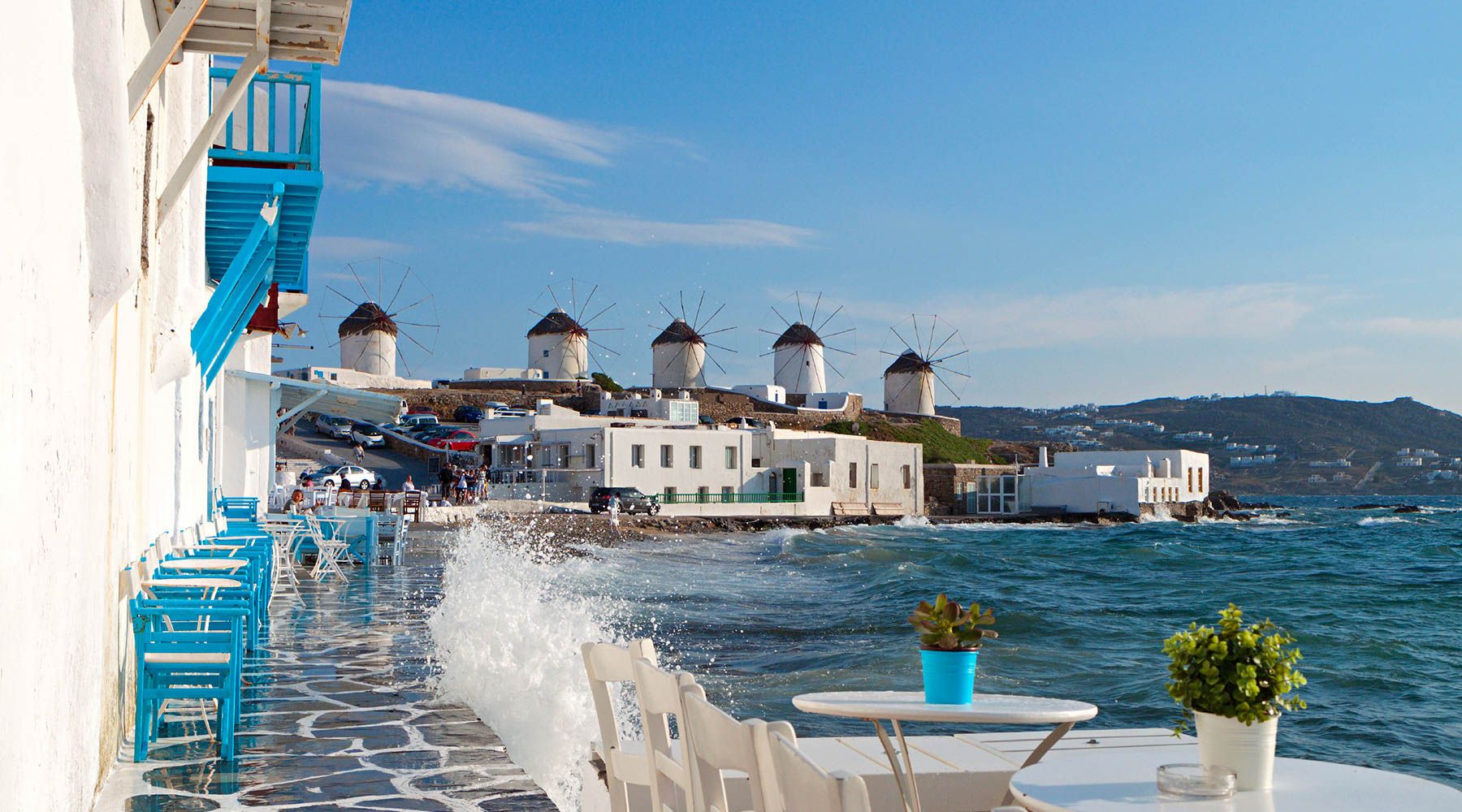 Photo Credit: Azamara Club Cruises
With Mykonos' growing status as a summer-party mecca, many visitors to the tiny island with a big reputation, are seeking a more relaxed experience and opting to experience a calmer side of island life during the low or off season which takes place from October through May. With its internationally renowned culinary destinations and wealth of luxurious accommodations, Mykonos has something for anyone wanting to get away from it all without getting too far away from it all.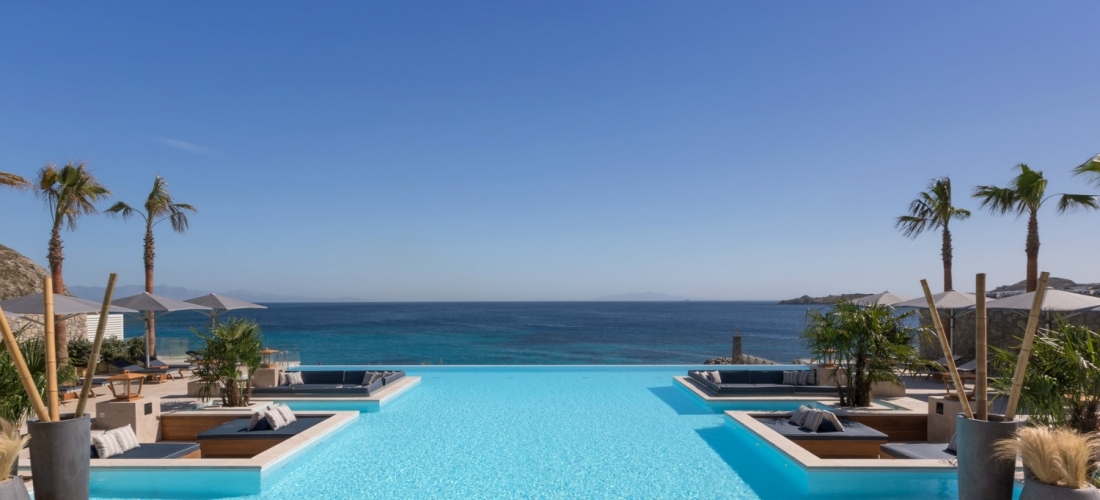 Photo Credit: Santa Marina
Overlooking the crystal clear waters of Ornos Bay, Santa Marina, A Luxury Collection Hotel, holds the distinction of having the only private beach on Mykonos island, making it a truly exclusive sanctuary for guests seeking privacy and escape. Santa Marina is the embodiment of luxury, Mykonos-style, and is the perfect choice for travelers seeking respite from the vibrant, but sometimes overwhelming, social atmosphere of Mykonos Town and the manic, beach-party scene. The Instagram-worthy, five-star resort is a true Greek oasis of glittering private pools, sun-splashed terraces and verdant gardens. Throughout the property, neo-Mykonian "sugar cube" architecture covers the spectacular hillside setting where bougainvillea-shaded staircases and winding stone paths give way to lush lawns and sweeping views of the yacht-studded marina below.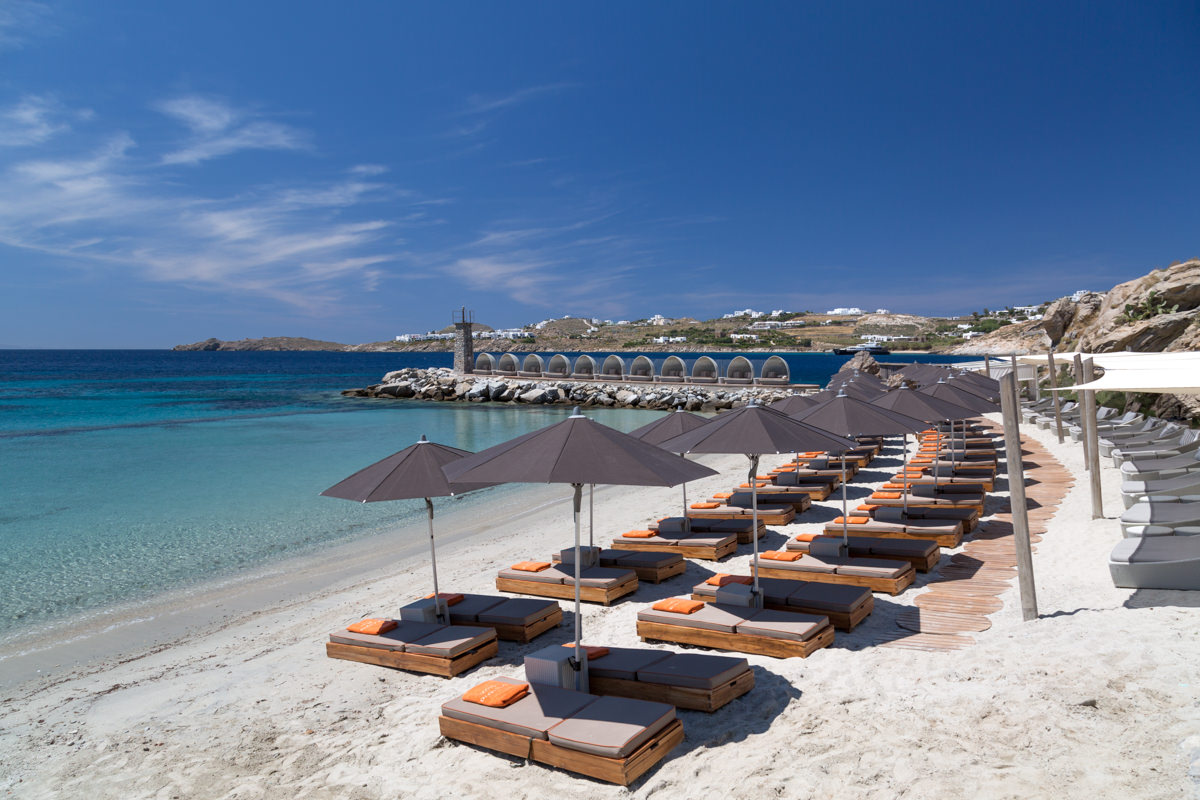 Photo Credit: Santa Marina
Santa Marina's rooms and suites all feature beautifully-designed interiors and panoramic sea views from their individually-furnished balconies and patios. Unique luxurious touches such as Acqua di Parma products and oversized spa-like showers ensure that every aspect of the Santa Marina experience is a treat for the senses. For guests seeking a bit more space and privacy, Santa Marina offers exclusive private villas. Set conveniently close to, but far enough away from the main hotel, the private villas offer the utmost in privacy and have been designed to take advantage of the spectacular setting and iconic sea views.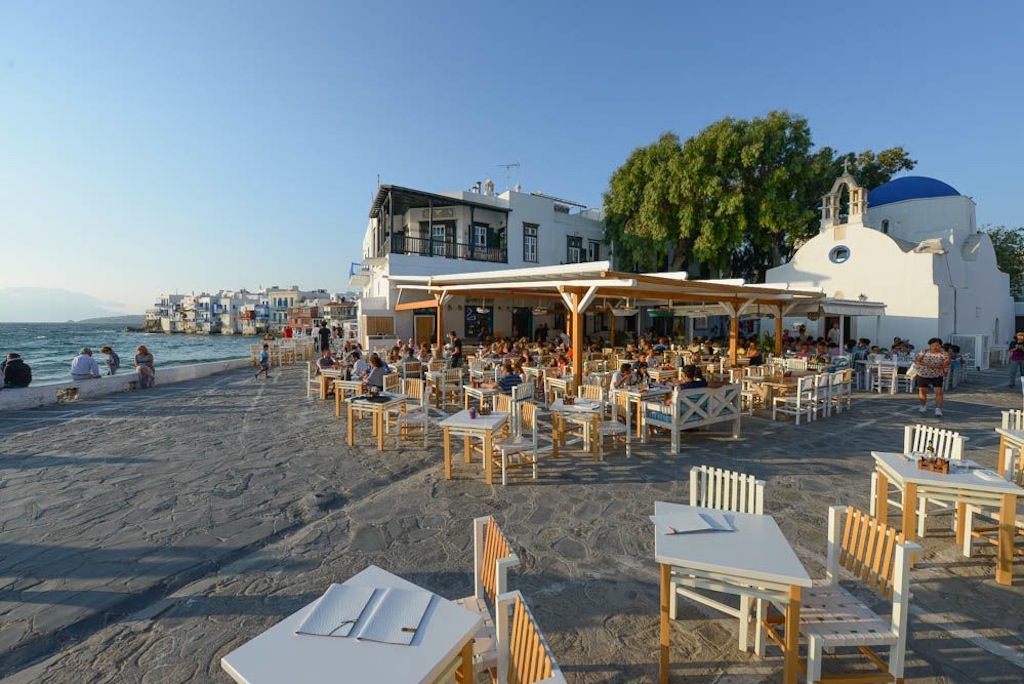 Photo Credit: Nice n Easy
Guests looking to experience the vibrancy of Mykonos Town should put iconic Greek restaurant, Nice n Easy, at the top of the list. Perfectly located in the heart of Mykonos Chora, Nice n Easy, part of the Nice n Easy Group, is situated in Alefkantra Square, between the famous Windmills and the hugely popular area of Little Venice. The menu features traditional Greek dishes offered alongside inventive organic salads, fresh catches and grilled, local meats, all of which are part of a culinary focus that centers itself on organic, locally grown food. Each dish is not only healthy, but also environmentally conscious. According to Executive Chef Christos Athanasiadis, this is a cornerstone of the restaurant's philosophy. "We strive to provide our customers with the highest quality products using the purest ingredients, and we buy directly from local farmers and producers in Greece," says Executive Chef Athanasiadis.
In keeping with this tradition, Nice n Easy has its own sustainable buffalo farm located in Kerkini Lake, Greece from which many of the restaurant's meats are sourced. In addition to their own local herb and produce garden, other menu ingredients are also regionally-sourced, coming from farms around Mykonos and the neighboring islands of Naxos, Kalymnos and Crete. One of the best things about Nice n Easy is that it is one of the few restaurants on the island that remain open from 8 a.m. until well after midnight. Perfect for breakfast, brunch or dinner, the night scene does not disappoint. With its central seaside location and epic sunset views, Nice n Easy is the perfect place to enjoy inventive cocktails in a lively setting while you watch the sun fade into the sea and the village slowly transition from a charming and family-friendly place, to a colorful and international nightlife destination.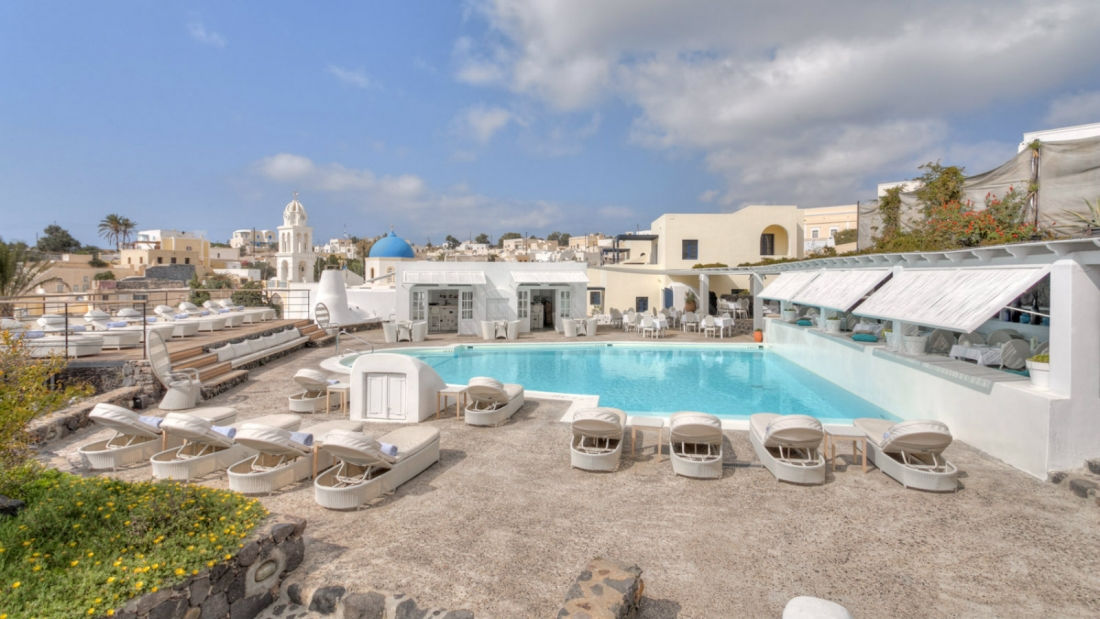 Photo Credit: Vedema, A Luxury Collection Hotel
Known as the Honeymoon capital of Greece, no visit to the isles is complete without a stopover in romantic Santorini. While Oia and Fira top most visitor's lists, we found ourselves in the lesser known, but no less charming, town of Megalahori. The quiet, medieval village sits on a hill facing east in the heart of Santorini in the wine region. Numerous vineyards surround the village with its mixture of white and cream Cycladic houses with contrasting, colorful wooden doors creating quite the photo op.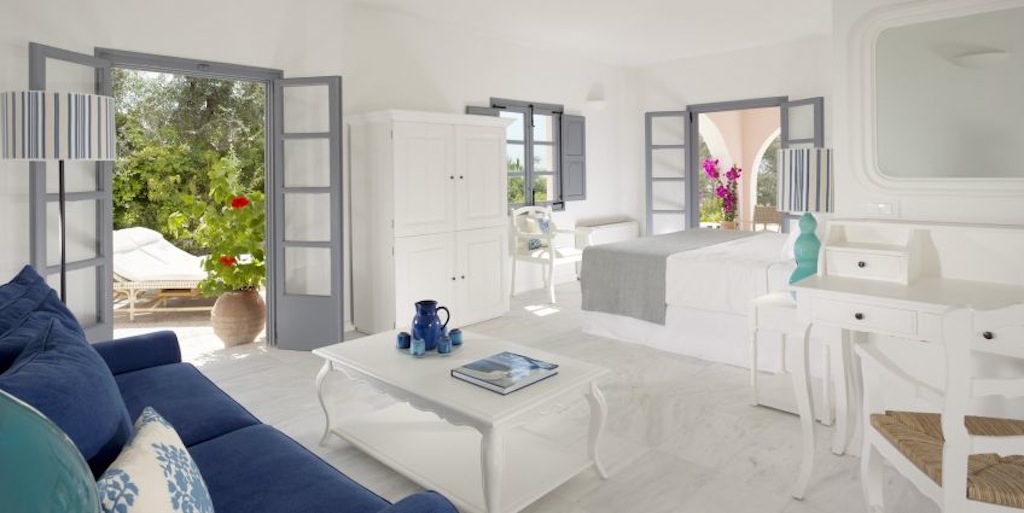 Photo Credit: Vedema, A Luxury Collection Hotel
Vedema, A Luxury Collection Hotel, is the only hotel in town in addition to several villas. The sprawling, five-star property is encircled by a traditional stone wall and was converted from a 400-year-old wine cellar and a 100-year-old mansion into an authentic, Cycladic-styled property. The architectural influences incorporate the traditional Greek village with sunken pathways, hidden staircases, flowing bougainvillea, white-washed exteriors, a subterranean cave restaurant and wine cellar.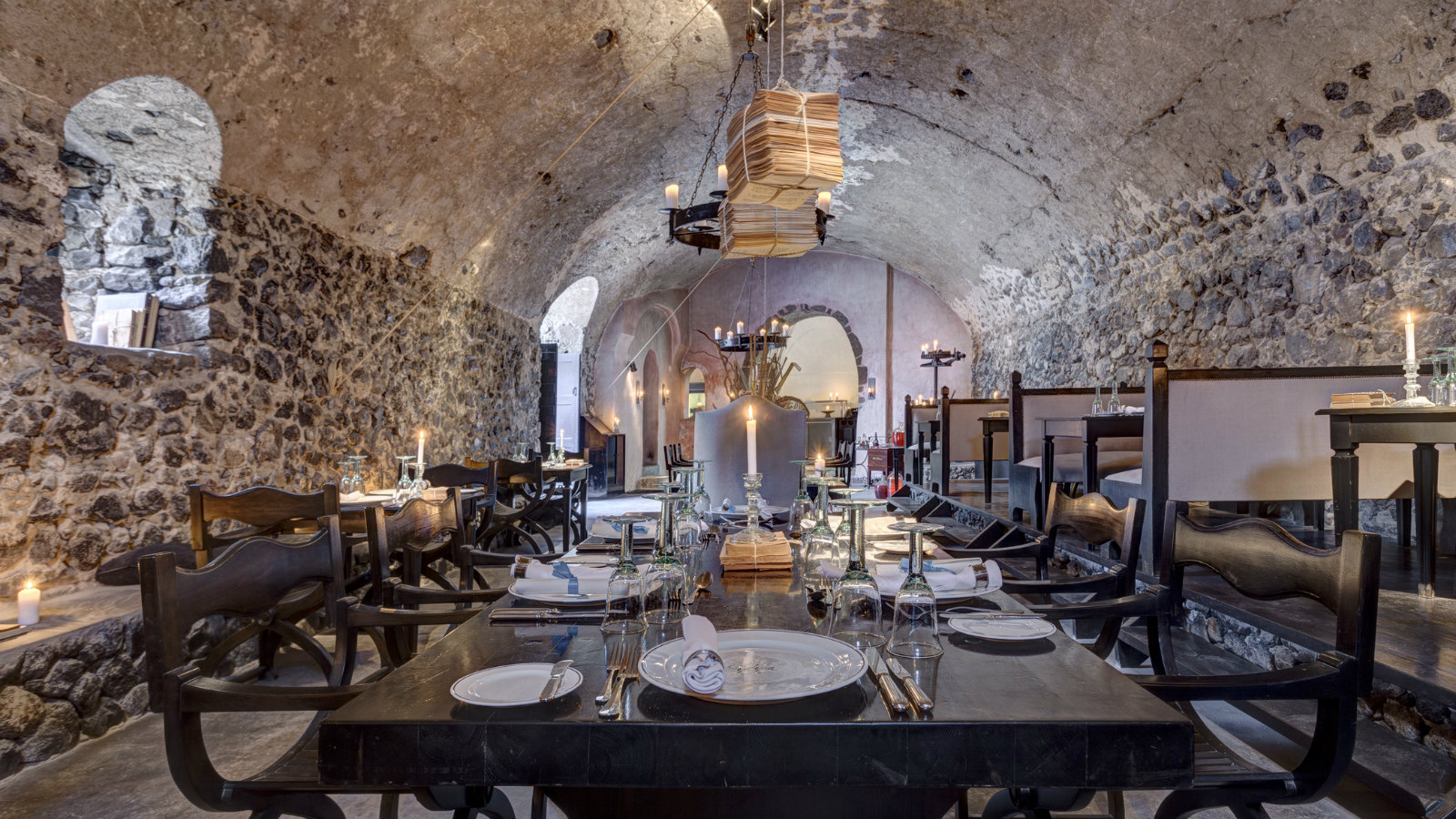 Photo Credit: Vedema, A Luxury Collection Hotel
With its nicely appointed 45 suites and villas, Vedema will suit your lodging needs no matter how great or small. The Dorian Suites consist of one bedroom, separate or adjoining living spaces, and a spacious bathroom with tub and shower. A lovely terrace or patio offers a stunning garden, vineyard, sea or village view. The Aegean Suites offer all of this in addition to an outdoor Jacuzzi, while the Athenian Suites are great for families as they consist of two bedrooms. If you truly value your privacy, a one bedroom Olympian Villa is the way to go with its private outdoor pool and open air Jacuzzi. If you are really in the mood for luxury and you have your entire brood with you, the three-bedroom Presidential Villa will not disappoint. At 1,830 square feet, the Presidential Villa boasts a fully-equipped kitchen, family room, private pool, Jacuzzi area, private balcony with patio and three king beds. If even this isn't enough, the off-site Nafsika Estate sleeps 10 and is hidden away in the Megalohori Caldera. Five bedrooms are distributed between two levels and you will even have a dedicated private butler and executive chef.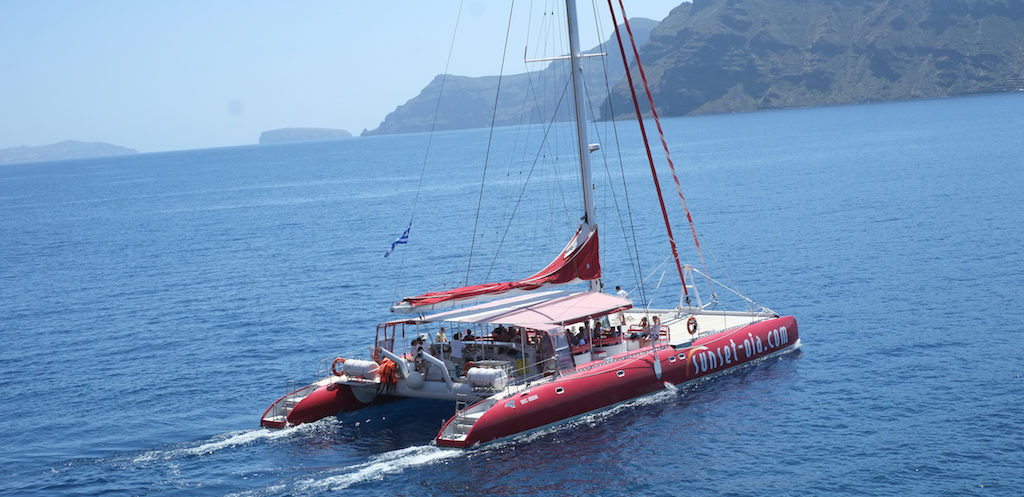 Photo Credit: Sunset Oia
The activities for the Greek Isles are endless with luxurious spas, beaches, vineyards, hiking paths, volcanoes and, of course, sailing tours. We entrusted top-notch Greek sailing company Sunset Oia to show us an exhilarating day with their Tahiti 80 Day Tour. The tour began with a prompt, 9:30 a.m. pick-up from our hotel. We departed from the Athinios port and embarked on our five-hour tour aboard the grand Tahiti 80 catamaran. Our first stop was the Hot Springs, were we all luxuriated in a warm mud bath in the mineral waters. Next up was the famed Red Beach where we tested the Aegan waters, anchored just off of the beach for snorkeling and swimming. Our final stop was the White Beach where we indulged in a delectable and hearty barbecue that included a variety of local dishes after taking another dip in the sea. Many new friends and memories were made that day as the enormous catamaran comfortably accommodated 55 people.
Now is the perfect time to plan your last-minute getaway to experience Greece in the low season or to plan for a late April to early May visit for 2018.