Photos Credit: Ruhunu Safari Camping
Luxury-Styled Safari Camping Hits Sri Lanka's National Parks
With Sri Lanka known for its stunning features, eye for adventure, and beautiful beaches, a new travel trend is underway as many travelers flock to get a taste of the exotic experience that national parks Yala and Udawalawa have to offer. Although this idea of luxury-styled safari camping is not new to the affluent traveler, it has been Africa whose held the top spot for years as the destination for luxury bespoke safaris— that is, until now. And as Sri Lanka emerges into the mainstream market as one of the top destinations of 2018, Africa is no longer the only country offering these types of five-star trips.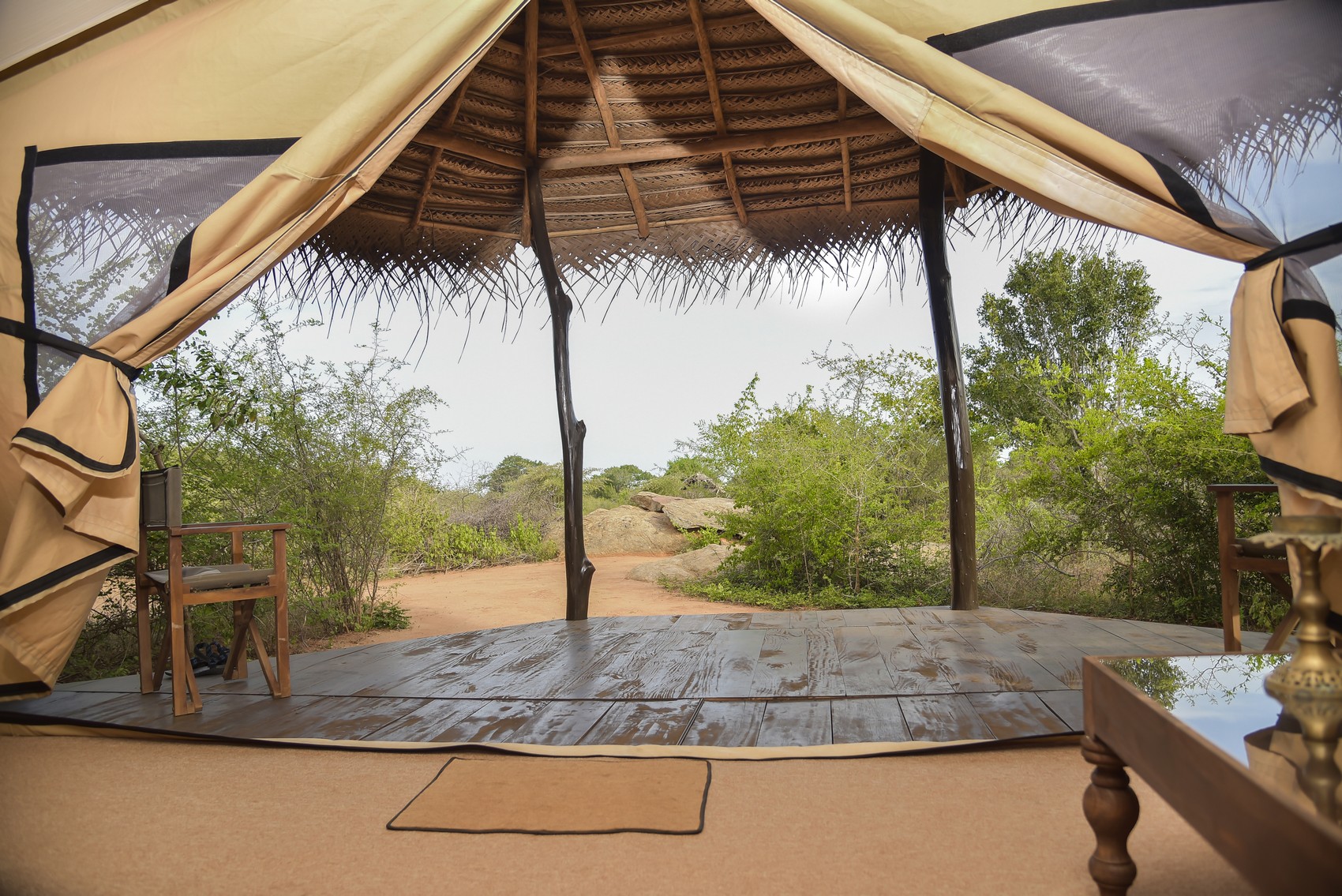 At the lavishly designed Ruhunu Safari Camping lies a glamorous safari camp located in the remote areas that border the Yala and Udawalawa National Parks. The property is a perfect example of this new style of luxury safari camping that is now popping up in countries around the world. Here, guests have the rare opportunity to get up close and personal with some of the world's most elusive wildlife—without sacrificing comfort.
The property sits amid a picturesque setting through the wildlife region of Sri Lanka, boasting a flawlessly designed property, unlike anything the country has seen before. With a limited selection of well-designed luxury tents, Ruhunu Safari Camping has diligently created an alluring nature through its enhancement of the natural ambiance and sheer exclusivity of the camp. Designed in 2009, Sri Lankan native Isuru Uddeepa and his British partner, Simon Day, shared a similar passion for both wildlife adventure and luxury lodging. This shared dream resulted in the pair venturing together and creating the magic that is now Ruhunu.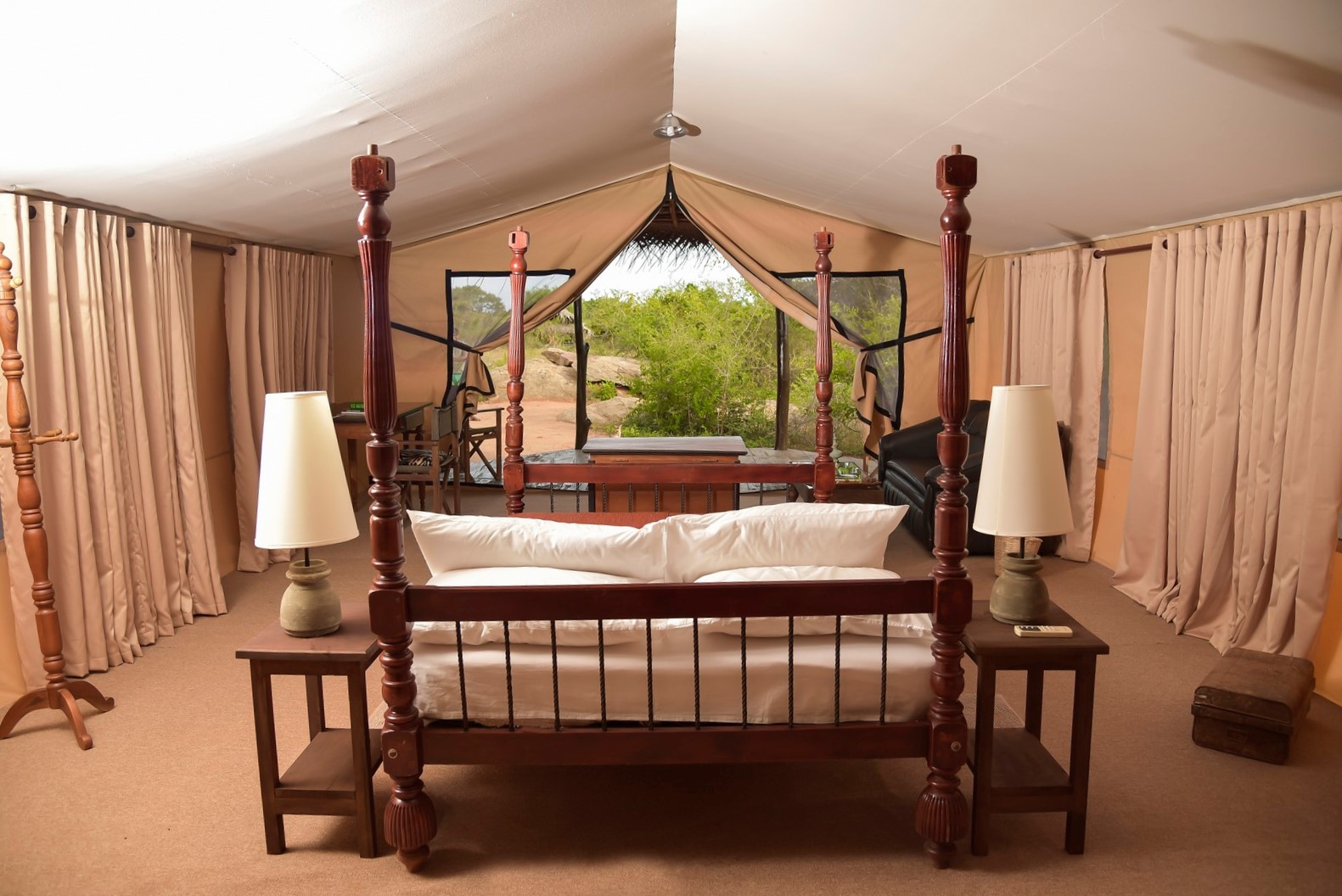 With elegantly crafted tents spread throughout the property, guests find themselves relaxing in their very own private canopy, giving way to discover nature in style. With a chic setting among bushes, dramatic rock formations and mother nature herself, each tent's private veranda boasts panoramic views of the breathtaking wilderness, all while creating the feel of having the entire jungle to yourself. The camp also is home to an impressive main lodge, which serves as the social hub where guests mingle over local beers after unwinding from a long day out on safari. It's perhaps the most intricate part of the property with its vibrant hues of sandy tones, carefully hand-crafted wooden columns and ceilings, as well as a treasure trove of decorative aesthetics. This elaborate and ornate design of the place provides all the vibes of being on a luxury vacation, while truly being in nature.
But it's not just the aesthetics of the place that make the experience at Ruhunu unforgettable. From the moments you enter the property, everything is at your disposal. As an all-inclusive trip, you'll experience five-star service, from freshly made and personalized meals, to even having your very own park specialists as your guide. And with every need taken care of, this unique safari experience will keep you from ever wanting to leave.
As this new trend starts to pave its way into countries around the world, Ruhunu Safari Camp is at the top of its game, giving guests a rare opportunity to get tantalizingly close to Sri Lankan wildlife without giving up comfort or luxury. So if you are looking for an adventure that incorporates a touch of elegance and a flare of opulence under the stars in a jungle atmosphere, Ruhunu Safari Camping awaits.