Photo Credit: The Harrison Speakeasy
Inside Buenos Aires' Secret Dining & Drinking Experiences
Buenos Aires, Argentina has long been on my list of destinations to visit. With its neoclassical architecture, vibrant nightlife, European vibes, sexy tangos and historic sites such as Teatro Colón and La Recoleta Cemetery, it was never a matter of "if" I'd go, but "when." This past March I finally made my way to the South American country with one goal in mind: eat any and everything that I could.
It should come as no surprise that one of the best ways to experience this vibrant city is through its food scene. Long known for its churrasco restaurants, hip neighborhood joints and craft cocktail culture, the "Paris of the South," is any foodie's dream city. But what I hadn't expected to find was what Buenos Aires liked to keep hidden behind closed doors. Concealed amongst its many cafés and eateries are secret clubs, 1920s speakeasies and chef's table experiences that are only revealed to those who know where to look.
If you're headed to Buenos Aires soon, here are four secret dining and drinking experiences you won't want to miss:
Photo Credit: Nicolle Monico
Presidente Bar
Step inside Presidente Bar in Recoleta and you might feel like you're in a trendy New York City establishment—although, even relating the two seems to diminish the former's appeal. Its owner, renowned mixologist Seba García, opened the bar in 2017 (at the age of 32) and set out to make a place that was unique and all his own. Meticulous about each ingredient that goes into his drinks, García flies across the globe in search of the best flavors to craft his menu, while also ensuring that each drink has a local feel to it.
Inside, the restaurant and bar feature wood furnishings, crystal chandeliers, rows of books, sultry mood lighting and a garden room with plants lining its ceilings. Famous for his Negroni's, you can't leave without having at least one. But be sure to also try the Pomelada y Especias which is made with Johnnie Walker Red Label, grapefruit juice, ginger, pepper and mint.
While this bar itself is notable on its own, it's what comes after your first drinks that is most impressive. Ask to see "the library," and you'll be escorted down a hallway and behind a trap door that opens up to an elegant speakeasy. Or, if you're lucky, García himself will invite you to the private room. Lined with wall-to-wall bookshelves, rouge velvet couches and Johnnie Walker on display, the bar is every bit as exclusive as you'd imagine. With over 30 cocktails on offer, guests will only find the classics here such as Manhattans, Moscow Mules, Sazeracs and Old Fashions.
Photo Credit: The Harrison Speakeasy
Nicky NY Sushi & The Harrison
As its name suggests, Nicky NY Sushi is another eatery that recalls the cosmopolitan vibe of New York City. Small, with only a handful of tables, the Japanese restaurant sits in the Palermo neighborhood of Buenos Aires. From ceviches to sushi rolls, sashimi and grilled entrees, Nicky's menu includes typical sushi combinations as well as unexpected options such as the Kentucky roll made with red tuna and avocado, wrapped in mango and painted with Jim Beam Black Bourbon sauce.
Once you're finished eating, ask your server to be shown "the bodega," and you'll be taken to a tiny wine cellar where you'll get a little history lesson on Nicky Harrison. The son of a famous fish distributor, Harrison knew he didn't want to follow in his father's footsteps but chose his own path instead. It was for this reason that he created a secret bar within his father's factory, and thus his speakeasy took shape.
When your escort is done explaining this, they'll pull open the Narnia-esque wardrobe doors which lead to a tiny room and one very-large vaulted door. "No photos are allowed inside," they'll say and with a spin of the wheel, you'll enter the 1920s. A members-only speakeasy, the only ways to access The Harrison are by dining within the restaurant first or having a member invite you.
Everything from the décor to the music, its newspapers on tables and staff attire are perfectly crafted; you really do feel like you've been transported to another time. Guests can sit in the main dining room or outdoors within cabanas, all the while sipping on a vodka cocktail inside a copper owl. Or, whatever you fancy.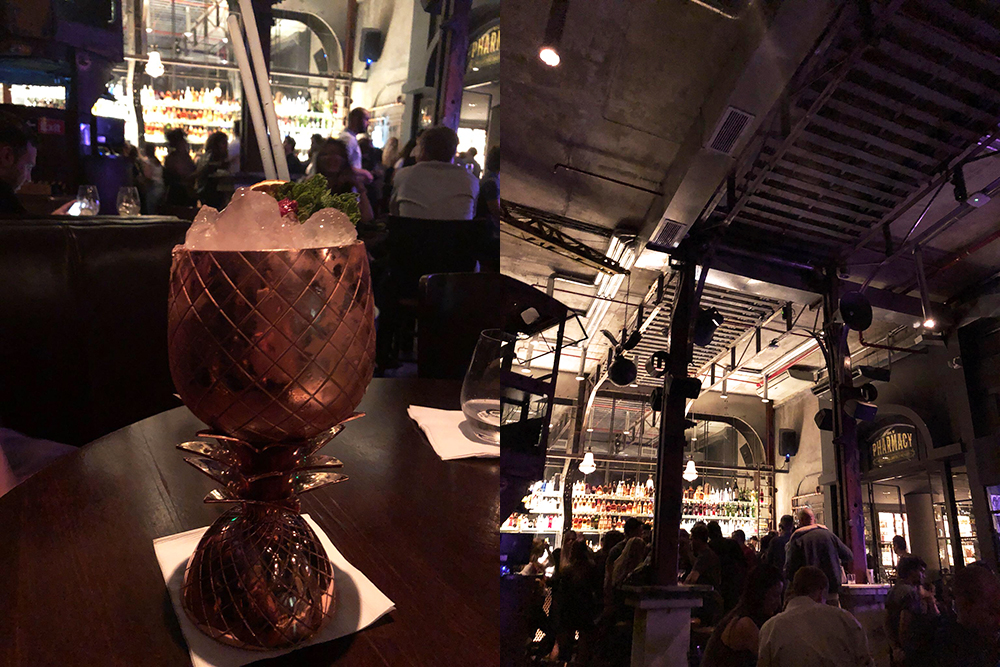 Photo Credit: Lauren Alisse Photography
Uptown & The Bronx
If you haven't noticed yet, Buenos Aires seems to have a fascination with New York City. This was never more evident than in the next bar we visited. Located in Palermo, Uptown & The Bronx is designed like a subway station and sits beneath La Mar restaurant. To get there, first you'll need to give the password or wait in a long line if you don't have the right one. Once admitted, you'll walk down a concrete stairwell with florescent lighting, past white-tiled walls and underneath overhead Exit signs before passing through a MetroCard turnstile.
Reading "Last stop" in the window, before you can enter the bar, you'll need to jump onto a real-life subway car. Complete with orange seats, overhead handrails and American ads, the subway car lends itself to some great photo ops before heading into the secret watering hole. After pressing the green "Open Doors" button to exit the subway car, patrons enter a bi-level bar that has a clubby atmosphere with live nightly DJs and people dancing to hip-hop in the center of the room.
Leather chairs, wall-to-wall booths and graffiti on walls fill the inside of Uptown. There's also a makeshift pharmacy and tattoo parlor to really sell the NY vibe. On the wall is an old-fashioned train station sign depicting the cocktail selections and its menu features train letters to showcase its food menu. The "L" train section, which stands for Little Italy, boasts burrata and pasta, while the "M" Midtown Station offerings feature burgers and sundaes. Under the "E" train menu, sushi reigns supreme on the Lower East Side.
True to Buenos Aires form, the drinks are pretty remarkable here and creatively made by suspenders-wearing bartenders. Also, this is another bar where you'll find copper mugs made into animal shapes and garnishes that include items such as dehydrated grapefruits and pineapples. And just like in New York, if you're not dressed the part on the weekends, you may be turned away. So be sure to store those jeans away for daytime activities and show up in your best nighttime digs.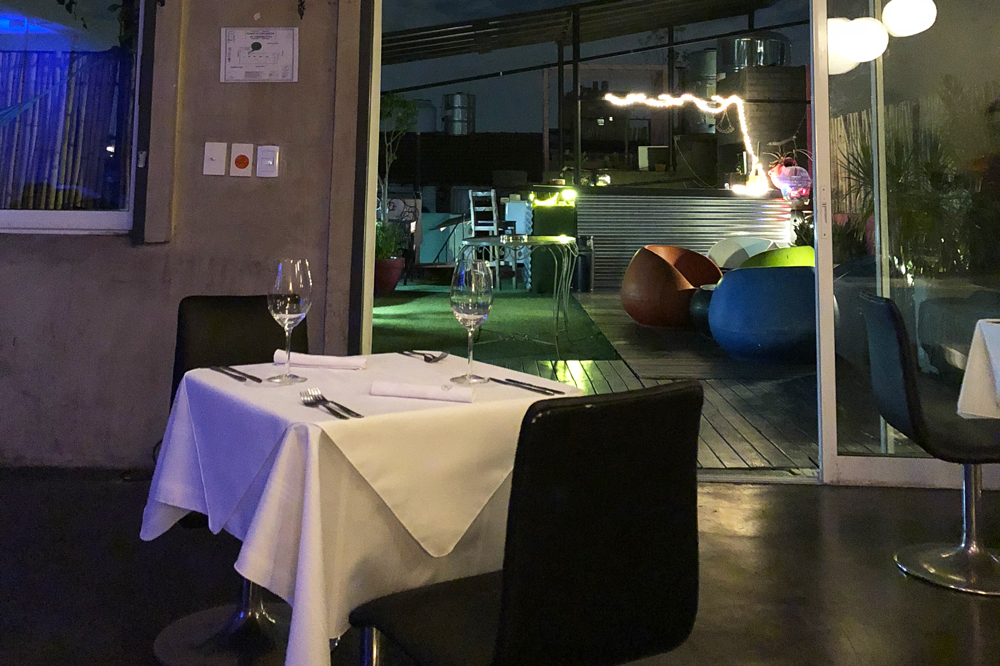 Photo Credit: Nicolle Monico
La Cocina Discreta
La Cocina Discreta is not a speakeasy, but is one of Buenos Aires' best secret restaurants. Called "closed-door dining experiences," these eateries are hidden in plain sight amongst the many neighborhoods that make up the city. In 2001, the city's chefs began opening up their homes to tourists to host private dinners with only a handful of tables being served at any given time. Similar to a restaurant, reservations must be made well in advance, and you may share the dining room with one other table or be joined by strangers at your table.
Since their inception, closed-door dining concepts have transformed the city, and its chefs are known for showcasing experimental dishes for guests with discerning palettes and open minds. Helmed by Executive Chef Ale Langer, the concept for La Cocina Discreta began after his trip through Asia in search of new cuisines and flavors to bring back to Argentina. Two years later he opened his door to friends and strangers, offering an intimate fine dining experience inside his home.
Nowadays, Langer's business partner owns the home, but it is still used for these closed-door meals. To experience this dining concept, you'll need to call for a reservation or fill out a request form online. On the night of your dinner, you'll head to the Villa Crespo neighborhood, and in between apartment buildings and discount stores, you'll find a tall door with no signage, only a doorbell to ring. (Even our Uber driver questioned us about the location, asking if it was in fact, correct.)
Moments later you'll be greeted and invited into the house and upstairs to the second level with outdoor patio and bar sitting underneath twinkle lights. It's all very elaborate and chic. Langer has a charismatic personality; he's friendly and chatty, and shortly after speaking with him, you get the sense that you're in the presence of an extremely creative person.
When it came to the multi-course meal, every item seemed somehow more impressive than the last. Dishes ranged from arugula salad with celery foam to wild mushrooms in a savory sauce, beef fillets and octopus in a Mirin chimichurri, beet and red fruits sauce. In between courses, you'll have a chance to get up, mingle on the patio with other guests and spend time enjoying the warm Buenos Aires air—which is all part of the experience.
But there's more to the restaurant than just its food. The concept ensures that all things come together to create a perfect evening for guests. "The most important thing about [this place] is not only the dish, but everything; it's the moment," shared Langer. "The music, the lights, decorations, everything is created to make an experience, not only the dinner." If you make it to Buenos Aires this year, be sure to check out La Cocina Discreta, it may be one of the best meals you'll have during your trip.