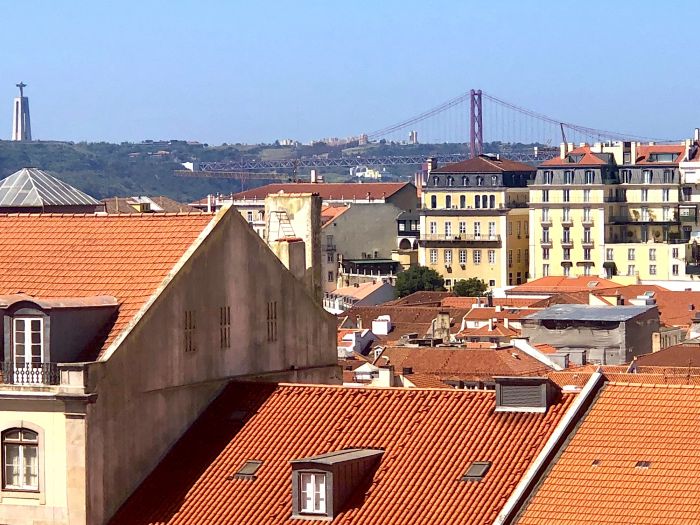 Lisbon or or Golden Gate bridge? JRN
Since Viking River Cruises and Portugal both scored top awards at the 2018 World Travel Awards ceremony, it made perfect sense to join Viking for their 10-day "Portugal's River of Gold" cruise. During my research I learned that the Douro, one of Europe's most pristine, unspoiled rivers, was named the River of Gold because back in the day the Douro served as the main thoroughfare for transporting Portugal's culinary riches, which included olives, almonds, grapes and, of course, their famous Port wine. That definitely works for me.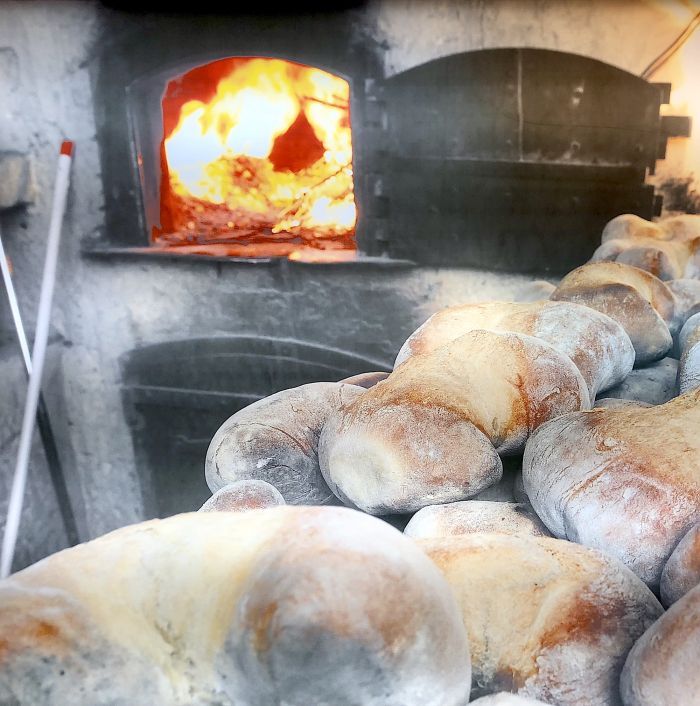 Famour four-corner bread JRN
Other highlights on their ten-day itinerary included visits to the 100-acre wine estate of the Palace of Mateus, dining in a 1,000 year-old Benedictine monastery, an exclusive vintage port tasting at Graham's 1890 Lodge, ambling through the ancient hilltop "White Village" of Castelo Rodrigo, tasting hot four-cornered bread at one of the last traditional bakeries in the Douro Valley and crossing the border to visit the vibrant World Heritage college town of Salamanca, Spain, plus stops at umpteen UNESCO World Heritage Sites was included.
Hello Lisbon!
I wonder if Tony Bennett ever considered writing 'I Left My Heart in Lisbon'? Flying from San Francisco to Lisbon was like visiting a surprise doppelganger due to numerous similarities between the two cities. Both were built on top of seven steep hills and powerful earthquakes have decimated both. Once the morning fog clears you can see the 25 de Abril Bridge, Lisbon's suspension bridge, which is a dead-ringer for our Golden Gate Bridge.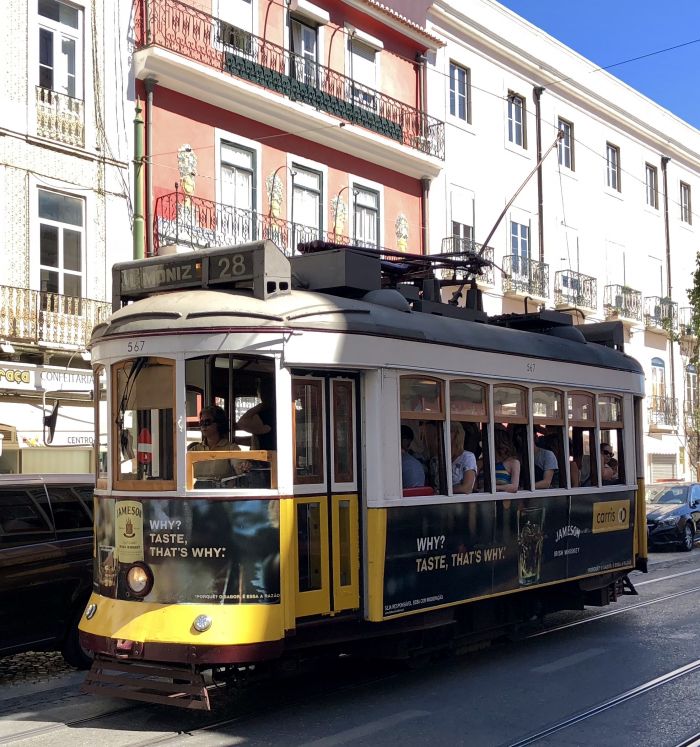 Lisbon's cable cars JRN
The trip starts with a two-night stay at the Tivoli Avenida Liberdade Lisboa, a five-star, landmark hotel overlooking the "Avenida", a gorgeous tree-lined boulevard filled with top designer boutiques. Unwind from your flight by relaxing around the hotel's private swimming pool hidden in a tropical garden. For some serious pampering, stop in at their luxurious Anantara SPA and try one of the indigenous Portuguese ritual treatments.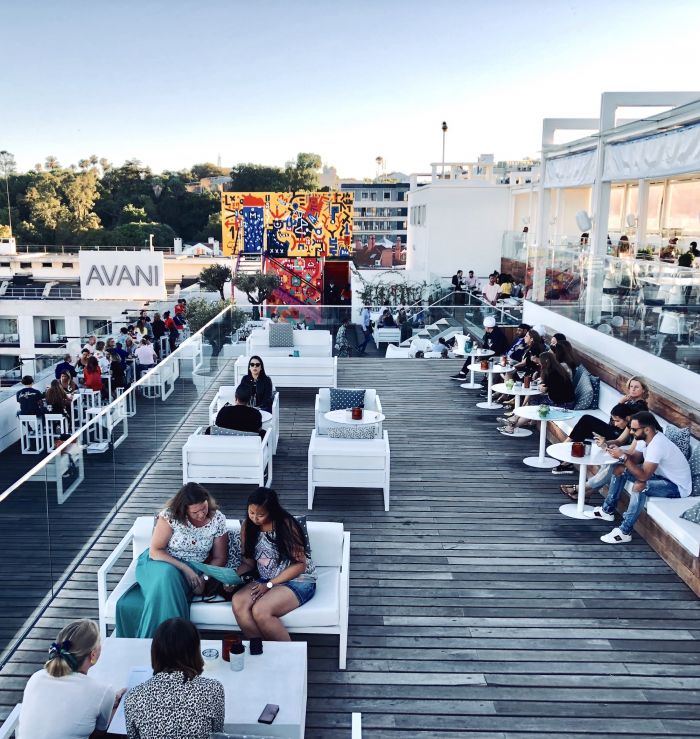 Rooftop bar at the Tivoli JRN
Try to stay awake, at least until sunset, for the almost aerial city view from the hotel's lively Sky Bar located on the rooftop floor.
The next morning, after a yummy breakfast buffet in the hotel, things start in earnest. We drove to the Belem area where we visited the Tower of Belém, a 16th-century fortress classified by UNESCO as 'Cultural Heritage of Humanity' and then stopped in the Maritime Museum, where our Viking guide regaled us with a fascinating overview of how Portugal became a world leader in maritime exploration thanks to Vasco da Gama pioneering a spice route trip to India.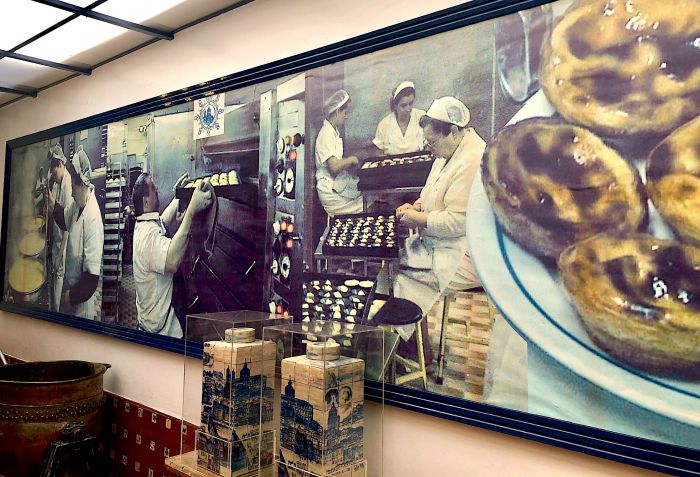 Time to make the Past�is de Bel�m JRN
Inside Tip: While others took a coffee break in the museum's cafeteria, I ran down two blocks to the famous Pastéis de Belém, home to (not even remotely arguably) Portugal's best Pastel de Nata, the iconic Portuguese egg tart pastry dusted with cinnamon. When I asked a worker how many they sold daily, he told me with a wry grin, "On a slow day, maybe only 25,000!"
Wanting to burn off the tart(s) I had eagerly inhaled, I was relieved that next-up was a hilly walking tour of Alfama, the charming Old Town district, the only part of Lisbon that survived the great 1755 earthquake.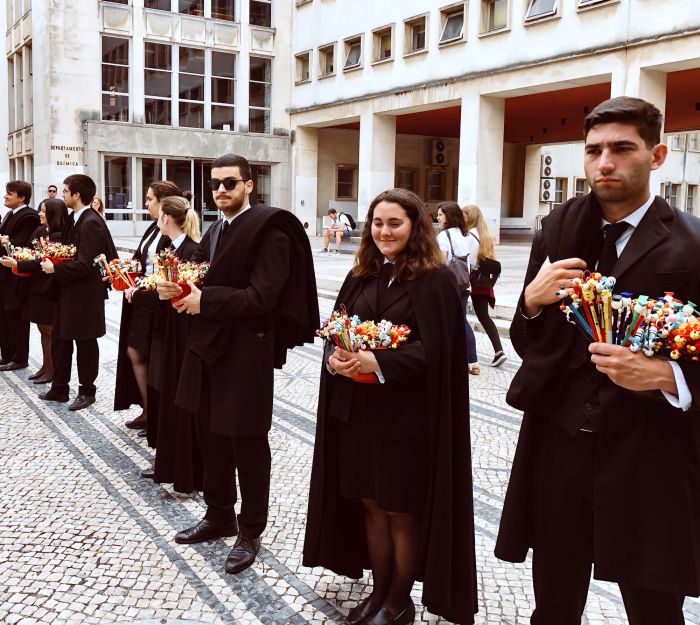 Coimbra Students in their 'Harry Potter' uniforms JRN
The college town of Coimbra
The next morning we boarded our supremely comfy bus for the drive to Porto, stopping midstream for lunch and a tour of the college town of Coimbra, the birthplace of six Portuguese kings!
It was summer so we didn't see the usual 25,000 students milling about, but the ones that were there were all sporting the traditional long black woolen, Harry Potterish capes strewn with colorful ribbons.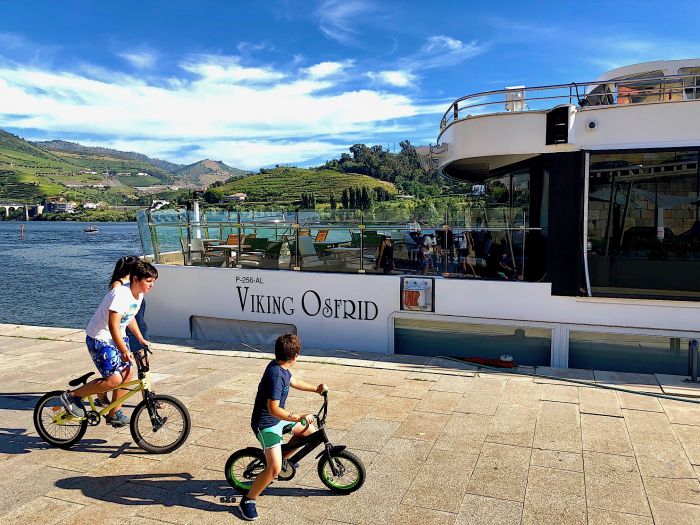 Everyone stops to look at the Osfrid JRN
Picturesque Porto
A few hours later we arrived in Gaia, a short-over-the-bridge walk away from Porto, where all the river cruise vessels tie up. While IlikedLisbon, Porto was love at first sight, particularly after spying the small but proud, Viking Osfrid ship that awaited us. Unlike Viking's European Longships, the new Osfrid is what I would describe as a shorty-long ship, yet it still manages to have all the amenities one finds on Viking's bigger ships, including a swimming pool!
The reason for this petite adaptation is because the Douro River is narrower and shallower than other European waterways plus there are five extremely tight locks that our skilled captain needed to navigate with only inches to spare.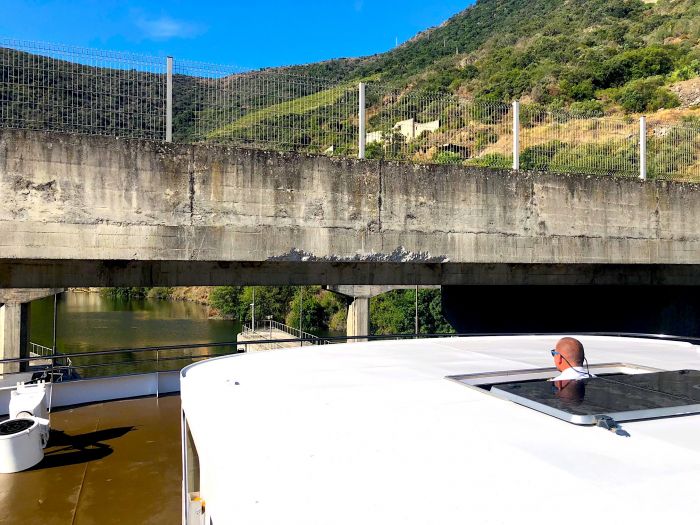 Our fearless capt. eeking our way under the bridge JRN
My serene 185 sq. ft. stateroom was impeccably designed with a spacious, well-thought-out closet, lots of shelving, numerous mirrors, a 40-inch flat-panel TV with an excellent selection of On-Demand movies, a generous amount of electrical outlets, both 220V and 110V and a step-out balcony with seating. The bathroom shower had better water pressure than I have at home, with enough shelves for all my toiletries and an excellent hairdryer.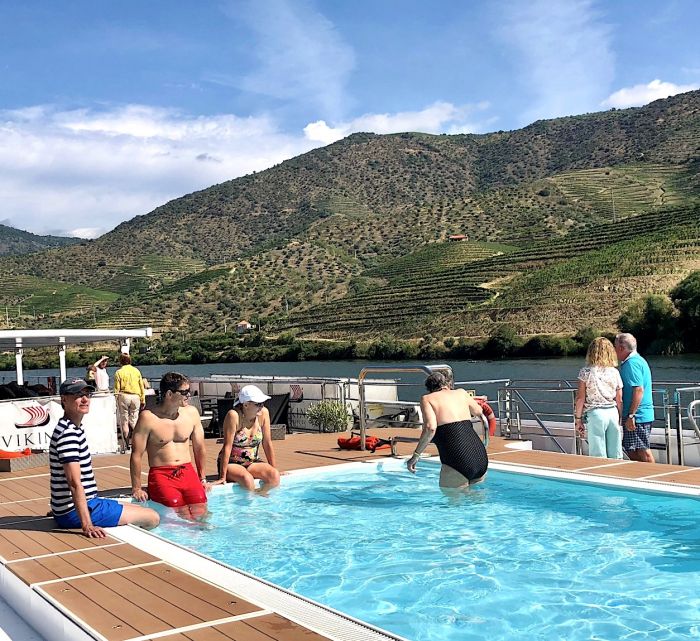 Popular hangout JRN
I loved the whole crew, particularly our hysterically funny captain, Antonio Coutinho, who was celebrating his 27thbirthday that day. He is Viking's youngest captain but had been sailing the high seas with his father since he was twelve. Other special members include Alvaro Martin, the Hotel Manager, who, like a magic genie, took care of my every esoteric request with never-failing patience, Matthew Eberle, our adorable, high-energy, hugely entertaining Program Director who captivated me with the epic story of Portugal's history, and my favorite server, Nicolay, who took such good care of me.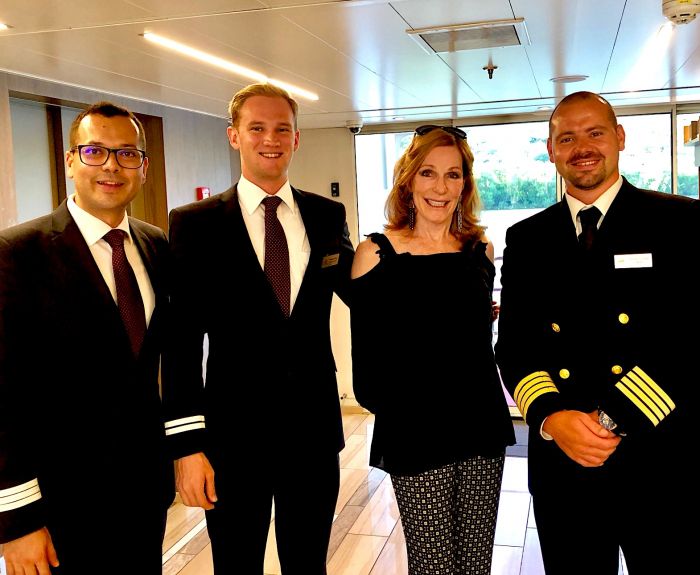 Just a few of my favorite guys! JRN
But I digress-so back to our first night on board, where I first tasted Chef Daniel's delicious food. Every night there was a three-course Regional Specialty Tasting Menu or two other international choices including vegetarian options. If for some reason none of those tickle your taste buds, you could move over to the always-available classic side of the menu for grilled salmon, charbroiled New York-cut steak, cheese plate, Caesar salad, etc.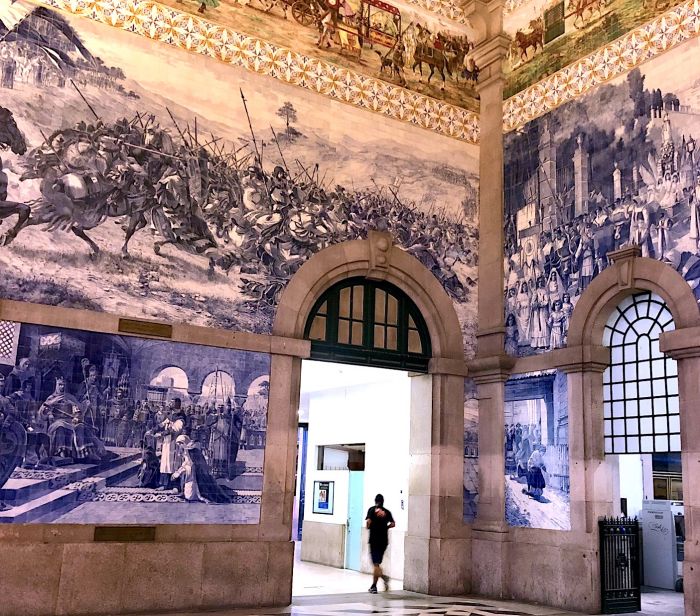 Train tiles tell a story JRN
The next morning we set off for an introductory walk around Porto, stopping at Porto Cathedral, one of Portugal's most important Roman Catholic monuments and the amazing São Bento railway station where the walls are adorned with 20,000 azulejo tiles depicting Portugal's history.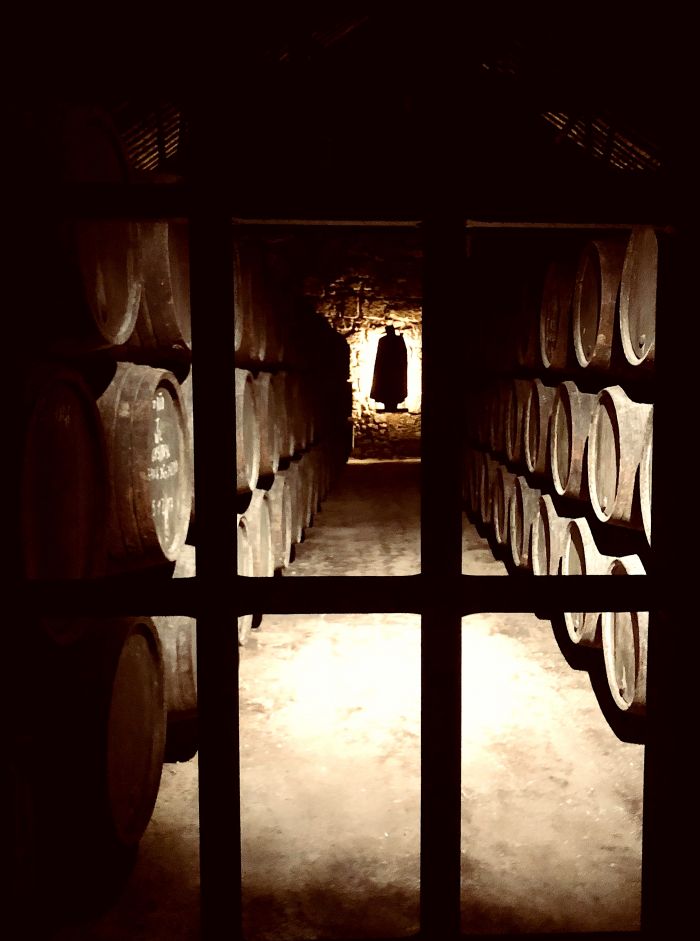 Was Zorro a relative of Sandeman? JRN
Time out for some shopping before rejoining the group for a tasting tour at Sandeman's port wine cellar led by a guide dressed in the Zorro-esque black cape and wide-brimmed hat as seen on their logo. Thankfully I picked up some basic knowledge on the making of this fortified wine so as not to embarrass myself at the optional, Graham's Port Dinner that evening. It's pricey but how often do you get the chance to have a private dinner and tour of W & J Graham's, a family-owned company renowned for producing the finest Port wines for almost 200 years. During our tour of the humongous cellars, I spied a barrel of vintage port dated 1868!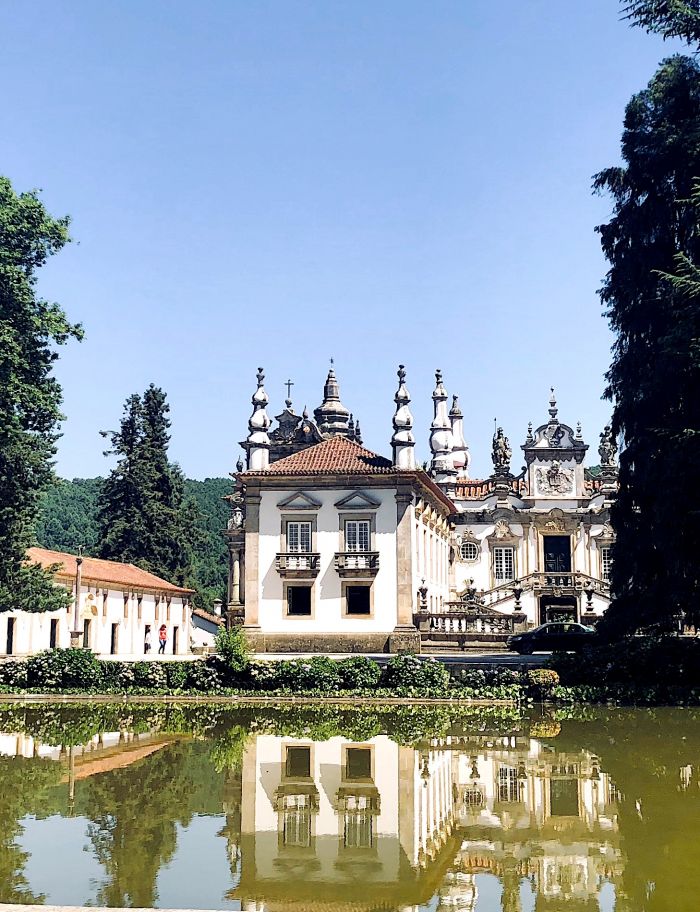 Mateus Palace JRN
Nest stop was Regua, the heart of the Douro port wine region. As we drove onto the grounds of the ornate 18thcentury Mateus Palace one guest whipped out his phone, looked at a picture and said "Yup, just like on the bottle!" and damned if he wasn't right.
The picture of this ornate baroque palace has been on the front of the Mateus Rosé flask-shaped bottle for ages. Since descendants of the family of Count Vila Real still live there, we weren't allowed to take photos inside the richly appointed, antiqued-filled palace.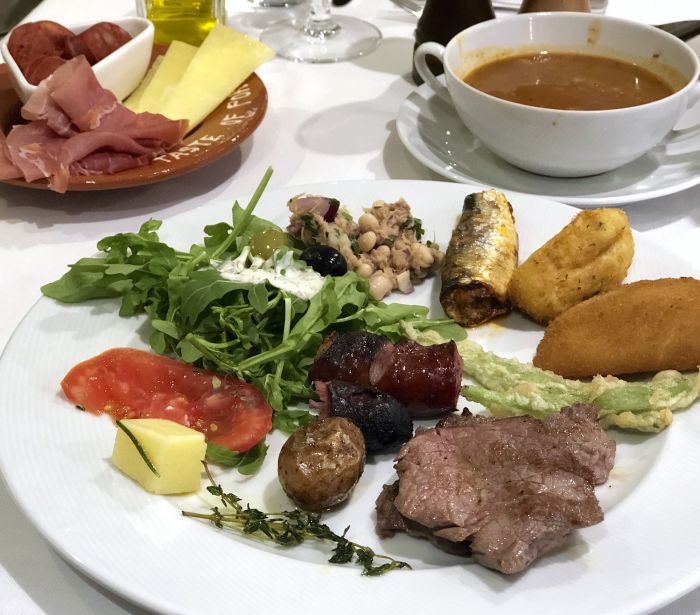 Superb Portoguese Viking buffet JRN
Back on board, the staff was getting ready for a special "Taste of Portugal" buffet dinner, which I was thrilled about because it included many of the Portuguese dishes I had on my foodie bucket list.
Going nuts in Castelo Rodrigo
The last Portuguese village on the Douro, Barca d'Alva, is almost within spitting distance of Spain. Today's excursion included a visit to the charming walled village of Castelo Rodrigo, which was first inhabited in 500 B.C.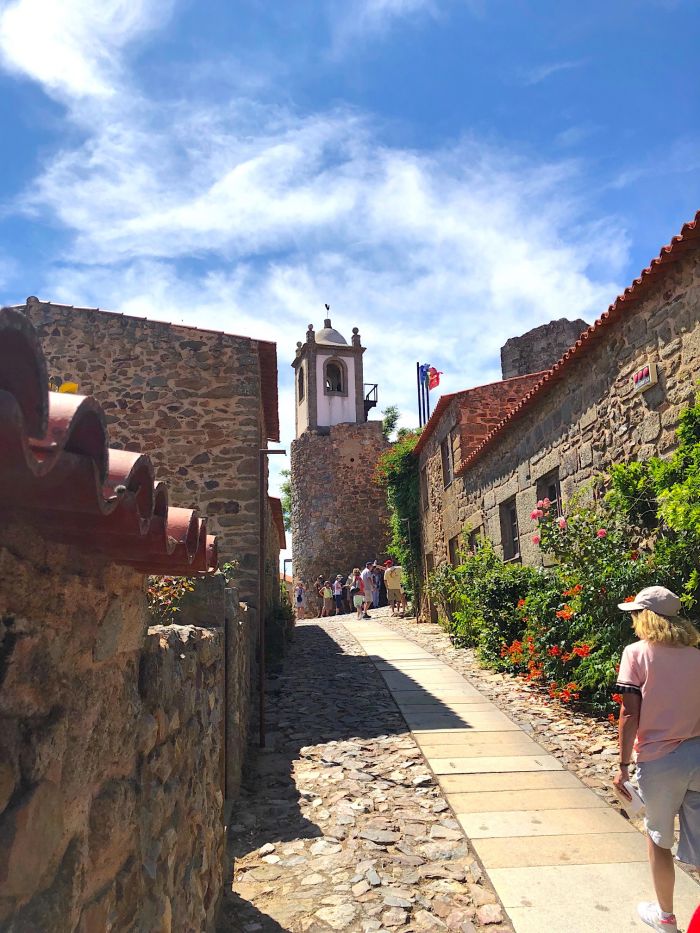 Castelo Rodrigo JRN
Home to about 60 people, the tiny hamlet is lined with steep cobblestone streets, an ancient fortress, medieval church, and an abundance of almond trees. Pop into one of the gift shops selling every conceivable almond delicacy-from chocolate and lavender-flavored nuts to almond sparkling wine.
Crossing the border to Salamanca, Spain
The perfect start for our day in Spain was a generous charcuterie tasting at the Salamanca Central Market, where I have to admit, I really pigged out on the piggy, particular the Jamón Ibérico, Spain's renowned cured ham.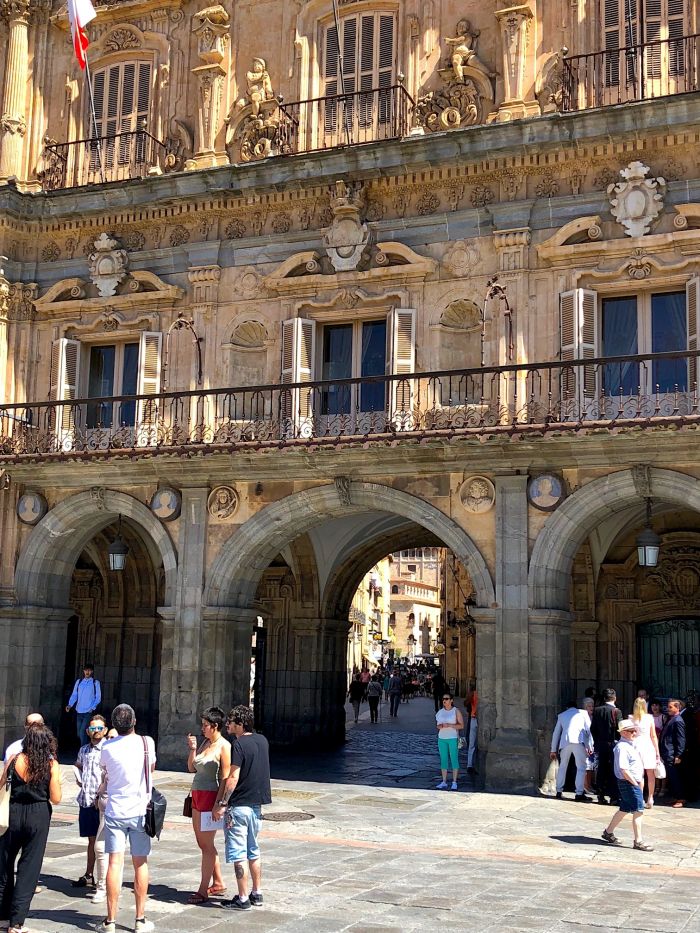 The Golden City JRN
Then we were let loose at the bustling Plaza Mayor, free to wander the streets of "the golden city" of Salamanca, so named because of its honey-colored sandstone buildings. My recommended sights are the New and Old Cathedrals-both are uniquely impressive, chat up some of the students at the 13thcentury university, the oldest in Spain, and don't miss the Museum of Art Nouveau for their extraordinary collection of creepy-cool dolls, brilliant blue stained-glass Deco ceiling and a Lalique exhibit which includes the most exquisite Rolls Royce hood ornament.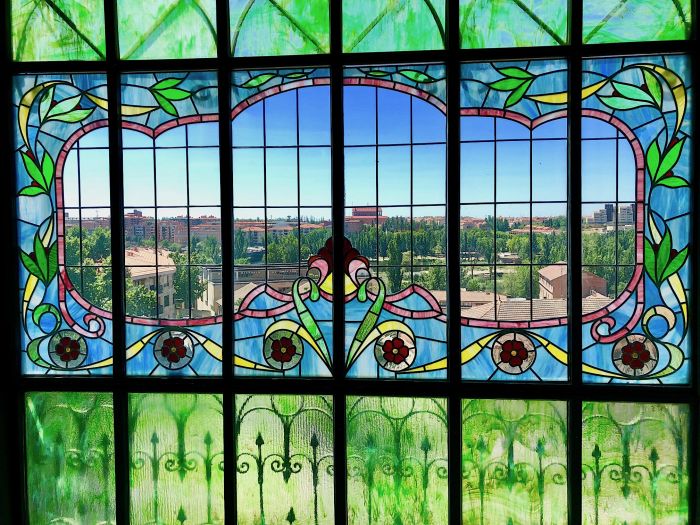 Pics aren't allowed here but thought it was ok to snap the one by the bathroom JRN
Pinhao- I could happily live on their bread and wine!
Our destination here was the mountaintop, foodie village of Favaios, known for their unique bread and wine. Although there are only 1,000 people living here the village has eight, tiny, family-owned bakeries all producing the same "four-corner bread" which is baked in a stone oven over grapevines the same way it has been for centuries.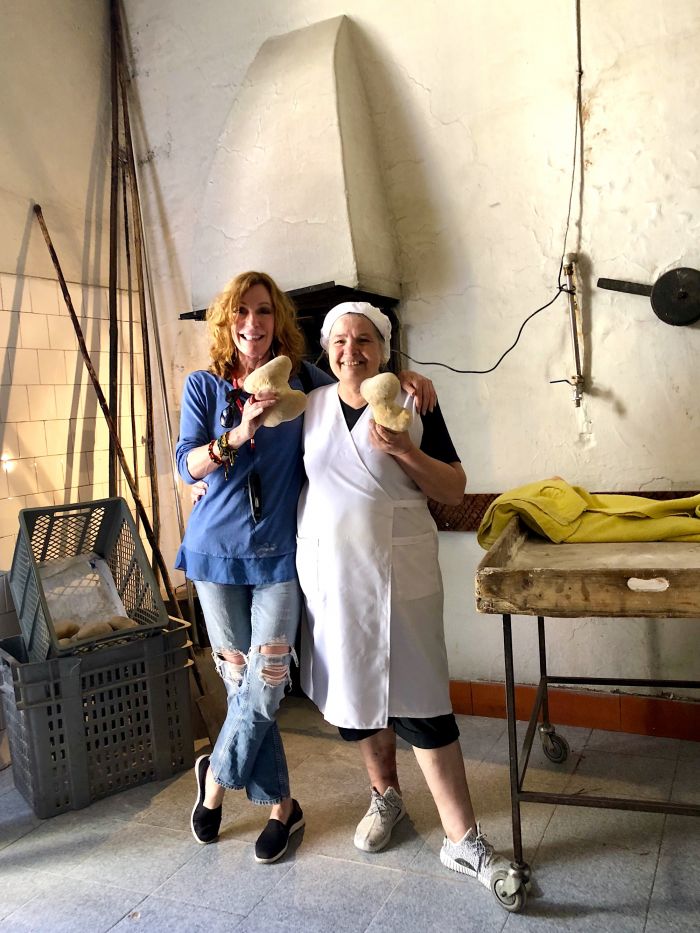 My new baker buddy JRN
Favaios is famous for Muscat wine which is even sweeter than Port. We had an informative tour of the local Moscatel wine cooperative, which produces almost 30 million bottles annually, one of which was awarded a Gold medal for the Best Wine in the World!
For more details on the 'River of Gold' and other tempting Viking cruises check out the Viking website.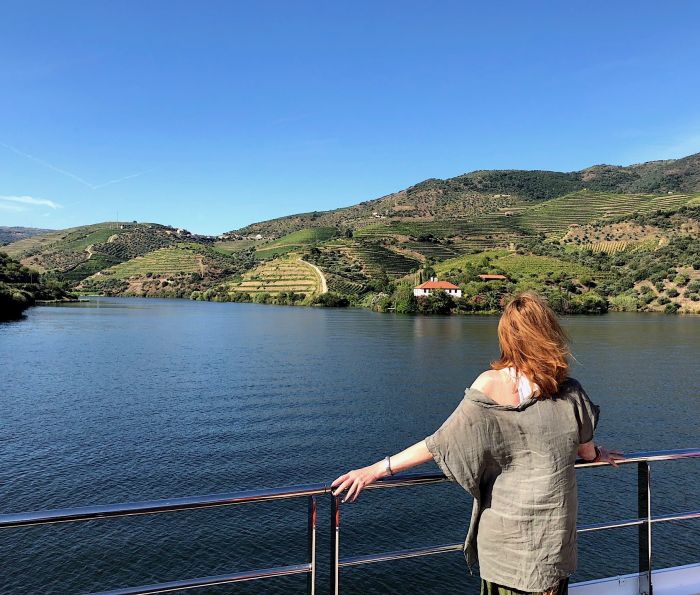 One of my fave memories-overlooking the Douro