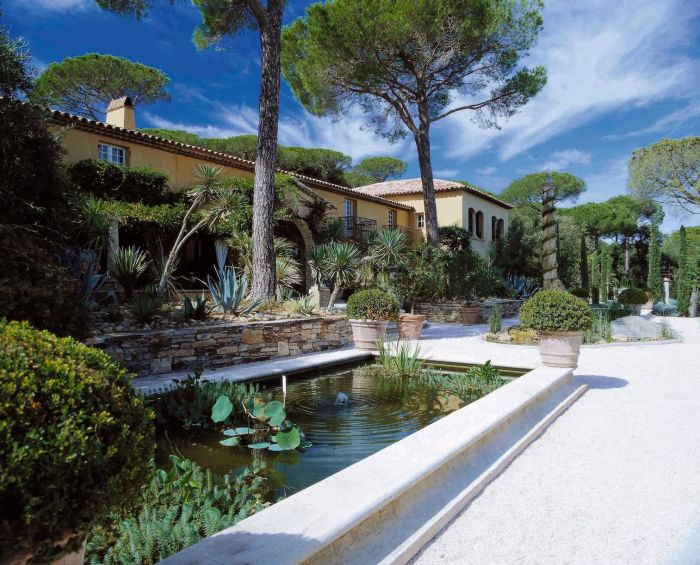 Photos Credit: Villa Marie / L. Di Orio, C. Larit, HKV & DR
Long regarded as a luxurious getaway for jet-setters with a penchant for both play and privacy, the Saint-Tropez of today has managed to sustain its glamour for a new generation of fun seekers, while simultaneously remaining a discrete bastion of classic French Riviera refinement for the traditional Tropezienne. Whatever your pleasure, Saint-Tropez comes alive as the stir of the summer season starts to settle. Whether your holiday requires solitude or a sunset soiree (or a bit of both), we've narrowed down the best of both worlds for a Saint-Tropez summer send-off that is sure to satisfy.
Photos Credit: Villa Marie / L. Di Orio, C. Larit, HKV & DR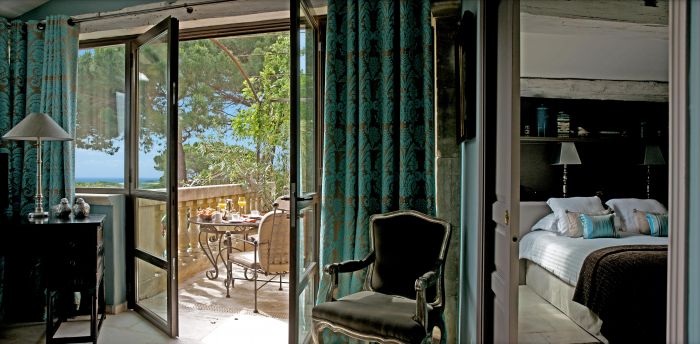 Photos Credit: Villa Marie / L. Di Orio, C. Larit, HKV & DR
STAY: Perfectly situated between the legendary beach clubs of Pampelonne Bay and the glamorous seaside village of Saint-Tropez, the seasonal hotel, Villa Marie Saint-Tropez is close enough to feel part of the action, yet removed enough in its surroundings to allow guests to truly indulge in the quintessential South-of-France serenity that has made the region an enduring summer destination of choice for generations.
Located in the forested hamlet of Ramatuelle, no more than a 10-minute drive from the bustling port of Saint-Tropez, Villa Marie is the perfect home away from home for the discerning traveler to enjoy the best of everything that the region has to offer. Surrounded by vineyard-laced knolls and pine-dotted hillsides overlooking the Mediterranean, a stay at Villa Marie feels more like visiting the private villa of a good friend, rather than a stay at your typical 5-star hotel.
The tile-roofed, terra cotta-hued compound is a world unto itself. Set in the midst of exquisitely manicured provençal gardens complete with splashing fountains, lily ponds and cypress-lined gravel promenades. Serpentine paths shaded by twisting vines lead to an Instagram-ready, lagoon-like swimming pool that is cut into the natural rock, complete with a trickling waterfall that provides just the right amount of background noise for an afternoon nap. The recently refurbished pool area invites guests to find a nook of their own and lounge under the shade of one of the hotel's signature scarlet umbrellas or under the dappled sunlight of the towering century-old pine trees that shield the area from the rest of the property. Adjacent to the pool is a smart little gym with just enough equipment for a quick morning or evening workout.
The look of the public spaces compliments the classic architecture of the villa itself, distinctly old world with a 1920's feel, enlivened by subtle flashes of metallic and jewel-toned hues throughout the interiors. This timeless quality carries over into each of the 42 rooms and suites which have been designed with a traditionally french bathroom/boudoir concept in mind. This decidedly classic aesthetic gives way to a thoroughly modern space outfitted with all of the state-of-the-art amenities one would expect from a luxury resort. If privacy is at the top of your list, you will find it in abundance at Villa Marie. Nearly every room comes complete with a private terrace perfect for enjoying a chilled glass of rosé or just a bit of peace and quiet. To get the full Villa Marie experience be sure to request one of the sea-facing suites, each of which boasts views of the Ramatuelle hills and the yacht-studded Mediterranean sea in the distance.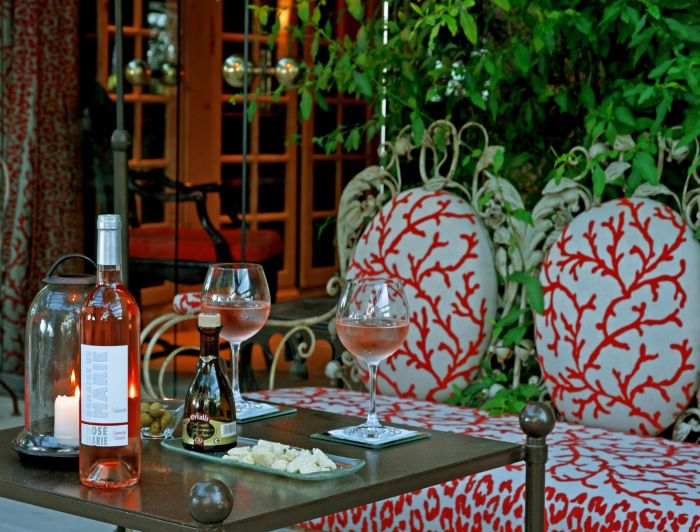 Photos Credit: Villa Marie / L. Di Orio, C. Larit, HKV & DR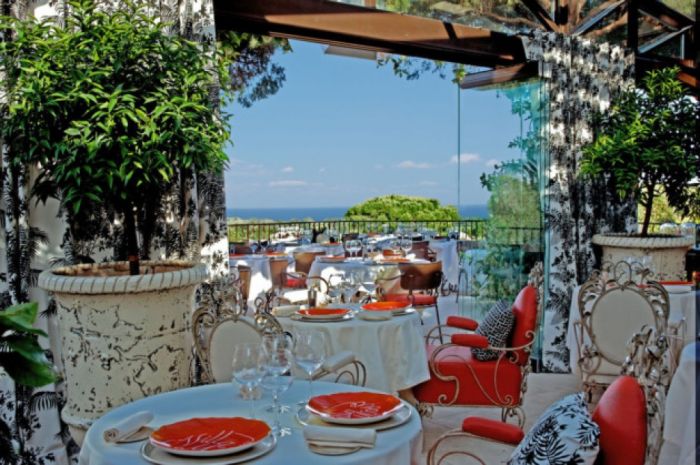 Photos Credit: Villa Marie / L. Di Orio, C. Larit, HKV & DR
EAT: As any visitor to Ramatuelle can attest, once you settle into the beautiful seclusion of your surroundings there is a good chance that you won't want to leave. Fortunately, among Villa Marie Saint-Tropez's amenities is one of the best restaurants in the region, Dolce Vita. Set inside of an open-air wrought iron and glass garden conservatory, Dolce Vita is the perfect place to gather with family or friends after a long day at the beach or lounging by the pool. Be sure to arrive a few minutes before your reservation to enjoy one of the restaurant's many signature cocktails at the lively seashell ensconced bar before heading out to the terrace to enjoy a sunset dinner overlooking Pampelonne Bay. Dolce Vita's inventive menu is best described as 'modern Mediterranean' with masterful takes on local ingredients and regional dishes reflective of traditional fare. A true garden-to-table experience, Dolce Vita's inventive menu changes according to the availability of the freshest local ingredients, including herbs and vegetables from the restaurant's very own garden. At our server's enthusiastic recommendation we decided to start with the Daurade Coupée à la Ceviche. A uniquely flavorful dish best described as a 'Mediterranean ceviche' consisting of local dorade fish, provençal herbs, an intriguing blend of spices and chunks of avocado. Up next was the main course of oven-cooked wild fish of the day paired with seasonal vegetables. Both dishes were exquisitely executed, with a presentation as superb as the preparation. Wine with your lunch or dinner is a must–after all, you are in the South of France–and the attentive and well-versed staff is happy to suggest pairings from among the restaurants 170 offerings, that are sure to meet the approval even the most discerning of palates.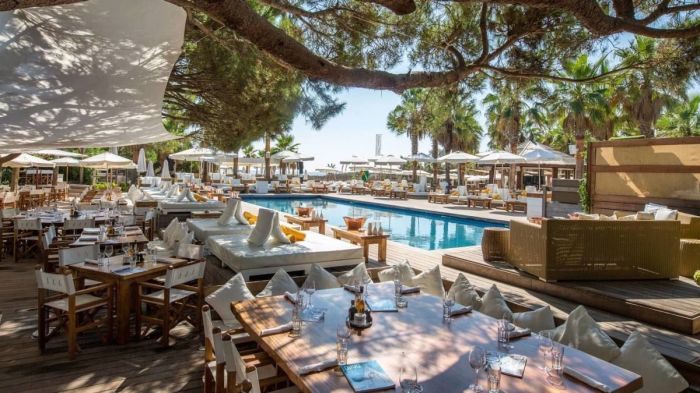 Image Courtesy of Nikki Beach Saint Tropez
PLAY: No trip to Saint-Tropez would be complete without a beach party and fortunately the best place in the world to do that is just down the road. A 10-minute drive from the Port of Saint-Tropez is where you will find Pampelonne Beach. With over 30 beach clubs lining the white sand and turquoise waters of the yacht-dotted shore, the process of simply deciding where to go can be an exercise onto itself. Whether your to-do list includes dancing, swimming or lounging (or perhaps a bit of all three) look no further than Nikki Beach Saint-Tropez. Perhaps the most famous of the Pampelonne Bay beach clubs and arguably the crown jewel of the international Nikki Beach brand of hotspots, Nikki Beach's Saint-Tropez outpost is truly the go-to destination for the local in-crowd, international socialites and sun-seeking celebrities looking to see, and of course, be seen.
With locations in some of the most glamorous ports-of-call in the world, the Nikki Beach team knows what it takes to create an environment that is fun and exciting, whatever your pleasure. For those who prefer to take in the scene from the sidelines Nikki Beach has many sandy nooks with plush lounge sunbeds and shaded cabanas where guests can enjoy bottle service or order from a full menu of mouth-watering Mediterranean inspired dishes and raw bar options, including Nikki Beach's signature sushi platters, some of which arrive presented on a boat-shaped serving platter bearing the iconic Nikki Beach logo (perfect for a few envy-inducing Instagram shots).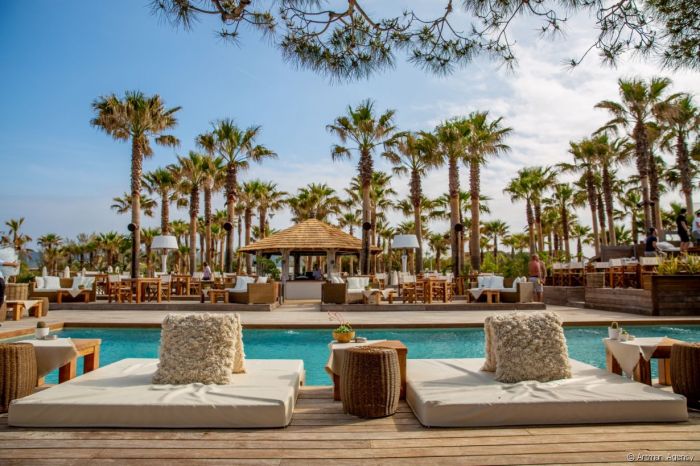 Image Courtesy of Nikki Beach Saint Tropez
By day you can expect to find a mellow crowd of the well-heeled and well-dressed sipping chilled rosé and lunching poolside on white tablecloths beneath a lantern-laced canopy of pine trees. The mood is set with downtempo house music mixes, or in our case a live band featuring the vocal stylings of popular French vocalist Mariam Abel, best known for her run on the popular televised singing competition, Nouvelle Star. As the sun descends the poolside comes to life, transforming itself into a full-on dance party with the sounds of popping champagne bottles and live DJ sets filling the air well into the evening. A mix of uptempo house grooves and pop remixes keep the crowd on their feet and the lively atmosphere is nothing short of infectious. It is impossible to have anything but a good time at this beach club.
As summer winds down, the season sizzles well into October throughout Saint-Tropez. This leaves you just enough time to head south for the season and experience both sides of this enduringly pleasurable part of the world.
Villa Marie Saint Tropez / www.villamarie.fr
Nikki Beach Saint Tropez / www.nikkibeach.com
Luxury Travel by Justluxe