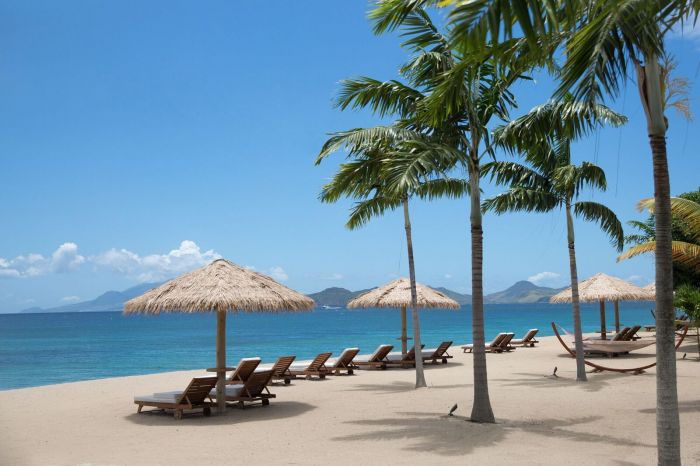 Siobhan Frost
Nevis might not be the most well-known Caribbean island, but perhaps that's precisely what makes this tranquil slice of paradise that much more special. For those unfamiliar with the small (approximately 36-square miles, to be exact) but mighty island, it is not only the birthplace of U.S. founding father Alexander Hamilton but is also home to historic hot springs, the awe-inspiring Botanical Gardens of Nevis and where the very first hotel in the Caribbean was built.
If you're seeking a wellness retreat from the everyday demands of life on the mainland, book a trip to Nevis (and skip right past the more populated surrounding islands) and settle in for a trip that promises true rest and relaxation among lush scenery and warm, hospitable locals.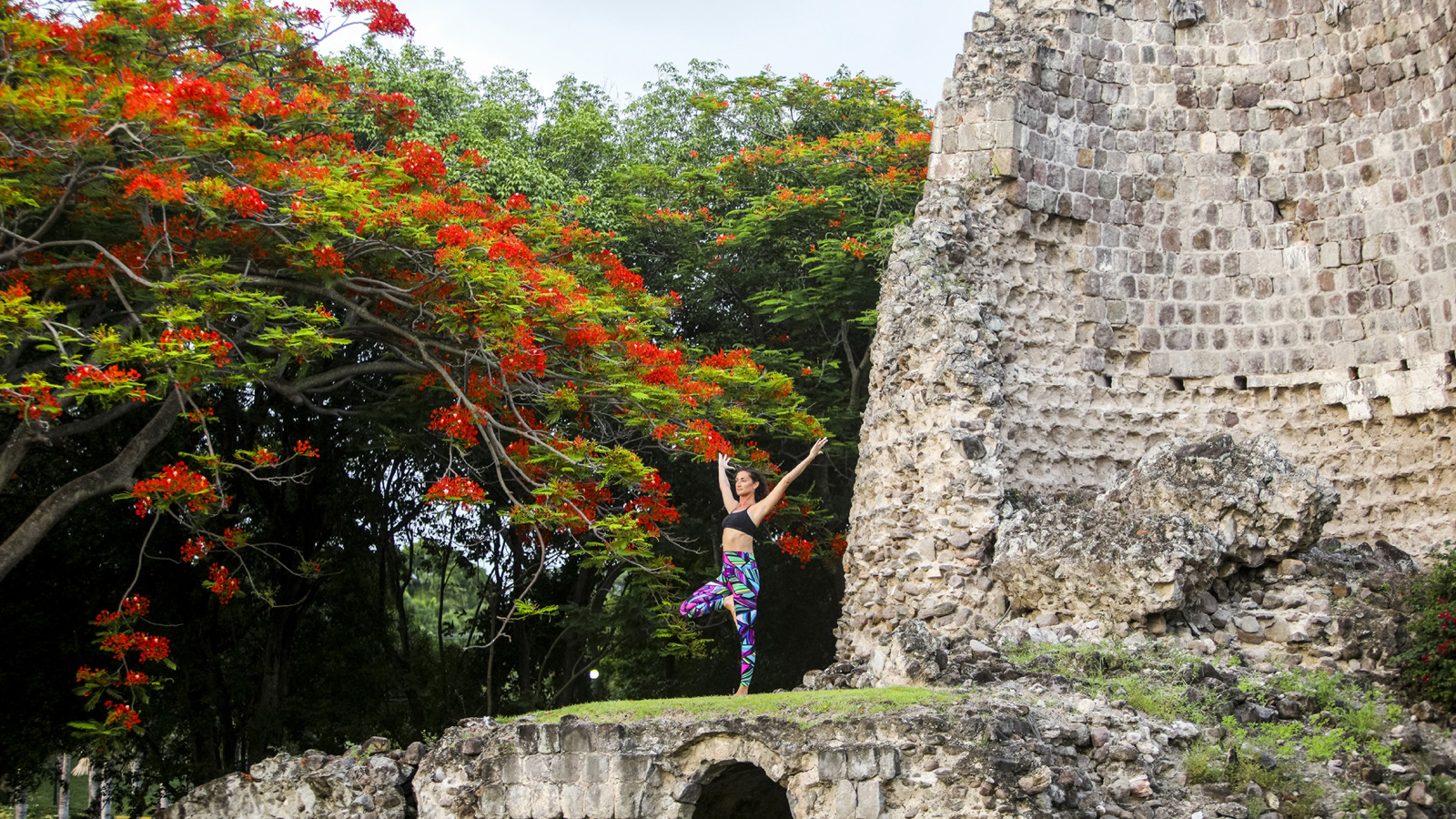 Four Season Nevis
Sidenote: For the more active traveler, there's a plethora of fun pastimes to choose from: horseback riding, hiking, cycling, tennis, scuba diving, snorkeling and more; but for those seeking a perfectly peaceful refuge from quite literally, everything, consider partaking in one or all of the below.
Surrender to Tranquility: Spa Under the Stars at the Four Seasons Nevis Hotel.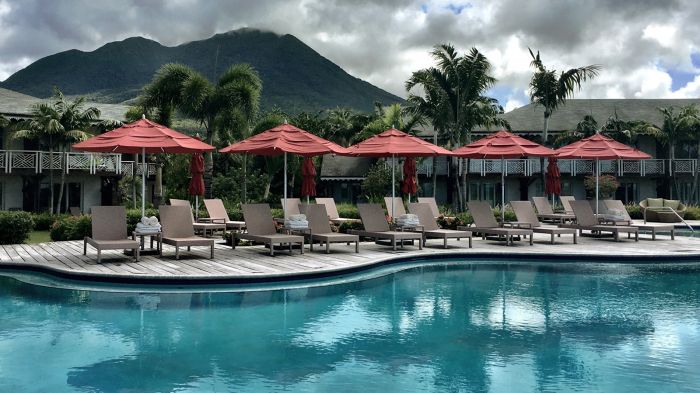 Four Season Nevis
It certainly says something that the only Four Seasons Hotel in the Caribbean is nestled on the island of Nevis, and this sprawling resort does not disappoint.
As expected, the stunning property is perfectly appointed with glistening swimming pools (the Reflection Pool couldn't be beaten for endless hours of zen), beautiful plush guest rooms (which recently underwent a chic decor makeover) and tantalizing restaurants serving up arguably some of the best seafood dishes on the island. There's also no shortage of spectacular private residences that can be rented for those looking for a more private or long-term stay.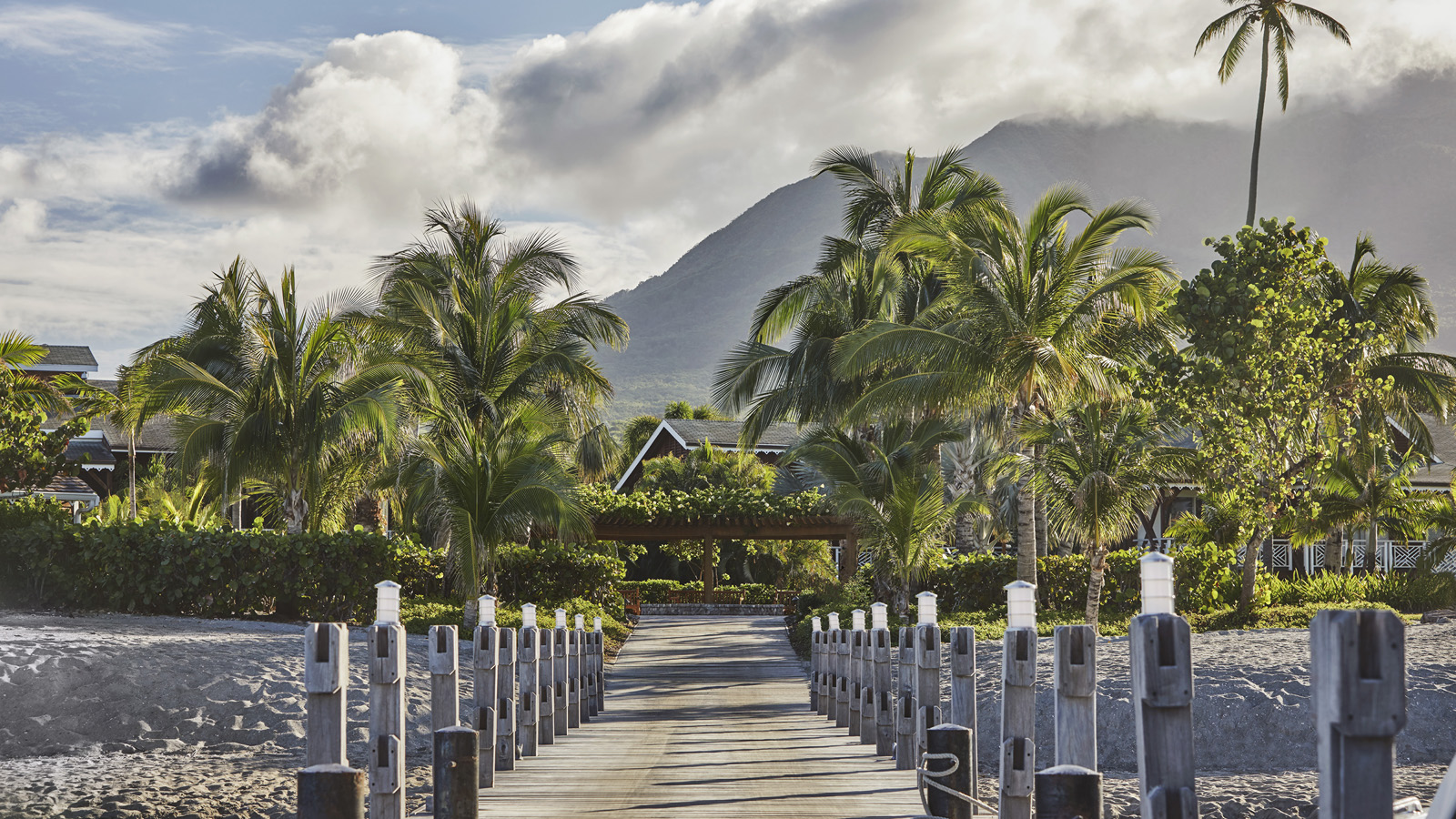 Four Season Nevis
But for a true vacation highlight, clear your calendar and book the "Spa Under the Stars" experience, where you'll have the entire spa sanctuary to yourself. Forget your worries and entrust your state of mind with the capable and accommodating spa attendants for the evening. Following your blissful face or body treatment, a decadent multi-course meal will be catered on property among tropical flora and fauna or at the sleek Japanese-inspired cold plunge pool with magnificent views of Nevis Peak. This is one unforgettable experience you'll definitely want to write home about.
Ready, Set, Relax: Hire a Private Chef for a Nevisian Treat at The Beach Houses.
If you're jet-setting to Nevis with a larger group, you may forego the luxury hotel route and book a private Beach House on Paradise Beach instead. The relatively new beachfront villa resort offers 12 accommodation options of various room sizes, all equipped with personal concierge service.
Additionally, the secluded resort opens up to breathtaking views and offers seven sophisticated two, three, and four-bedroom thatched villas, each boasting an inviting plunge pool, outdoor marble shower and a private setting within tropical gardens.
As for your personal concierge, there's simply no shortage of offerings he can cater to. From stocking the fridge with your favorite snacks upon arrival to booking adventurous water sports activities or excursions during the day, his main mission is to take care of your every whim. Best of all, instead of venturing out for dinner after a long day of fun in the sun at Paradise Beach, guests can also hire a talented Nevisian chef to cook any and every meal in the comfort of your Balinese-inspired villa for the entire duration of your stay. How's that for the ultimate luxury?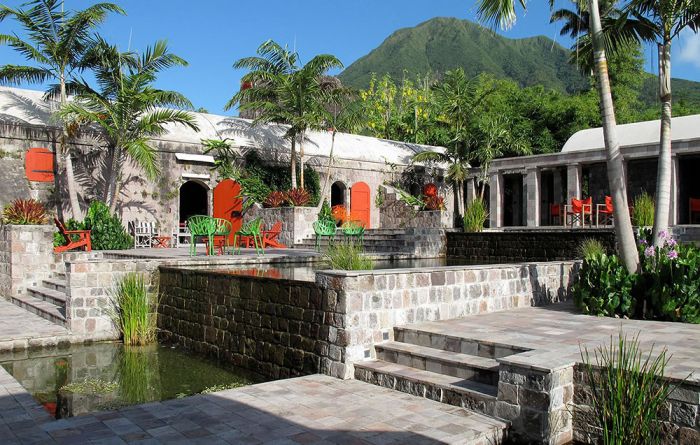 Golden Rock Inn
Take It All In: Explore the Flora and Fauna Among Green Vervet Monkeys and Hummingbirds at Golden Rock Inn.
For a true Nevisian experience, you'll have to spend at least part of your vacation exploring the gorgeous landscape at the Golden Rock Inn. The historic hotel sits among hundreds of different species of lush tropical plants and charming critters, birds and wildlife, making for one unforgettable visit.
Book a night at the epic Sugar Mill Suite and make your way down to enjoy Caribbean flavors at the unassuming outdoor restaurant, which serves up fresh catches of delicious seafood and local produce daily. For an unprecedented escape from everything, aimlessly wander among the enchanting trees and plants and keep your eyes peeled for beauty (hint: it's everywhere); or unwind and recline atop a velvet chaise lounge chair overlooking the freshwater pool. The Golden Rock Inn is one unforgettable hideaway.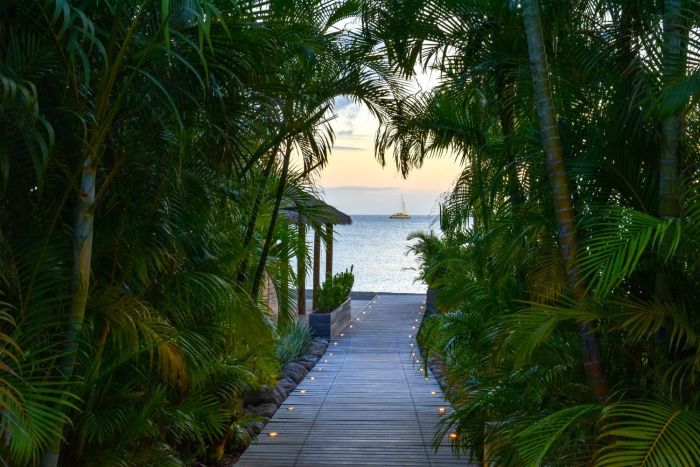 Siobhan Frost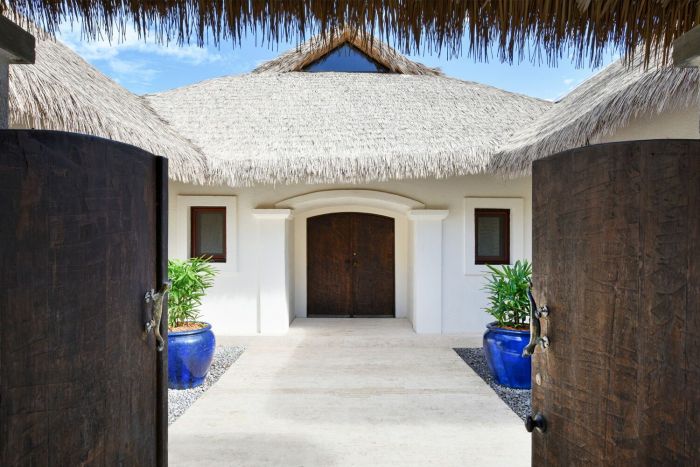 Siobhan Frost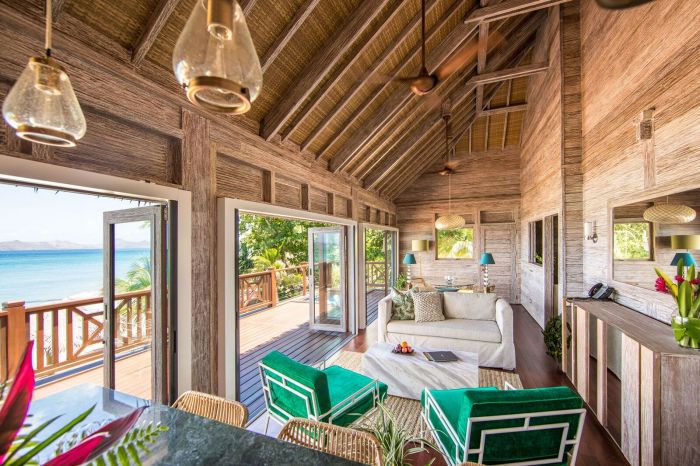 Siobhan Frost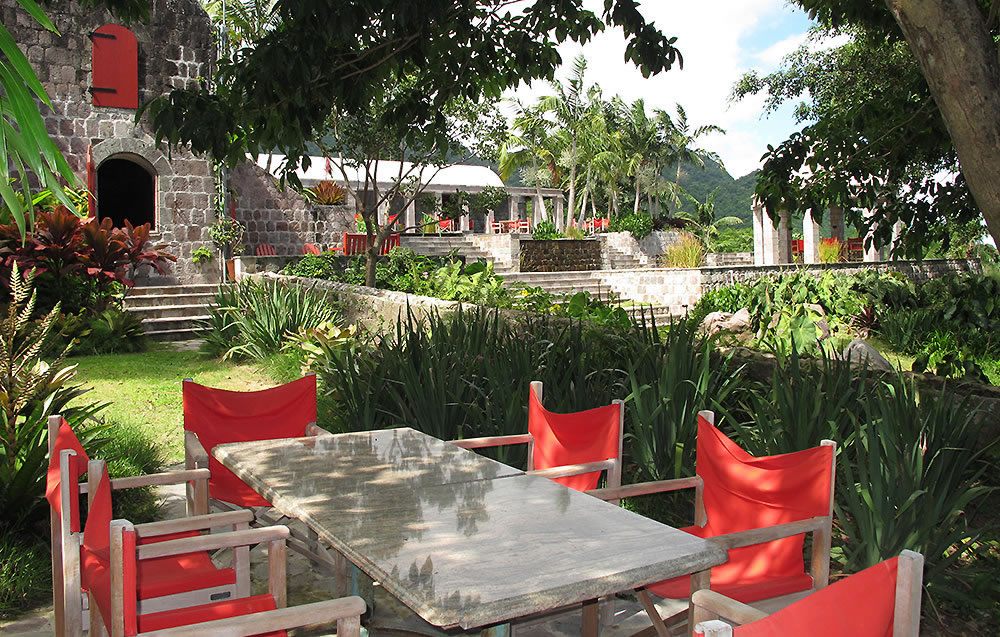 Golden Rock Inn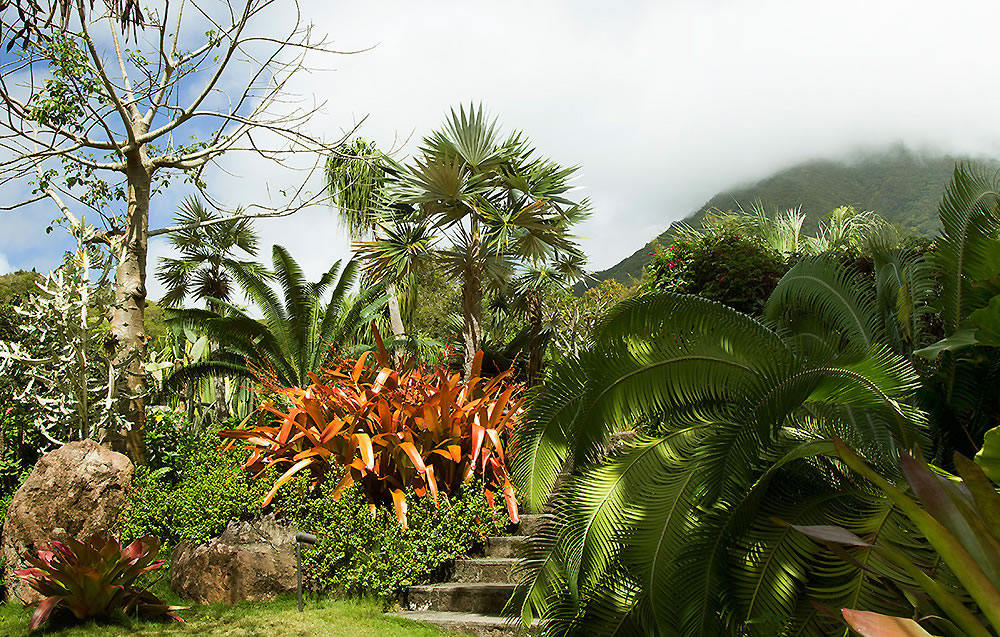 Golden Rock Inn
Luxury Travel by Justluxe