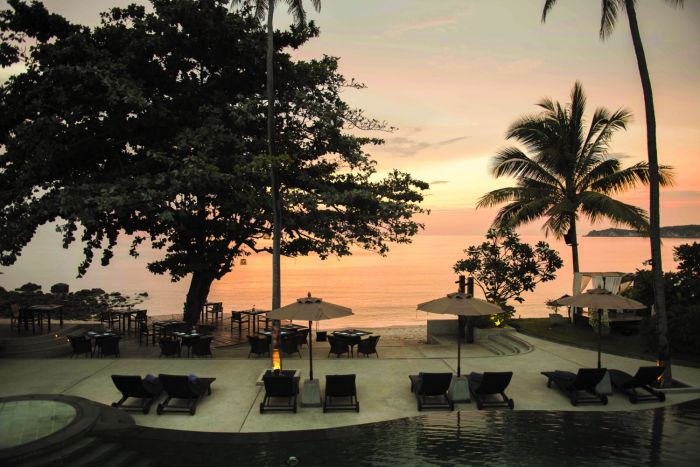 Outrigger Koh Samui/Coyne PR
Considered by many travel insiders as one of the world's most picturesque islands in Southeast Asia, Koh Samui is Thailand's 2nd largest of its approximately 51 islands. Tucked into the glistening aquamarine waters of the Gulf of Thailand, Koh Samui is basically a screensaver that has come to life. Its prominent beaches and lush coconut groves make this faraway land a wonderful hideaway for lovers. The proud heritage and cultural significance of the island also make it a must-see, beach stop during a tour of the many mountainous, green provinces of Thailand during a friends getaway.
Outrigger Koh Samui is one of the more premier and intimate, luxury properties in this beloved portion of Thailand. This couples (or singles) only retreat has 52 individual suites and villas that each feature a private plunge pool and deck. The beautifully designed spaces make the property feel more like a community than a resort, with palms shading the winding pathways and a large coy pond that leads to their traditional Thai spa. Beachside breakfast is not to miss on the spacious terrace that provides views that you'll have in your camera roll for months to come.
A stone's throw from Outrigger Koh Samui is Yodyut Muay Thai Boxing and Training Center. Instead of spending an hour on the treadmill, why not take a Muay Thai Boxing class with Owen, one of the best boxing trainers in the country. Known as "The Art of Eight Limbs", Muay Thai is a tradition in Thailand and the gym also showcases matches several nights a week between local fighters getting prepped for the international stage.
For the lesser cardio and more spiritual experience, Outrigger Koh Samui also hosts sunrise yoga on the rooftop of the spa, bringing your "sun salutations" to a new level. Outrigger Koh Samui also provides paddle boards and kayaks for the days you'll want to spend resort side.
Of course, you didn't travel all this way not to explore beautiful Koh Samui. Wat Phra Yai, known to English speakers as "The Big Buddha" is located in Koh Samui not far from the popular shopping and dining area of Fisherman's Village. The Big Buddha definitely lives up to its name, an almost 40-foot gold Buddha sits atop a pedestal overlooking the island. The Buddha is well-taken care of by Buddhist monks on site. While crowded during the day, attendance is low before closing which is usually around sunset, making for some unforgettable photos as the sun descends behind the statue.
Outrigger Koh Samui has food options, but nothing is better than taking a private cooking class in order to take your experiences home. At the recently opened Blue Fire Thai Cooking School, Outrigger Koh Samui offers classes to learn authentic dishes from Koh Samui.
Better known as "Tor", Chef Tishabhiroyma can share unique experiences regarding Thai food, travel within Thailand and how Thai food reflects their unique culture, but also relates to migration within various regions of Thailand, Cambodia, Vietnam, China, and even Australia. Tor teaches the art and science of Thai cooking. While Thai food has gained notoriety around the world, many of us on the outside don't realize that each region of Thailand has its own flavor. As head chef, Tor has served with distinction in the kitchens of three Outrigger resorts in southern Thailand over the last six years. Tor was previously Chef de Cuisine at Tom Yum Thai Cuisine and Sous Chef at Chilli Padi Asian restaurant, both in Melbourne. Tor has an Advanced Diploma of Hospitality in Commercial Cookery from AMI Education, Australia, but gets excited to share the flavors of Thailand, specifically Koh Samui with globetrotters.
Koh Samui has a cooking style that is innately beachy, colorful, and lighter than the heavier inland dishes. The dishes are centered around the catches of fish, seafood, while still featuring the curries and sauces that many associate with Thailand. Not only will guest take home these recipes, but they can also easily enjoy on the property at any of their restaurants. They say couples that cook together, stay together and cooking is love made visible while staying at Outrigger Koh Samui.
A beachgoers paradise and a food lover's dream, this portion of Thailand has a rich culture and deep-rooted heritage that goes beyond the images posted on Instagram. Koh Samui is the portion of Thailand that welcomes you on screensavers and vision boards. Why spend another winter vacation shoveling snow?...when you could dip your toes into the waters of the Pacific, enjoy cotton candy sunsets, and forge new memories in Koh Samui.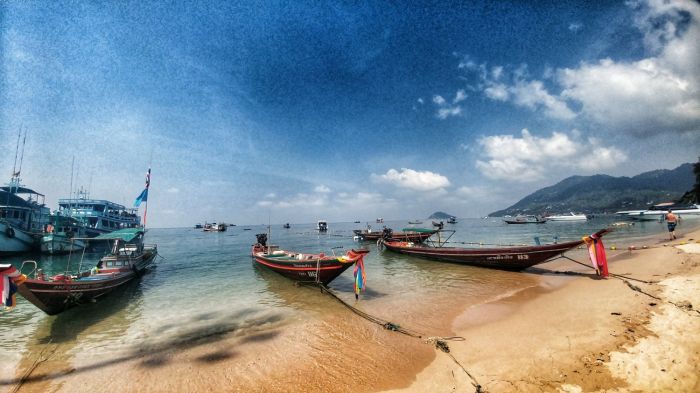 Shea Peters
Koh Samui is Thailand's second largest island, but island tours can take you to islands such as Koh Tao and many others.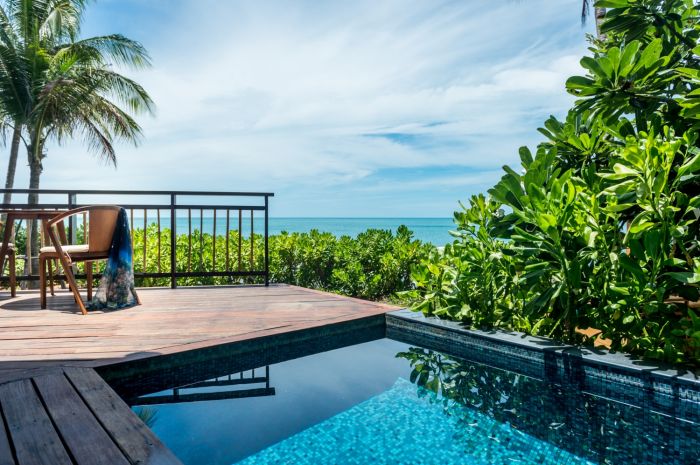 Outrigger Koh Samui/Coyne PR
This Beachfront Villa at Outrigger Koh Samui is just one of the 52 villas and suites at the property with private plunge pools.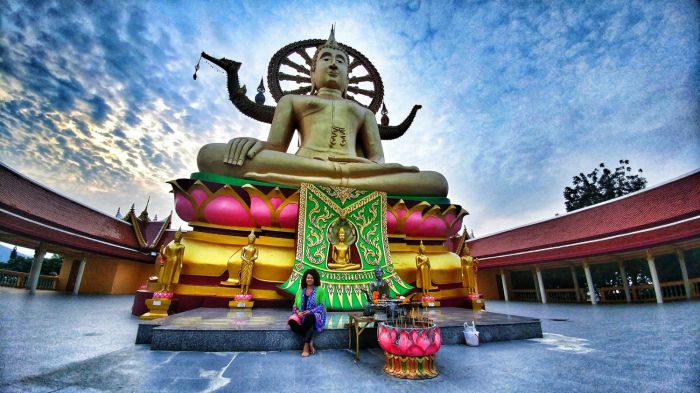 Shea Peters
'The Big Buddha' is one of the most photographed landmarks in Koh Samui.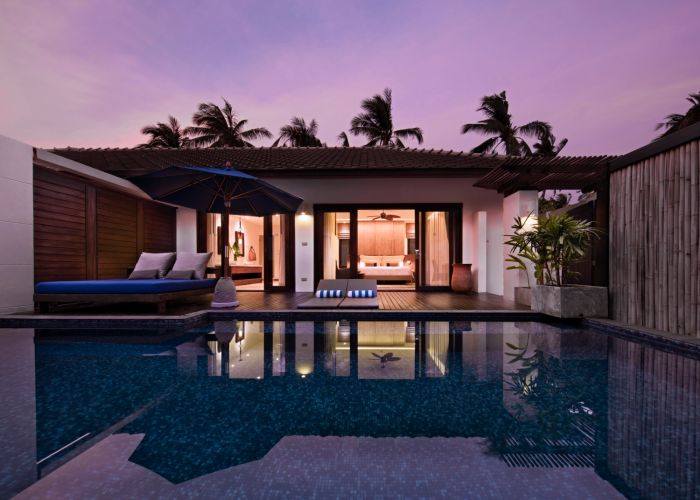 Outrigger Koh Samui/Coyne PR
One of the most romantic and secluded resorts on the island of Koh Samui, Outrigger Koh Samui is the perfect place for a sunset swim on the other side of the world.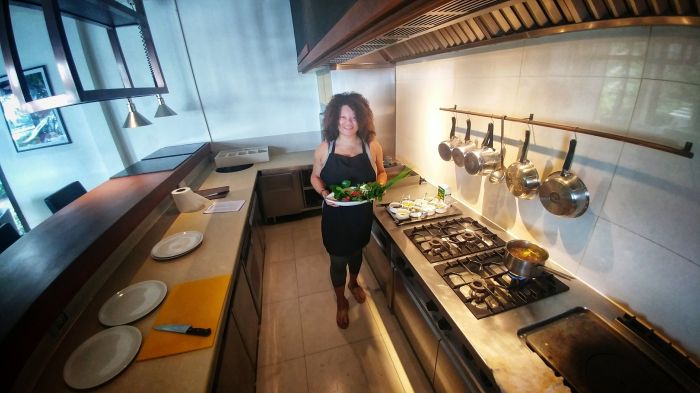 Shea Peters
Private cooking classes at Outrigger Koh Samui's Blue Fire Thai Cooking School can be one of the more satisfying ways to bring the taste of the island home.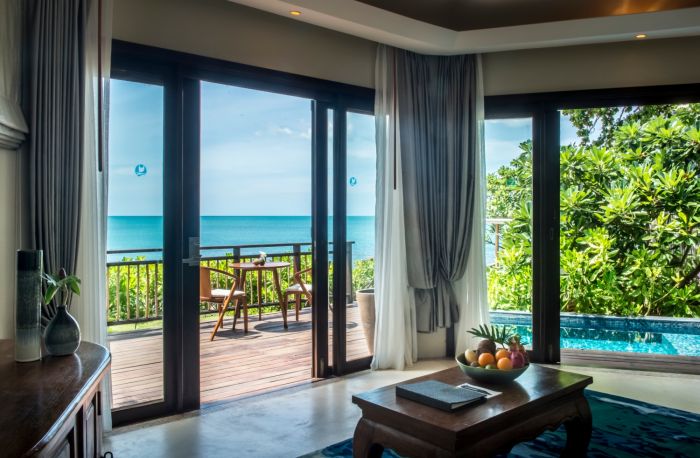 Outrigger Koh Samui/Coyne PR
Steps to one of the prettiest beaches in Thailand, this oceanfront villa at Outrigger Koh Samui is made for lovers.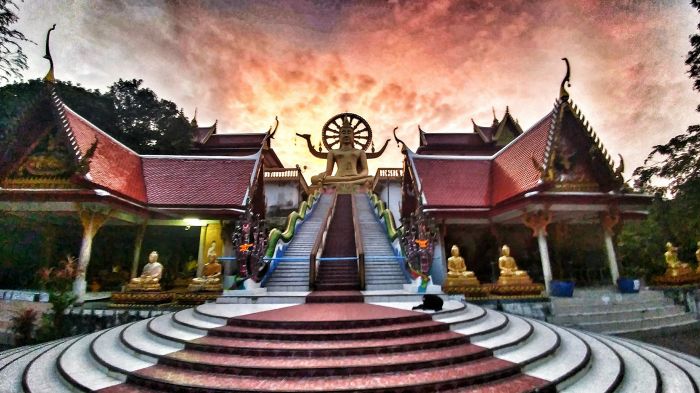 Shea Peters
Sunsets in Koh Samui are other-wordly, here sundown at'The Big Buddha' is a wonderful experience without the crowds.