Mila Pantovich
Puerta Cortés: La Paz's Answer to Understated Luxury in Mexico
While Mexico is undoubtedly full of beautiful beaches, exclusive hideaways, vibrant cities and amazing natural wonders, very rarely does one small city offer everything, but La Paz in Baja California Sur does. We spent just four short days in La Paz, but within an hour it was easy to see why so many celebrities and high-profile billionaires forgo trendier areas (like Cabo San Lucas) in favor of this laidback city just far enough away from the popular tourist routes that is has avoided mass commercialization. And of course, no destination hotspot is complete without an amazing place to stay and for us, that place is Puerta Cortés.
Puerta Cortes
Overlooking the Sea of Cortez, Puerta Cortés is a residential and resort destination that includes two residential communities that offer homes for purchase and vacation rentals. The property is just outside of the La Paz's downtown area and has everything you could ever want, including a golf course and a marina with a variety of restaurants. And oh yeah, the homes also happen to be beautiful and impeccably decorated.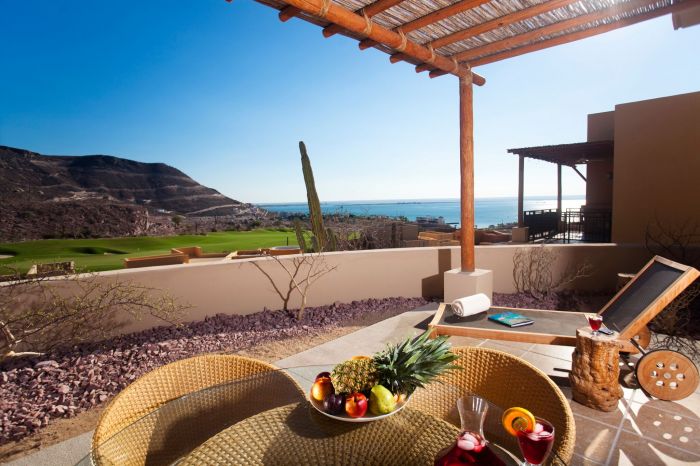 Puerta Cortes
"Puerta Cortés is an exclusive hideaway for those seeking unparalleled, coastal living and adventure in one of the most privileged locations in the world," said Antonio M. Davila, President of Ascendancy, a Mexican-based asset management firm that bought the property in February 2018 when it was known as Costa Baja. "When I first discovered the area years ago, I was dazzled by its beauty, spectacular scenery and extraordinary amenities. I knew I had to live here myself and further build on the awe-inspiring foundation set forth by the property's previous owners."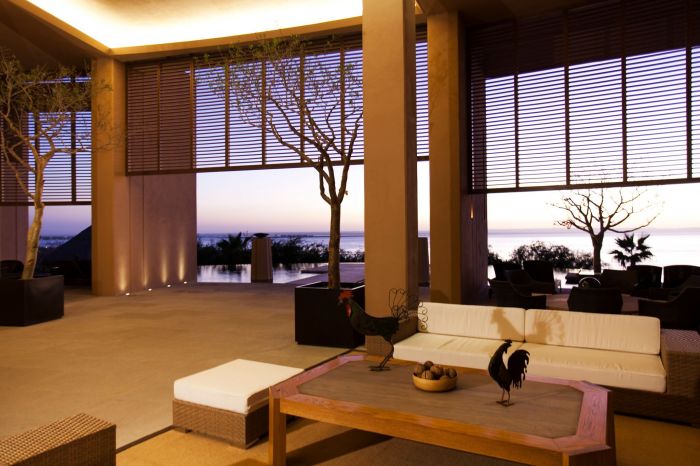 Puerta Cortes
Since the purchase, the property has been revamped and is currently undergoing a $5 million renovation to its grounds. Though much of the work has already been completed, such as the gorgeous beach club, there is still plenty to go, such as several additions to the golf Clubhouse and all new furnishings in the residences.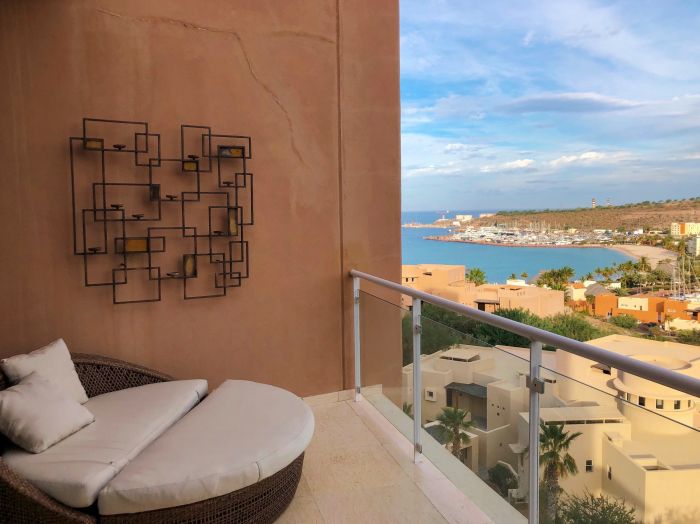 Mila Pantovich
We were lucky enough to stay in VistaMar, which is one of the two residential communities available, where each of the 60 condominiums offer panoramic views of the ocean (ours looked out on the ocean, marina, golf course and the mountainside). Spanning eight floors, the building's condos are currently undergoing a facelift, as all of the furniture will very soon be swapped out with new pieces reflecting a more modern aesthetic. Priced between $500,000 and $1,400,000, the smallest condo includes two bedrooms and two-and-a-half baths, while the largest is a two-floor penthouse that includes three bedrooms, a studio and three-and-a-half baths. Each condo also has a large terrace that ranges from 2,600 square feet to more than 5,000 square feet.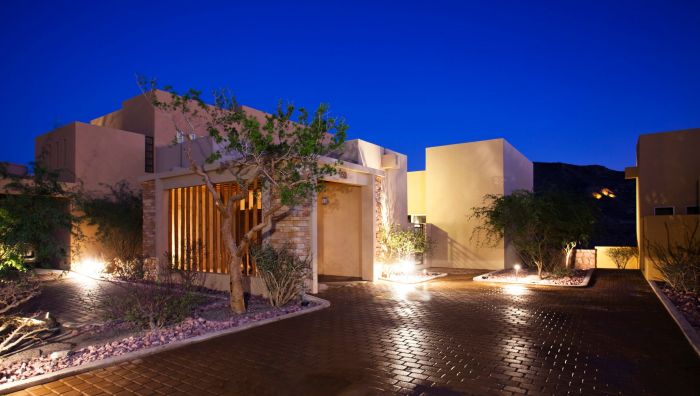 Puerta Cortes
Right next door to Vista Mar is the other residential community, Las Colinas. Set up on the hillside, Las Colinas features 72 homes that boast "contemporary, rustic architecture," impeccably designed to fit in with the La Paz community. Golf enthusiasts will especially like these residences, as they are located between holes 8 and 10 of Puerta Cortés' renowned Gary Player-designed golf course (but more on that later). Also offering views of the Sea of Cortez, desert mountains and the marina, Las Colinas includes four different home styles that range from 2,000-square-foot two-bedroom (plus a den), two-bath residences to three-bedroom (plus a den with a whirlpool), three-bath residences that can be more than 3,300 square feet. Prices for Las Colinas homes start at $400,000 and go up to $750,000.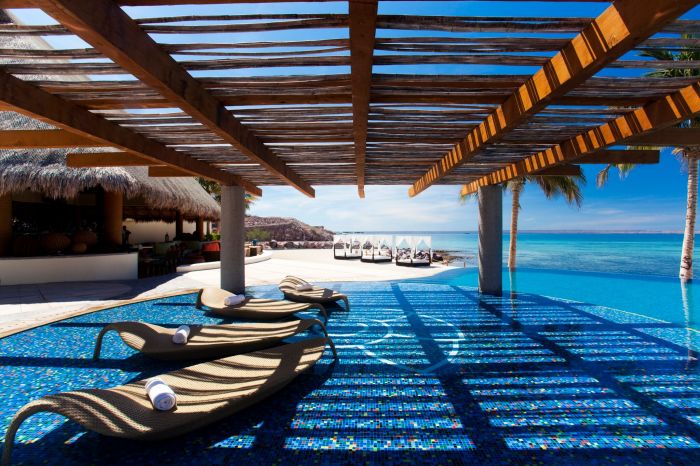 Puerta Cortes
Guests of both communities are given their very own golf cart to get around the property with, which comes in extremely handy when you want to zip down to the marina for breakfast or head on over to the beach club to sunbathe. If you decide to purchase a residence at VistaMar or Las Colinas, you are able to put your home in the vacation rental program, which comes with 24-hour controlled access security, on-site reception and concierge, as well as access to the property's amenities.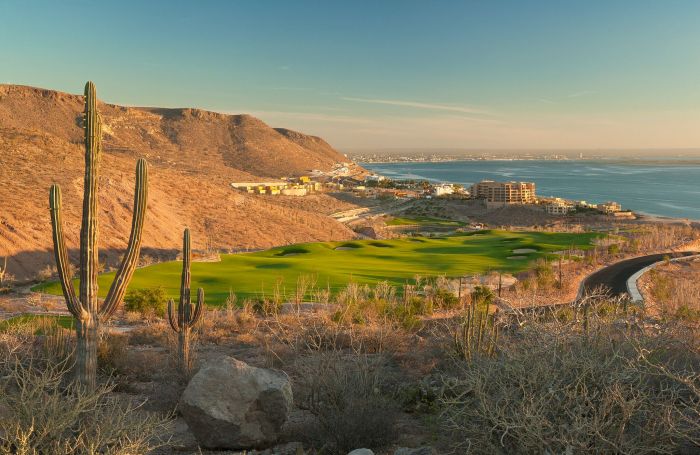 Puerta Cortes
What are these amenities? The golf course, for one. Puerta Cortés has the only Gary Player Signature Golf Course in Mexico, with 17 of the 18 holes offering players views of the impossibly blue ocean. Plus, the course has an especially stunning number 14 hole, which positions players on an elevated cliff for their shot. It also happens to be one of the longest par fives in Mexico.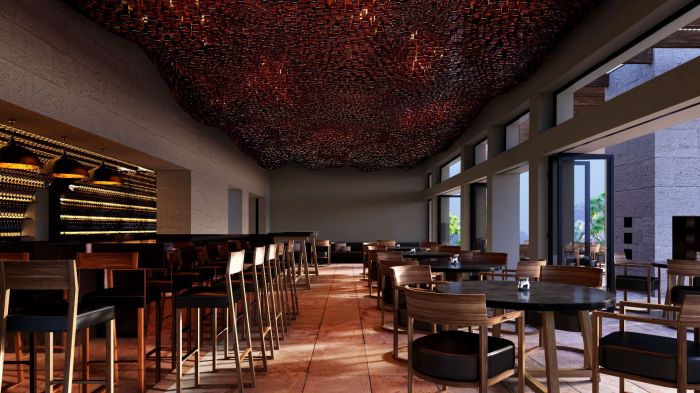 Puerta Cortés
When you want a break from golf, you can head up to the Clubhouse. Though the Clubhouse still has some renovations to go (like a brand new driving range), it is still a beautiful spot to unwind after a game. It includes the Clubhouse restaurant, a lovely outdoor terrace and a Pro Shop. The Clubhouse also happens to have the best view in all of Puerta Cortés, since it sits high up on the mountainside and overlooks the marina, which is why it is a popular spot for wedding ceremonies.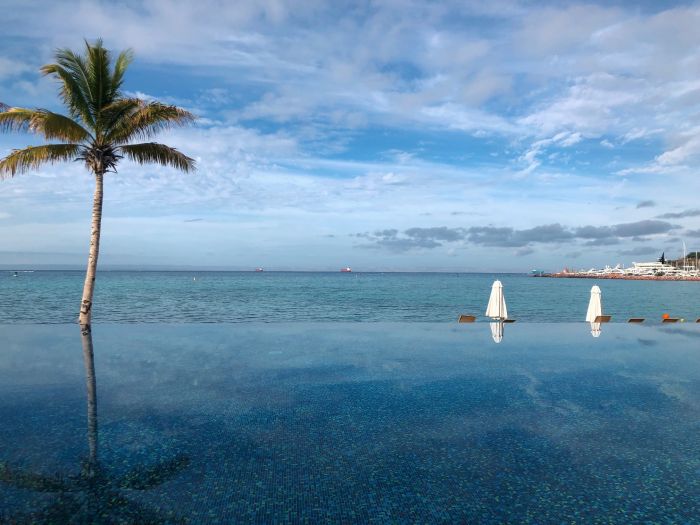 Mila Pantovich
Another perk is Blue Cortés, the beach club. Every penny that went into the renovation of this beach club was worth it (even the bathroom is Instagram-worthy). Complete with an infinity pool, a Jacuzzi, a fitness studio, a tennis court and a bar/restaurant, Blue Cortés is exactly the type of exclusive club that you actually want to spend time in. And with so many changes on the horizon for Puerta Cortés, you should look into joining the club ASAP.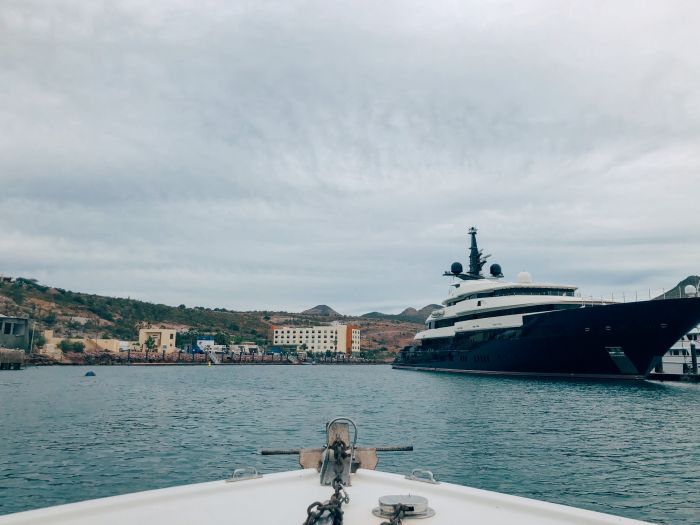 Mila Pantovich
And lastly, there is the marina, Pueblito Marinero. The marina, which includes a small inner marina and a larger outer marina, can fit around 250 vessels ranging in size from 30 to 225 feet. However, there are many mega yachts that dock frequently at Pueblito Marinero, including Steven Spielberg's 282-foot Seven Seas (which was there during our visit) and the 256.6-foot Venus that was designed for Steve Jobs. For those interested in docking their vessel, the marina includes 24-hour security with controlled access, concrete springs, a wastewater extraction system, safety boxes, a fuel dock, high-speed internet and a water treatment plant.
The marina also includes a trendy coffee shop called Doce Cuarenta, many companies offering seafaring adventures you can book (such as Princess Yachts, Baja Adventure Co. (BACo.), and Dream Yacht Charter), and several fantastic restaurants (like Azul Marino Restaurante, Odayaka Sushi Bar and La Barcaccia).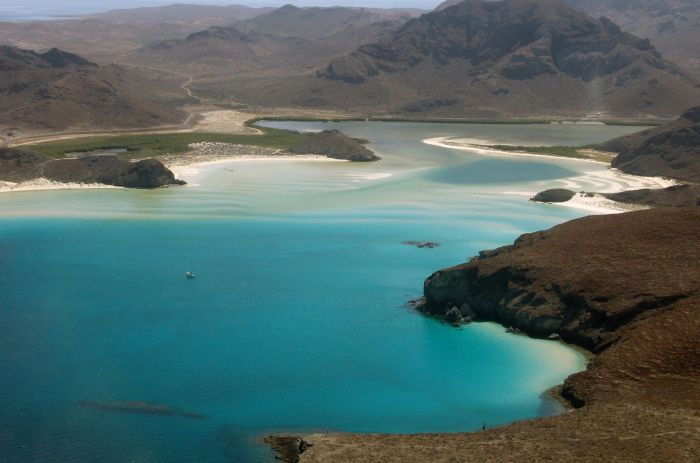 Puerta Cortés
Hanging out in the marina is impossibly relaxing and despite it being La Paz's high season, it felt like we were hanging out on a remote island. That is one of the great things about being in La Paz; even though it is actually the largest city in Baja California Sur, it feels so much smaller than other cities, like Cabo San Lucas. An ecotourist destination, La Paz offers so much to visitors and residents, such as scuba diving, snorkeling, fishing, kayaking, cycling, hiking. Take our word of advice though and have Puerta Cortés coordinate an unforgettable adventure out on the water for you. You know, like snorkeling with sea lions.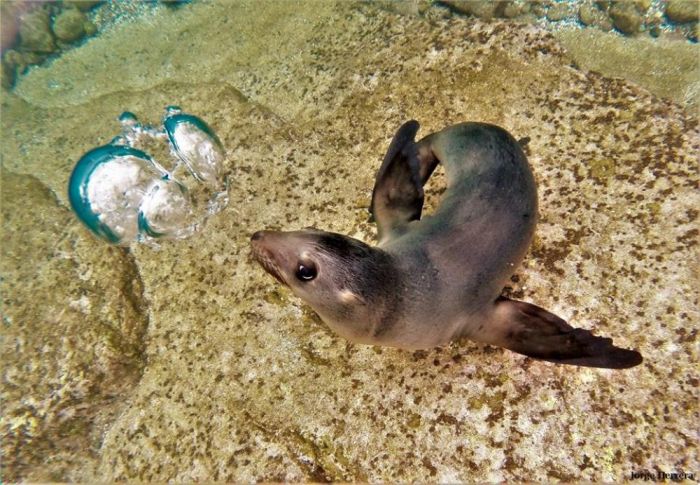 Jorge Herrera, Baja Adventure Co.
Puerta Cortés teamed us up with Jorge Herrera from BACo., who took us out to Isla Los Islotes, which is a small island found off the shore of Isla Espíritu Santo. Isla Los Islotes is home to more than 200 sea lions and if you're lucky like we were, you will find yourself surrounded by playful pups who want nothing more than to nip at your goggles and tug at your flippers. And when you aren't watching the sea lions, you are marvelling at the coral reefs and schools of sardines surrounding you. People from all over the world travel to La Paz to swim with these sea lions, so it is important to note that large vessels are not allowed within 200m of Isla Los Islotes. In fact, only licensed boats may approach, so you have to set up the adventure through one of the local activity providers. Swimming with whale sharks is another must-do, though we didn't get that pleasure this time, as there was a five-hour wait due to the amount of people in the area.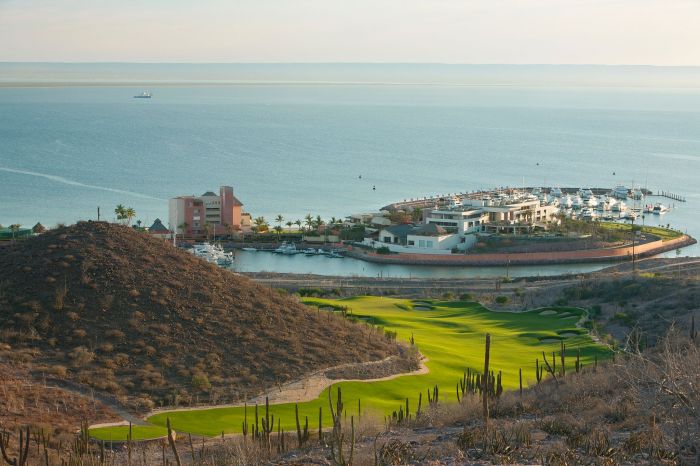 Puerta Cortés
"Part of what makes our resort and residential destination so extraordinary is our authenticity and community feel," said Davila. "I have met so many well-traveled visitors and residents who have seen and experienced some of the most incredible locations in the world and have decided Puerta Cortés is where they want to be. It's an exciting time for La Paz and our property as we continue to serve as area leaders showcasing a sustainable and successful growth model as tourism continues to soar."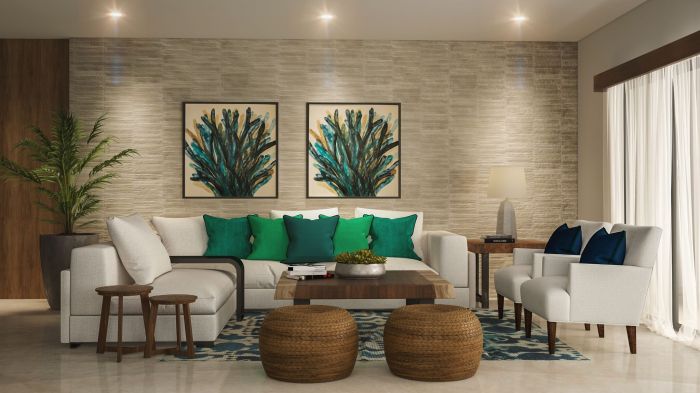 Puerta Cortés
With so many changes in store for Puerta Cortés, we can't wait to see what the future brings for the property and for La Paz. So, do yourself a favor and plan your vacation now; we know we already are.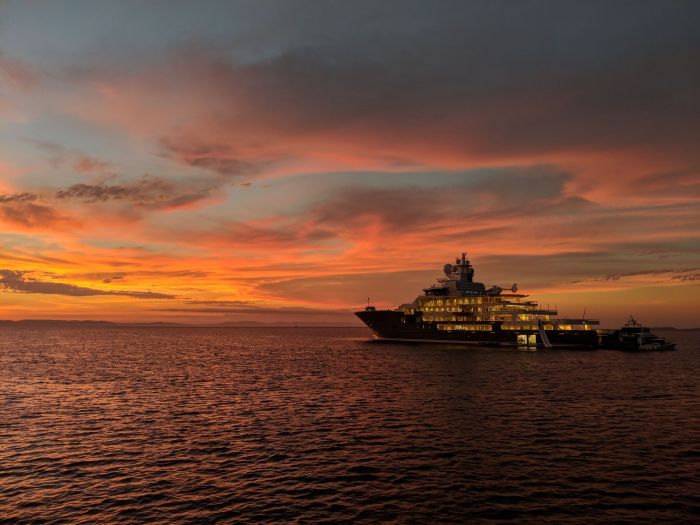 Puerta Cortés
Luxury Travel by Justluxe