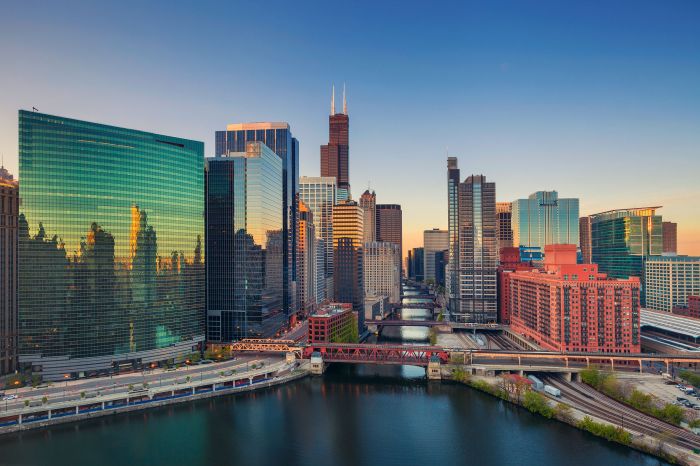 Photo Credit: Shutterstock
This fall, we hopped on over to Chicago to explore its soaring skyscrapers, eat at some of its best restaurants, imbibe at rooftop bars and learn more about its culture through visits to local museums and tours. If you're headed to the Windy City soon, here are our top suggestions of what to see, do and experience while there.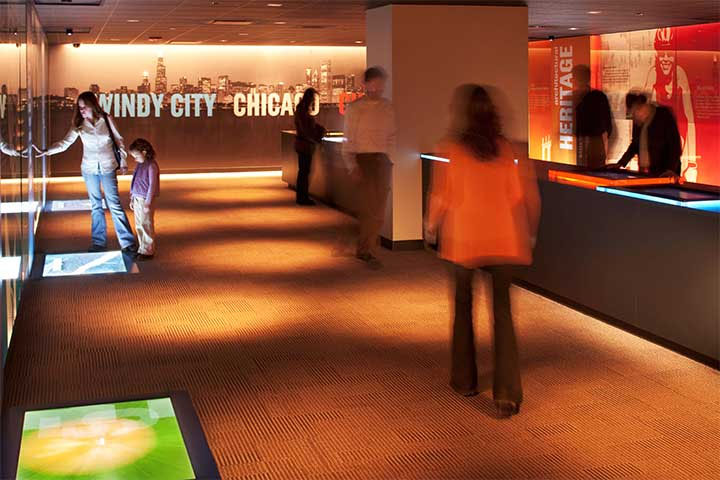 Photo Credit: Chicago CityPass
Chicago CityPass
One of the best ways to effortlessly see Chicago is by purchasing the CityPass which comes with VIP admission into many of the area's top attractions. Valid for nine days from date of purchase, the pass includes access to Shedd Aquarium, The Field Museum, Museum of Science and Industry or 360 Chicago, and Adler Planetarium or the Art Institute of Chicago. You'll also receive fast-track entry for the Skydeck, which means skipping the incredibly long lines heading up to the deck. Trust us, that alone is worth the $106-per-person price tag.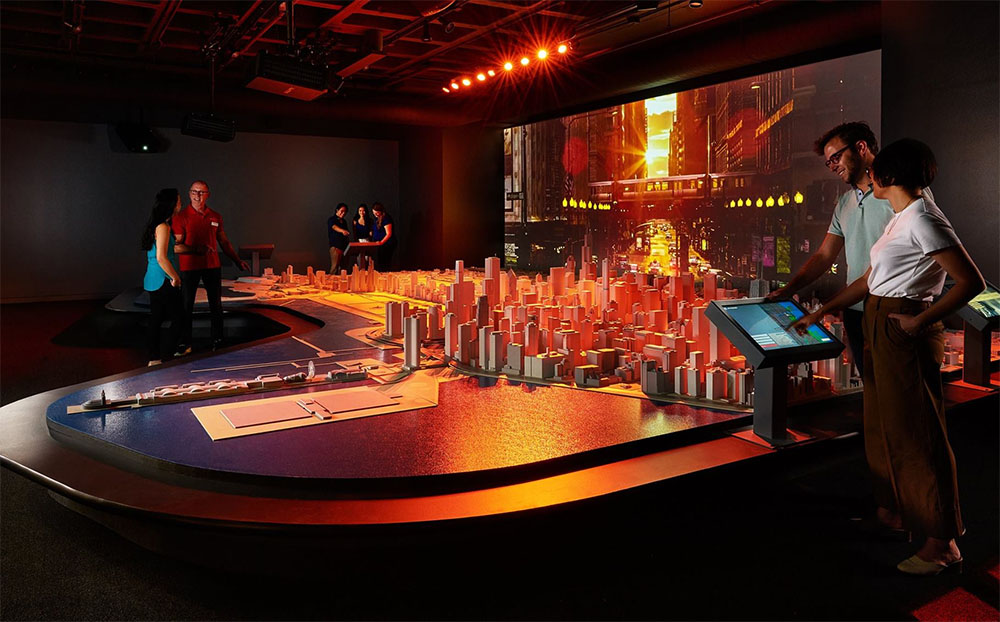 Photo Credit: Chicago Architecture Center
Chicago Architecture Center
The city of Chicago is known for many things, but its soaring skyscrapers and iconic architecture are what really set it apart from other big U.S. cities. Take a tour of The Windy City's historic buildings at the Chicago Architecture Center (CAC), a nonprofit cultural organization with tours, exhibitions, programs and events for all ages. Not only will you get to learn all about the city, but you'll have the opportunity to see seeing larger-than-life models of some of the more famous buildings.
Currently on exhibit is From Me to We: Imagining the City of 2050. Working with local architects, the center is taking a look at what urban life may like 30 years from now. The exhibit kicks off CAC's multi-year investigation into the development of future cities while trying to understand how to create a healthier more functional realities.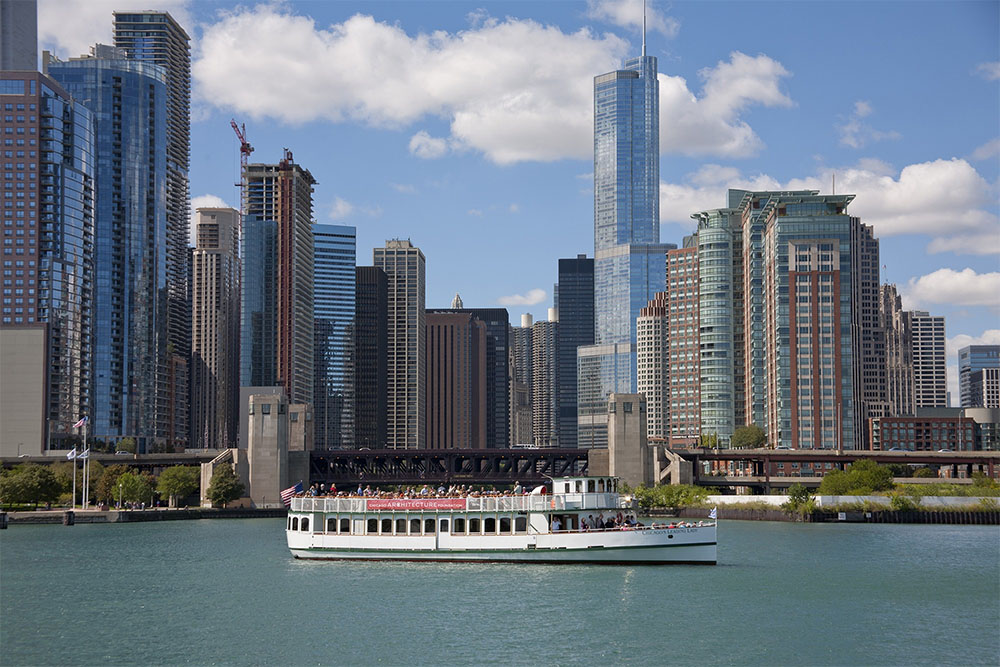 Photo Credit: Chicago Architecture Center
Chicago Architecture River Cruise
Finish off your CAC visit with a Chicago Architecture River Cruise tour located directly across the street from the center. After learning about the city's buildings, you'll get to see them come to life during this 90-minute tour. Along with a full-service bar, guests can sit either inside or up top on the open-air deck to watch as the boat's docent explains the history behind 50 of the city's most notable architecture. During the cruise, you'll also stop three times to allow for capturing the perfect shots of the cityscape. The tour is priced at $47 per person or $52 per person for the 7:30 p.m. twilight cruise.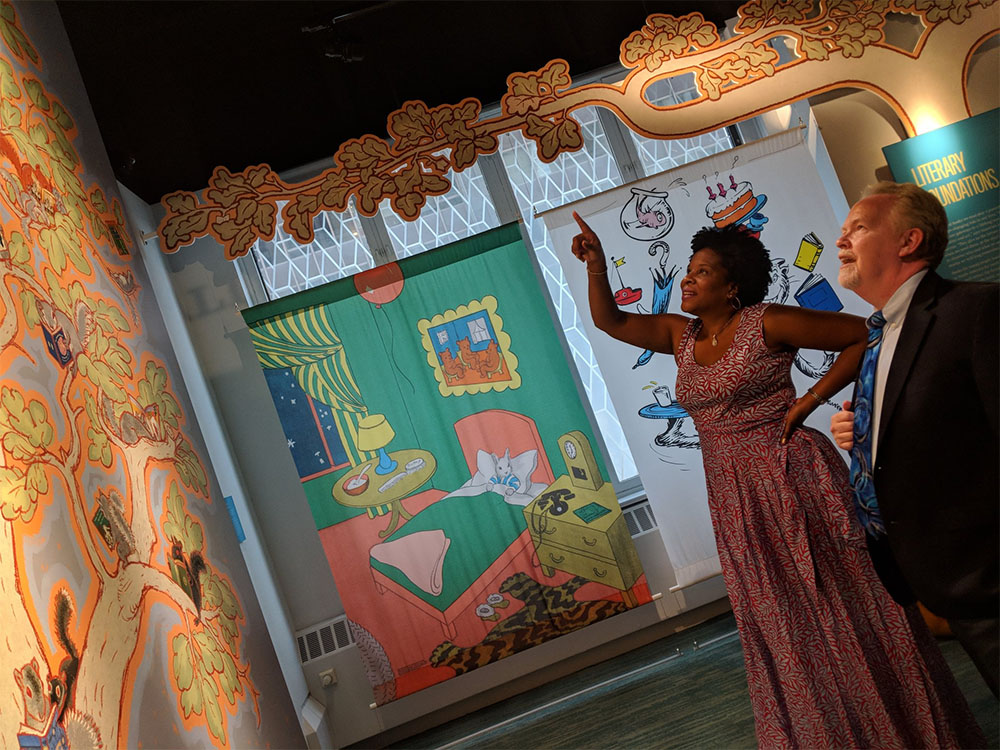 Photo Credit: American Writers Museum
American Writers Museum
For obvious reasons, this was one of our favorite stops. But even if you're not a writer, this museum is worth a visit. The first of its kind in the U.S., The American Writers Museum's mission is to engage the public in celebrating American writers through an array of interactive exhibits and programming. As you walk through, you'll get to experience exhibits like the Children's Literature Gallery showcasing classics such as Where The Wild Things Are and Charlotte's Web and American Voices which takes a look at 100 authors that helped evolve American writing. Currently on display in the Meijer Exhibit Gallery is Bob Dylan: Electric, exploring the singer-songwriter's music, history and controversial 2016 Nobel Prize for Literature. The museum is open daily from 10 a.m. to 5 p.m. and general admission is $12 per adult.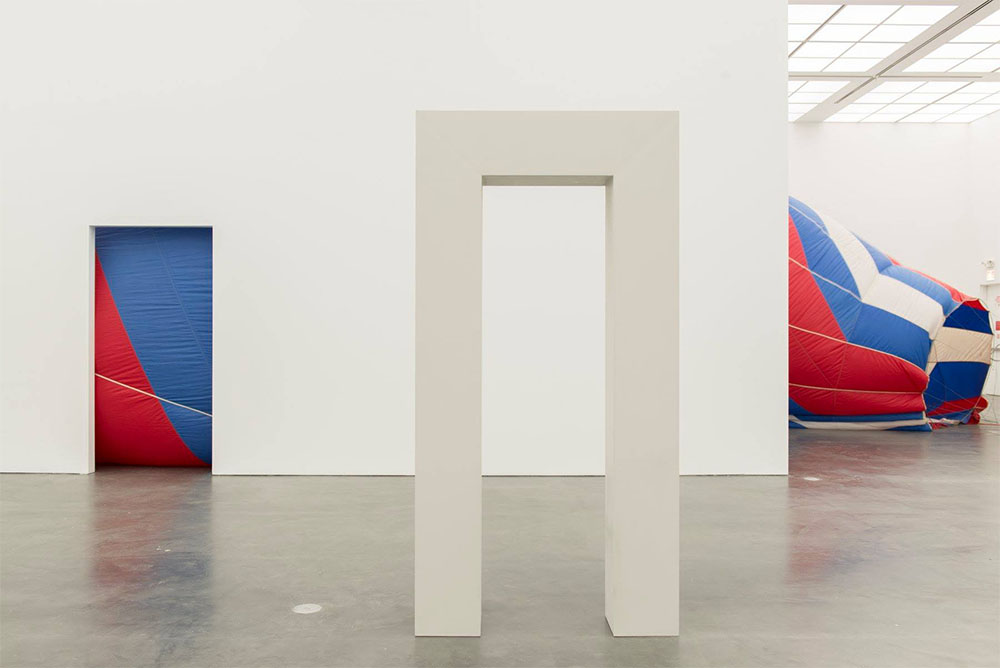 Photo Credit: Museum of Contemporary Art
Museum of Contemporary Art
Founded in 1967 as a non-collecting art gallery, the Museum of Contemporary Art (MCA) was established to showcase new and experimental work in all mediums. Seven years later, they updated their mission to include collecting and preserving contemporary art and now its permanent collection features more than 2,500 works. Visitors will get to experience curated works, rotating exhibitions, screenings and live arts. If heading there before March 2019, check out Heaven and Earth: Alexander Calder and Jeff Koons which highlights both artists' interest in balance and gravity. The museum is open from 10 a.m. to 5 p.m. daily and general admission is $15 per adult.
Photo Credit: JustLuxe
Laudi Vidni
Backwards, Laudi Vindi spells out "individual," and that is exactly what owner Laura Kofoid is striving to do with her designs: create unique leather goods made just for you. Inside her Lincoln Park shop, already-made purses, handbags and leather goods decorate the store while leather swatches hang on a side wall, allowing guests to feel the different textures and styles. When Kofoid first started this venture, her and her business partner wanted to create a place where shoppers could come and design pieces—from start to finish—based on their own personal preferences. Step into her store and you'll be invited to choose everything from the type of leather to its colors, interior linings, hardware and details all within minutes. If you're not in Chicago, you can go through the process online, and whether in store or via the web, all ordered pieces will be shipped within four weeks of purchase.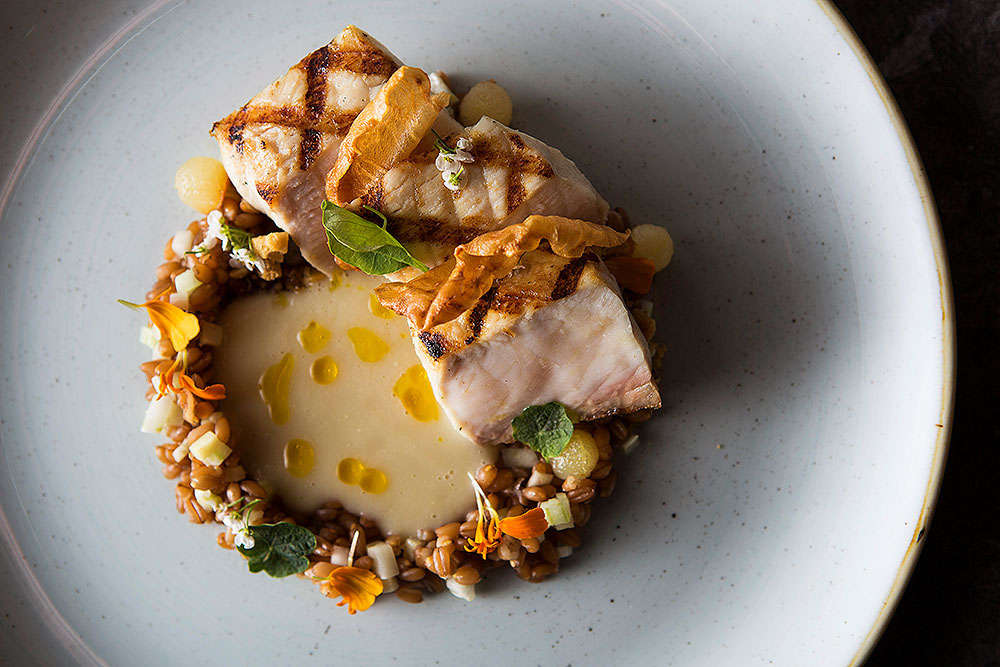 Photo Credit: Sepia
Sepia
Being a restaurant in one of the nation's best foodie cities means that standing out is no easy feat. Among the area's most notable dining venues is Sepia, an old 1890-print-shop-turned-restaurant that pays homage to Chicago's bygone days. Under the direction of Executive Chef Andrew Zimmerman, the eatery has earned a Michelin star every year since 2011 for its inventive American cuisine. Inside, custom Art Nouveau tiles sit underneath Murano glass chandeliers, giving the main room a cozy yet elegant vibe. From the amuse bouche to dishes such as the grilled swordfish or grilled strip loin with kale and desserts by pastry chef Sarah Mispagel, you'll have a hard time choosing your favorite dish.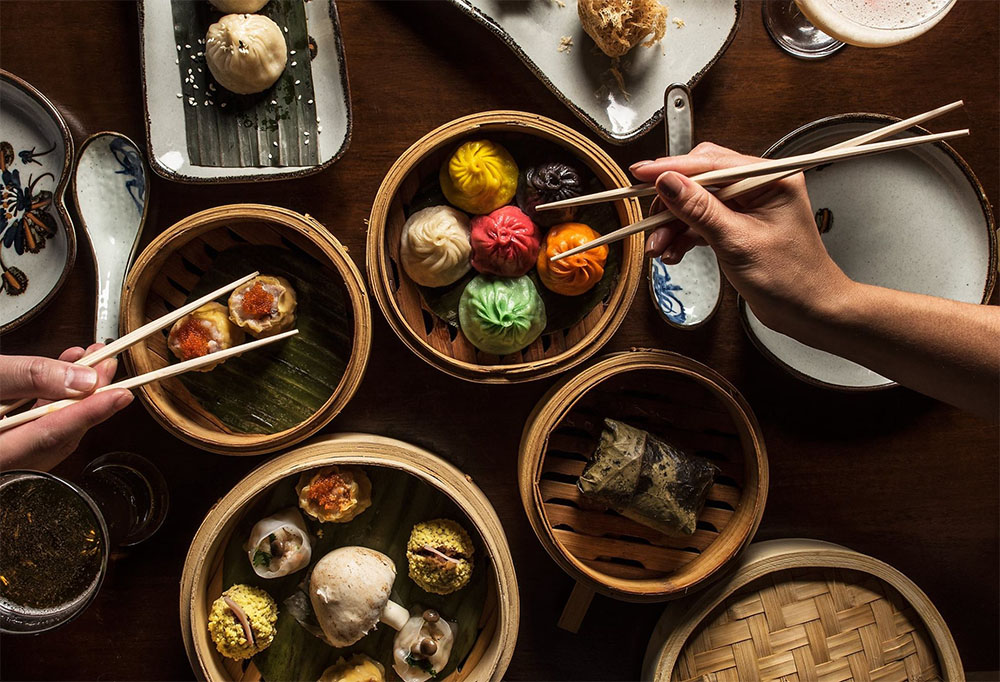 Photo Credit: Imperial Lamian
Imperial Lamian
Imperial Lamian, located in River North, specializes in soup dumplings and high-end Chinese cuisine. Decorated with handmade Oriental screens and birdcage pendant lights, your Imperial Lamian experience begins the moment you walk into the foyer. Along with the main dining room, the private and semi-private dining rooms can hold 30 and 40 guests, respectively, should you wish to enjoy a more intimate setting. When it comes to the menu, start off with an assortment of soup dumplings (we recommend the combination XLB to get an assortment) and dim sum before checking out the homemade lamian noodles. All food is served tapas style, which means dishes come out as soon as they are ready, and family-style is suggested. Don't skip out on cocktails either. The bar serves up delicious beverages such as Bhudda's Frizz made with Bye Joe Red, Domaine De Canton, fresh lemon juice, egg and coconut, and East Meets West made with Iwai Tradition Japanese Whisky, Old Forester, Imperial simple syrup and Jamaican #1 bitters.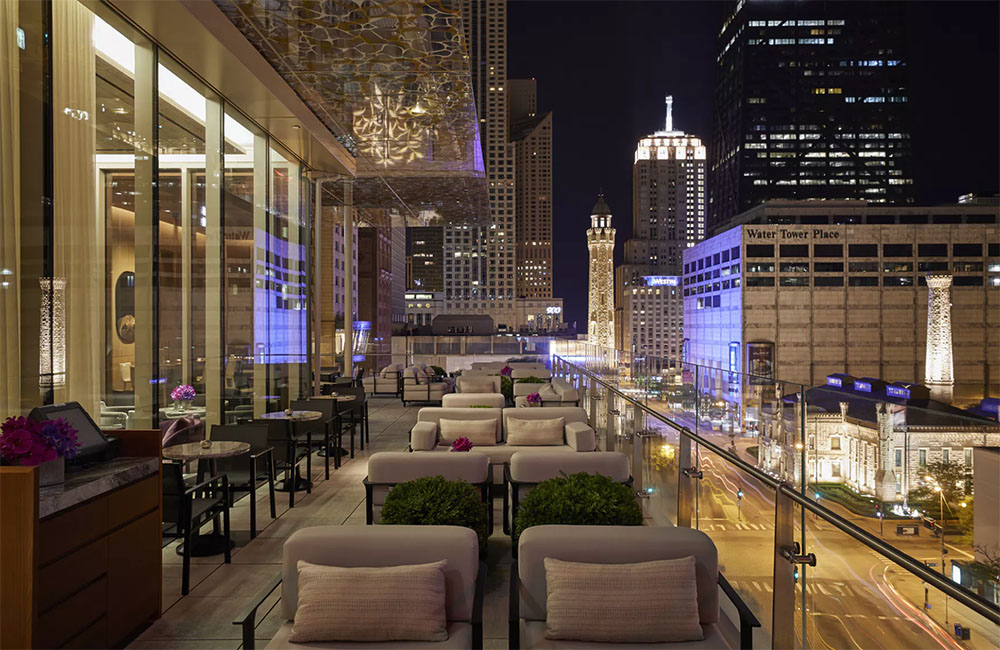 Photo Credit: Z Bar, Chicago
Z Bar, Chicago
On the rooftop of the Peninsula hotel, sits Z Bar, a swanky rooftop haunt where playful menu items and creative cocktails take center stage. With views of the Magnificent Mile, the terrace lounge is one of the city's newest places to see and be seen. Decked out floor-to-ceiling windows, the interior boasts murals of the city, blown up images of animals and plush couches among tall tables with modern bar stools. Outside, guests can enjoy the fresh air on the partially-enclosed deck which is lined with fire pits and outdoor sofas. But the real show stoppers here are its food and beverage menus. From classics such as Old Fashions and Cosmos to unique combinations like the New York Smash made with rye, lemon, cane sugar, mint and red wine, your taste buds will thank you for imbibing. Pair your drinks with fun and inventive bites such as Ants On A Log (celery logs, crème fraiche and caviar) or the Savory Buns made with fried chicken inside a brioche bun.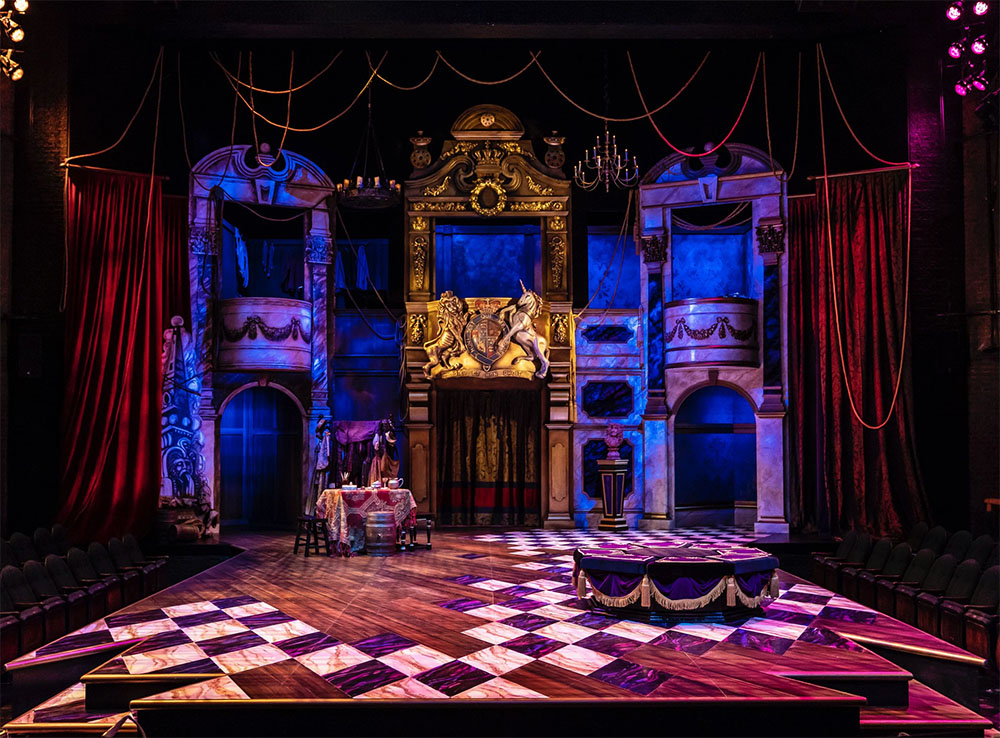 Photo Credit: Chicago Shakespeare Theater
Chicago Shakespeare Theater
While in town, be sure to make a stop into the Chicago Shakespeare Theater for one of its many shows. Located on Navy Pier, this performing arts venue is under the direction of Artistic Director Barbara Gaines and Executive Director Criss Henderson and features year-round performances including musicals, family programming, plays and world premieres. The Tony Award-winning theater gives guests the opportunity to view some of their favorite productions within one of three theater spaces including the beautiful Jentes Family Courtyard which seats 500 in a courtyard-style layout amongst three seating levels. Choose the Gallery level for an up-close-and-personal experience with the cast that blurs the lines between actors and audience. Ticket prices vary.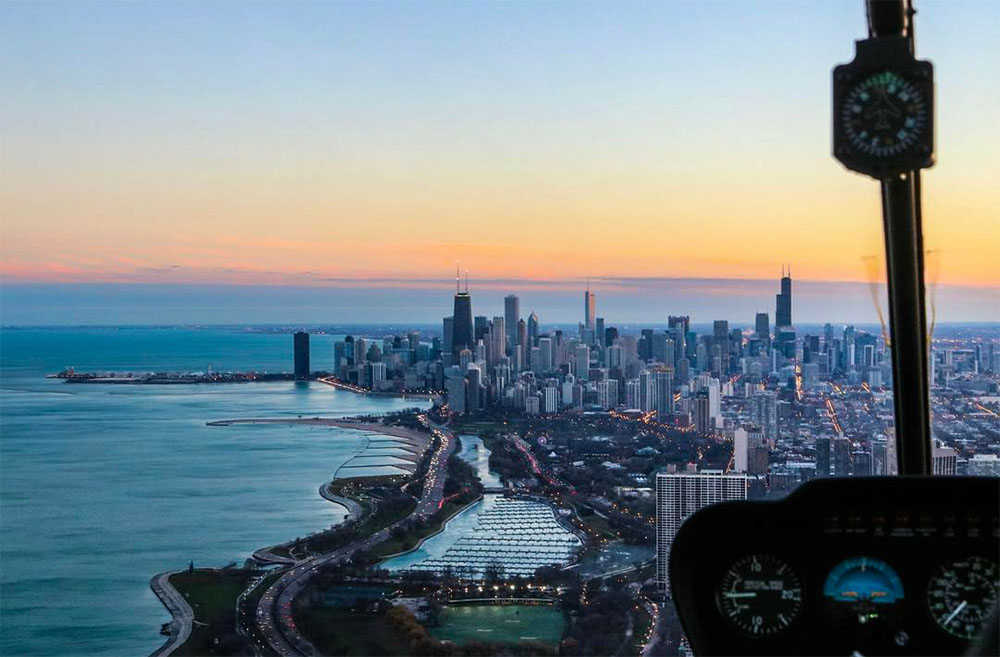 Photo Credit: Chicago Helicopter Experience
Chicago Helicopter Experience
What better way to see a city than with a bird's eye view of the scenic destination. The Chicago Helicopter Experience is available day or night and for holidays or special events. All tours soar above the city and cover 24 miles of Chicago's skyline. Private experiences for parties of two can also be arranged. Or, if you're looking to arrive in style, charters are available to local hotspots so that you don't have to worry about fighting traffic to arrive on time. Day and night tours are priced at $159 and $179 per person, respectively, while private flights for up to six people is priced at $599. Whether you go with a significant other, family member or friend, this experience shouldn't be missed next time you're in the city.