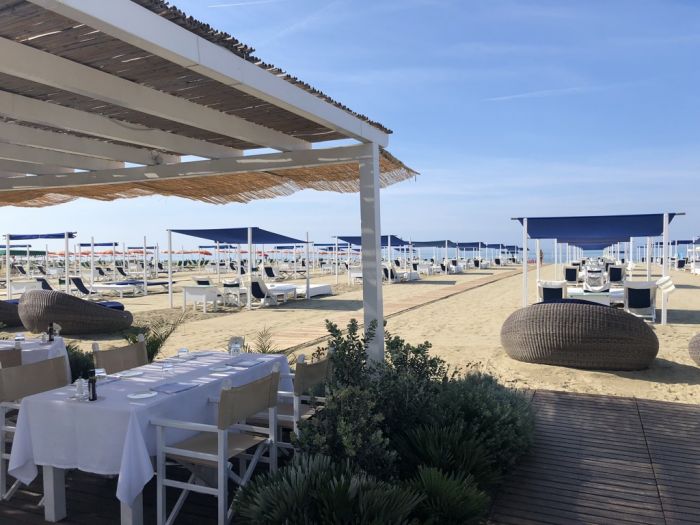 Whitney Spielfogel
What better time to start planning your summertime European travel than now? With warmer springtime weather right around the corner, it's never too soon to book. I'm pretty confident I could come up with at least a hundred different reasons why one should visit Italy any time of year, but particularly in the summer. With its stunning coastal region somewhere near, if not at, the top of the list. Make yourself an Aperol Spritz and read on…
Italy's famous seaside resort towns like Amalfi, Capri and Portofino have long attracted celebrities, socialites and the summer masses. That said, if you're looking for a trendy seaside resort town but want something a bit more "off the grid" that will make all of your Instagram followers jealous, head to the exclusive Forte dei Marmi, an enchanting town in Italy's Versilia region on the northern Italian coast.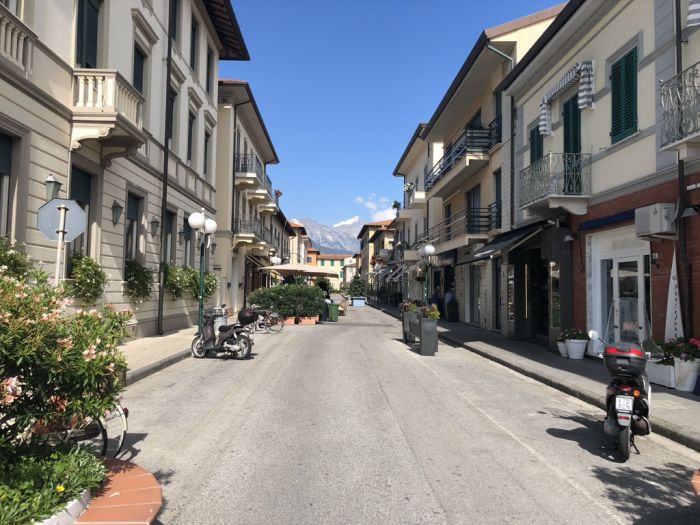 Whitney Spielfogel
Forte dei Marmi has long been an exclusive summer getaway for more than a century and is best known for its beautiful beaches, posh crowds, clubs and splendid Italian shopping. If that's not enough to entice you, add to the mix it's easy access to both Milan and Florence and splendid sea and Alpine mountain views – and right there, you have a destination winner! If you go, here's what to know.
The must-stay-at "it" hotel is the Principe Forte dei Marmi, the most luxurious property in town since it opened back in 2010. This modernist five-star hotel is a few blocks back from the promenade but it has super easy access to the beach (it's a scenic 5-minute walk from the resort to the sand or an even quicker bike ride, which you can use at your disposal through the hotel).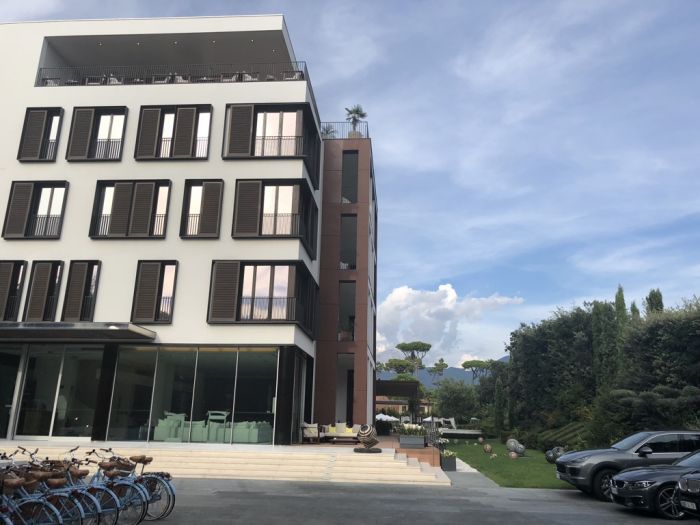 Whitney Spielfogel
At just 29 rooms in size, the hotel is quite small but backs a very big design punch. All rooms are comprised of large floor-to-ceiling windows, huge four-poster beds, super-sleek glass-enclosed bathrooms and Bose sound systems in each suite. The common grounds are equally impressive with beautiful art installations, a rectangular pool surrounded by leafy gardens with the mountains set as a scenic backdrop and a rooftop bar and top floor Michellin-star restaurant with impressive panoramic views. Children are welcome at the property and there's even a small playground and a bin full of toys in the lobby and at the beach club, but the party atmosphere in high season might be better suited for young adults.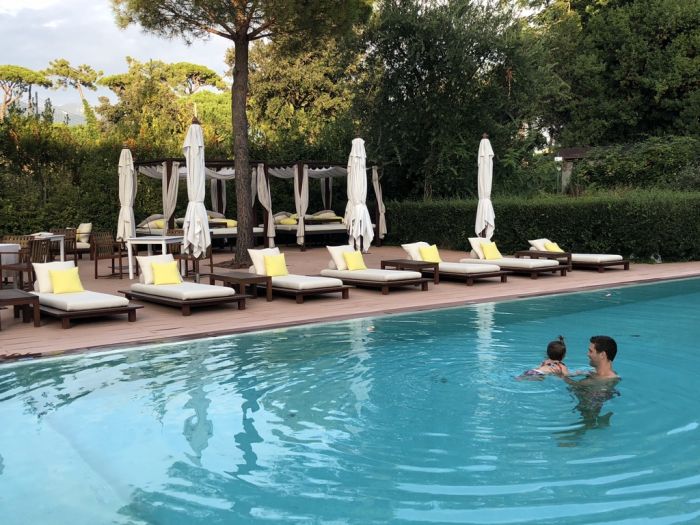 Whitney Spielfogel
Forte dei Marmi does not pretend to be unpretentious. In fact, its beach clubs and party scene are world famous. One of the best and buzziest beach clubs on the strip is the hotel's club, Dalmazia Restaurant, living up to the Principe's standard of style and beach chic classiness. Tables are situated throughout an open-air veranda that sits directly on the sand and food is not only flavorful, but also innovative. Beyond the restaurant, hotel guests can enjoy full-service cabanas for long, lazy days spent by the sea. Best of all, the hotel has its own luxury yacht available for charter and many guests book a day on the water visiting the surrounding towns of Portofino and Cinque Terre. Another enjoyable excursion, which can be booked through the hotel's knowledgeable and friendly hotel concierge, is a quick full or half day trip to Pisa (visited by car).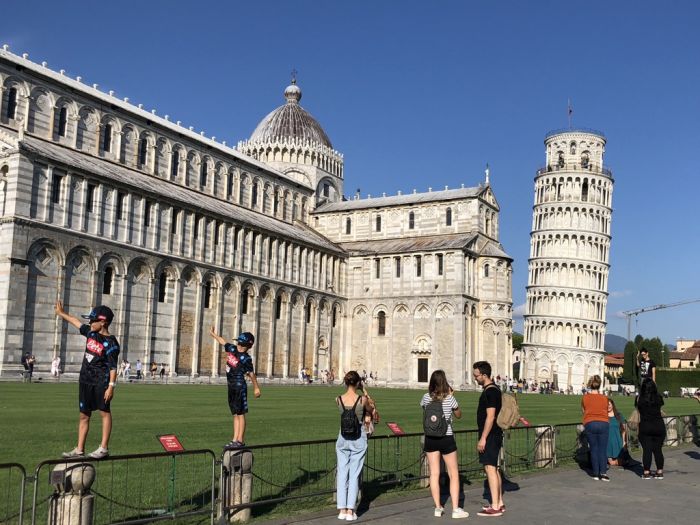 Whitney Spielfogel
After days spent lounging by the water, enjoying the day club scene or visiting the towns in the region (Carrara, as in, the region where the marble comes from, is also nearby), Forte dei Marmi comes alive at night so be sure to save some energy to explore. Primetime seatings are hard to come by so be sure to book dinner reservations well in advance. That said, the dining scene in town is easy-going and fun (just super crowded during peak season). Of course, seafood is at the heart of Forte dei Marmi's cuisine, and it does not disappoint. For its size, the town has an exciting number of great restaurants and trattorias, none of which (surprisingly) are stuffy or overly formal.
For a very memorable meal (including one that your wallet will not forget), book a table at Bistrot. This Michelin-starred, family-run restaurant is one of the most popular in the area serving excellent dishes in a beautiful indoor/outdoor setting. Another do-not-miss spot is Trattoria Tre Stelle, located on one of the most desirable pedestrian streets in the town center. The famed restaurant offers dining al fresco, perfect for people watching on the promenade. Another hot spot is The Frattelini's, where diners can enjoy Asian-Italian fusion in the form of super fresh fish and creative sushi dishes.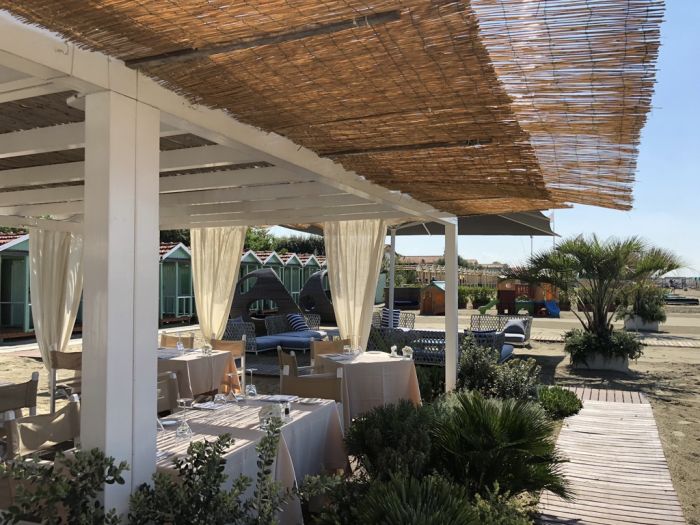 Whitney Spielfogel
Forte dei Marmi is a must-visit destination for those who love the sea and high fashion and is one of the chicest and most up-to-date towns on the northern Italian seaboard. Since Forte dei Marmi is a resort town, many hotels operate on a seasonal basis. They're typically closed during late Fall and Winter, so be sure to book your Spring/Summer/early Fall travel now as occupancy tends to book up fast.