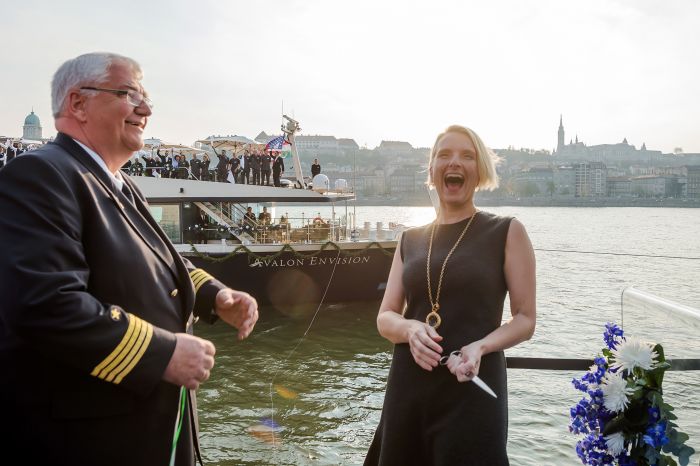 Photo Courtesy of Avalon Waterways
With glasses of bubbly being passed on silver trays, and the April sun setting behind Budapest's Chain Bridge and stately Castle Hill, Avalon Envision, the newest luxury Suite Ship from Avalon Waterways, was ready for her debut on the Danube River. All that remained to do was officially name and christen the ship, an important occasion and ceremony in seafaring circles. And when it came to choosing a "godmother" for the vessel, best-selling author Elizabeth Gilbert was at the top of Avalon's list.
"An inspired choice as godmother of the Avalon Envision, Elizabeth Gilbert has helped us embrace curiosity each day in search of the extraordinary; something we ask our travels to do with Avalon," said the company's managing director, Pam Hoffee.
Gilbert, whose memoir Eat Pray Love has sold more than 12-million copies since its release in 2006, was all smiles as she greeted a gathering of media and travel professionals. She said she has always been a traveler at heart, and suggested now, more than ever, is the time to venture out into the world.
"In these dark times of division and fear and anxiety, never is it more important than to travel. Never is it more important than to leave your home and to go face to face, not on the Internet, but in the flesh and meet people who are not the same as you. I've traveled my entire life. I've traveled alone. I've traveled all over the world. I've traveled in the strangest circumstances from as luxurious as a situation like this to a $4 hotel room in Calcutta. I have never done anything but grow as a result of what I've seen and learned."
Gilbert continued,
"I do just want to say this: I have never been afraid of the world. But I am afraid of people who are afraid of the world. And if you are a traveler, you are not afraid of the world, which means you are my kind of people, and it's what we need more of. So, to all of you here who live your lives that way, you are my tribe."
Her tribe cheered as Gilbert cut the rope tethered to a bottle of Torley, Hungary's leading sparkling wine, sending it smashing into the new ship's bow, readying Envision for her inaugural evening sail down the Danube. Passengers were treated to fireworks and views of Budapest's illuminated landmark buildings.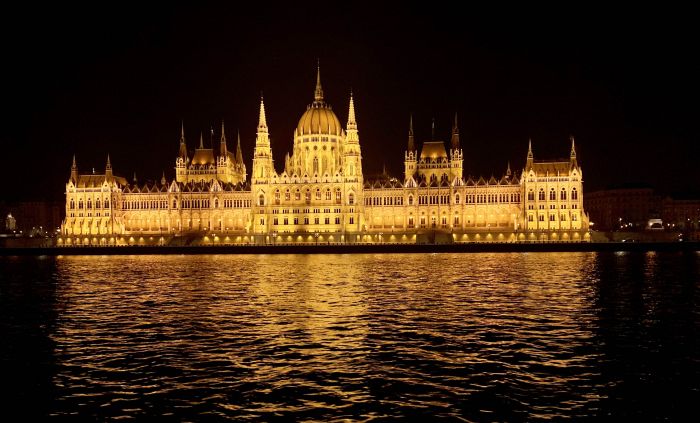 Budapest's parliament building at night
The 443-foot, 166-passenger Avalon Envision is the 13th Suite Ship in Avalon Waterways' European fleet and boasts two full decks of award-winning, 200-square-foot Panorama Suites featuring wall-to-wall, floor-to-ceiling windows that open, and beds facing the view. Onboard amenities include complimentary Wi-Fi, a fitness center, a cocktail bar, nightly entertainment, and multiple dining venues including a top deck grill. An Avalon Adventure Host is aboard each ship and can organize bikes, hikes and other independent outings. Daily excursions range from guided tours to wine tasting and cooking classes to cultural spectacles that appeal to travelers of all ages.
Gilbert, 49, traveled to Hungary with her parents and her significant other. Her new book, City of Girls (Riverhead Books) drops in June.