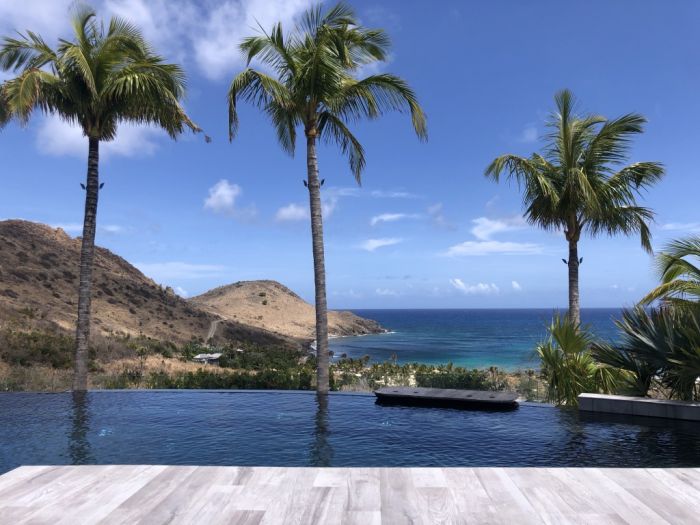 Whitney Spielfogel
St. Barth's, St. Bart's, Saint Barth or St. Barthelemy… however you spell it, this French Caribbean island is pure paradise drawing you in with its effortless elegance and uber-chic charm. The island has not only garnered a reputation of total exclusivity and superb luxury, but of stunning natural beauty as well. St. Barth's has a beat all of its own. One that mixes a refined French art of living with a laid-back tropical ease – the perfect combination for those seeking European culture with the proximity and coastal beauty of the Caribbean. St. Barth's will satisfy serious jetsetters who will not settle for anything less than the best. From world-renowned properties to upscale restaurants, best-in-class shopping to plenty of beautiful beaches, St. Barth's is a dreamlike destination that few other locations can compare to. From the moment you arrive on the island (more on that landing in a minute!), you know you've found a very special destination.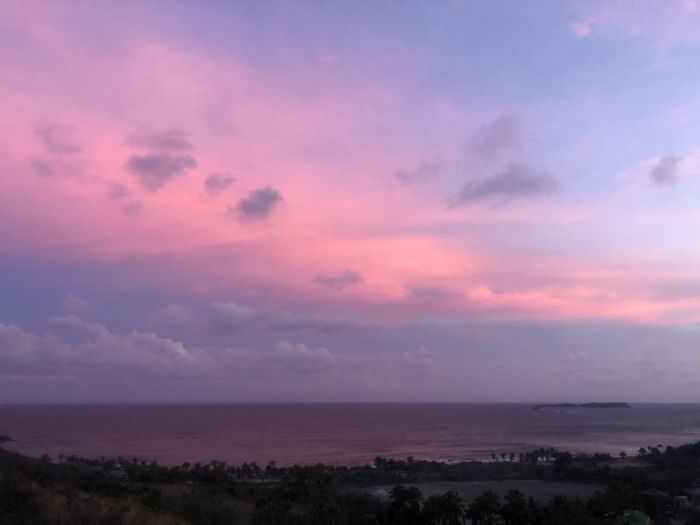 Whitney Spielfogel
Getting to St. Barth's isn't easy, even with your very own Gulfstream, which is one of the many reasons why this tiny island is one of the most exclusive in the Caribbean, attracting the likes of Beyoncé and Jay Z, Heidi Klum and Orlando Bloom to name a few famous faces that can be spotted around town. Figuring out how to get to St. Barth's can even seem overwhelming since there are no direct flights from the States (unless, of course, you're flying private). Definitely don't attempt to put in "NYC to SBH" (or whatever your home airport is) into a search engine since it will only net you very expensive and ill-routed results. You'll need to book your trip as two separate legs and there are a few ways in which to arrive (in style, of course). You can book a flight to San Juan, Puerto Rico (SJU airport code) and then book a separate one-hour flight to St. Barth's via Tradewind Aviation. You can fly into Saint Martin/Sint Maarten's Princess Juliana International Airport (SXM) and then book a fifteen-minute puddle jumper flight on either WinAir or St Barth's Commuter. Last but not least, you can take a 45-minute ferry from Saint Martin to St. Barth's on either Great Bay Express or Voyager, which is the least expensive option. If you're flying into St. Barth's – beware – it's not for the faint of heart. The single airport runway has been called one of the most challenging in the world and pilots who land there have to be specifically licensed for that strip. But rest assured, once you disembark, your journey will have been well worth it and paradise awaits.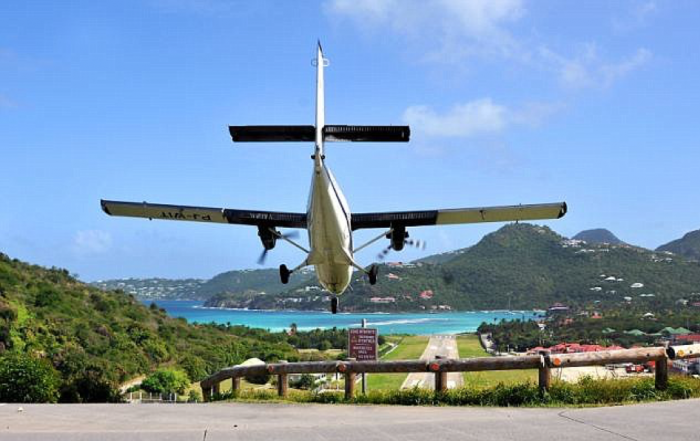 Booking.com
The island was hit by Hurricane Irma back in September of 2017 but St. Barth's has been hard at rebuilding ever since. While a few resorts still remain closed, the crème de la crème are back – and better than ever – and, once again, open for business and greeting guests in warm Caribbean fashion. You might still see construction on St. Barth's, but the glamorous, eight-square mile island has been one of the quickest to rebound, especially compared to some of its island neighbors.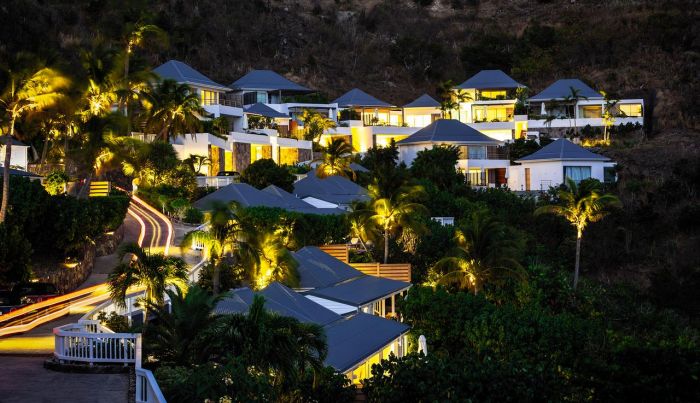 Le Toiny
Hotel Le Toiny, a favorite travel spot for celebrities, is the top resort on the island for those seeking total relaxation and ultimate privacy. The famous retreat is on the southeastern end of St. Barth's and has gotten an incredible post-Irma makeover offering an ideal setting for a super romantic getaway.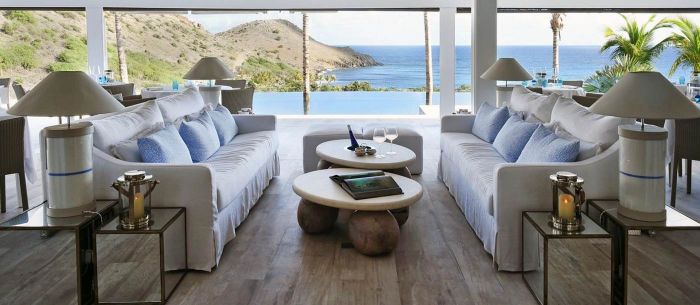 Le Toiny
Its private location and prime views have helped earned the property – which just celebrated its 25th year – a reputation as the perfect dreamy hideaway in St. Barth's! This hotel is well-situated on a secluded hillside facing the crystal-clear turquoise sea. There's a reason this resort attracts the A-Listers (Lo Bosworth had just departed when we arrived!). From its enviable beachfront location on the bay of Anse de Toiny to the exquisite décor… from the top-notch cuisine to a staff that treats you like royalty (the likes of which have stayed there), you'll be checking into your very own exclusive island escape.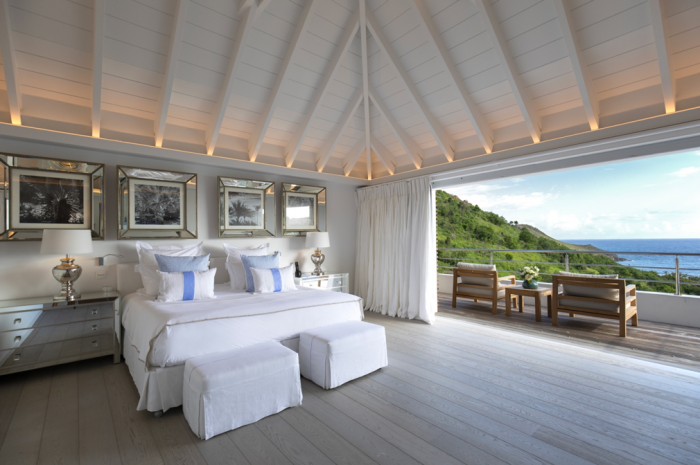 Le Toiny
There are 22 fully private suites that make Hotel Le Toiny a destination considered by many to be the most pristine on the island – perfect for chic and stylish hotel lovers – seeking the utmost in solitude and extravagance. The soul and essence of Le Toiny is space and serenity. All of the property's white-washed modern suites have well over 1,000 square feet, beautifully appointed bedrooms, generously sized living rooms and overly large decks with private plunge pools and lush lounge chairs. Best of all? Each suite has a view of the beautiful blue water and surrounding hilltops. Suites at Le Toiny are divided into categories including 3 Junior Suites, 11 Signature Suites, 7 Spirit Suites (including 3 duplexes) and 1 two-bedroom Villa Suite. Each of these options offer couples the intimacy and solitude they seek during a stay at this ultra-luxurious hotel.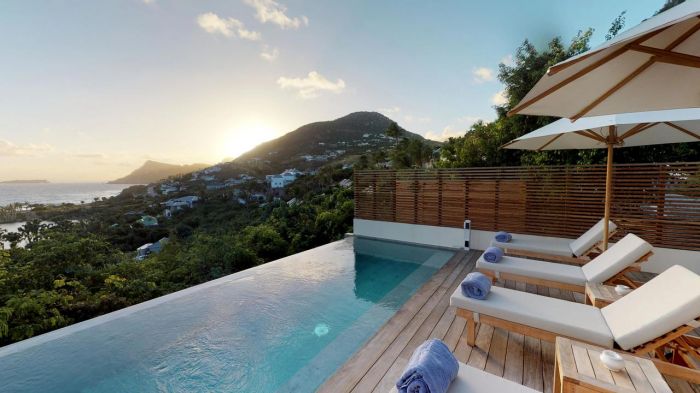 Le Toiny
Truth be told, there really isn't any reason to ever leave your villa, where anything from in-room massages to fitness training can be arranged so you don't have to wander from your hillside haven. Breakfast is served daily to your suite through in room dining (there isn't a main breakfast area). The villas have flawless all-white furnishings, sun-bleached woods and pale blue pops of color, giving the living space a crisp, cool and very modern feel. Bathrooms have dual Duravit sinks and a Victoria and Albert soaking tub with incredible vista views. Again, the main attraction for most couples is the incredible solitude of the villas, which face the sky and the sea, so you feel sufficiently secluded. Floor-to-ceiling white linen curtains add to the décor and allow guests to truly escape the world if you so choose to.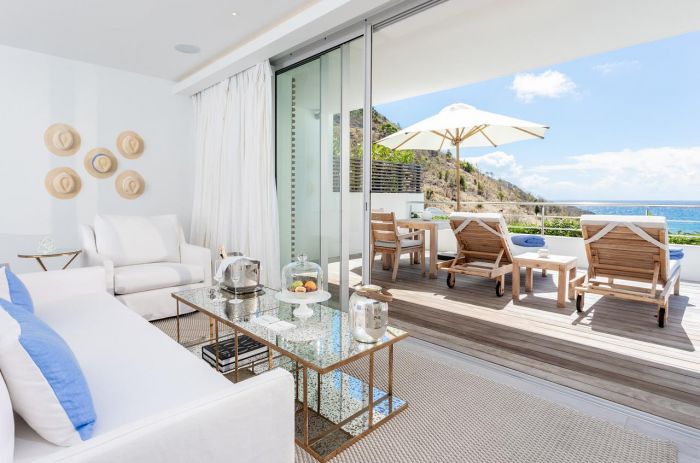 Le Toiny
Should you want to venture out from your villa, new this season to Le Toiny is the Beach Club, the hotel's latest big draw. Located directly on the water, guests can access the club via the resort's free shuttle (which is a complimentary three-minute car ride in a very cool open-air paddy wagon of sorts). Open only during the day, the glam Beach Club includes an infinity pool, a pristine strip of white sand with lush lounge chairs and a beachside restaurant serving delicious light dishes and an enviable drink menu. There's also a boho-chic boutique located inside an original 18th-century cottage that is too cute to miss.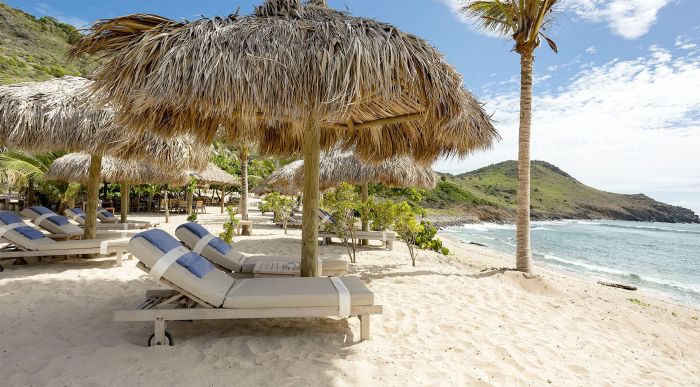 Le Toiny
Additionally, on property, the main house has an Instagram-worthy infinity pool, a spa and a very impressive restaurant (with only a handful of poolside tables) and bar. Definitely book a dinner at Le Toiny, where each meal is a memorable one with breathtaking views and where a house DJ plays chill background music including acoustic versions of today's hottest hits.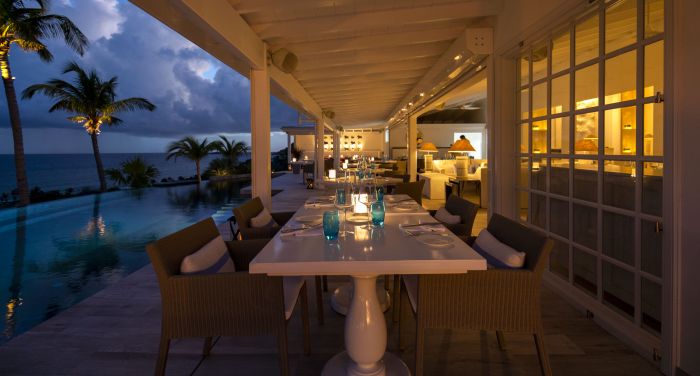 Le Toiny
Le Toiny is a wonderful base from which to explore the famous turquoise waters and white sandy beaches of the Caribbean, including all of the restaurant and shopping offerings that St. Barth's has to offer. That said, since this hillside hideaway draws VIPs and celebrities who want ultimate privacy (Brad Pitt and Kate Moss are rumored to be fans!), seclusion comes at a cost – and that means some extra drive time to the island's main attractions. The trek to Gustavia, the main town, is around 15 minutes along windy, narrow roads. Renting a car is a necessity if you chose to go off property to dine, shop or explore. The hotel can easily arrange for a car rental to be dropped off and picked up on property and rentals are fairly cheap, especially compared to taking taxis.
Must-not miss restaurant reservations include dinner at Tamarin, where fabulous French food served in a stunning secret garden setting (one of the best meals on the island) and Bonito, where the atmosphere is super cool and the dishes and cocktails are equally innovative. Another scene-stealer is Bagatelle, where arriving after midnight for the after-party and drinks is the way to go. For daytime shenanigans, head to Nikki Beach, where the Sunday brunch is always entertaining and/or Shellona, which is an open-air restaurant on the beach with Mediterranean vibes and great for sunset cocktails.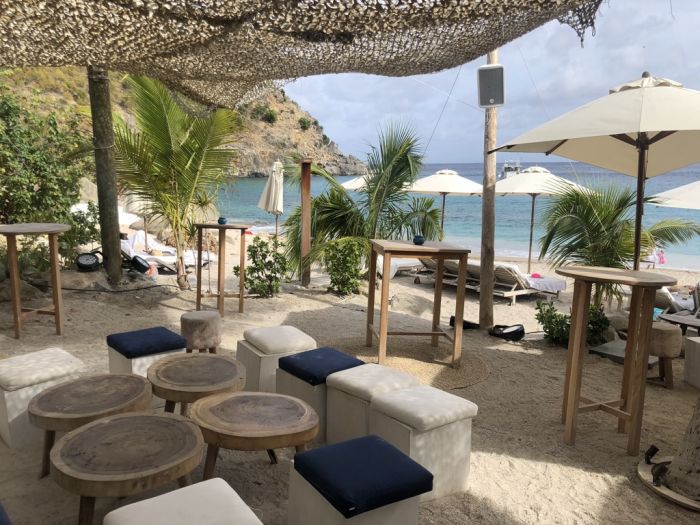 Whitney Spielfogel
St. Barth's is one of the world's most wanderlust-worthy islands. Not only has it rebuilt in the aftermath of the 2017 hurricane, it is now proudly greeting visitors and welcoming them with open arms. The bottom line is resorts on the region's most fashionable island are recovering in style and the resilience of St. Barth's is deeply inspiring. While the best time of year to visit is December – May to avoid the storm season, there are many summer promotions going on right now which will allow you to enjoy this ultra-chic destination at a fraction of the high-season cost.