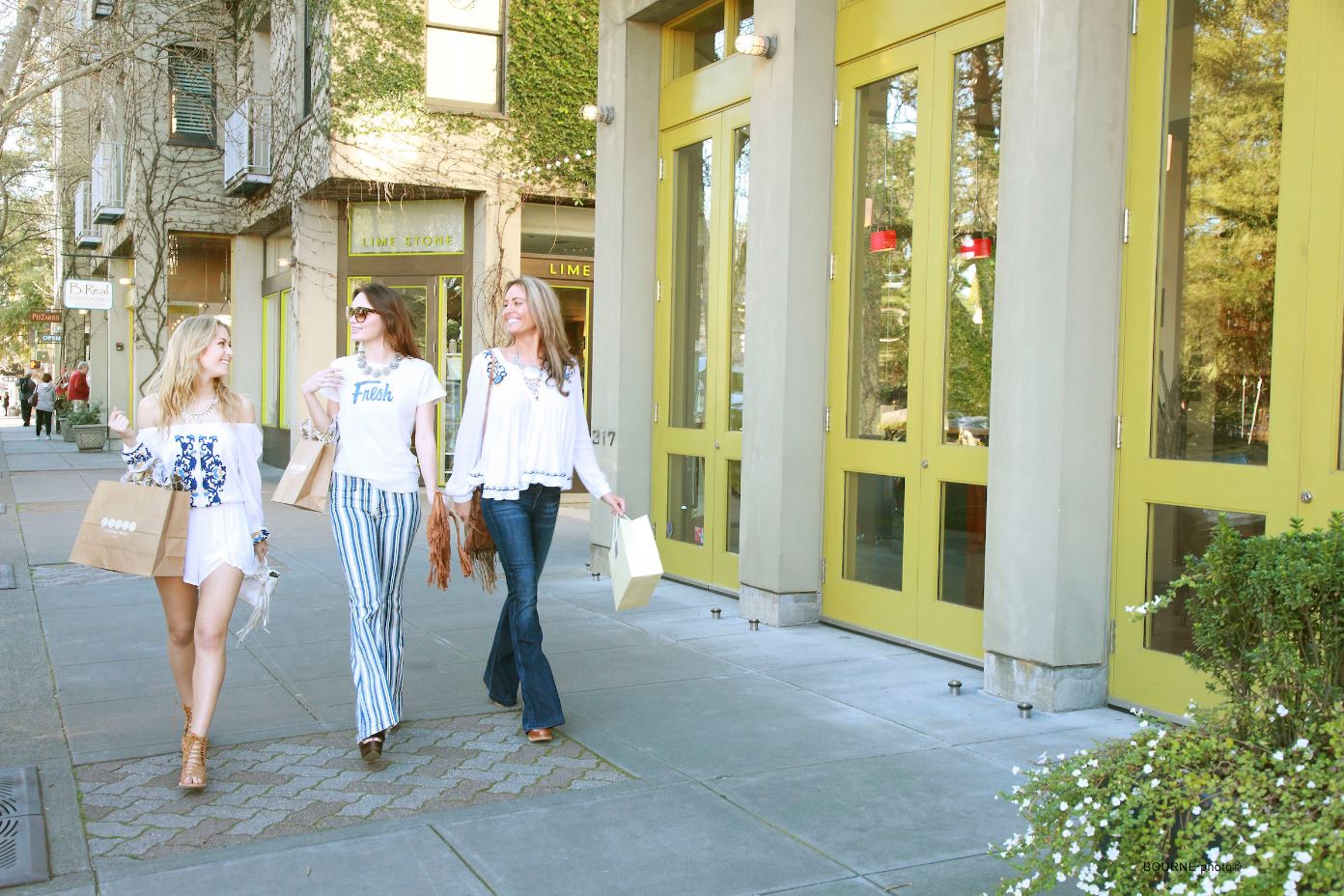 Photo Credit: Barbara Bourne
We're not here to compare Healdsburg to Napa, as so many other publications are wont to do. While the counties of Napa and Sonoma collectively make up what is known as California's wine country, the two regions are far from interchangeable. And, truth be told, the charming town of Healdsburg—located in Sonoma County—deserves a spotlight all its own.
Healdsburg is bucolic and inviting. It's just over an hour away from Napa and San Francisco, and if you happen to be traveling from Napa, you'll appreciate the scenic backroad that winds through the lush, rolling hills of wine country.
You can't call this little town sleepy though; it's bustling with culinary energy and a variety of wine that eclipses Napa's limited concentration of Cab and Bordeaux.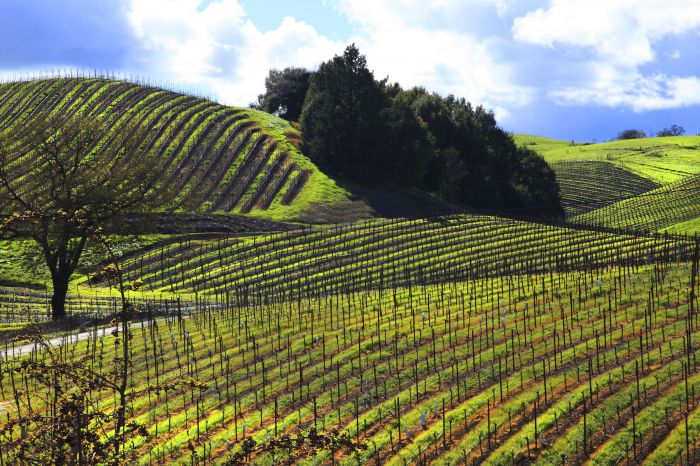 Photo Credit: Barbara Bourne
There are 16 AVAs (American Viticultural Areas) throughout Sonoma County, and roughly the same number of wineries as Napa has, but spread over almost twice the land. In fact, the diversity of Sonoma's geography and climate is the reason it is home to more than 60 varietals. The region's vintners make everything from Pinot Gris to Petite Syrah--Sangiovese to Chardonnay.
Healdsburg is nestled between the Dry Creek Valley and the Russian River Valley wine regions. You don't have to travel too far to enjoy the area's wines; there are a number of wineries and tasting rooms in downtown Healdsburg, the majority of which surround the picture-perfect town square.
Healdsburg has virtually everything you need for a fantastic getaway: luxe hotels, award-winning wineries, eclectic boutiques, swanky restaurants—all within walking distance of each other. Healdsburg is definitely one of wine country's most sparkly hidden gems. Here's what you need to know before planning your visit.
Photo Credit: Harmon Guest House
Stay
Still fairly new to the scene, Harmon Guest House, which opened in the summer of 2018, is already making a name for itself as a chic retreat. The 39-room hotel is located in the heart of downtown Healdsburg and blends an artistic interior with eco-friendly amenities and a welcoming atmosphere.
Inspired by the town's founder, Harmon Heald, Harmon Guest House pays homage to its namesake's pioneering spirit and meticulous urban planning. The hotel offers spaces designed to encourage friends and families to gather—a mirror of how Heald envisioned the town's plaza to function.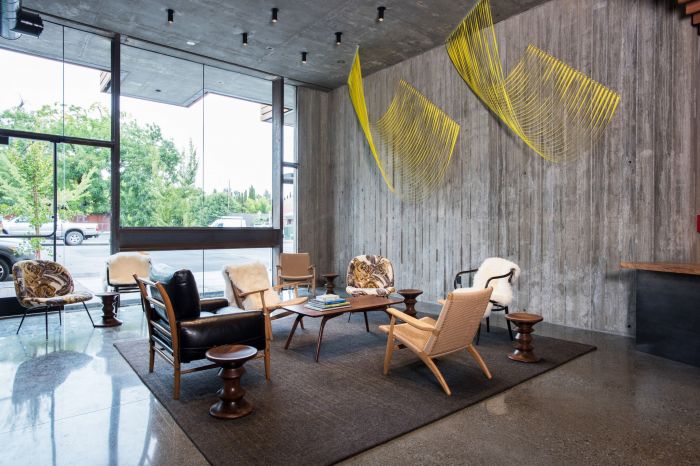 Photo Credit: Harmon Guest House
Designed by David Baker Architects of San Francisco, the property features clean, modern lines, rich textures, and creative collaborations with local artisans, suppliers, and emerging artists. All the art in the halls, main stairwell, and guest rooms were created specifically for the hotel, and each piece of art references a moment in California art history or reveals the beauty of Healdsburg and its surroundings. These aesthetic moments make for fun pops of personality and provide Instagram-worthy backdrops at nearly every turn. For instance, guest room WCs are decorated with artist Carossa Potter's silhouetted vinyl illustrations of the town's Plaza, vineyards, and the Russian River; the reception desk and hospitality bar are built from fallen eucalyptus trees, constructed by Oakland's Pacassa Studios and locally harvested by Arboria's Evan Shively.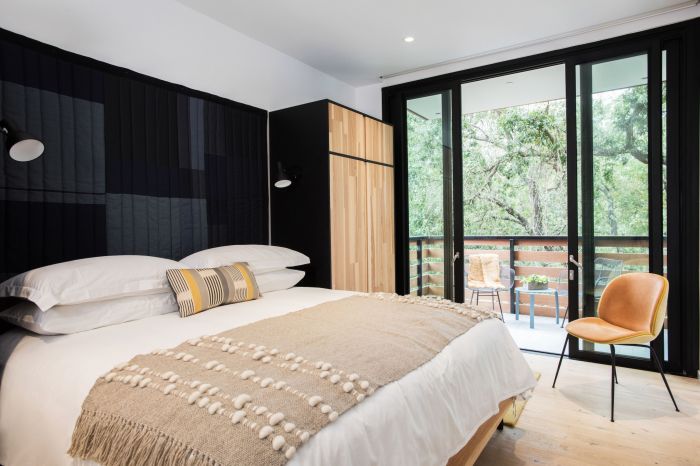 Photo Credit: Harmon Guest House
In 2019, it's almost impossible—morally, at least—to build a new property without prioritizing environmental sustainability. Harmon Guest House goes above and beyond with furniture made from reclaimed and recycled material, electric car charging stations, power-saving LED lighting, a solar-powered water heating system, and a rainwater harvesting system (providing for 100 percent of its irrigation needs).
Harmon House guest rooms have private outdoor spaces, Sonoma Stoneworks cast concrete vanities and tubs, mobile bar carts (with Nespresso coffee and an array of delectable snacks), Treko blankets, and sun-filled breakfast nooks that make Harmon feel like home—not just a place to crash for the night.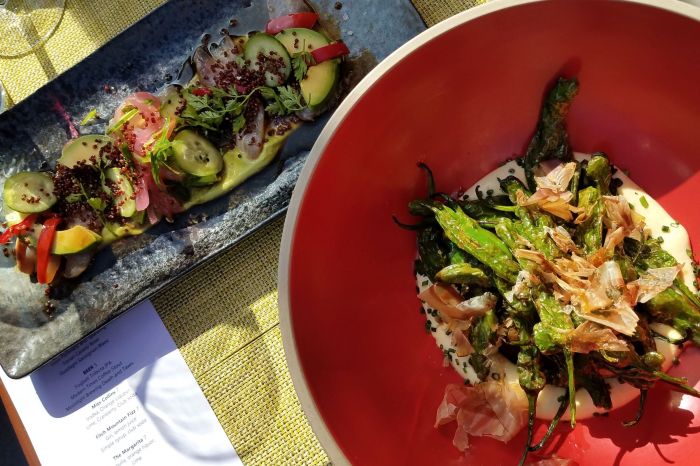 Photo Credit: Djani Schafer
Whether you decide to stay here or not, make it a point to visit The Rooftop at Harmon Guest House. It's the city's only publicly-accessible rooftop bar, and it boasts panoramic views of neighboring h2hotel's living rooftop, Fitch Mountain, the Sonoma Hills, and Healdsburg skyline. Designed as an indoor-outdoor space, it's an ideal place to unwind with a craft cocktail, artisan beer, or glass of wine; The Rooftop's wine selection includes varietals from both Healdsburg's historic family wineries and as well as up-and-coming young winemakers. Libations are accompanied by light, shareable dishes like Shishito Peppers, Yellowfin Tuna Crudo, and Oysters.
As member of Piazza Hospitality Group, Harmon Guest House is able to offer its guests extended amenities and privileges. Complimentary breakfast is served next door at h2hotel's Spoonbar; a chic and sophisticated restaurant that's known for its inventive cocktails and seasonally-driven menu. Harmon's guests also have access to The Spa at Hotel Healdsburg, where they can book an appointment for a treatment or take advantage of the gym facilities.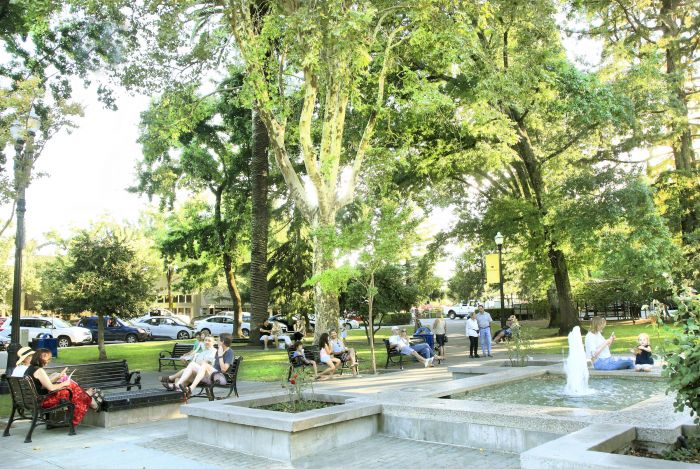 Photo Credit: Barbara Bourne
Play
One of the many perks of Harmon Guest House is its complimentary bike rental service. While the majority of the town is within walking distance of the hotel, a cruiser makes exploring the area a little easier. (But keep in mind, if you're planning on wine tasting all afternoon, it's still possible to get cited for a DUI while on two wheels.)
The Healdsburg Farmer's Market offers a fresh selection of local, sustainably-produced vegetables and fruit, artisanal cheeses, honey, olive oil, and fresh baked bread twice a week (Tuesdays and Saturdays) from May to September. Pick up some bites, and enjoy an impromptu picnic at the Plaza or Creekside Park.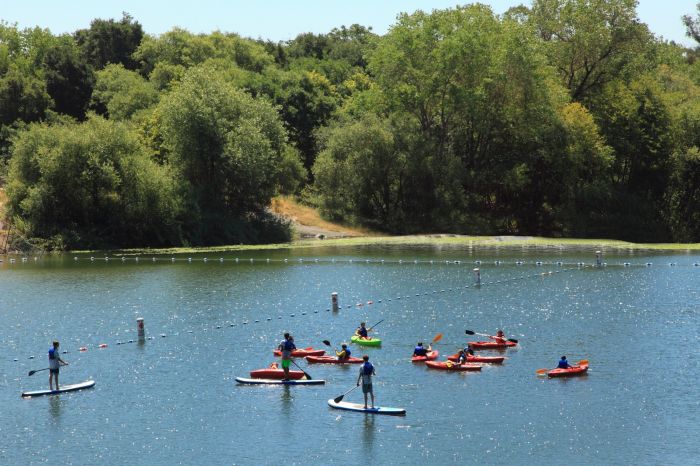 Photo Credit: Barbara Bourne
If you want a more active adventure, there are few better ways to experience the beauty of Sonoma County than with a scenic hike. Fitch Mountain Fire Trails offer more challenging routes, while the Foothill Regional Park is easy enough for beginners (and also a great spot to picnic). The Healdsburg Ridge Open Space Preserve has miles of hiking trails of changing landscapes and views of the Russian River.
Because the town is located along said river, water activities are also popular in Healdsburg, especially during the summer months. You can rent a kayak or paddleboard and explore the Russian River's gentle currents. Many people choose to take on the river in the most relaxing way possible—on an inflatable with a cooler in tow. Bring your own floatie and ride the current from Steelhead Beach to Sunset Beach, a trip that takes roughly four hours.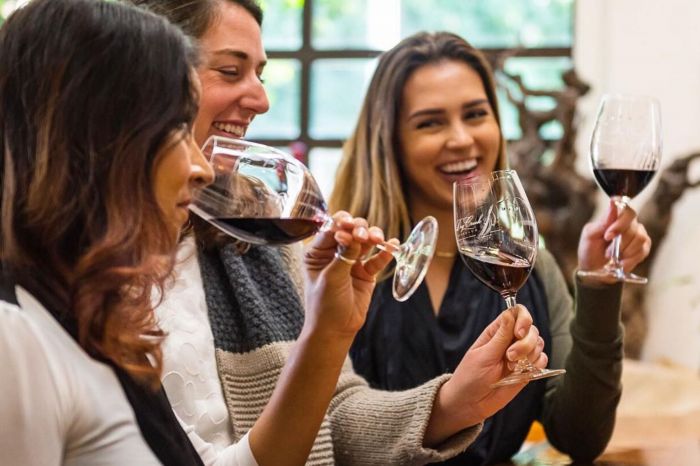 Photo Credit: Dry Creek Vineyard
Wine
Of course, one of the biggest, if not the biggest draws of Healdsburg, is its wine. You'd be remiss to miss adding a few local tastings to your itinerary. With so many incredible and diverse vineyards in the area, it's difficult to choose a favorite. Ten notable standouts in the greater Healdsburg area include:
32 Winds Wine (Cabernet Sauvignon, Zinfandel, Pinot Noir, Sauvignon Blanc)
Acorn Winery (Zinfandel, Syrah, Cabernet Franc, Sangiovese, Rosé)
Armida Winery (Zinfandel, Pinot Noir, Chardonnay, Sauvignon Blanc)
Christopher Creek Winery (Cabernet Sauvignon, Syrah, Cabernet Franc, Viognier)
Comstock Wines (Cabernet Sauvignon, Merlot, Zinfandel, Pinot Noir, Viognier, Rosé)
Dry Creek Vineyard (Merlot, Cabernet Franc, Petite Verdot, Malbec, Sauvignon Blanc)
Ferrari-Carano Vineyards & Winery (Merlot, Zinfandel, Sangiovese, Sauvignon Blanc)
J Vineyards & Winery (Pinot Noir, Chardonnay, and Viognier)
Landmark Vineyards (Pinot Noir, Chardonnay)
Seghesio Family Vineyards (Zinfandel, Sangiovese)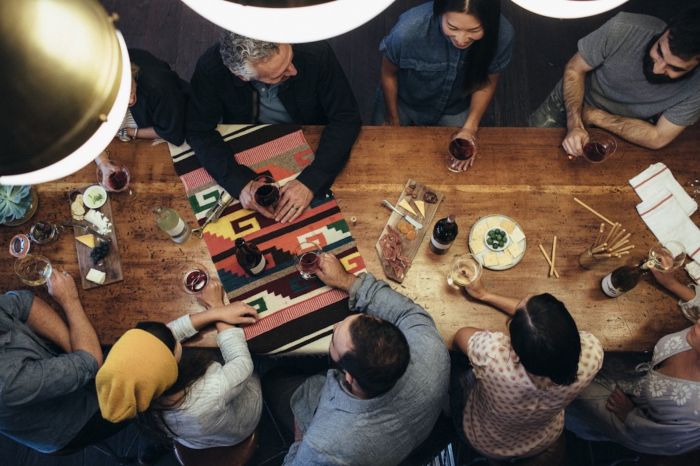 Photo Credit: Gretchen Gause Photography
You don't have to actually leave the town to get your wine fix though. Tasting rooms abound in downtown Healdsburg. In fact, there are 10 along Healdsburg Avenue alone. This means you can sample a seemingly endless amount of glasses as you stroll (or bike) along. Try:
Banshee Wines
Hartford Family Winery
Sanglier Cellars
Spicy Vines
Williamson Wines
On the off-chance you're not an oenophile or just need a break from the vino, there are other options. Bear Republic Brewing Co. has 20 of its beers on tap. Alley 6 offers a unique experience; the distillery produces its own gin and whiskey in-house and offers tastings and tours on the weekends. Finally, a short trip down the 101 will bring you to Russian River Brewing Co. where you can take a self-guided tour of the brewery and order a flight to sample the company's more than a dozen beers on tap.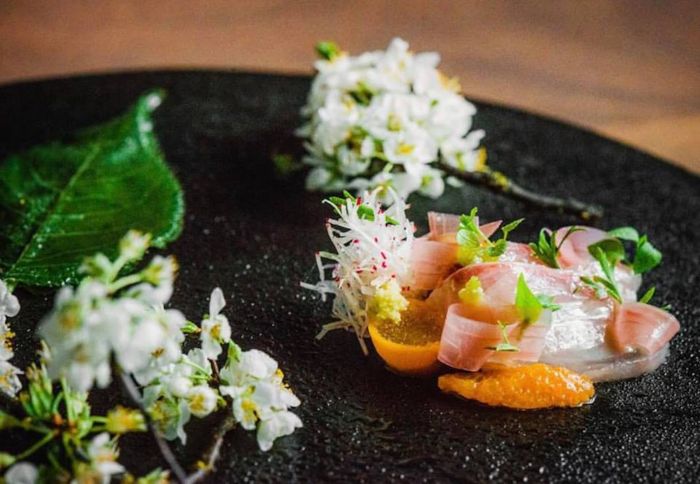 Photo Credit: Heather Lockwood Photo
Dine
Healdsburg might not yet be a culinary powerhouse, but if you appreciate an emphasis on simple, seasonal ingredients, you'll be plenty happy with its dining scene. The town is actually home to two Michelin-starred restaurants as well as a number of other inventive and elegant restaurants.
SingleThread is Healdsburg's crown jewel. Chef Kyle Connaughton offers guests an authentic Japanese ryokan dining experience with California-based dishes. The restaurant is guided by the philosophy of omotenashi, or anticipating a guest's every need; every detail is carefully considered. In true farm-to-table fashion, dishes are planned according to the best of what's available, and SingleThread's menu changes with every Sonoma County micro-season.
Photo Credit: Madrona Manor
Just one mile outside of downtown Healdsburg is the Madrona Manor. This Michelin-star restaurant is set inside a romantic Victorian mansion. Whether you opt for chef Jesse Mallgren's tasting menu or choose to order à la carte, you'll find the seasonal cuisine and artistically-plated dishes are a perfect match to the grandeur of your surroundings.
Although not as decorated, there are certainly other restaurants in Healdsburg worth a reservation. Dry Creek Kitchen, helmed by award-winning chef Charlie Palmer, serves elevated American dishes alongside an impeccable wine selection. If you're in the mood to share, Chalkboard has small but decadent plates—pork-belly biscuits, crudo of the day, buttermilk fried chicken, all come highly recommended—and are guaranteed to hit the spot. For breakfast or brunch, snag a table at Barndiva, Costeaux French Bakery, or Flying Goat.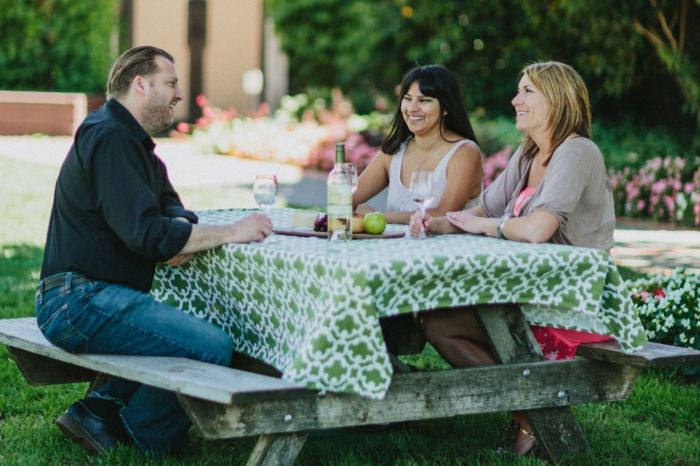 Photo Credit: Dry Creek Vineyard
Whether you've been to wine country enough times to own an unofficial passport or are looking into booking your first oenophilic expedition, don't pass up on a chance to explore Healdsburg. It is truly the perfect destination for California wine lovers.