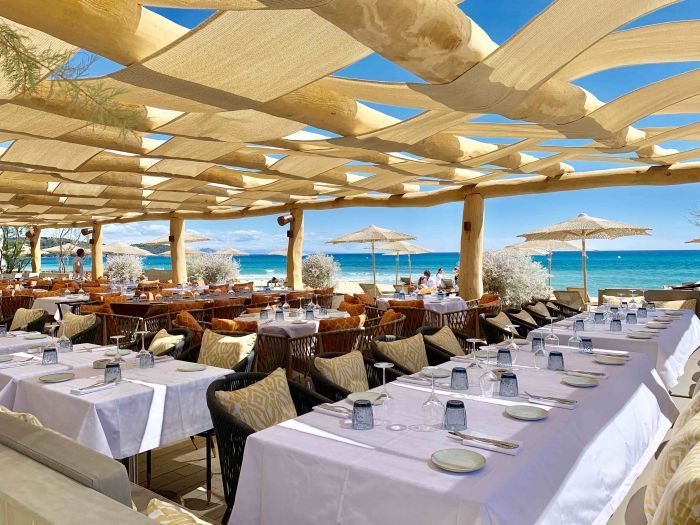 Enjoy lunch with a view
The Hotel Byblos has long been legendary, with a reputation for luring jet-setters and a-listers to its posh address in the village of Saint Tropez on the French Riviera since opening in 1967. Whether sipping rosé by the pool, dining on the terrace at the just-opened Cucina restaurant by chef Alain Ducasse, or dancing until dawn at Les Caves du Roy nightclub, glitterati from around the globe adore their Cote d'Azur home-away-from-home. This season, the family-run palace hotel brings its elegant-but-fun energy to its new beach club, opened on the famed Pampelonne Beach in nearby Ramatuelle, just ten minutes away. Byblos Beach joins 22 other club/restaurants along the three-mile sandy crescent, including fellow first-timer La Réserve à la Plage, the new beach club from the luxury Hotel La Réserve.
"This is very exciting for us but also an honor to be here on Pampelonne. Guests are going to love it," says Christophe Chauvin, general manager for Hotel Byblos.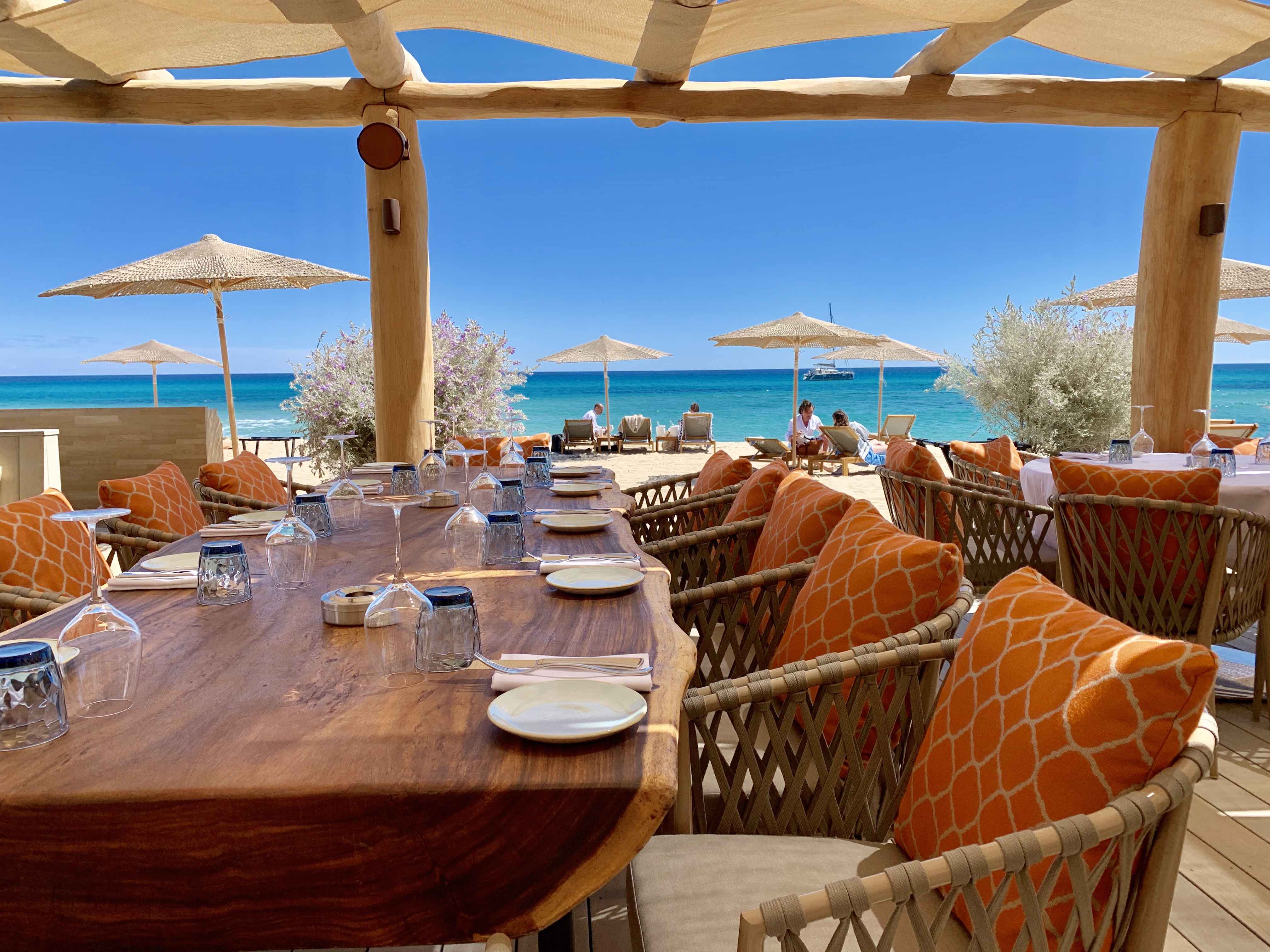 The easy-breezy decor with a splash of Byblos orange
The seaside oasis offers the same exceptional service found in town, and features 100 sun loungers availble for daily rental, a separate bar area, a 120-seat restaurant, and casual décor splashed with its signature orange. The menu was created by the hotel's new executive chef Rocco Seminara and is stamped with Mediterranean ingredients. You'll find meat, fish and seafood grilled to perfection, oysters and ceviche, and vegetarian and Provencal specialties such as zucchini blossom fritters. Chef Seminara, a native of southern France, previously worked in some of the French Riviera's most illustrious hotels including Le Martinez in Cannes and Hotel de Paris in Monaco.
Down from 27 to 23, the reduced number of beach clubs on Pampelonne this season is a result of policies passed by the city of Ramatuelle in 2015 in an effort to protect surrounding flora and minimize the environmental impact caused by throngs of visitors who descend on the beach each year. Byblos Beach adheres to a strict no plastic policy, and the entire structure can be dismantled at the end of the season, leaving nothing behind but fond summer memories.
Byblos Beach is open everyday between April and October. To reserve call +33 (0)4 94 43 15 00.
Hotel Byblos
20, Avenue Paul Signac
Saint Tropez
Byblos Beach
42, Boulevard Patch
Ramatuelle
All photos by Kimberley Lovato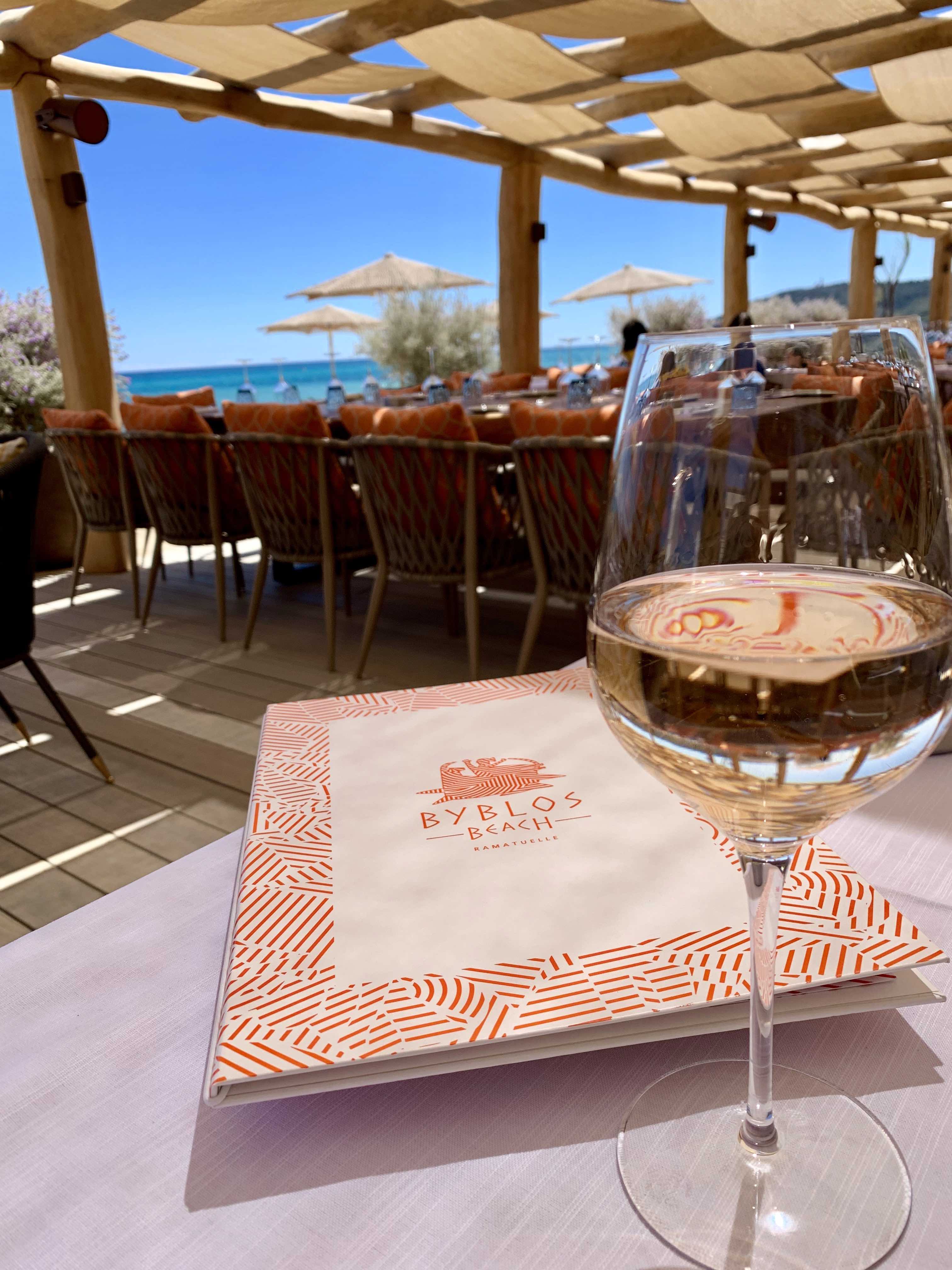 The perfect place to ros� all day