The Cosmopolitan of Las Vegas
The Ultimate Gentlemen's Weekend at the Cosmopolitan of Las Vegas
The concept of a "cool" resort / casino in Las Vegas simply didn't exist before The Cosmopolitan opened in 2010. Rat Pack nostalgia aside, even the most lavish properties were, and still are, decidedly cheesy. With a focus on luxury, art and design, and above all a wicked sense of humor, The Cosmopolitan changed Vegas overnight and, as it approaches its 10th anniversary, has continued to keep things fresh and vibrant. And with 3,000 guest rooms and suites, it still manages to feel like a boutique hotel, which is no small feat in itself. In addition to the gaming and the accommodations, the Cosmo also has the coolest bars, clubs, restaurants, shops, and entertainment venues, which have been carefully curated rather than merely designed to generate as much revenue as possible in the usual Vegas way.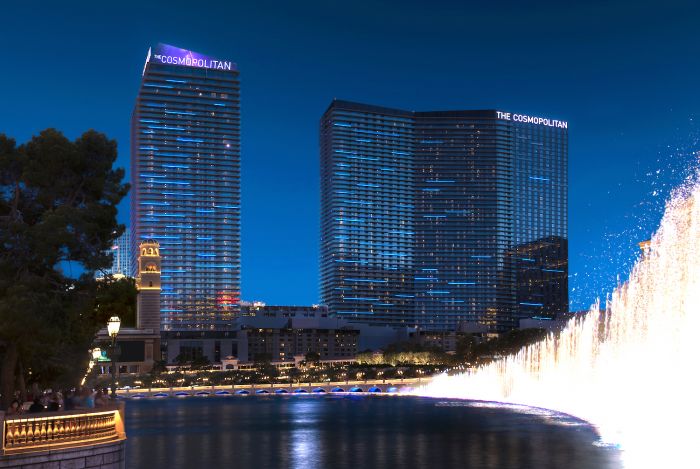 The Cosmopolitan of Las Vegas
The resort recently unveiled a multi-year, multimillion-dollar redevelopment, assuring it will enter its second decade in style. The multiphase project saw all 3,000-plus guest rooms remodeled last year, designed in partnership with New York-based Virserius Studios. Highlights include modern artwork, custom textiles, "statement" wall coverings, ambient lighting, user-friendly technology and a more energy-conscious approach overall. Rooms and suites are spacious, with stylish living, dining, work and bedroom areas, and boast terrific skyline views from the upper floors. The prevailing aesthetic is posh yet playful. The completion of the work offered an opportune time to catch up on the Cosmopolitan's latest enhancements in the form of an "Ultimate Gentlemen's Weekend" involving the following: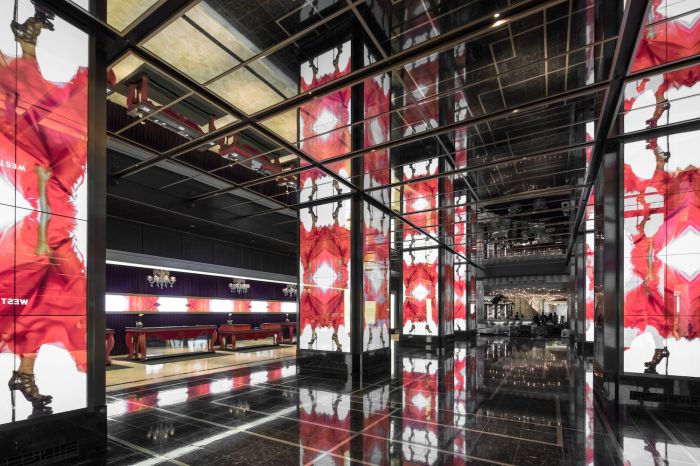 The Cosmopolitan of Las Vegas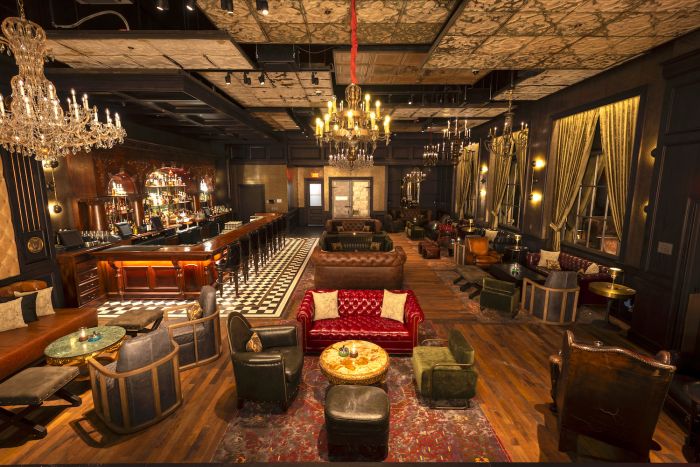 the Barbershop
The Barbershop Cuts & Cocktails
The Cosmopolitan is all about elevated, unexpected experiences, and so there's more than meets the eye to what looks like an ordinary, if beautiful designed barbershop on the main floor. There you can get a variety of cuts ranging from "clean and classic to wild and rebellious," a beard trim or straight razor shave courtesy of master barber Jose Sosa and his team. They'll even pour you a small-batch bourbon to enjoy while you get cleaned up. Come evening, however, you'll notice an awful lot of people going in through a door marked Janitor. And when you investigate you'll find a swanky Prohibition-style speakeasy that could be straight out of The Great Gatsby, but a bit more rock'n'roll. The cocktails here and throughout the property, especially at its signature multistory Chandelier bar, are impeccable.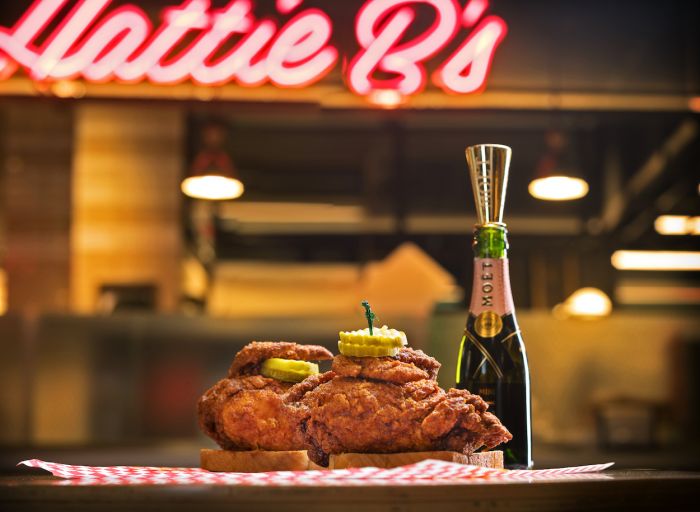 Block 16 Urban Food Hall
The Cosmopolitan's owners scoured the most famous and sought-after foodie favorites in America to assemble this collection of casual food and drink purveyors. The offerings include District Donuts, Sliders and Brew from New Orleans; Ghost Donkey mezcal bar from NYC; Hattie B's Hot Chicken from Nashville; and Lardo and Pok Pok Wing from Portland. That's in addition to Eggslut, the Cosmo's cult all-day breakfast joint, a juice bar, bakery and more.
Boulevard Penthouses
Boulevard Penthouses
The Cosmopolitan's most stunning penthouse suites are not available to rent; they're gifted to the very highest of high rollers. A number of world-famous interior designers worked on different spaces so no two are exactly the same. Ranging in size from 2,000 to 5,000 square feet, lavish doesn't begin to describe them, but they're all done in excellent taste and usually boast at least one eye-popping design element, be it a lucite grand piano or bespoke billiards table. You can, however, get access to the property's Chelsea Penthouse if you have deep pockets. Butler service is standard at both.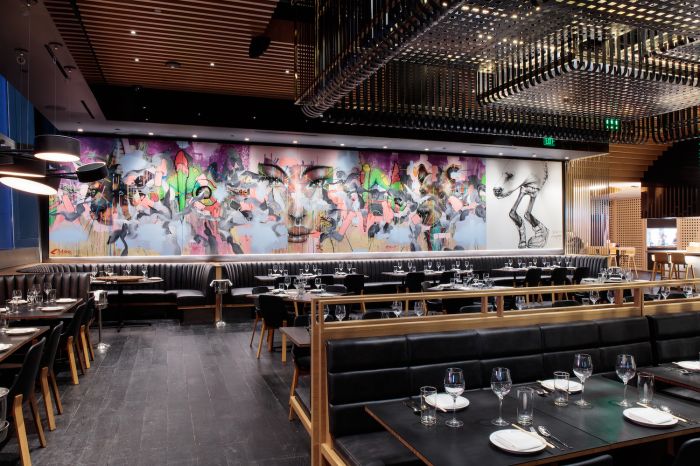 Dinner at Momofuku
It can be extremely difficult to decide which restaurant to dine in; The Cosmopolitan boasts enough outstanding ones to make a small city proud. There's something to suit every taste, but the standout for us is Momofuku Las Vegas from celebrity chef David Chang, the first Momofuku restaurant on the West Coast. While Korea and Japan exert the most influence on the menu and there's a definite street food gone gourmet vibe, Chang's cuisine can't be pigeonholed that easily. His version of surf and turf, for instance, involves fried chicken and caviar. The architecture is equally impressive; the dining room is a mélange of neon, glass, white oak, raw oiled steel, and concrete, as suits a dining concept that was named the "most important restaurant in America" by Bon Appétit. Other must-try dining experiences at the property include Blue Ribbon, the cult bistro from New York City; Scarpetta, the much-loved Italian eatery also from NYC; Zuma, the cool contemporary Japanese restaurant from Miami; and Rose.Rabbit.Lie., a modern supper club where entertainment is always on the menu.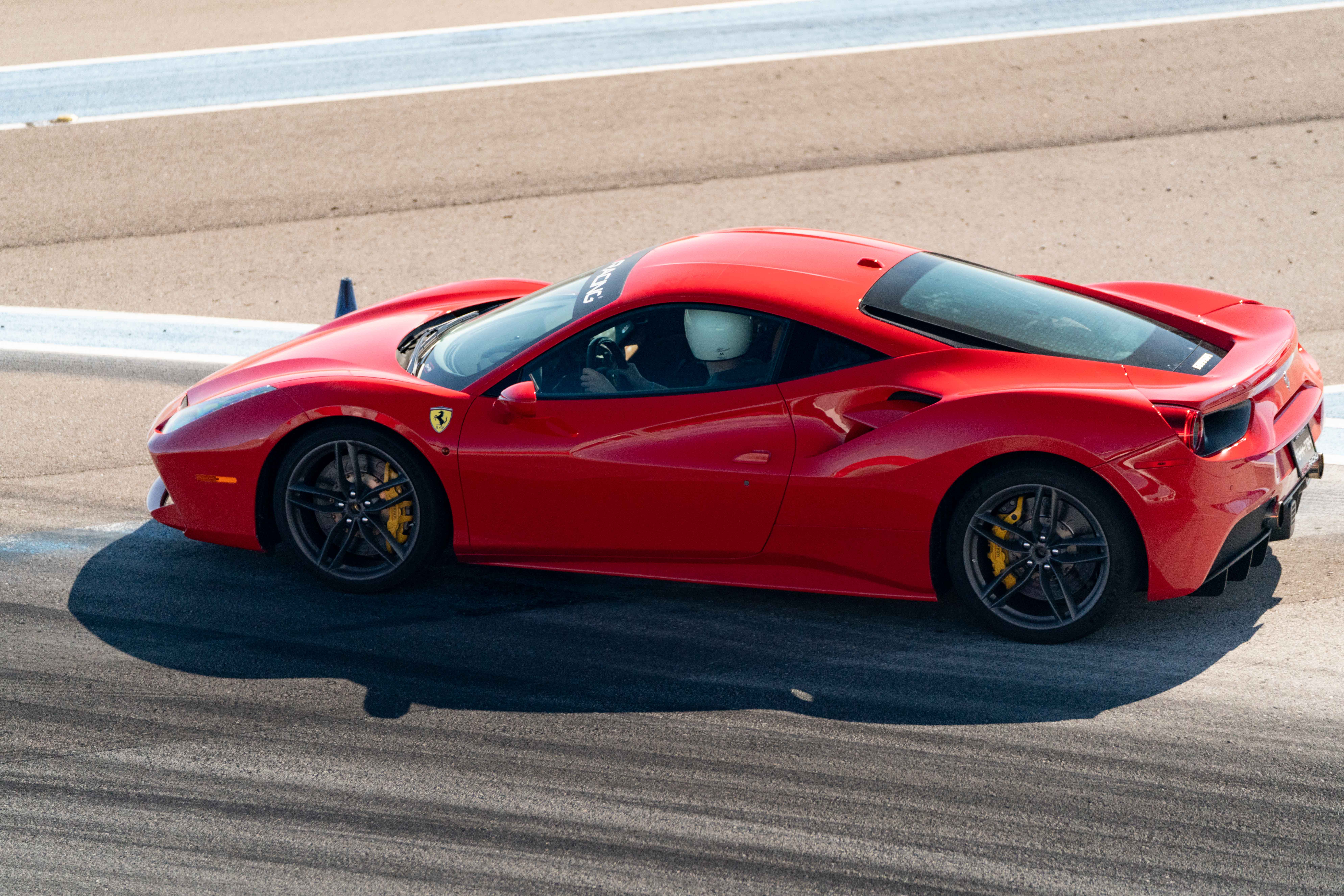 The Cosmopolitan of Las Vegas
One of the few experiences worth going off property for, Exotics Racing is the original, best rated and world's largest supercar driving experience, just outside of the Strip in the Las Vegas desert. The company lets you choose from over 50 exotic cars, 25 race cars and 25 go-karts, and you pay per lap to customize the experience you want. You can also create your own multicar package and drive up to 19 of them. Lamborghini, Ferrari, Porsche, McLaren, Aston Martin – they've got them all. You can also get a full photo and video package to commemorate the experience.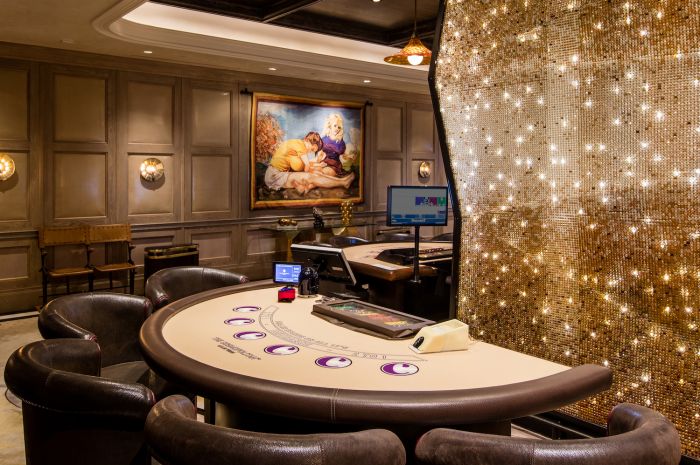 The Talon Club
Gaming at the Talon Club
The Talon Club is the Cosmopolitan's high roller retreat, and has the air of an ultra-exclusive gentlemen's lounge. There are public and private areas of the elite enclave. You need an established $500,000 line of credit with the property to open a private, reserved game in the Talon Club, and in The Reserve, which is off-limits to onlookers, the number jumps to $2 million, or $1 million just to gain entry. The public areas require a minimum bet of $500 to play at most tables, which include baccarat, poker, blackjack, and roulette. The Talon Club has its own selection of ultra-rare spirits as well as its own chef to cater to the whims of its top customers.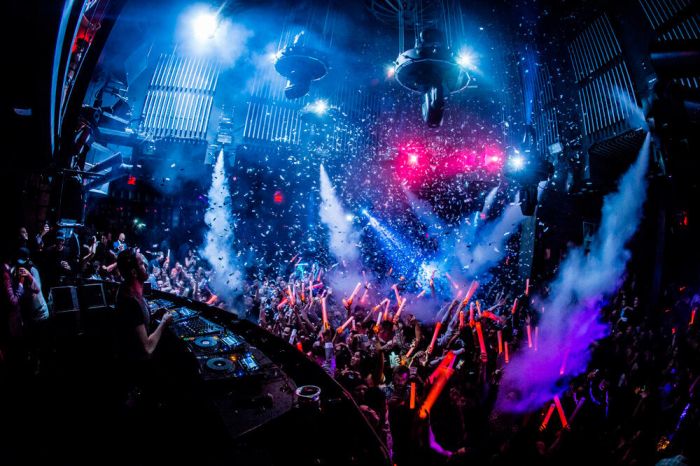 The Cosmopolitan of Las Vegas
One of the hottest nightclubs in Vegas, Marquee, which originated in New York City, is easy to access for Cosmo guests (just be sure to observe the dress code). In addition to top international house music DJs presiding over the dance floor with its soaring windows looking over the Vegas Strip, you'll find the Boom Box, a mixed-format zone, and The Library, a VIP boîte. The Dayclub has a beach club vibe with a pool full of beautiful people that becomes an extension of the nightclub in the evening. The Grand Cabanas, each with its own private spa and infinity plunge pool, are the VIP sections here.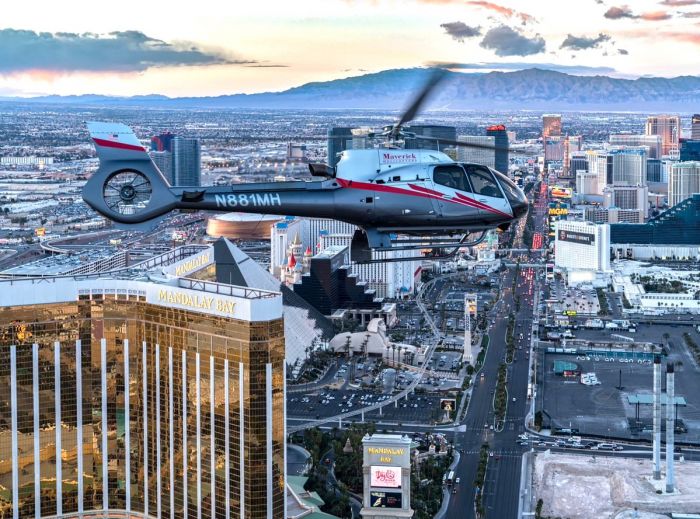 Maverick Helicopters
The other off-property adventure that is not to be missed is a nighttime tour of the Vegas Strip from the air. The tour starts off with a glass of champagne to prepare you for a view that only high rollers usually get to see, from the iconic New York-New York skyline to the Eiffel Tower, the Bellagio's famous fountains and the Luxor pyramid. The company calls its ECO-Star helicopters "the limousine of the sky" and they are not wrong. Maverick also has a number of other tour options if you're feeling more adventurous.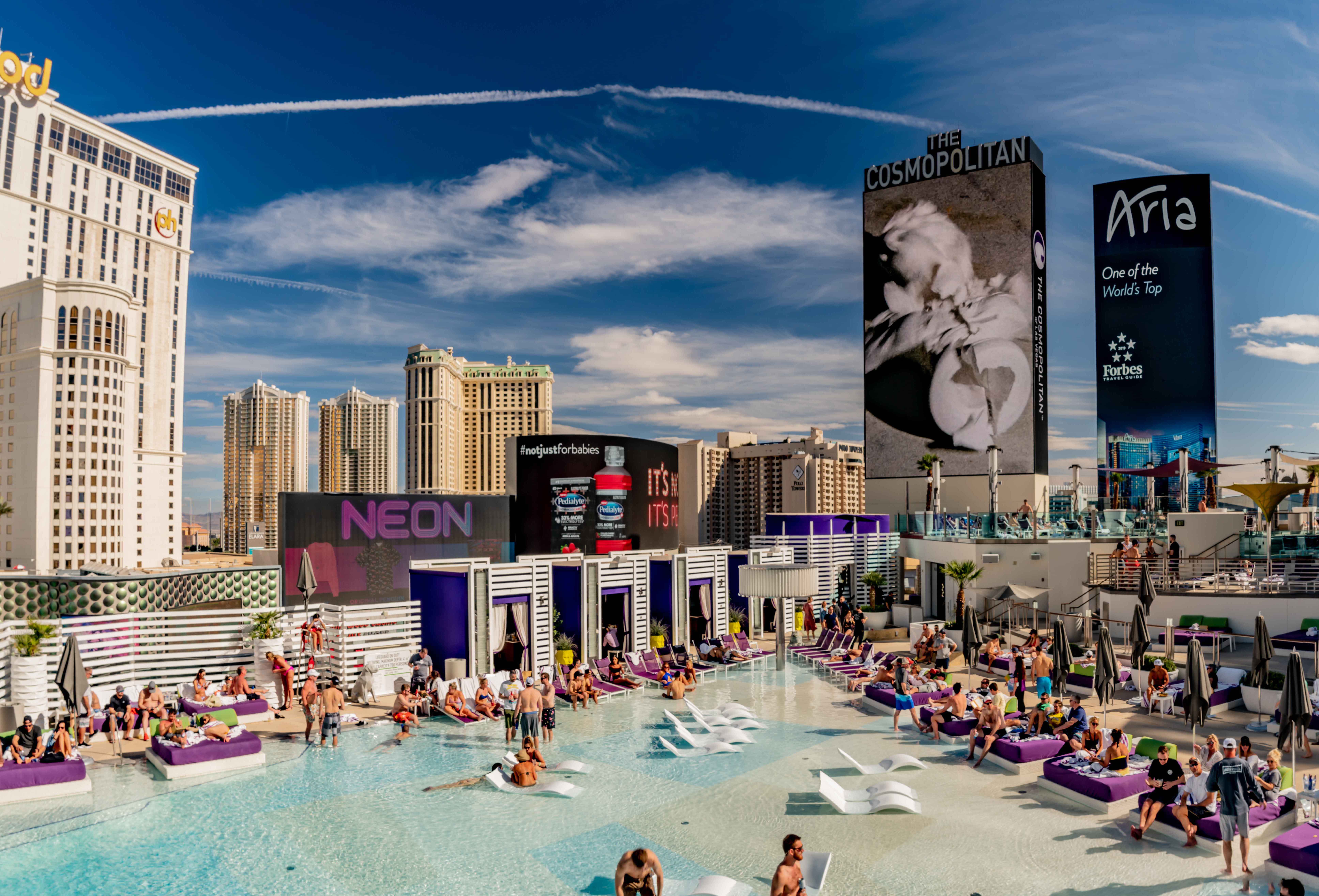 The Pool District
Of course a resort of this caliber has more than one pool. In addition to the Marquee Dayclub pool, there are two others. The Boulevard Pool is geared more towards luxurious socializing with upbeat music and "intimately spaced" lounge chairs and daybeds, while the Chelsea Pool is an escape from the excitement of the strip, a stylish oasis above it all where you can lounge the day away. And overlooking the Marquee Dayclub pool are the Cosmopolitan's exclusive Bungalows, three-story lofts include spacious living areas infinity plunge pool and rooftop terraces.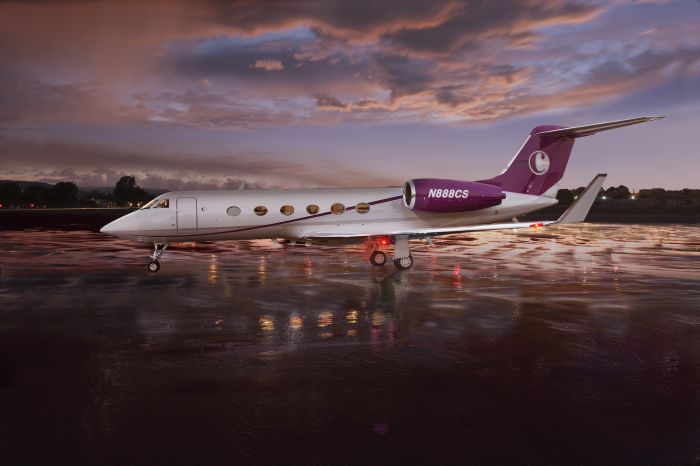 The Cosmopolitan of Las Vegas
Private Gulfstream Jet
If you merit one of the Cosmo's poshest penthouses, you need to arrive in style. Perhaps the Cosmopolitan's coolest new feature is the private jet is has acquired for its elite casino clientele. The Gulfstream aircraft, painted in the property's signature colors, features a lavish, contemporary interior bedecked in genuine leather that can accommodate up to 16 guests. In-flight menus will offer standout items from The Cosmopolitan's renowned Restaurant Collection, curated by the resort's Executive Chef, Bryan Fyler, alongside an extensive wine, champagne and cocktail selection.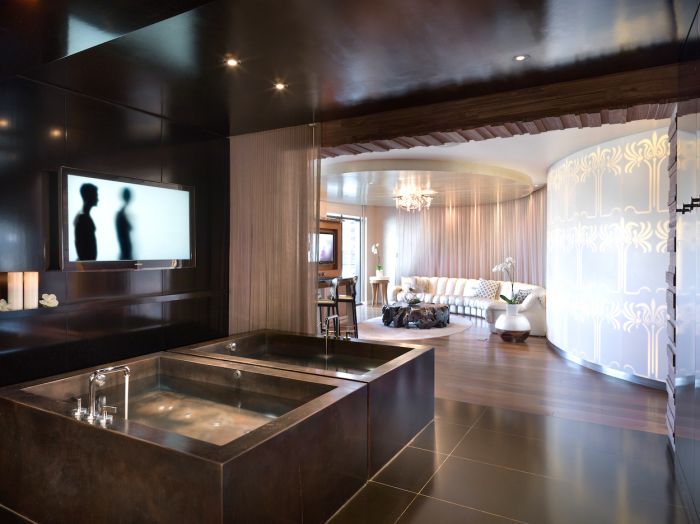 The Cosmopolitan of Las Vegas
As this is Vegas, you'll like be recovering at some point. Or just looking to prepare for an epic night. The Sahra Spa and Hammam is the place to do it. Inspired by the desert and its legendary healing powers, the spa offers every service imaginable in a beautifully designed space that's a soothing cocoon of wood, stone and water. More than just a spa its a wellness retreat that can whisk you worlds away from the controlled chaos outside. Massages are a must but the hydrotherapy offerings and hammam, which includes a giant stone slab heated from within "as if by an eternal sun" are worth the price of admission alone.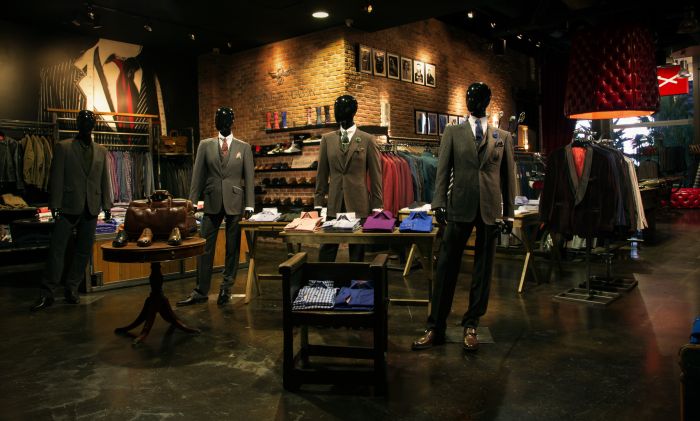 The Cosmopolitan of Las Vegas
Stitched Shirt Fitting & Scotch Locker
Stitched belies the notion that Vegas is locked in a losing battle with bad taste. This gentleman's oasis blends the classic with the contemporary, with a touch of irreverence that makes it perfect for the Cosmo. Top-drawer custom tailoring is the order of the day, from shirts to suits and tuxedos, with world-renowned fabrics master tailors, stylists, and other sartorial experts on hand to exceed your expectations every time. Designed as a place "where a man can be a man," there's also a VIP section of sorts in the back of the store where Scotch tastings courtesy of The Balvenie and other intimate events are frequently hosted. There you'll find some bespoke lockers filled with precious liquors, some with famous names including athletes, actors and DJs engraved on brass plates. They are not mere tributes but in fact boldface names who have reached a very exalted status indeed.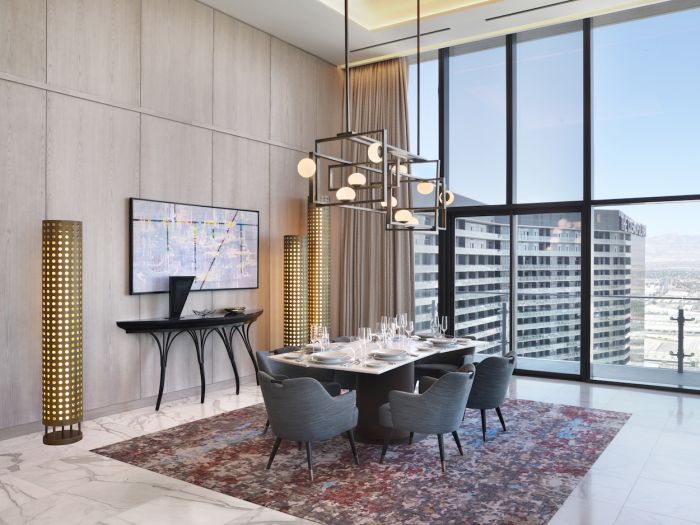 The Cosmopolitan of Las Vegas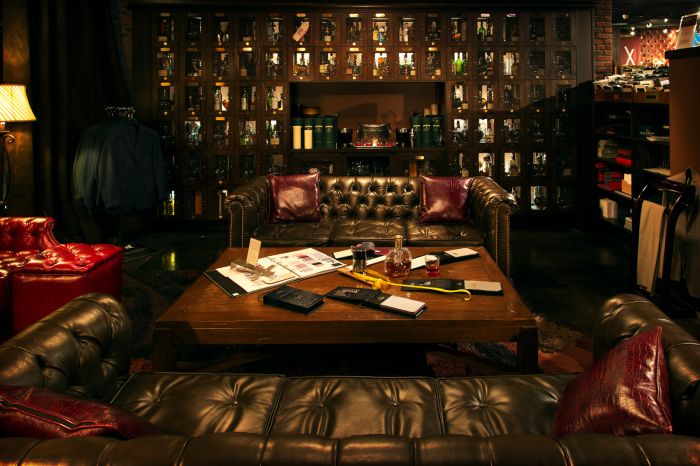 The Cosmopolitan of Las Vegas