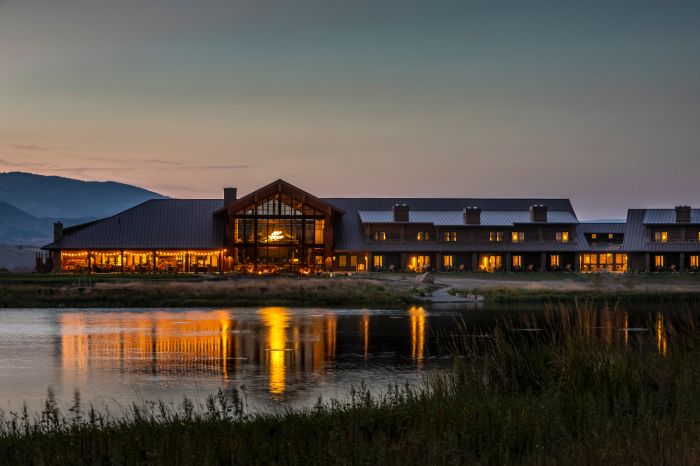 (credit: Courtesy of Sage Lodge)
Alongside the Yellowstone River, Sage Lodge opened in summer 2018 in the heart of Paradise Valley in Montana. The luxury resort offers an ideal rural escape for adventure seekers and rejuvenators alike to bask in the beauty of southern Montana. Situated on more than a mile of Yellowstone riverfront with the majestic Emigrant Peak as a backdrop, Sage Lodge offers an authentic Montana experience for all travelers.
Just 35 minutes from Yellowstone National Park, the resort presents 50 guest rooms, including a 34-room lodge and four stand-alone ranch houses which are tailor made for guest's stays. As each Ranch House 2,783 square feet it is ideal for a group getaway or retreat or can be booked individually. With four separate guestrooms totaling six king beds and two queen pullout sofas, with a private bathroom in each guestroom per ranch house, all rooms connect to a central space with a dining area, living room, double-sided gas fireplace, full kitchen and private patio with outdoor fireplace.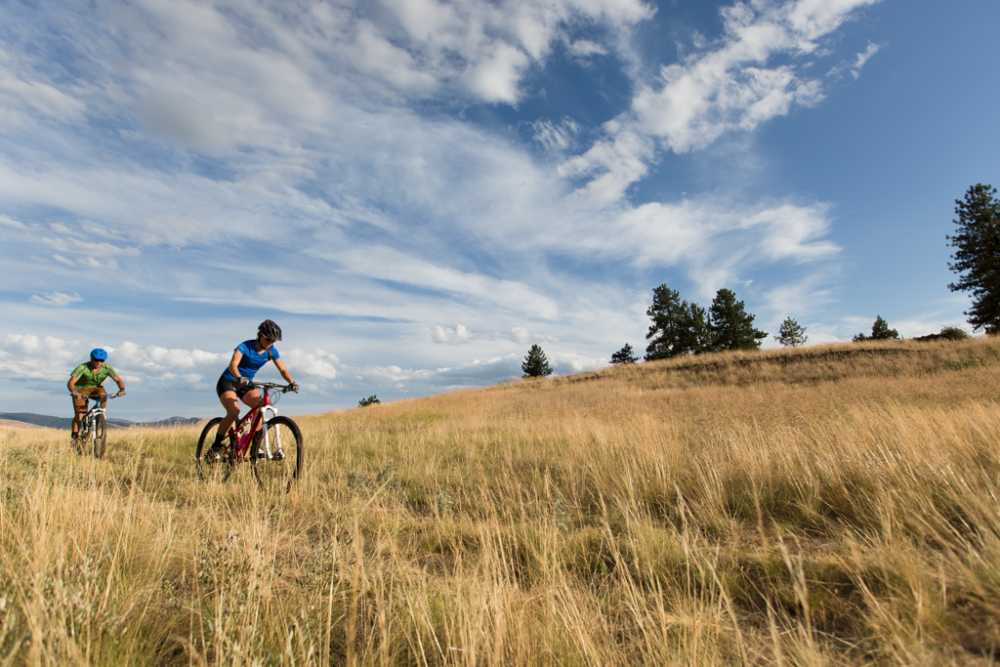 (credit: Courtesy of Sage Lodge)
From inspiring peaks to go explore to rolling rivers to expansive landscapes unique to the Northwest, Sage Lodge awakens a strong sense of adventure. The ultimate Montana luxury resort getaway provides a multitude of year-around outdoor activities including hiking, fly-fishing, hiking, biking, horseback riding, birding, dog sledding, snowshoeing and cross-country skiing weather permitting. Through a partnership with SAGE, an innovative, world-class manufacturer of performance fly fishing equipment, Sage Lodge offers lessons for every experience level from their catch and release pond on property to guided excursions to the best locations in Paradise Valley.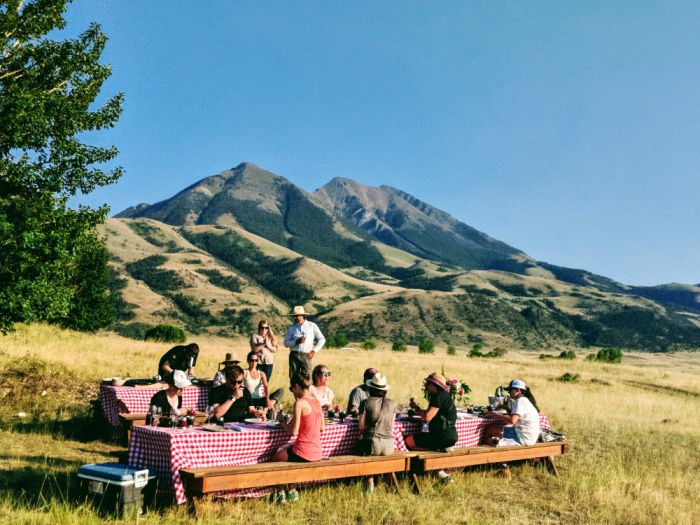 (credit: Courtesy of Sage Lodge)
Located less than an hour from Bozeman, the lodge provides distinctive Montana hospitality from their warm-welcoming staff and being a dog-friendly resort, you can often spot General Manager Paul Robertson's yellow lab Norm roaming around the property. The ranch-like décor of all their structures is inspired by the great outdoors and affords guests with unparalleled views in every direction. Interior design firm Degen & Degen bring the outdoors inside from the shared spaces to individual rooms and suites making sure that the surrounding landscape was properly reflected and shown.
Whether looking for outdoor adventure or a peaceful getaway, Sage Lodge offers a unique blend of extravagant offerings with the rustic outdoors. The Spa at Sage Lodge offers a cedarwood sauna, steam room, relaxation lounge, and outdoor jacuzzi for guests to relax and rejuvenate after their adventures. Guests can choose from numerous treatments or tailored services, like the angler's massage or gentleman's grooming package. The spa allows guests to experience the natural elements of Paradise Valley with an array of services ranging from massages to facials to body treatments.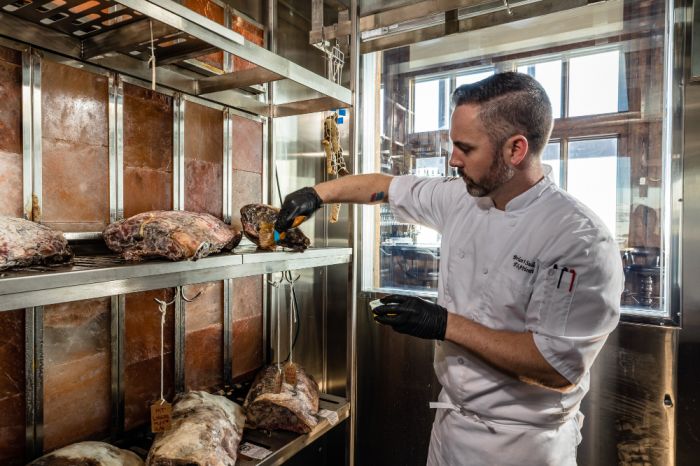 (credit: Courtesy of Sage Lodge)
At The Grill at Sage Lodge, Chef Brian Sullivan brings new meaning to fine dining in Montana with his whimsical yet true take on Montana-fare. In a warm environment with open kitchen and windows looking out onto the property, the center of the restaurant is its wood-fired grill which immerses guests in captivating flames, the crackling of the firewood and the aromas of freshly prepared meats and fish. From their popular Rattlesnake Fritters to the jaw-dropping Tomahawk for Two (it is served with the bone and 32-oz ribeye on the same plate), a must try is their Grass or Grain? entrée. This dish provides diners three tastings of grain fed meat from Yellowstone grass-fed beef (Y.G.B.), grass fed meat from mt ranch and mt wagyu cattle co., allowing guests the ability to taste the difference between how their food is fed.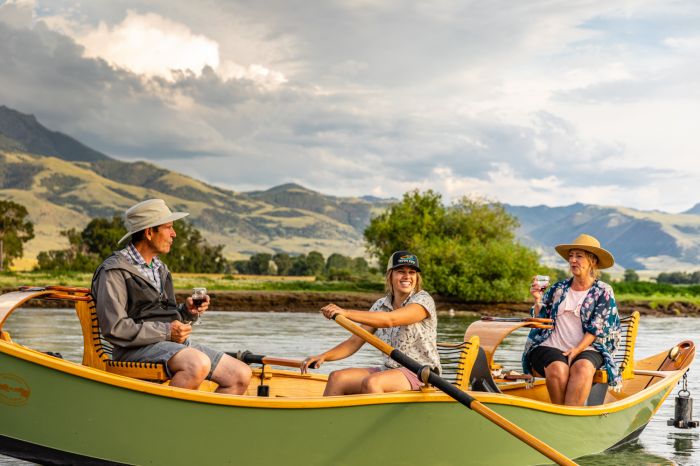 (credit: Courtesy of Sage Lodge)
Choose from one of their seasonal, multi-day itineraries, like five-night Yellowstone Discovery, or an all-inclusive program, like the Ultimate Fly-Fishing Escape, or create your own adventure with a selection of à la carte activities. Two experiences that are not to be missed in the evening are the sunset llama trek to a beautiful spot on the 1,200 acre property for a fresh picnic or the Yellowstone Sunset River Tour, a guided float down the Yellowstone River complete with gourmet cheese boards, light hors d'oeuvres, wine and beer. In this two to three-hour journey, guests learn the topography of the region and can see first-hand the wide variety of animals from the riverbank shore.
A stay at Sage Lodge will present awe-inspiring views, abundant outdoor adventure and activities and top-notch service beckoning travelers for a true luxury yet authentic experience.