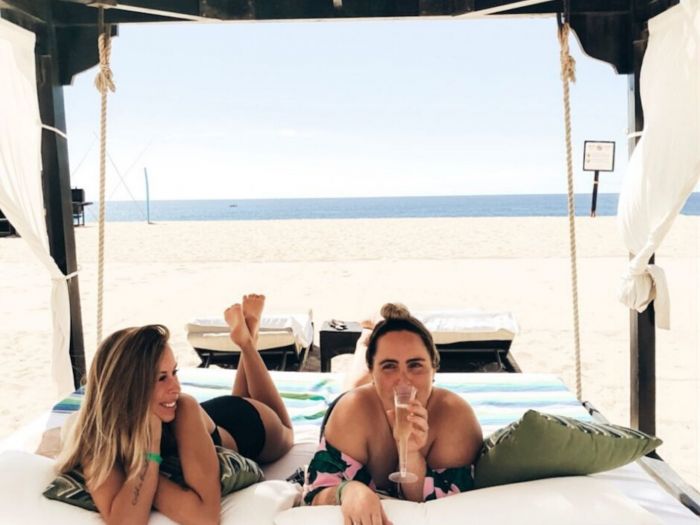 Photo Credit: Beth Graham
If your first introduction to Cabo San Lucas was comprised of endless margaritas on Medano Beach and a few too many shots of tequila at Squid Roe, you—or possibly your liver—might be hesitant to book a girls' trip to the Baja peninsula. But Pueblo Bonito Resorts will tempt you to return with an enticing invitation of indulgent spa treatments, lavish shopping trips, lush accommodations, and yes, a few margaritas. The Ultimate Girlfriends Getaway package whisks you and your best friends off to an all-inclusive experience that gives you access to the very best Cabo has to offer.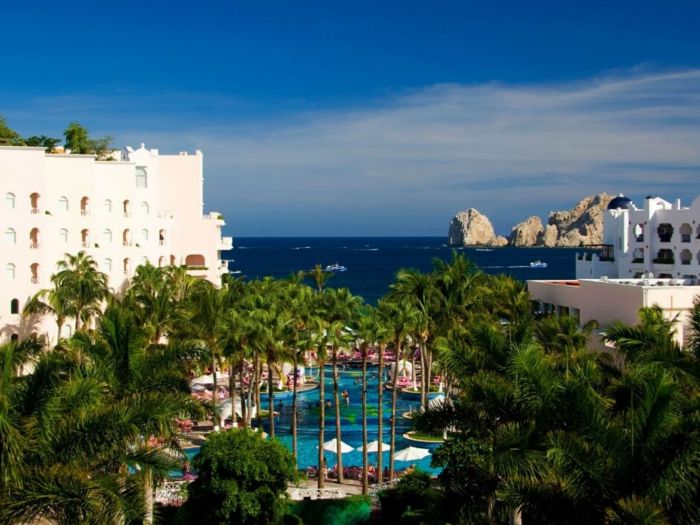 Photo Credit: Pueblo Bonito Rosé
The Ultimate Girlfriends Getaway package can be booked at any of the five Pueblo Bonito Resorts' Cabo locations: Pueblo Bonito Los Cabos, Sunset Beach, Pacifica, Rosé, and Montecristo Estates. It also has all the elements you need for a perfect girls' trip.
For starters, the three-night package includes ocean-view accommodations and all-inclusive food and beverages. The fiesta starts as soon as you check in, as you'll be welcomed to your chosen resort with a glass of wine. You'll also be treated to a Mexican food cooking class, tequila and mezcal tasting with a private sommelier, stand-up paddleboard tour to see the Arch, guided tour of The Market at Quivira food hall (with sample chocolates), and one private chef dinner.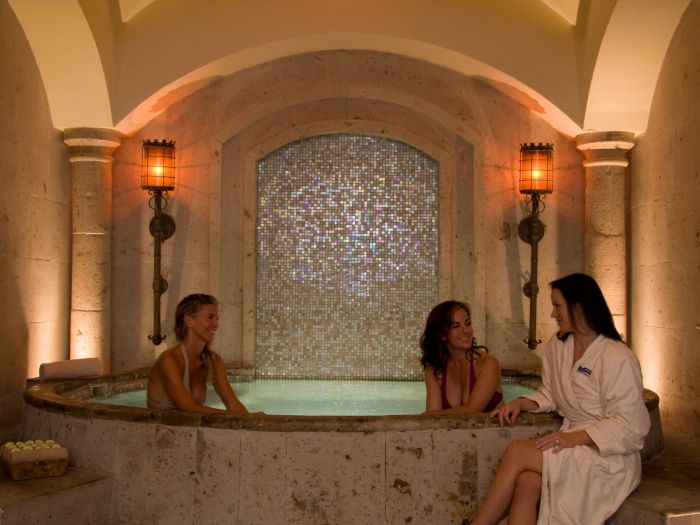 Photo Credit: Pueblo Bonito Sunset Beach
You get to decide how you want to be pampered. Each of your girls will be treated to a luxurious spa treatment—and the choice is yours. You can opt for a massage on the beach, or take advantage of spa facilities at Pacifica, Rosé, Sunset Beach, or Quivira Los Cabos (for those staying at Montecristo Estates). If you feel like spoiling yourself a bit more, you can book additional Armonia Spa services at a 25 percent discount.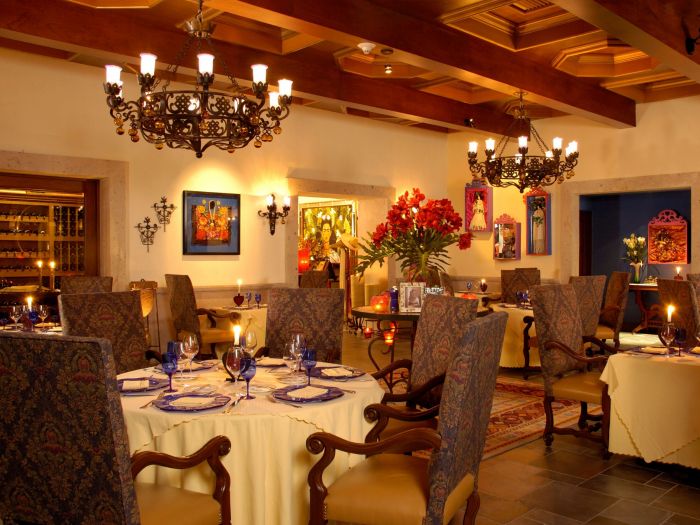 Photo Credit: Pueblo Bonito Sunset Beach
Along with the basic all-inclusive dining options, the Ultimate Girls Getaway package includes an upgraded dinner—which would otherwise have an additional cost—at either LaFrida (at Sunset Beach), Quivira Steakhouse (at Quivira Los Cabos), or Fellini's (at Rosé).
While you have your choice of these specialty restaurants, LaFrida is perhaps the best option for a girl-powered weekend. With a rustic but elegant décor, the restaurant pays homage to Mexican feminist, activist, legendary artist, and now pop-culture icon—Frida Kahlo. Her work and wardrobe adorn the restaurant's candlelit dining room. Artistry comes in another form at LaFrida—the sensational and unexpected dishes crafted by award-winning chef Antonio de Livier. He puts his own twist on traditional Mexican cooking techniques and recipes, creating dishes that are not just original, but introduce exciting and new flavors with every bite. You can't go wrong with any choice, but the Jojutla-style Barbacoa Lamb Shank and Panko-crusted Sea Bass Fillet are two items that showcase de Livier's adeptness of mastering both land and sea. Of course, dinner is best enjoyed with a few libations, and LaFrida impresses again, with cocktails crafted tableside at a mobile bar.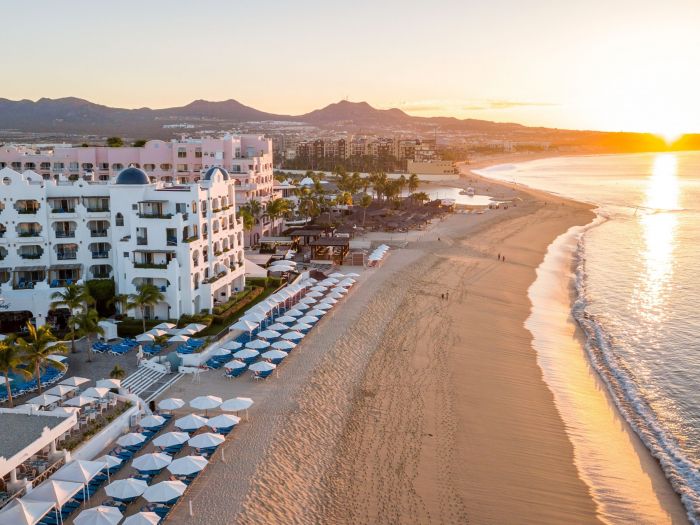 Photo Credit: Pueblo Bonito Rosé
Each resort has its own ambiance, personality, and perks. For instance, Pueblo Bonito Los Cabos and Pueblo Bonito Rosé are located in the heart of downtown Cabo, just a quick ride away from the bars, clubs, restaurants, and watersports at Medano Beach. (And with its pink stucco walls, Rosé is particularly suited for rosy #girlstrip photos on the 'gram.) Pueblo Bonito Sunset Beach is located on a secluded coastal bluff and offers private beach privileges and exclusive access to the Jack Nicklaus Signature course at Quivira Golf Club.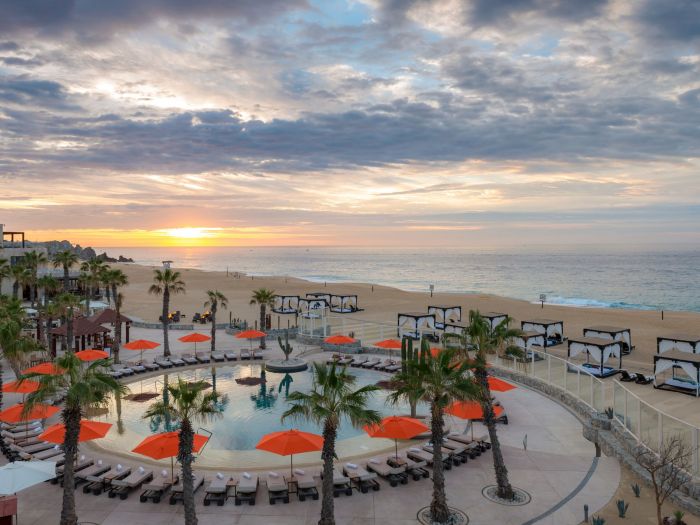 Photo Credit: Pueblo Bonito Pacifica
As the collection's sole adults-only resort, Pueblo Bonito Pacifica is a lavish hideaway where tranquility and relaxation are abundant. Here, guests also have exclusive access to the award-winning, world-class Jack Nicklaus Signature Golf Course, and can enjoy its four comfort stations, Oasis bar, and the Clubhouse during game play. If hitting the links isn't your thing, you'll likely find something else to enjoy within the resort. From morning yoga and dance classes to tequila tastings and swinging beach cabanas—Pacifica truly has all the makings for a memorable girlfriends' retreat.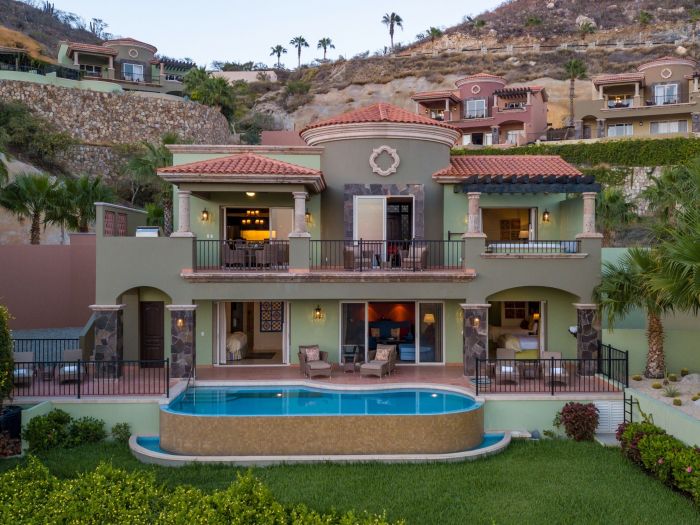 Photo Credit: Pueblo Bonito Montecristo Estates
However, if you want ultimate luxury on your ultimate getaway, book your stay at Pueblo Bonito Montecristo Estates. No amount of comfort is spared in the three-bedroom villas; each is outfitted with a dining room, spacious living room with fireplace, full kitchen with appliances, TV room, laundry room, walk-in closets, and half-bath (on top of the full bathrooms in each of the bedrooms). There's plenty of space for your girlfriends to spread out and make this private piece of paradise your home.
The ocean-view villas are designed in Spanish Mission revival style and also feature a large terrace, private infinity pool, indoor and outdoor hot tub, private chef catering, and 24-hour butler service.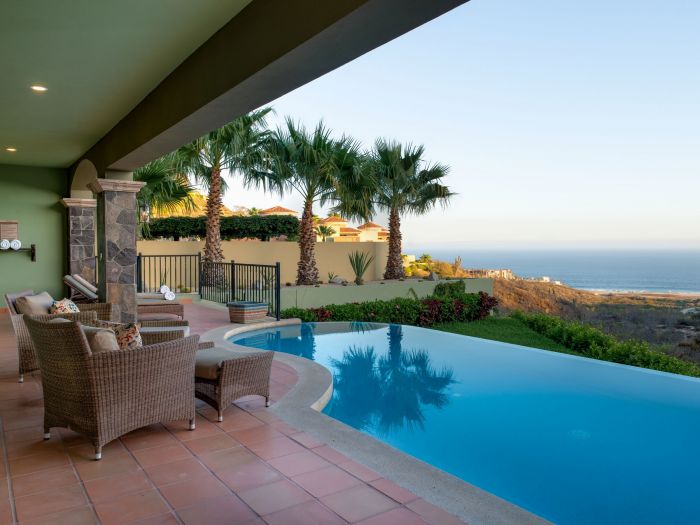 Photo Credit: Pueblo Bonito Montecristo Estates
With a stay at Montecristo Estates, you'll be able to enjoy the Quivira Clubhouse, which features the Cibola restaurant and bar, a community pool with views that overlook the Quivira development, and a state of-the art fitness center and spa. Complimentary shuttle transfers give you easy access to the rest of Pueblo Bonito Resorts' restaurants, bars, and facilities where you'll be able to take advantage of additional swimming pools, private beaches, and daily activities.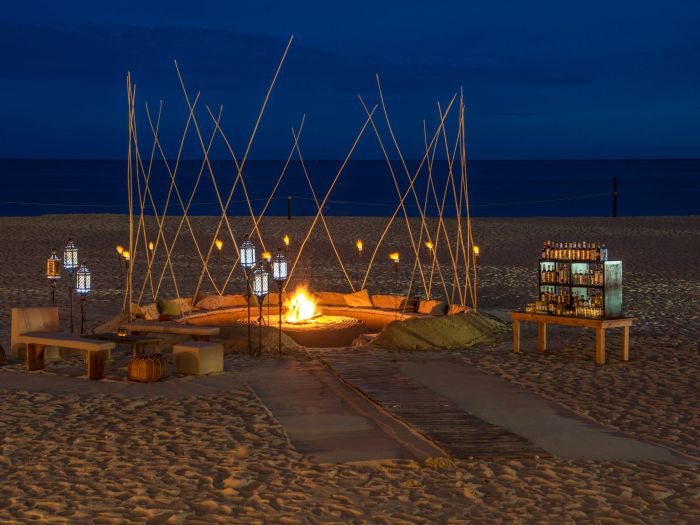 Photo Credit: Pueblo Bonito Pacifica
On top of the elevated accommodations, the Ultimate Girlfriends Getaway package for Pueblo Bonito Pacifica and Pueblo Bonito Montecristo Estates comes with a few additional experiences. You'll be treated to a butler-guided shopping tour of downtown Cabo San Lucas. Your crew will also get to participate in a private "Hook 'n' Cook" surf-casting and ceviche beach experience, where you'll have the chance to catch your own meal and have the expert culinary team at Pacifica prepare it for you (as you nosh on guacamole and sip a few celebratory cocktails). And for your final night, you can choose between a sunset cocktail cruise or beach dinner and bonfire.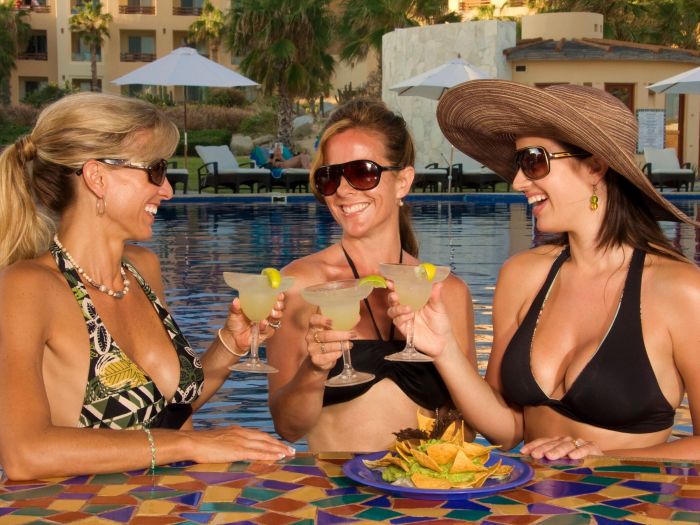 Photo Credit: Pueblo Bonito Pacifica
The Ultimate Girlfriends Getaway package starts at $1,215 per person for stays at Pueblo Bonito Los Cabos and Pueblo Bonito Rosé (based on double occupancy). The Montecristo Estates Villas package is priced at $2,010 per person (based on quadruple occupancy).
So, what are you waiting for? Grab your amigas (maybe pack some ibuprofen and electrolytes) and book your Ultimate Girlfriends Getaway with Pueblo Bonito.