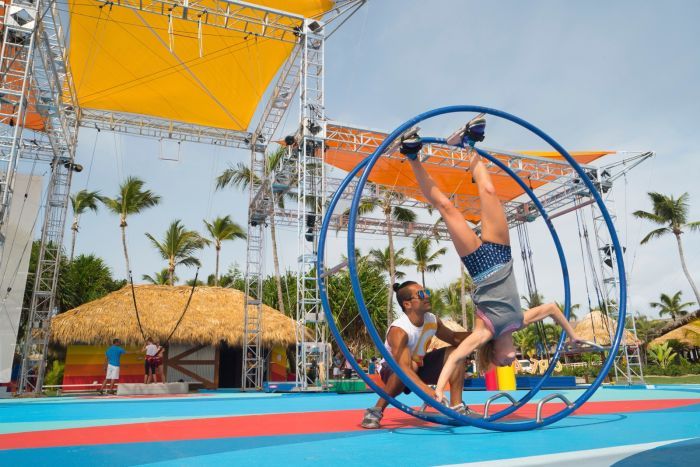 (credit: Club Med)
A perk of traveling to a new destination, along with experiencing a new paradise, is that there are lots of opportunities to bring a new skill back home. While on vacation you have the time to absorb that atmosphere, dive deep into a new culture and spend some time learning what makes this local special and learn a new skill. From technical to creative to historic skills, destinations across the globe offer bespoke experiences that are steeped in the tradition of the locality or the resort's geographic location. Catering to those who want to explore this new place they traveled to, these experiences offer fun classes where you can learn a unique skill and take some souvenirs home to show off your talents.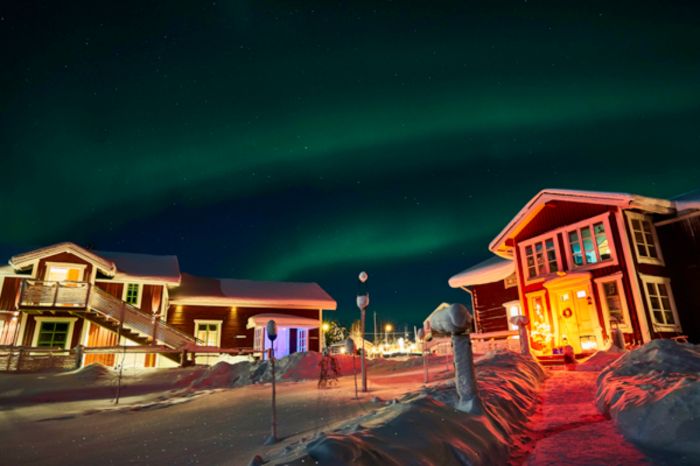 (credit: Lapland Guesthouse)
Forge metal at Lapland Guesthouse
In Swedish Lapland, the province in northernmost Sweden and nearly 95mi north of the Arctic Circle, stands Lapland Guesthouse, a collection of brightly colored, Swedish houses. This wooden wonderland consists of six buildings that can house 21 houses, where guests will be met with a warm and homely feel from Johan, Eva and their two sons. Along with watching the Northern Lights (September-March)while bathing in their outdoor hot tub or fishing in the Lainio river (offered only in the summer), guests can be a blacksmith for half a day without leaving the accommodation. Mia, a blacksmith by trade, who has a workshop on site where guests are invited to come and learn about crafting their own metal masterpiece. Offering a two-hour session, starting at $108, and six-hour session, starting at $180, both workshops include all materials needed.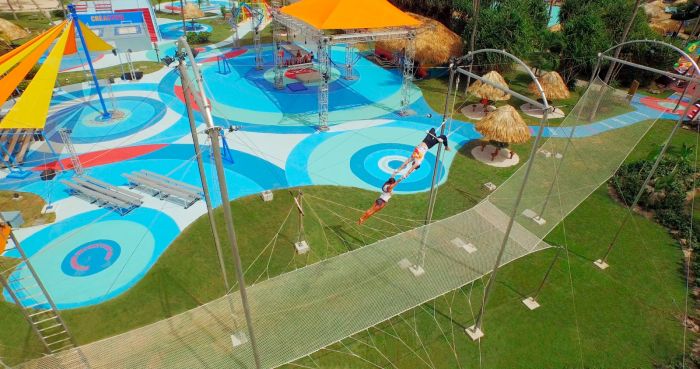 (credit: Club Med)
Learn to perform at Club Med Punta Cana
Guests at Club Med Punta Cana can enter the unexpected world of Cirque du Soleil with Creactive by Cirque du Soleil, the resort's creative playground inspired by the world-renowned acrobatic shows. Except for Club Med's Opio en Provence resort, this exclusive experience is not available anywhere else and provides activities for all ages. The all-inclusive resort presents a plethora of activities for all guests, but at Creactive, this once-in-a-lifetime experience led by a group of employees trained in acrobatic art will surely wow and amaze. From aerial silk, flying trapeze and tightrope walking, the playground is split up into five distinct sections: La Piste, Acroplex, Big Top, L'Atelier and the Grand Trapeze, and offers 30 recreational acrobatic and artistic activities.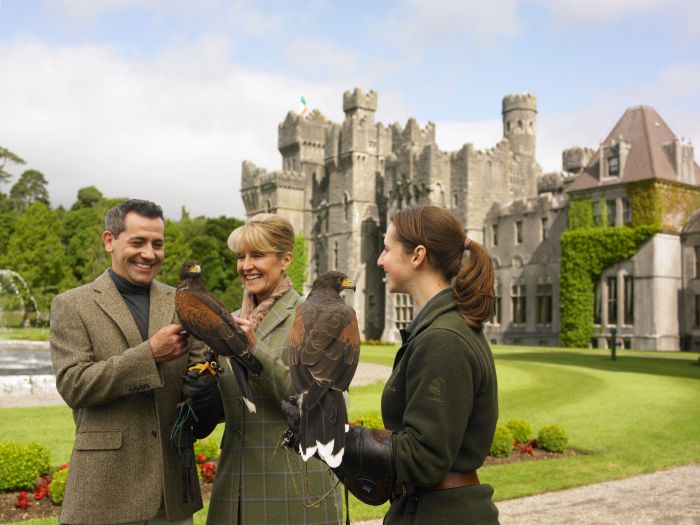 (credit: Ashford Castle)
Fly a hawk at Ashford Castle
On the banks of Lough Corrib in Ireland, 27 miles from Galway City, Ashford Castle, is a 13th-century castle hotel set on 350 acres of land. The former home of the Guinness family has a spectacular backdrop of woodlands, the river, and mountains which transports guests back to the luxury of yesteryear. Its rich history is seen through the decor in its 83 traditional & elegant rooms and suites, while its spa and dining concepts are some of the best in the country. Guests at Ashford Castle can learn how to fly a Hawk at Ireland's First School of Falconry with the one-hour private Hawk Walk, allowing guests to fly their own Harris Hawks under the guidance of an instructor, who will lead guests through the majestic woods of the Ashford Estate as the hawks fly from tree to tree. Prices start at $113.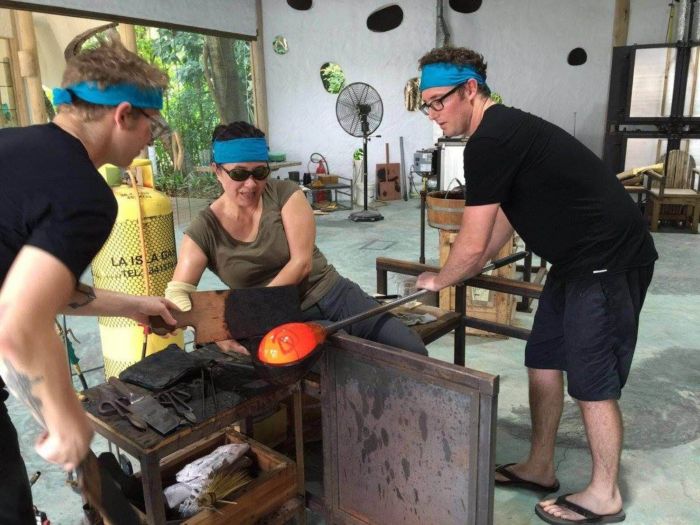 (credit: Courtesy of Soneva)
Blow glass at Soneva Fushi
As the original desert island hideaway in the Maldives, Soneva Fushi has invited guests to its luxury beachside resort since 1995. Located in the Baa Atoll, a pristine UNESCO Biosphere Reserve coral reef, Soneva Fushi pairs Robinson Crusoe fantasy with intelligent luxury. With 63 beachfront villas and eight Water Retreats, the resort has set the standard for all desert island barefoot luxury hideaways in the Maldives. The resort boasts its own state-of-the-art glass blowing studio, which guests can both watch world-renowned glass artists create objects of art as well as learn/take part in the art of glass blowing. Through its three-hour Glassblowing Class, guests can create their very own masterpieces from recycled bottles from Soneva Fushi and other nearby resorts in the Maldives, to take home. Prices start at $350 for private with group rates available.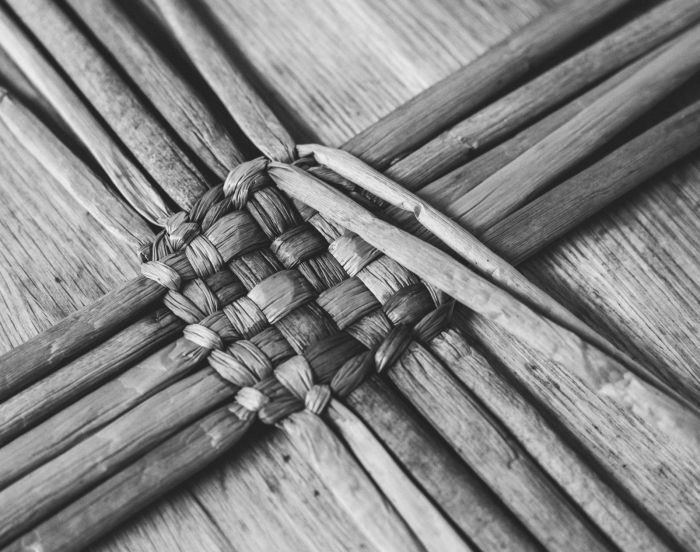 (credit: Heckfield Place)
Weave a basket at Heckfield Place
In the secluded Hampshire landscape, a little over an hour drive from London, Heckfield Place is a country haven surrounded by thick gardens and meadows. Boasting Georgian elegance, the house was re-designed and restored in2018 inviting guests to experience an intimate and contemporary stay. At the heart of the house is the Home Farm which produces fresh produce and presents guests with the opportunity to explore the farm, visit the animals and learn about the biodynamic principles of the farm. One of the offerings at the resort harkens a skill of the past, rush-weaving. At its Rush-Weaving workshop, guests learn from felicity Ironsabout the history of the trade and how to weave a basket. This class is offered by request and by scheduled appearances at The Assemblyandstarts at $113) for a group class. Other classes offered include a paper-making workshop and learning woodworking skills and how to make a bench seat.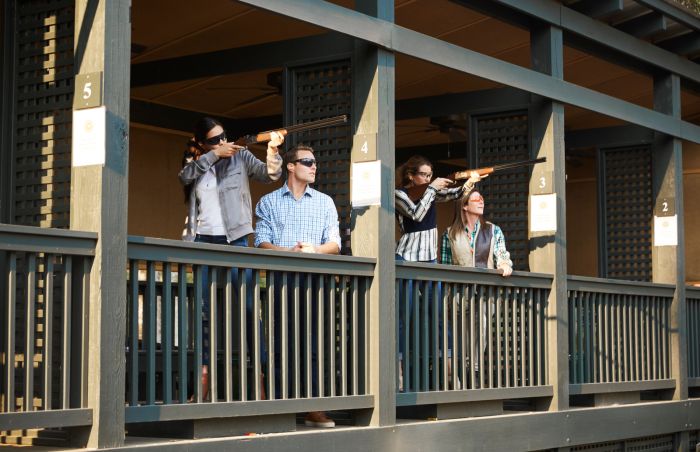 (credit: Montage Palmetto Bluff)
Become a marksman at Montage Palmetto Bluff
Sprawled on 20,000 acres of property between Savannah and Hilton Head in South Carolina, Montage Palmetto Bluff, a Forbes 5-star rated luxury resort, presents a classical Southern escape. Hunting and shooting sports have been a long-standing tradition on Palmetto Bluff and as such the property features the sprawling The Palmetto Bluff Shooting Club. Designed to be subordinate to the landscape while providing a fun and challenging recreational shooting environment, through an expansive 40-acre forest, the Club features 13 sporting clay stations, an elevated and covered five-stand station, plus a wobble deck field for a total of 15 shooting sites.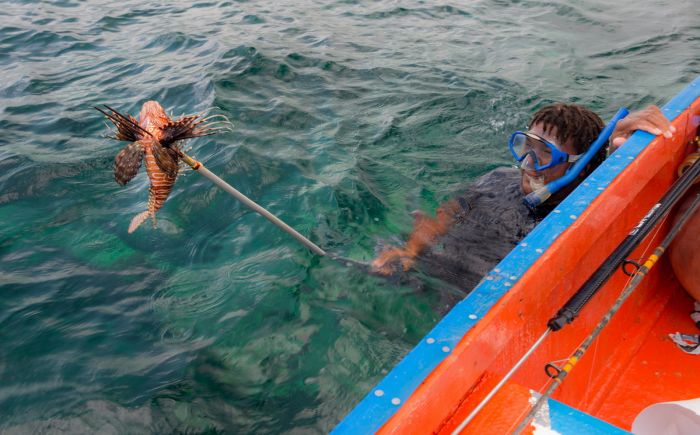 (credit: Secret Bay)
Spear a lionfish at Secret Bay
With only 10clifftop residential-style villas, each with private plunge pools, Secret Bay presents a stunning rainforest resort experience. Located on the northwest coast of Dominica, the resort offers guests a few thrilling experiences such as rappelling into the depths of the island on a waterfall canyoning adventure, a kayak or swim to the picturesque Secret Beach as well as its spa which overlooks Tibay Beach. Building on its eco-conscious mantra and sustainable initiatives, Secret Bay organizes an experience in which guests enjoy a fishing expedition to catch lionfish, a predatory and invasive species. Guests will learn the traditional technique of how to spear a lionfish, followed by a step-by-step guided preparation of creating a gourmet dish with their catch. The cost is $292 per couple.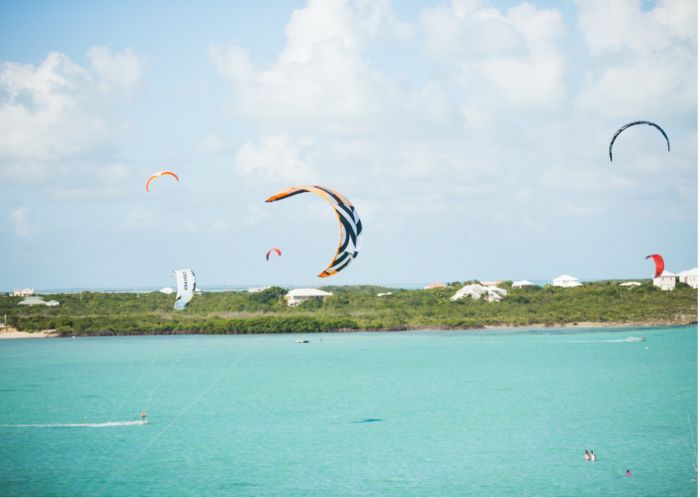 (credit: The Shore Club)
Kiteboard at The Shore Club Turks & Caicos
The Shore Club Turks & Caicos opened in January 2017 as the first and only hotel on Long Bay Beach on one of the most renowned kiteboarding beaches in the world. Due to Long Bay Beach's uncrowded beaches, consistent breeze and shallow waters, it has welcomed kiteboarders from all over to experience the thrill seeking activity. Boasting the longest wind season in the Caribbean and Kite Provo (the first and largest kiteboarding school in the area which established a wind/weather station and has been recording the real time winds for the past years) guests can take lessons from pioneer Chris Moore on the Caicos Banks, a 90-mile shelf that extends nearly two miles from the shore allowing you to walk on a solid sand bottom for miles.
(credit: JL Bar Ranch, Resort & Spa)
Horse psychology at JL Bar Ranch, Resort & Spa
On a vast 13,000 acres in the heart of Texas Hill Country JL Bar Ranch, Resort & Spa is a luxury working ranch in Sonora, TX. Alongside their 32 luxurious accommodations and top-notch spa, the ranch has a robust equine program that allows guests to interact with the resort's world-class horses in a variety of ways. While they offer classic horseback riding excursions and Cowboy Cookout adventures, unique to the ranch is its Horse Psychology Experience. Led by equine experts Jon Joseph and Sydney Béïque, guests partake in a one-hour course to learn the basics of horse behavior as well as techniques for optimal upkeep and engagement. Starting at $50, this special experience can be added on to any reservation.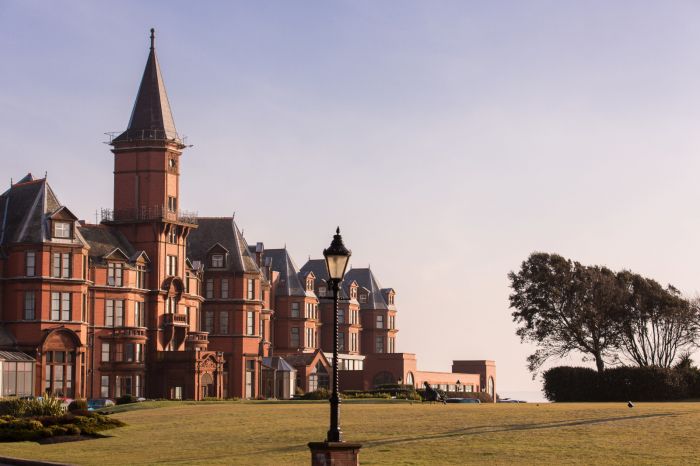 (credit: Hastings Hotels)
Challenge Robin Hood at Slieve Donard Resort & Spa
The Slieve Donard Resort & Spa is situated on the idyllic seashores of the Irish sea on Newcastle Bay in Northern Ireland overlooking the Mountains of Mourne. Set in six acres of beautifully kept private grounds, the property is famous for its expansive and luxurious spa, but also is an ideal setting to step into history and have a go at archery. In the resort's outdoor activity center in Castlewellan Forest Park, they offer a fully guided Archery experience. Set within the forest alongside the lake and the world's largest permanent maze, The Peace Maze, the Archery session gives guests the chance to get to grips with the technique and put their new skills into practice. Suited for all skill levels, the experience starts at $36/person and $193 for group sessions.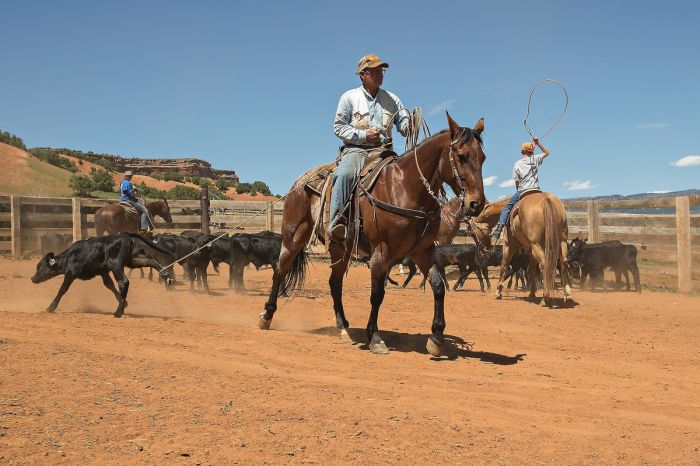 (credit: Red Reflet Ranch)
Wrangle cattle at Red Reflet Ranch
On the west slope of the Bighorn Mountains, just three hours from Yellowstone National Park, Red Reflet Ranch is a 28,000-acre luxury resort and working ranch. As one of the best Dude Ranches and resorts in Wyoming for families, guests stay in private chalets each providing a unique experience. Amongst the multitude of other activities offered (horseback riding, ATVing, ziplining, swimming, hiking, fishing and more) the Ranch will teach guests brave enough how to wrangle cattle. Under the watchful eye of owners Laurence and Bob Kaplan, guests are welcome to experience a 'modern cowboy' experience while riding with the wranglers to look over the herd. Guests will participate in cattle drives, branding, and roping activities.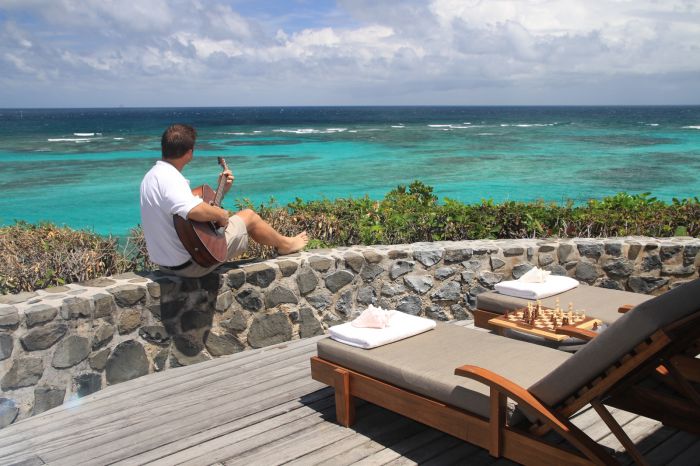 (credit: Petit St. Vincent)
Learn to play the acoustic guitar at Petit St. Vincent
The all-inclusive luxury resort in the heart of the Caribbean in the southern Grenadines, is set in a 115-acre tropical paradise with a rhythm all of its own. Petit St. Vincent presents Caribbean living as you dream it to be, a place to disconnect from the world and reconnect with each other. The stunning resort is surrounded by beautiful oceans and is renowned for its stunning and secluded cottages and villas, the five-star service and food. Starting in July, they will begin to offer Unplugged Acoustic Guitar Workshop at PSV with Justin Sandercoe where only 12 guests can take classes on technique and theory and learn how to play songs which suit various levels of proficiency. Included in this seven-night package is accommodation for two in a one-bedroom cottage, all meals, unlimited room service and access to all non-motorized watersports and prices start at $7,800.
(credit: MacArthur Place Hotel & Spa)
Brew Kombucha at MacArthur Place Hotel & Spa
In the heart of wine country, MacArthur Place Hotel & Spa presents 64 luxury guest rooms and suites, three distinct culinary outlets and a spa. Across the six acres of its lush grounds, guests are presented with a feeling of magic and discovery along with exciting activities and a lot of wine of course. As part of the property's Mindful Meetings offerings (to support freedom from stress, sensory awakening, physical renewal, personal connection and, of course, productivity), learn the ancient art and science of making kombucha. Available to intimate groups of just a few or up to 30 guests, travelers looking to pick up a new skill can take part in an informative and interactive session where each participant will learn to make their own kombucha SCOBY (symbiotic culture of bacteria and yeast) and enjoy tastings of kombucha along the way.