Credit Peter Eve
Australia's Unforgettable Wetland Safari at the Bamurru Plains
As the light of dawn breaks, the morning view gradually evolves from pitch black to reveal a savannah of long grass marshlands for miles and miles in every direction. In place of a digital clock, the waking alarm is the boisterous cackle of the Blue-winged Kookaburra just outside your cabin in chorus with other exotic birds as they warble, chirp, and coo to announce the sun's rising. A few hours later, the serenity of nature is broken by the thunderous roar of an engine and whirling of propellers as guests, filled with anticipation, explore this habitat by airboat ride on a once-in-a-lifetime adventure. This is how your day begins at Bamurru Plains in the far reaches of Australia's Northern Territory.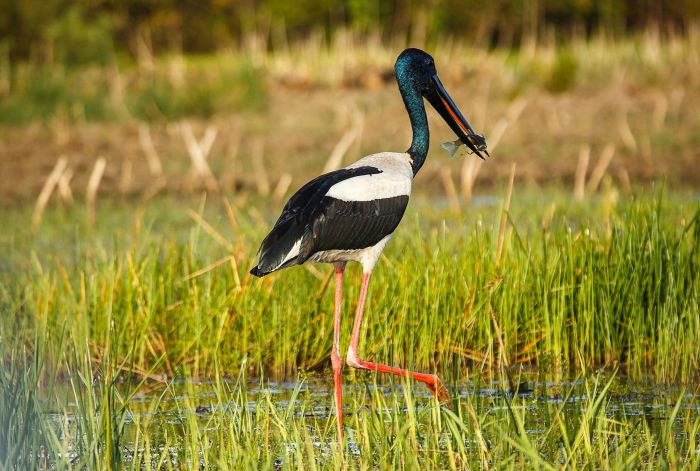 Credit: Andre Erlich
Australia is a destination with diversity in environments from dry brush deserts in the outback, to stunning coastal cities and beach towns, and even highlands with snow-capped mountains. In the north, about three hours' drive from Darwin is one of its rarely explored habitats. It is remote, pristine and one like you will find nowhere else in the world. Bamurru Plains is located in the Mary River Region on a 275 square mile plot of land that stretches from the edge of Kakadu National Park to the coastline of the Timor Sea.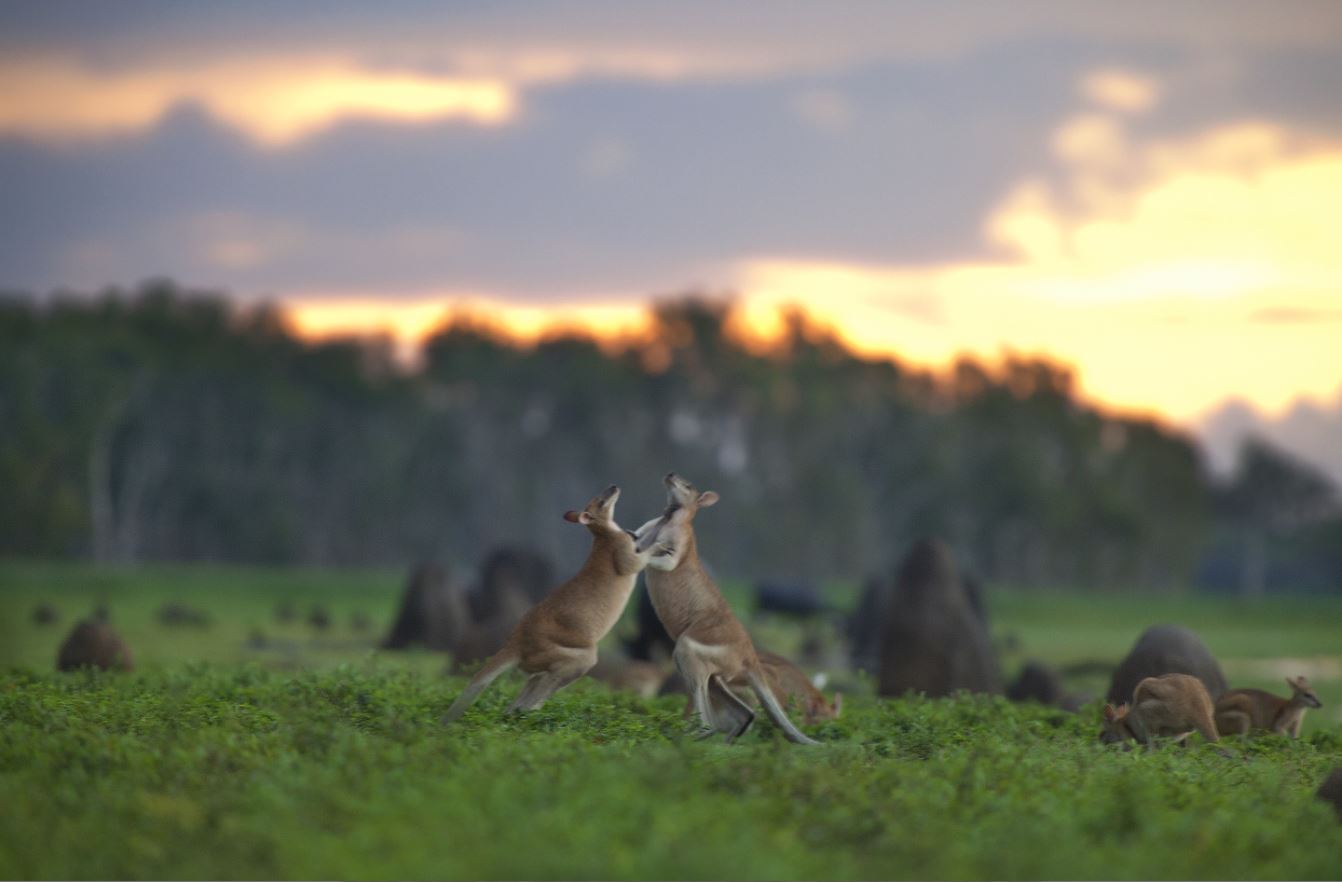 Credit: Richard Field
The contrast that you will find between the wet and dry seasons could not be more stark. During the dry season, from April to October, the entire area will morph to bone dry in an unrecognizable mix of mud and dust where the wildlife, both indigenous and introduced, clammer around the few waterholes left.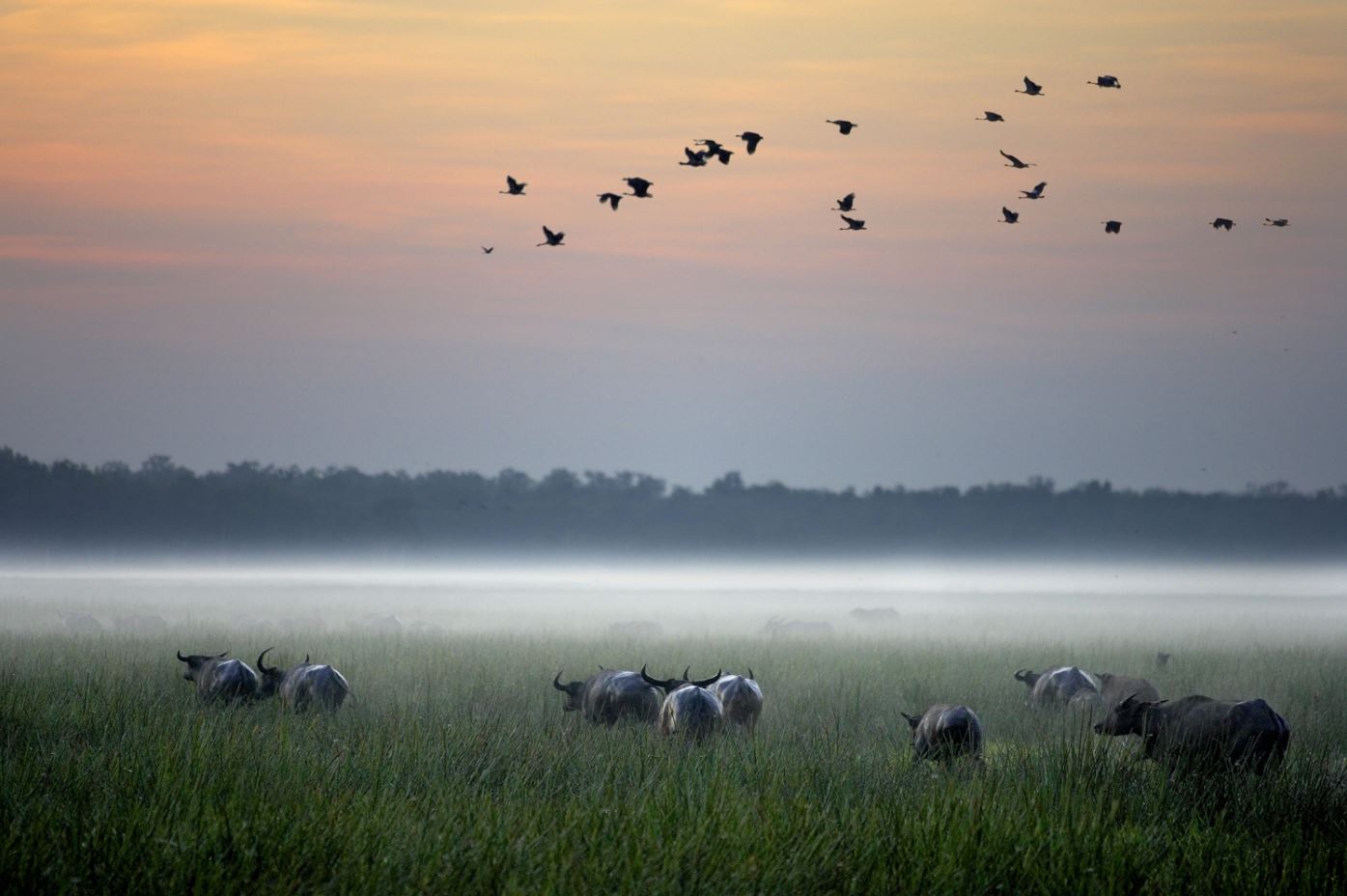 Credit Peter Eve
But during the wet season, the flood plains are literally full of water with 10-foot-deep marsh teeming with aquatic plant life, waterlilies with gorgeous white and purple flowers, and indigenous rice and wind-blown reeds that create a sea of green and gold. Elsewhere there are woodlands filled with eucalypts and purple turkey bushes fringed with freshwater mangroves, billabongs, and eerie submerged paperbark tree forests. This habitat is nirvana for wildlife, especially birds with twitchers who come from around the world for the variety of species found only in these wetlands.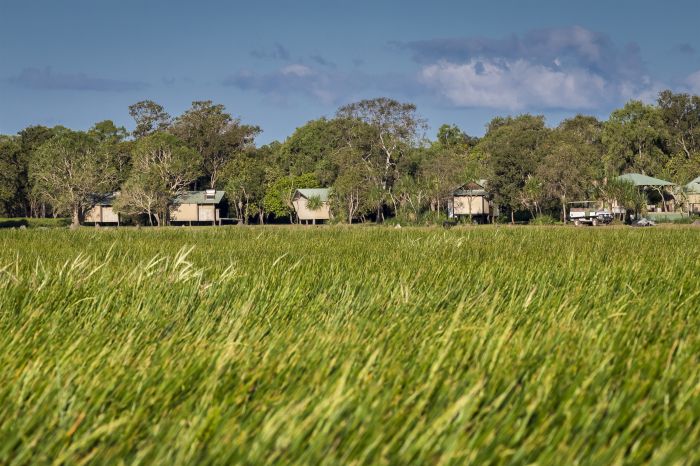 Credit: Richard Anson
Hemmed in this surreal habitat is the Bamurru Plains, an exclusive glamping retreat created for wildlife lovers. Here guests enjoy a range of unforgettable immersive activities that allow them to get close to the vibrant wildlife. The exclusive retreat offers only ten safari bungalows that fit in perfectly with their surroundings. This is indeed a luxurious wilderness experience with a superior level of service, with gourmet meals and cocktails included in the rate. Additionally, there are two daily tours with top-notch guides who are only too glad to share their knowledge and love for the wildlife of the area.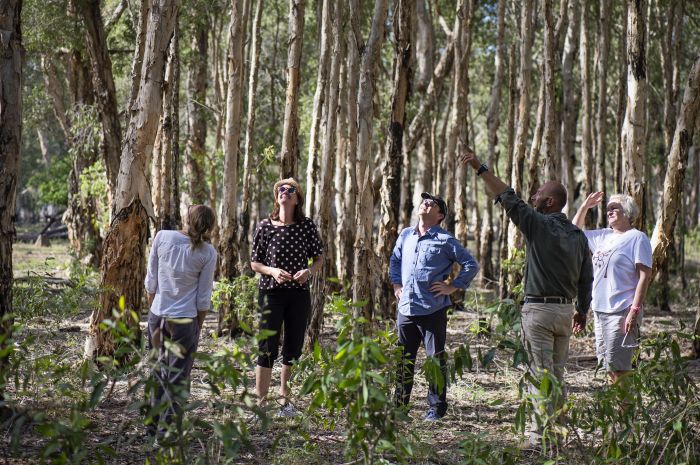 Shana McNaught
From the level of service and experiences as well as the setting, design and amenities, one will quickly see the similarities to a luxury African safari lodge. Days are filled with a gamut of adventures or lazing around the infinity-edged pool. Evenings offer dining on gourmet meals served on a long table with copious servings of engaging conversation with your fellow interesting guests.
First and foremost, the star of the stay is being surrounded by this glorious nature. On one side of your cabin is rough brush, paddocks, waterholes, and dirt tracks and on the other is a sea of marshland without an end in sight. Just before the marsh, the view is dotted with pointy three-foot-high termite mounds, where wallabies scurry about taking their fill in the cool of the morning.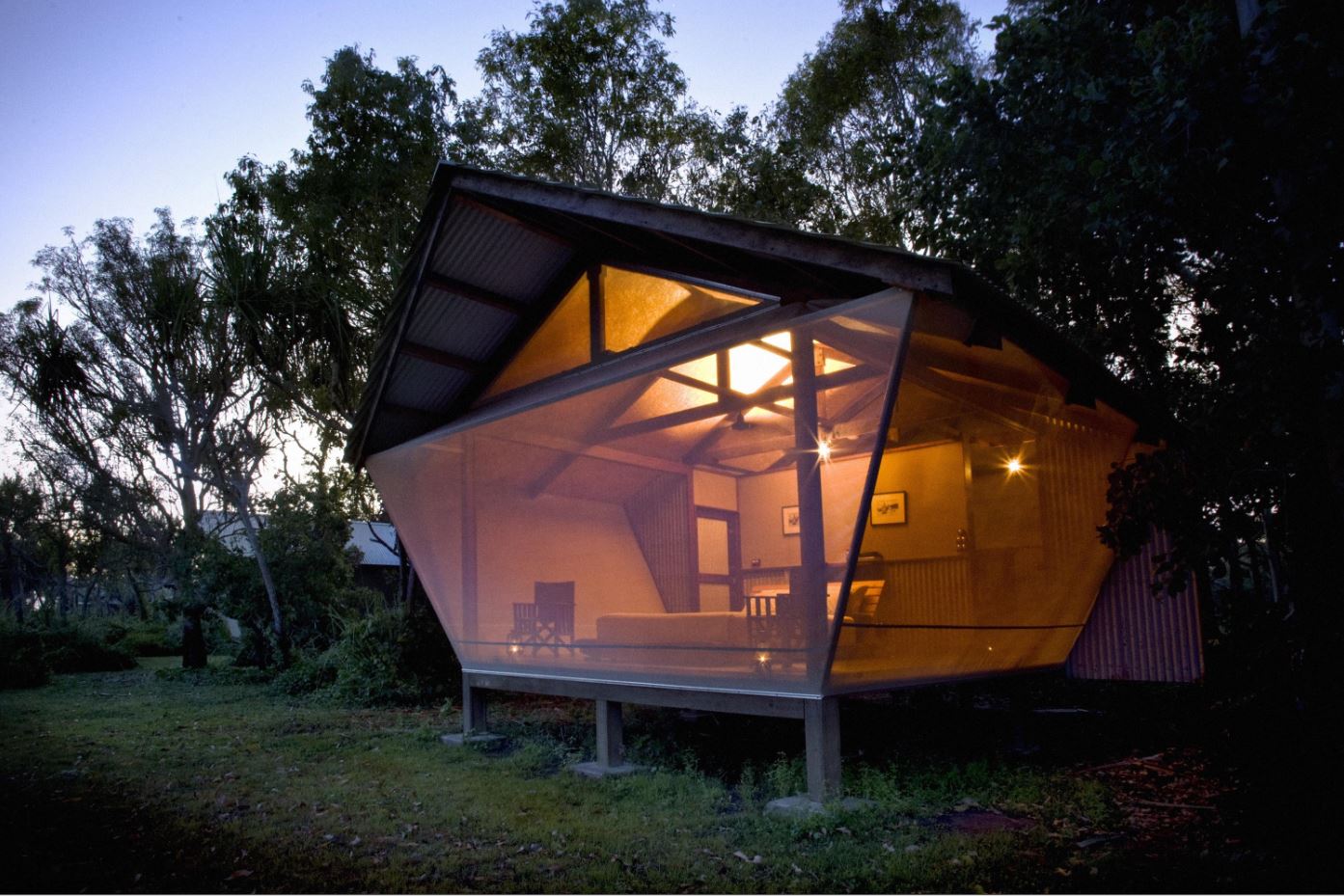 Credit: Archie Sartracom
In the early days, the area around Bamurru Plains was practically impossible to work with for any agricultural purpose. The rains rotted the roots of vegetables and most livestock did not do well in the harsh climate and temperature. So, when the world gives you lemons you make lemonade, which is just what enterprising farmers did with the introduction of water buffalo which they raised for export to Asia. This commercial livestock has done quite well in climate the area with a habitat similar to what you'd find in southeast Asia. Thousands are found around the property, eating the lily flowers, waddling in pools, and freely roaming the grounds with their young in tow.
Across Australia and this region are animals introduced by settlers that have now become wild and are often problematic. Throughout your visit, you'll see packs of feral wild pigs, donkeys, and cows. You will also encounter herds of wild horses, or brumbies, once used by farmers and now left to their own devices and to roam free.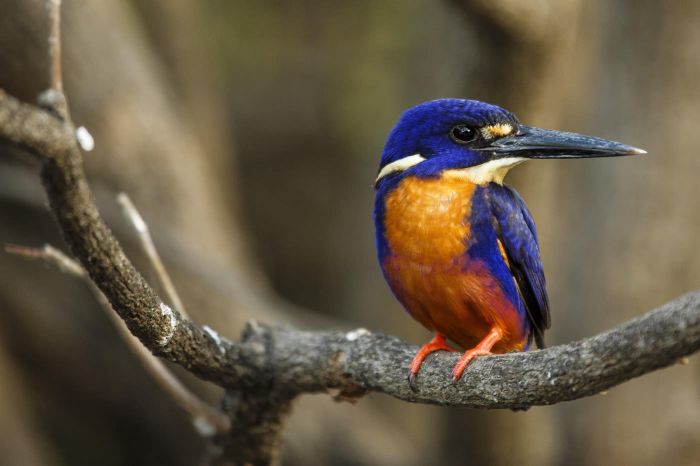 Credit: Bamurru Plains
Bamurru Plains is home to numerous environments from the marshlands, mangroves to billabongs, and gumtree forests all making an ideal habitat for wildlife. The variety of birdlife is stunning to behold with a who's who of exotic birds such as whistling kites, colorful corella, kingfishers, jabiru, or a regal, white-breasted eagle surveying the area for his next kill while perched high on a dead tree limb.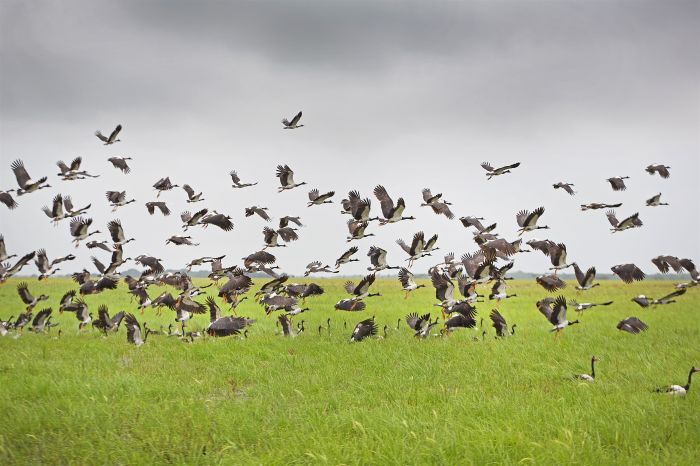 Nathan Dyer
What guests will relish most is the adventure of a chance to immerse themselves in this unforgettable nature. Scheduled tours are led by a team of passionate field guides and take place twice a day in the morning and at dusk when animals are most active. The small group tours do not exceed six passengers and range from exhilarating 4WD safaris to bushwalks to observe the animals and plant life in the savannahs and woodlands.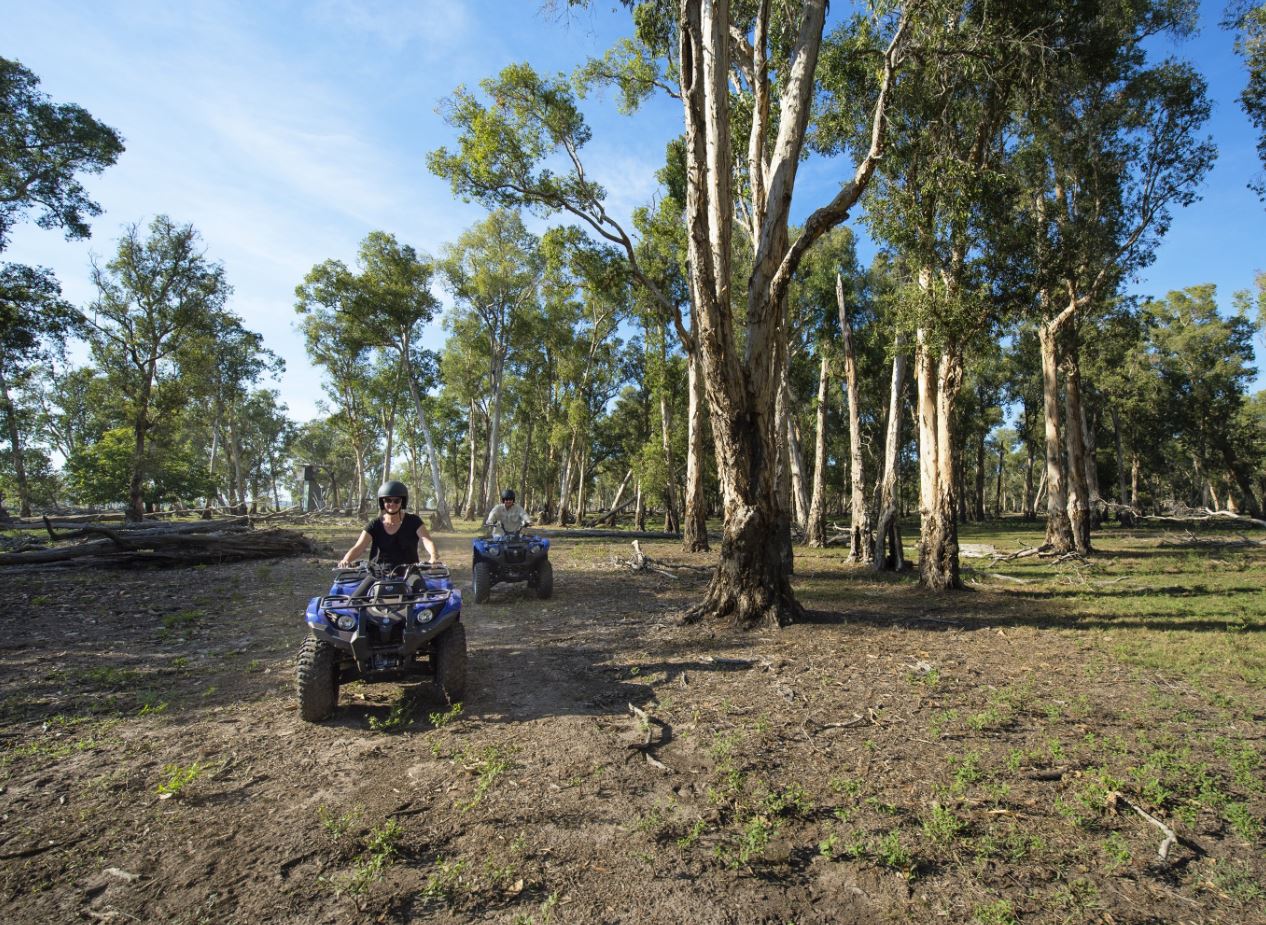 Credit: Shaan McNaught
One tour is a thrilling safari ride in a rickety open-air Land Rover just as you'd find in a Kruger Park African Safari. The tour takes place at dusk through muddy tracks to the area known as the nursery where hundreds of water buffalo congregate after giving birth and to nurse their young calves. The afternoon tour concludes with canapes and sparkling wine while taking in the beauty of the wilderness that surrounds.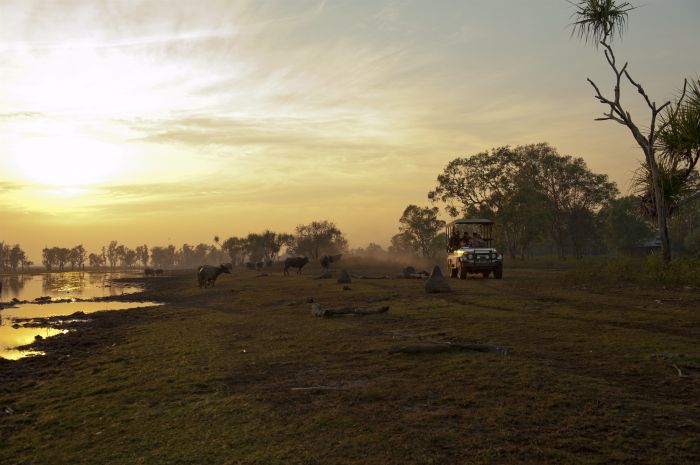 Credit: Bamurru Plains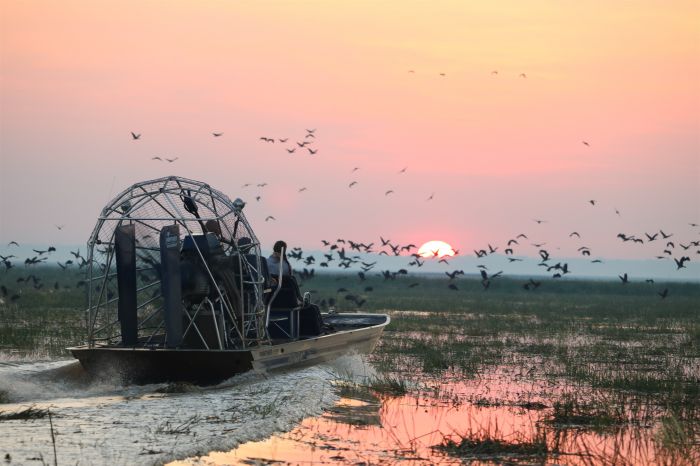 Credit: Emma Pritchet
The highlight of the tours is the exhilarating airboat adventures across the marshland. The boats, common in the Florida everglades, are ideal for getting around on the marshlands. A small group of guests board the boat and then don their earmuffs as the raucous boats whiz around the flood plains. The guide approaches a resting flock of thousands of magpie geese and egrets, who, once startled, take off in a beautifully choreographed flight above. The exploration is led by knowledgeable guides who give extensive talks about wildlife encountered.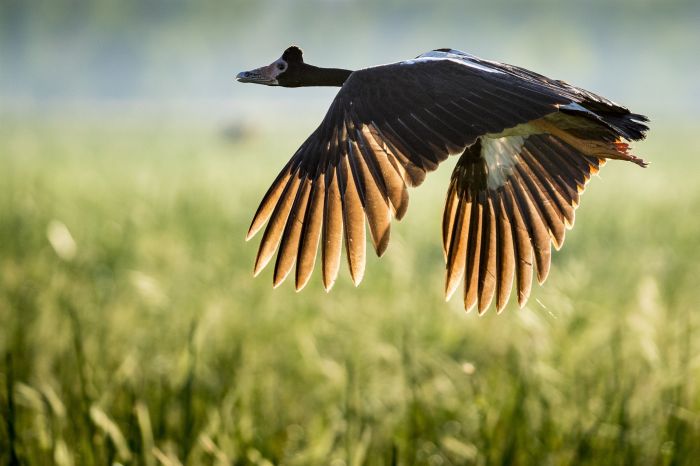 Credit: Richard Anson
Guests learn about the migration of the magpie geese, pointing them out in the marsh and on skeleton-like trees or getting us up close to their nests to see their latest clutch of eggs while their mother nervously watches nearby. Water buffalo, submerged to their heads, nonchalantly react as the airboats zip by. Later, guides pause to point out the almost whimsical comb-crested jacana or Jesus bird with its cartoonishly long feet which allow it to walk over the lily pads or seemingly, walk on water. The tours go beyond the marshland into ghostly paperbark tree swamps as we spot more birdlife, flowering water lilies, and the occasional menacing saltwater crocodile sunning itself on a bank.
Credit: Nathan Dyer
Back at camp, the main lodge area offers a convivial communal area with bungalows on either side facing the open plain. The décor is rustic, chic, and luxe with several sitting areas where guests gather before and after meals. Adorning the walls are regional heritage antiques and memorabilia mixed in with buffalo horns, and indigenous artwork. The main lodge is also where you'll enjoy long nights of long table dinners followed by an engaging conversation with your fellow guests. The help-yourself open bar features snacks as well as premium spirits as well as a collection of Australian wines and craft beer.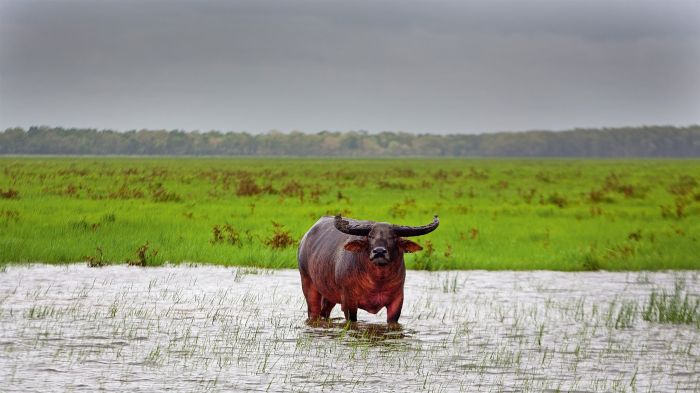 Credit Nathan Dye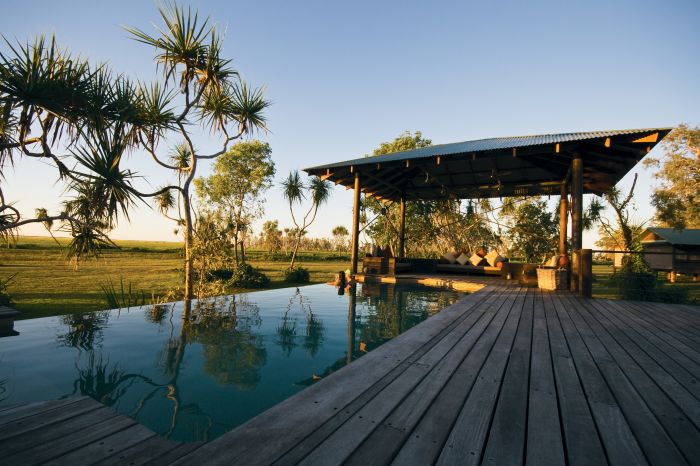 Credit: Bamurru Plains
Fronting the main lodge is an expansive wood deck pavilion overlooking the savannah. It is the ideal place to enjoy your morning coffee gazing out as the wallabies begin to move about nibbling here and there. Around the deck are trellis-covered sitting areas, a fire pit and as its centerpiece, an infinity-edge pool to cool off after a day of exploring.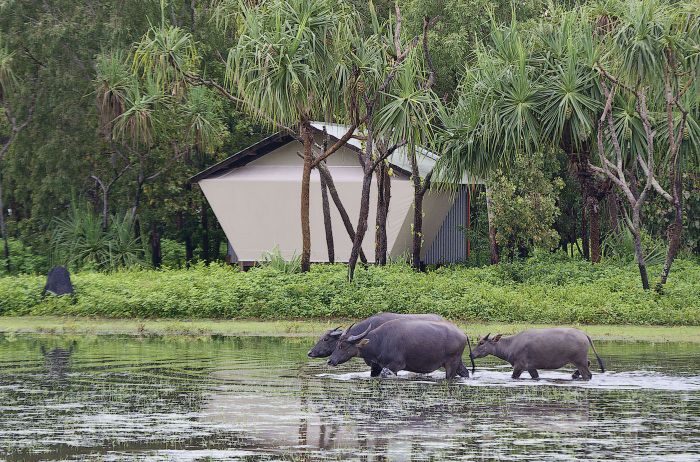 Credit: Bamurru Plains
The nine rustic luxury safari bungalows are elevated on stilts while facing the open plains of the savannah and spread across the property, far from your nearest neighbor, for privacy. Three of the sides of the cabins have no walls, only dense netting to keep out unwanted bugs while offering unobstructed panoramic views. Interiors feature teakwood floors, brass lantern light fixtures, sitting areas, and a ceiling fan. The well-designed bathrooms offer corrugated tin walls, exposed brass tubing, and a rainwater shower that flows from a winding tree branch. The comfortable king-sized bed sits low on the floor and as you wake, often by the boisterous kookaburra, and take in views, just beyond your feet, of the landscape and the endless menagerie of wildlife.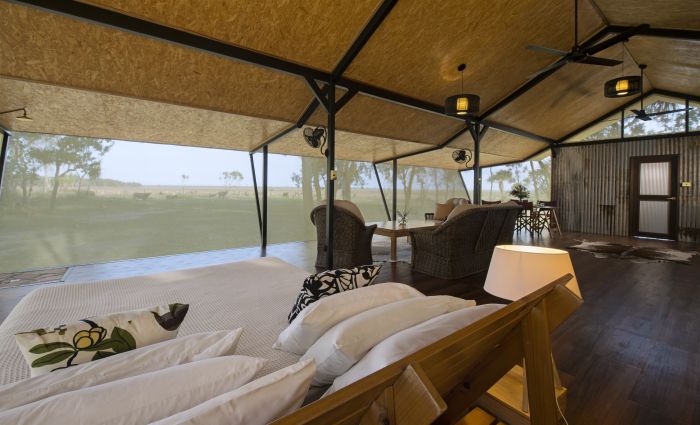 Credit: Shana McNaught
Three of the accommodations are larger with a sitting area, a more spacious bathroom, and are air-conditioned as well. The Kingfisher Suite is the largest accommodation and ideal for honeymooners or small families with a furnished living space, shower for two, and a somewhat naughty second shower adjacent to the bed.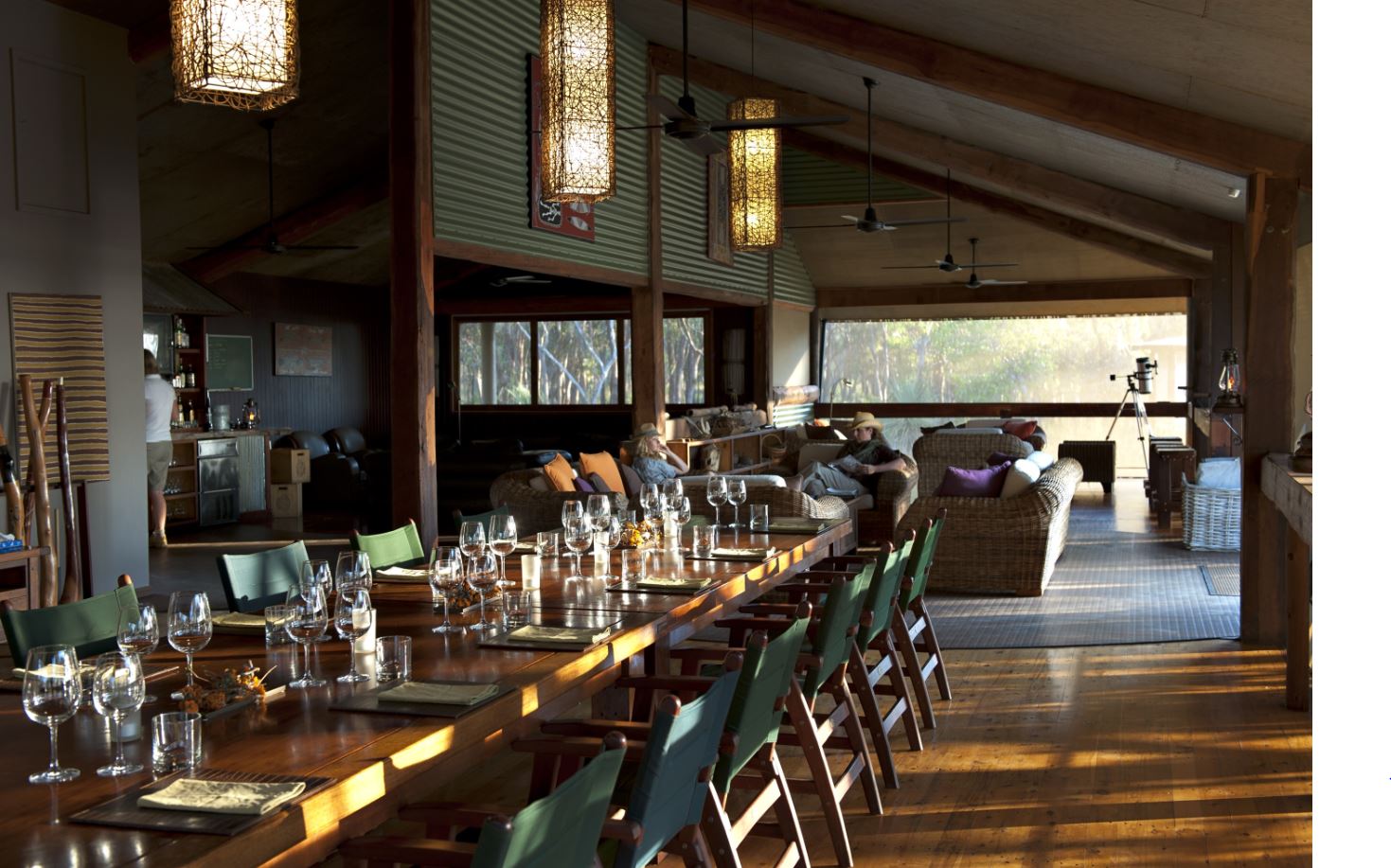 Credit: Bamurru Plains
The Bamurru Plains truly excels with their culinary offering as well with breakfast, lunch, dinner, and snacks throughout the day. At dusk, guests gather on the large verandah of the main lodge for pre-dinner cocktails, chatting about the exhilarating activities they've just finished hours before.
Dinner is where the chefs excel and show their flair for using indigenous and local ingredients to create a sophisticated 3-course Australian bush-inspired menu. The flavors you'll experience there are unlike those found abroad. Dishes incorporate Australia's unique ingredients used by aboriginal people and often referred to as bush tukka. Menus are creative and include dishes such as bush-tukka spiced duck confit or the just-caught barramundi with finger lime salsa. Each dish is paired with wines from their premium all-Australian wine list.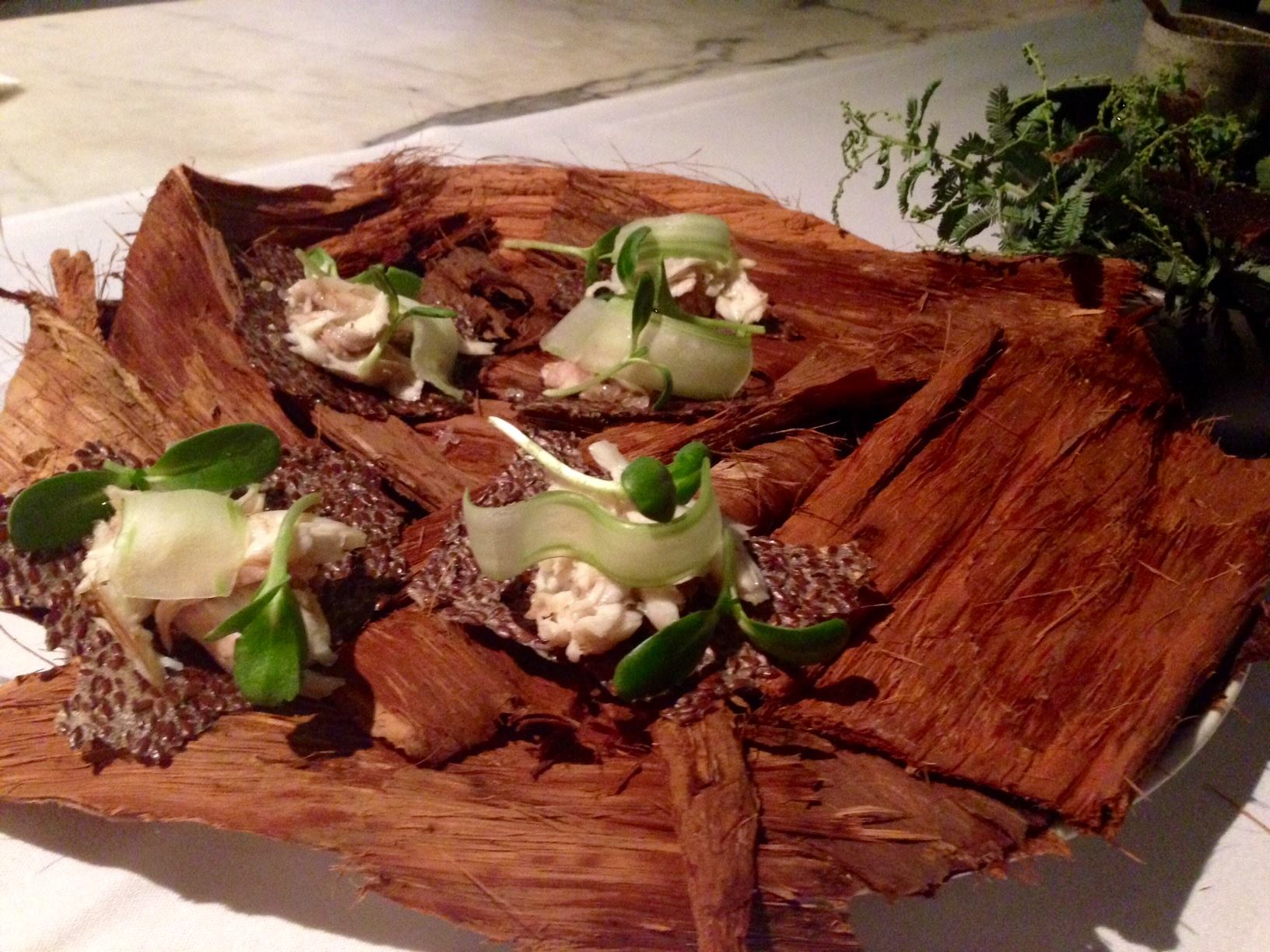 Credit: Bamurru Plains
Meals are served in communal fashion on a long table in the main lodge. This coming together over meals and the small group tours leads to pleasant conversations with interesting people who gather as strangers yet leave as friends. During dinner, one of the guides joins the table to further foster relationships as well as to give more insight into the retreat and wildlife of the area.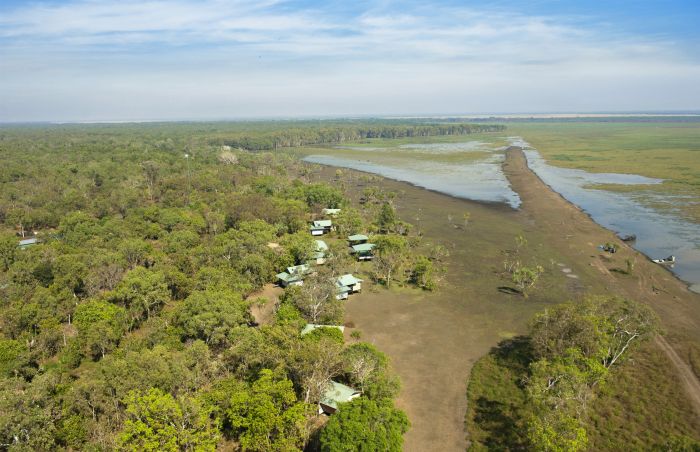 Credit: Bamurru Plains
First and foremost, Bamurru Plains is a sustainably responsible eco-resort with cabins that blend in seamlessly with the environment. Needless to say, the lodge is off the grid by more than a few miles. The property is powered by 240 solar panels providing 75 percent of the lodge's power with the balance supplied by generators. Other conservation efforts include using drinking water from filtered bore water and re-usable water bottles provided to guests. Recycling is extensive as well.
The lodge's owner is Charlie Carlow a staunch conservationist and shares: We're acutely aware of the sensitivity of the wetlands and coastal habitats, so the lodge's presence in their midst, by necessity, must be low impact and in tune with the surrounding environment."
Beyond the conservation, the lodge seeks to introduce, educate, and open the mind of guests to the precious natural environment of this region with hopes to foster an appreciation of the need to preserve its natural beauty.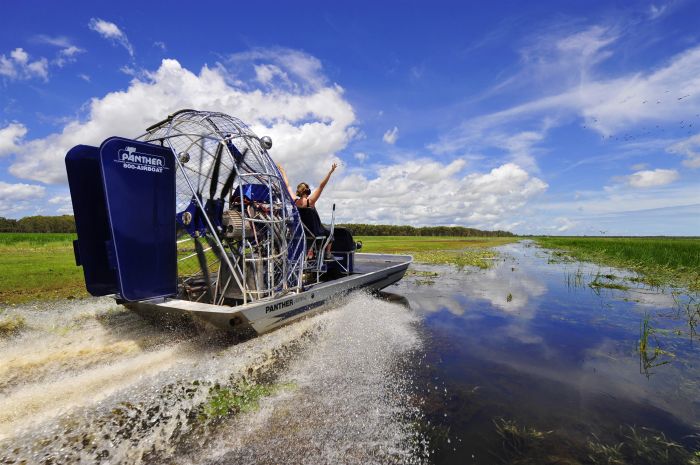 Credit: Bamurru Plains
Bamurru Plains offers a chance to explore one of Australia's richest yet less explored wildlife regions. Surrounded by bush and marshland, the diversity of the wildlife never ceases to amaze from exotic birds, lumbering water buffalos to the apex predator, the saltwater crocodile. From the exclusive eco-luxe accommodations, talented guides, and personalized service to exceptional gourmet meals, a stay at the Bamurru Plains offers one of the world's most indulgent wildlife experiences.