All Images Credit Kakadu Tourism
Exploring Australia's Kakadu National Park, A National Treasure and Twice Listed UNESCO World Heritage Wildlife Refuge
The Grand Canyon, Krueger National Park, and England's Lake District National Park are a few of the world's most renowned nature reserves, and with good reason. These lands have been set aside to preserve their incredible natural beauty, vast landscapes, and as a refuge for wildlife, and which are to be appreciated for generations to come. Australia's Northern Territory has its own set of natural wonders that deserve a place amongst the world's most gorgeous national parks and none more renowned than its Kakadu National Park.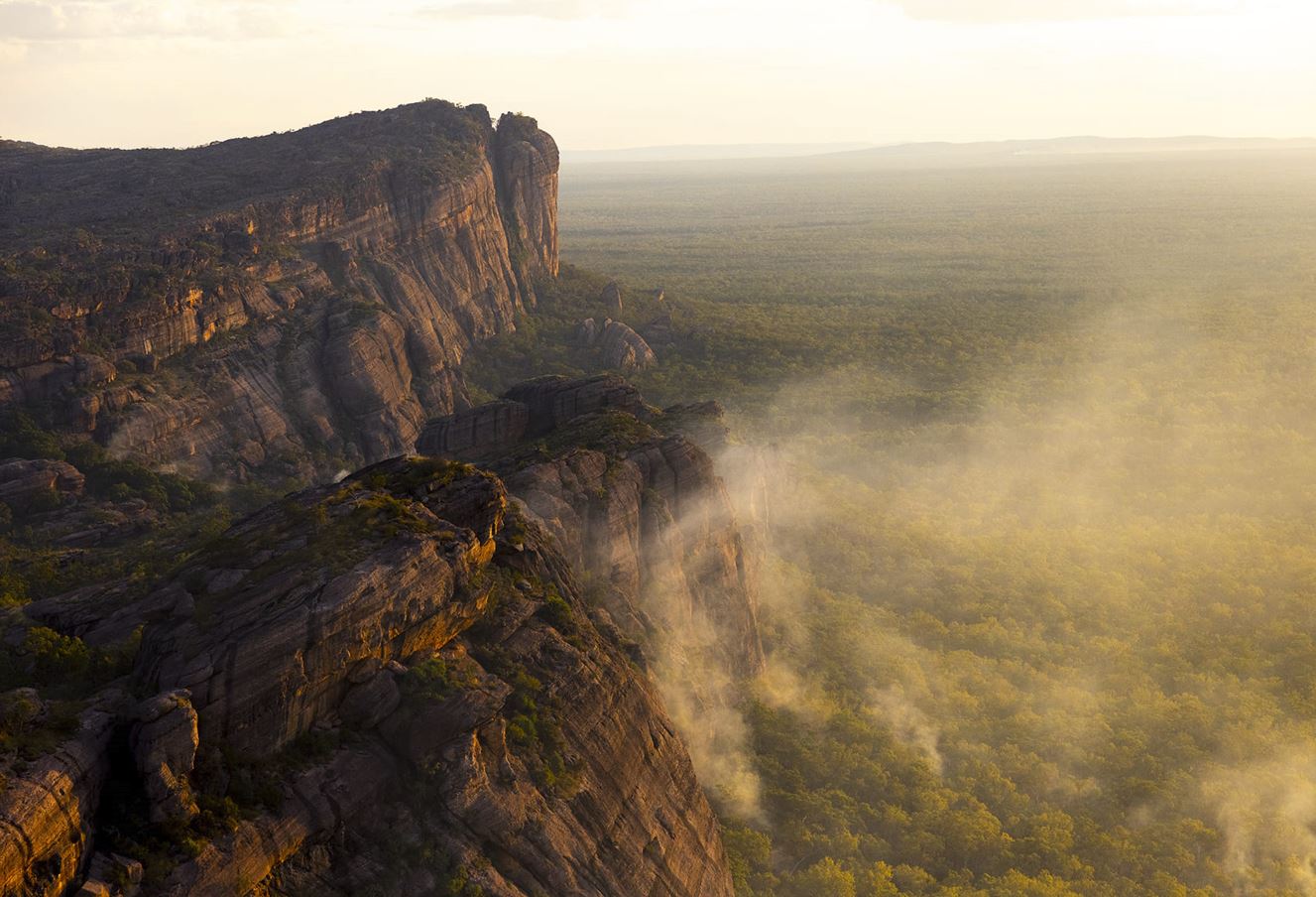 The Northern Territory is Australia's least populated state. It is huge and about the size of Texas but with less than 250,000 residents. The region is blessed with a variety of landscapes that offers a different set of experiences depending on the time of year. The vacation calendar is dived into mainly two seasons, the wet season and the dry season. The dry season offers a warm climate getaway for Australians in the south escaping the frigid winters. The wet season is completely different, this is the time of constant rain and flooding. It is a time of almost non-existent tourism yet makes the ideal time to go to avoid the crowds and to have some of these incredible sights practically to yourself.
Kakadu National Park
Kakadu National Park is Australia's equivalent to Yellowstone or Yosemite National Parks in the United States. It is massive. At over 7500 square miles in size, it is the largest national park in Australia and half of the size of Switzerland. Throughout the park there are rugged red rock escarpments carved from the earth by two billion years of geological history and that now abruptly jut 1000 feet over the plains below. One will never forget the park's vistas, beautiful waterfalls and wetlands, and the wildlife that each visitor is sure to encounter.
Kakadu National Park is owned and run by indigenous people whose visitors encounter and grow to understand their culture and how the land is an integral part of their way of life. Many of the tour guides are local and raised in the area. While in Australia and Kakadu you'll hear the term bush tukka which refers to the abundant indigenous plants and animals. For over 50,000 years, these people lived off the land, finding food and medicine in the plants that grew around them. The waters are plentiful with all manner of fish and wildlife from barramundi to mud crab and everything in between. And the lands are filled with sustenance from kangaroo to birds and reptiles.
The Wildlife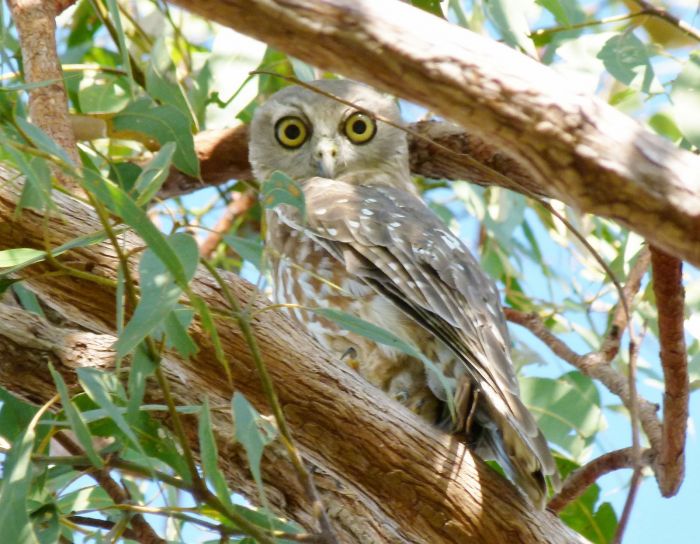 Kakadu National Park is one of Australia's top natural parks to visit. Along with the Great Barrier Reef and Uluru, it is truly an amazing wilderness filled with 2,000 different types of plants found in the rainforests, mangrove-lined rivers, and coastal floodplains thick with marsh grass as far as the eye can see. Wildlife is abundant with wallabies, bandicoots. For twitchers, it doesn't get much better than this with 280 bird species, a third of Australia's birds, with exotic species from whistling ducks to magpie geese, five types of kingfishers, the odd stork-like Jabirus, and white-breasted sea eagles that soar high above in search of their next meal.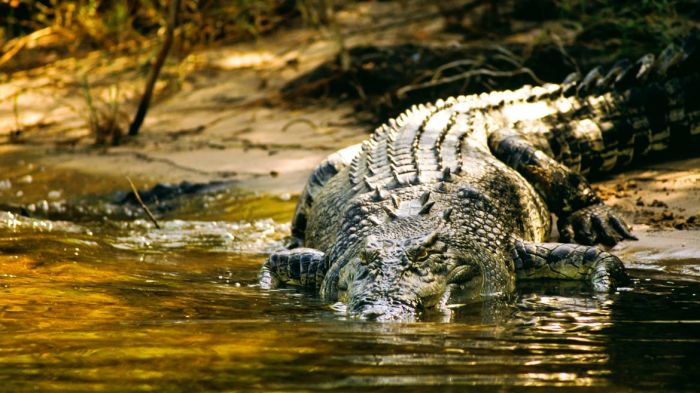 Reptiles are plentiful as well with goannas, snakes, turtles, and of course, crocodiles. Australian's have an odd way of referring to them with fresh water and the more aggressive saltwater crocodiles or in Aussie lingo, freshies, and salties. There are over 10,000 saltwater crocodiles, which can grow up to 20 feet in length, found throughout Kakadu keeping the fragile ecosystem in balance.
Yellow Water Cruise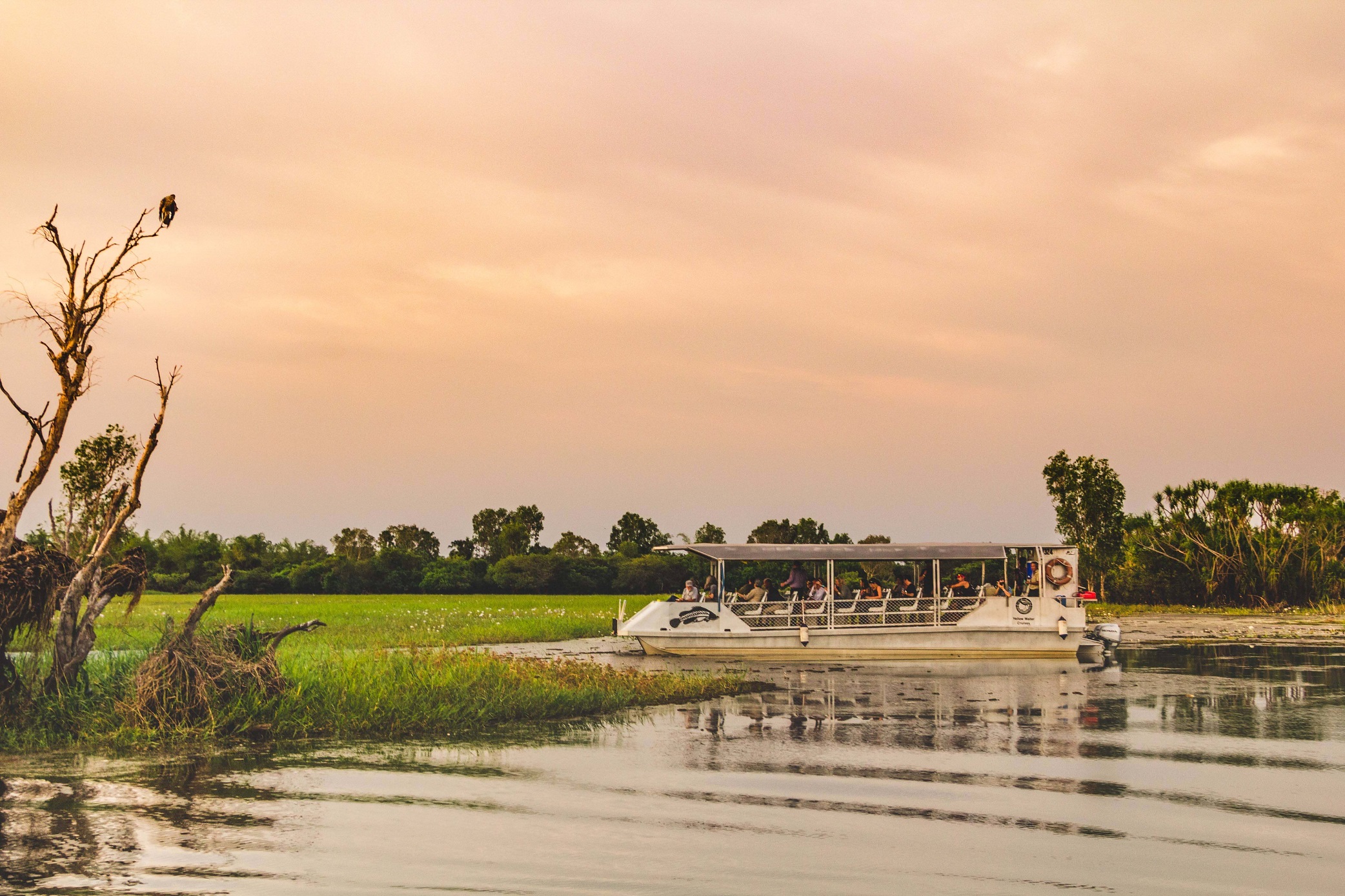 Depending on when you go to Kakadu, your travel experience will be quite different. During the wet season rivers and billabongs overflow, many of the roads are underwater, and it appears as if the entire area is one big swamp. Conversely, during the dry season, the entire area is dry except for the occasional billabong which is a permanent land-locked waterhole.
Yellow Water Cruises run year-round and offers river safaris that take guests through the gorgeous Yellow Water Billabong along the waterways through eerie paperbark tree forests and the swamp-like mangroves. You'll see beautiful pink and white water lilies and the entire area is nothing short of breathtaking. These wetlands are teaming with wildlife both in, on, and above the water. This is a photographer's and bird watcher's fantasy land as they soar, perch, and prey from above. Guests will see wildlife such as wild horses, water buffalo, exotic birds, and of course, crocs. These apex predators are territorial, so the guides know where to find them and even know them by name, as they sit in wait for their naïve prey, lurking beneath the surface or appearing like a tree limb frozen on the riverbanks.
The tour is led by local indigenous guides who share their knowledge, love of the land as well as the traditions of their people along the way. Beyond spotting the amazing wildlife they also share stories of their connection to Kakadu, how their ancestors made tools and weapons, and everyday items such as making plates from the paperbark trees. They even tell the stories of how local women would ward off crocodiles by using sounds and clapping so that they could gather water and bathe in these crocs-filled waters.
Kakadu Helicopter Tour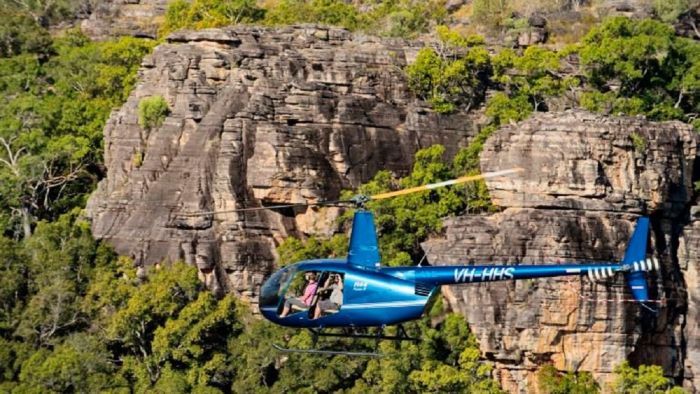 Kakadu National Park is impossible to fully appreciate from the ground, by car, foot, or boat. As they would say in Australia, to get your head around it, one would need to see it from above via a plane or helicopter tour. From above, guests can enter isolated areas inaccessible by land to see dramatic escarpments and rock formations, wide-open plains, vast wetlands, and even the cattle and water buffalo that from this height look more like ants.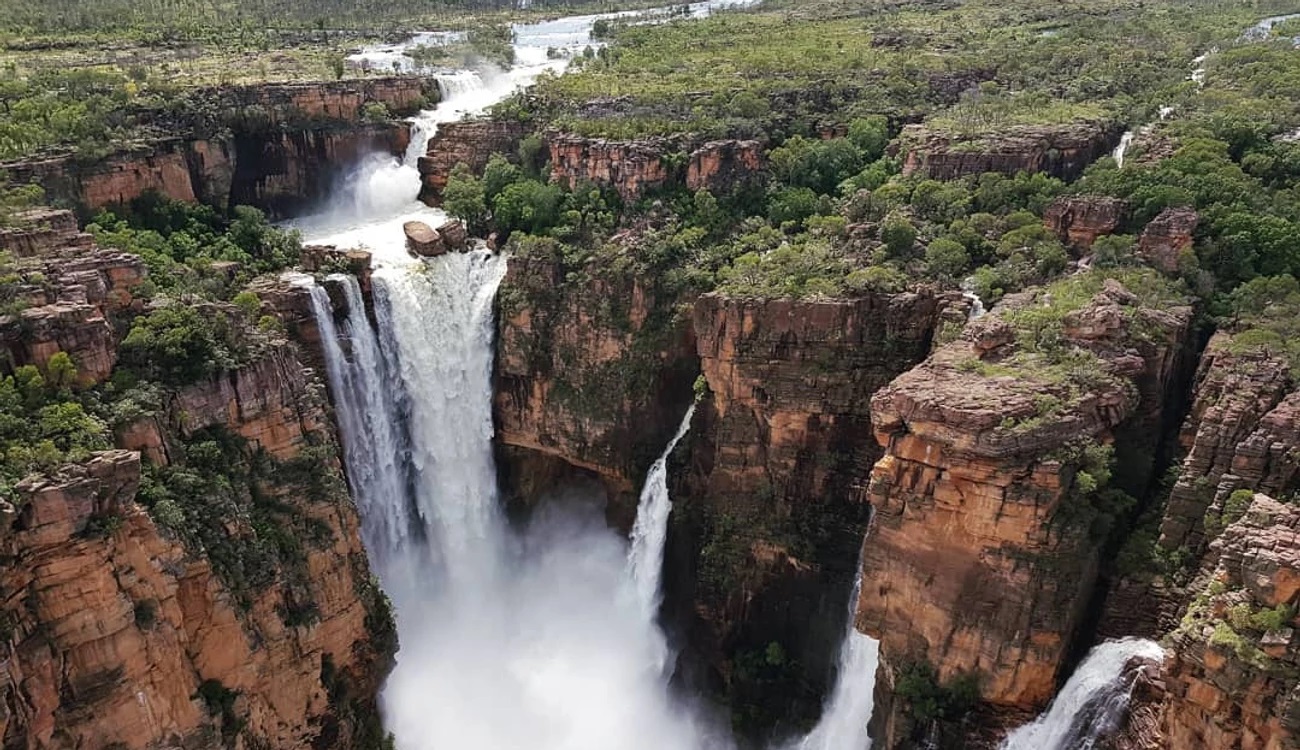 But what guests will cherish most, especially during the wet season, are the waterfalls. They are beyond stunning in not only their beauty but to see the sheer power of the water as it thunders over cliffs before cascading into the depths below.
Kakadu Air takes guests on an aerial view of the parks and several waterfalls, weaving through the crevasses getting up close enough to fully appreciate the beauty and strength of the falls. The most dramatic of which is the Jim Jim Falls where the water gushes and crashes 650 below and Twin Falls that splits into two side by side waterfalls in a most unusual sight.
Ubirr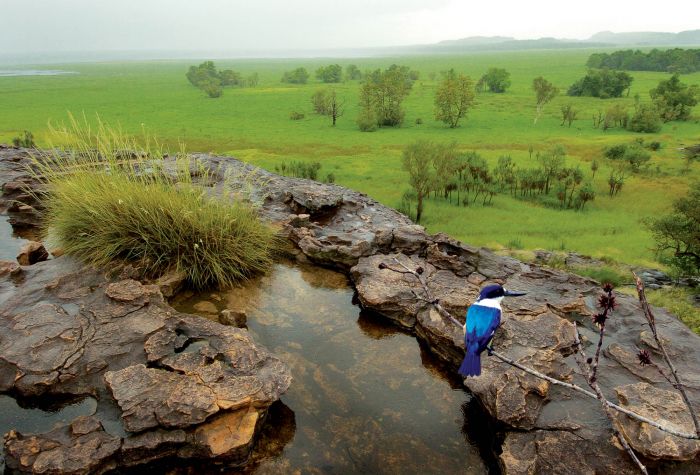 There are endless treasures to explore throughout Australia's largest national park. Ubirr is an icon of this World Heritage Listed UNESCO National Park that visitors will never forget. As much as it is a breath-taking rock formation that looks out over the vast savannah below, it is also a sacred place of cultural relevance to the aboriginals who have lived in these areas since time immemorial. During the wet seasons, the road to Ubirr is not passable unless with a guided tour as the roads are underwater. What this means is that one of Kakadu National Park's most popular sites is reserved for the few who are brought over on elevated 4WD busses that look like a hybrid between a tractor-trailer and a greyhound bus.
Once passengers are underway it is clear why as the roads are submerged up to 10 feet underwater. At one point it is even too deep for the 4WD transport as the flooded Magela Creek overflows taking over the surrounding land, thus requiring guests to get to the other side by boats provided by the Guluyambi Cultural Cruise. Along the way, expert Aboriginal guides point out birds, turtles fish as well as plant life as we navigate through the submerged paperbark tree swamp.

Once at Ubirr, the tour is led by scholarly guides who have studied the history and the people of the area. To get to the lookout, the hike meanders through the brush and fauna to dramatic rock formations adorned with ancient rock art sites from thousands of years ago. The guide points out that, despite what they may appear, these are not just art pieces for art's sake. These are teaching walls where the people of the land taught the next generation about life as well as what they refer to as Aboriginal mythology or dream time stories which are tales that explain how these natural formations and life itself came to be. Kakadu has a concentration of preserved Aboriginal artwork with some that are dated over 20,000 years indicating that the people here are the oldest of any people on Earth.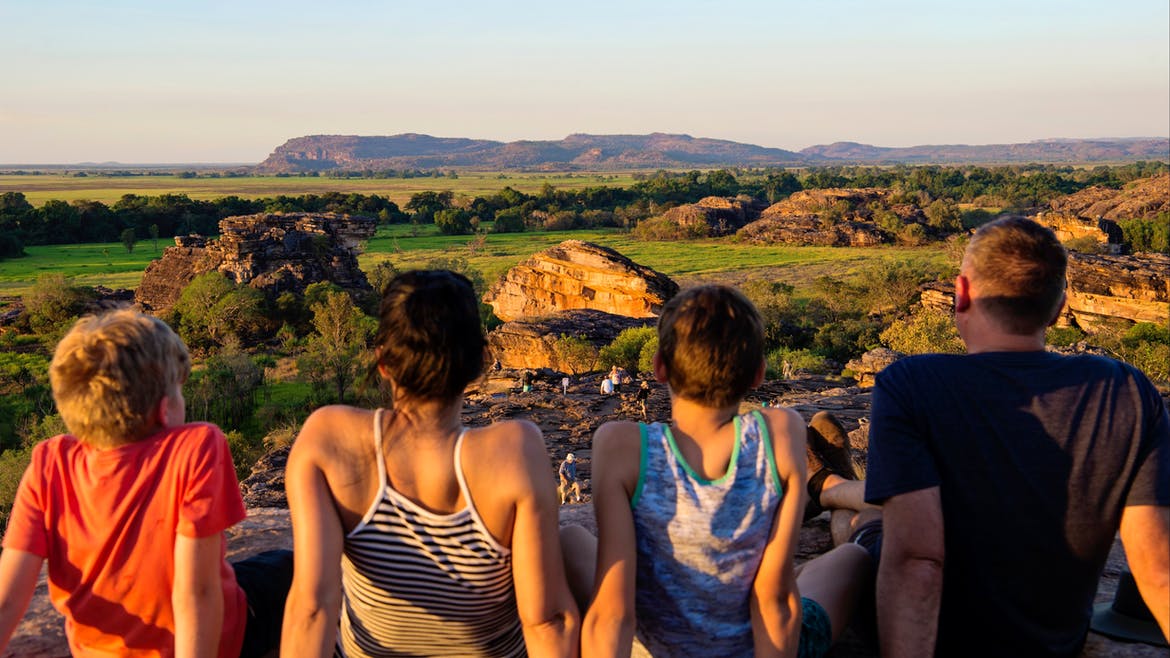 The hike is en route to the final destination, Ubirr which is a rock formation on top of an escarpment that provides an unforgettable view over the surrounding floodplains below. Its beauty is moving, akin to looking over the Grand Canyon or at Zermatt's Matterhorn for the first time.
Warradjan Aboriginal Cultural Centre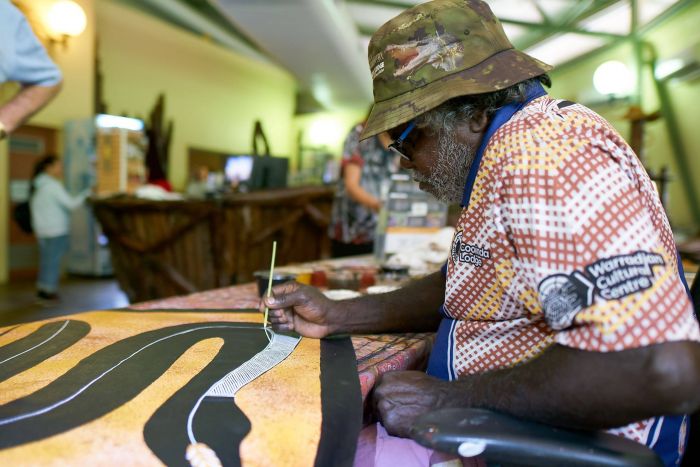 Kakadu National Park is dual-listed by UNESCO for both its natural and cultural significance. Kakadu and the history of the Bininj and Mungguy people and have an interwoven history. In fact, aboriginal people have lived in Kakadu for more than 65,000 years making them the oldest living culture on earth. The Warradjan Aboriginal Cultural Centre is an ideal place to spend a few hours to gain a greater understanding and appreciation of the people and their rich culture. Adjacent to the center is an art gallery and gift shop where you can see local painters and weavers creating their beautiful dot paintings and crafts as well as shop for a keepsake to bring back home.
The center was developed by the Bininj and Mungguy tribes and includes exhibits with their personal stories as well as interactive videos and personal artifacts. Here is an ideal way to better understand the people who have lived in Kakadu and the surrounding regions for thousands and thousands of years.
Cooinda Lodge Kakadu Hotel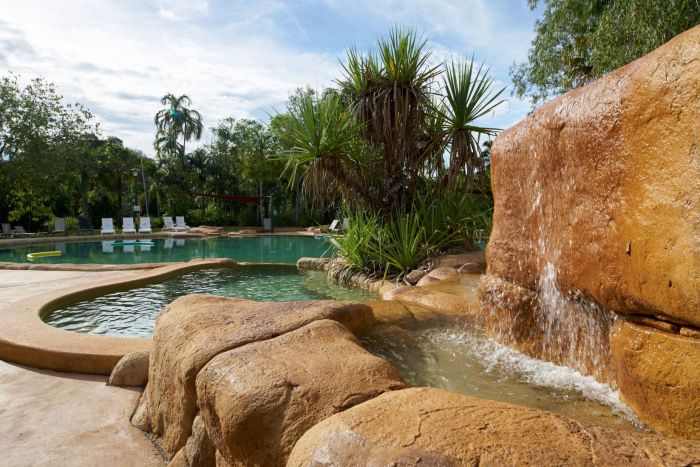 Many travelers will come to Kakadu via Australia's national pastime, caravanning otherwise known as mobile homes, RVs, and campers. Kakadu has several places for that as well as hardcore tent and sleeping bag camping. For those of us who prefer a little posh with our pursuit of nature, the Cooinda Lodge Kakadu makes an ideal base to explore the park. The location is ideal, a short walk to the Yellow Water cruises, and is nearby the Warradjan Cultural Centre, Jim Jim Falls, Twin Falls, Nourlangie, and several bushwalks. The Lodge offers an oasis with upscale accommodations, glamping tents as well as sites for countless campers you'll see in the park.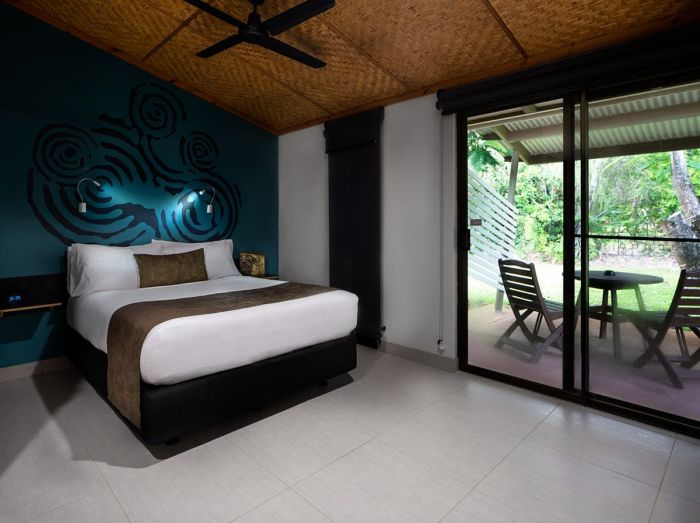 Cooinda Lodge Kakadu is an ideal place to lay your head after a long day of adventures. The full-service resort offers a complex of facilities including a bar and an Australian-style bistro with indoor and outdoor dining. The Lodge is located on shady parklands with an expansive recreational area with a large covered swimming pool and grotto.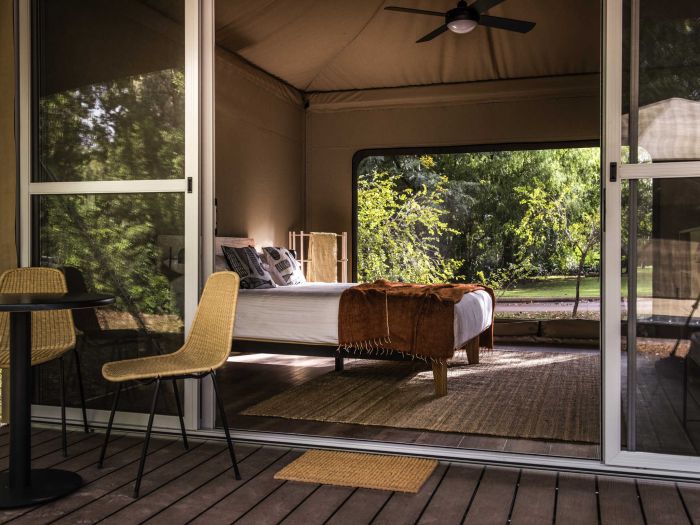 The accommodations don't disappoint either with contemporary design and fully appointed bungalows with television, ensuite bathroom, and patio deck. Glampers are well taken care of as well with comfortable bedding and a rich décor of indigenous weavings and artwork as well as a deck and outdoor furniture.
Mercure Kakadu Crocodile Hotel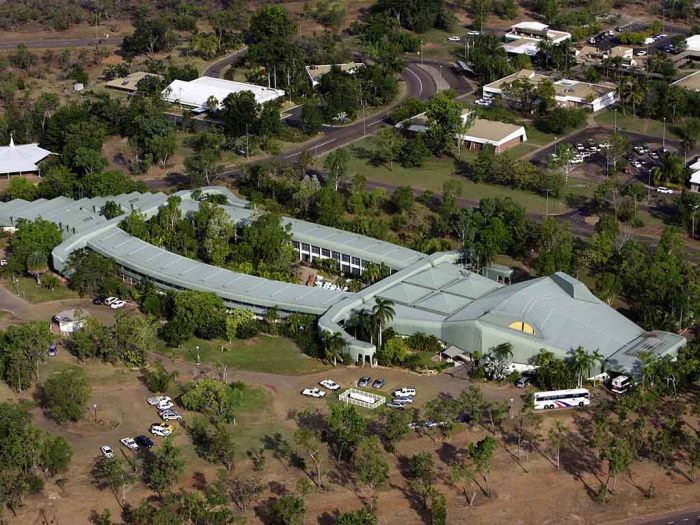 When it comes to family-friendly places to stay in Kakadu, the Crock Hotel is a Northern Territory Institution. What is so odd about this 110-room resort is that it has been built in the shape of, yes that's right, a crocodile. The hotel curves around with its head being the entrance and reception area, beyond there, is an art gallery with Indigenous art paintings and didgeridoos, a large all-day dining area, and a bar. In the center of the croc is a large family-friendly pool and play area to cool down after a long day of exploring. Surrounding the pool are the accommodations complete with everything you'll need for a comfortable stay including an ensuite bathroom with tub and a terrace for another serving of fresh air.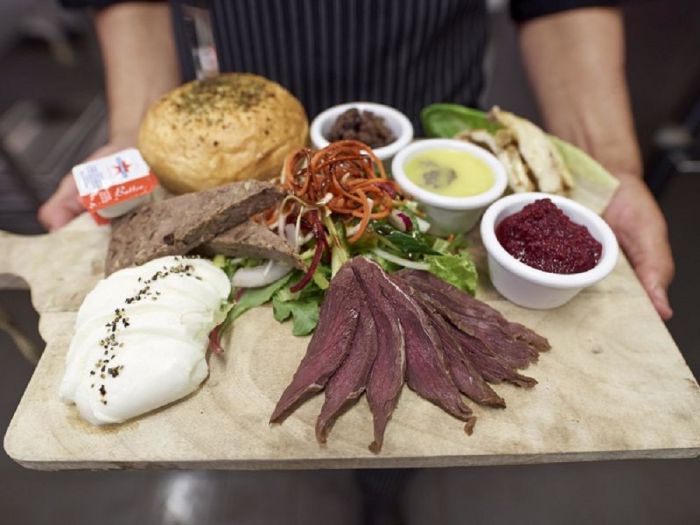 The buffet dining restaurant is ideal for filling up after a long day with a focus on locally sourced cuisines and bush tukka or dishes made from indigenous ingredients. The bar serves a range of yummy drinks accompanied by bush tukka tasting plates with kangaroo, buffalo, and crocodile delicacies.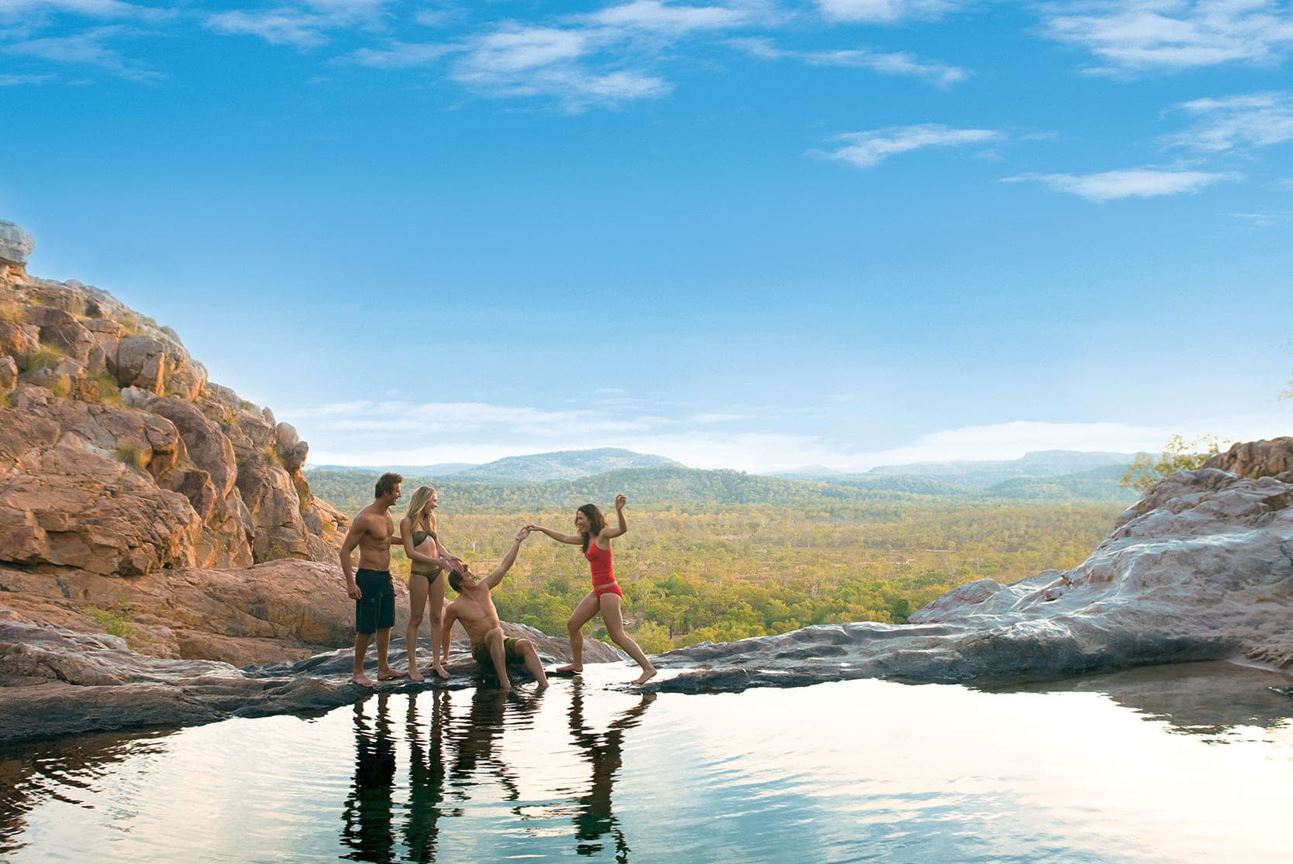 Some places on earth have thankfully been well preserved for future generations. Kakadu National Park is such a place. From its sheer size to geographic formations, wildlife, wetlands, and connection to the aboriginal people, Kakadu is one of the most special places on Earth.