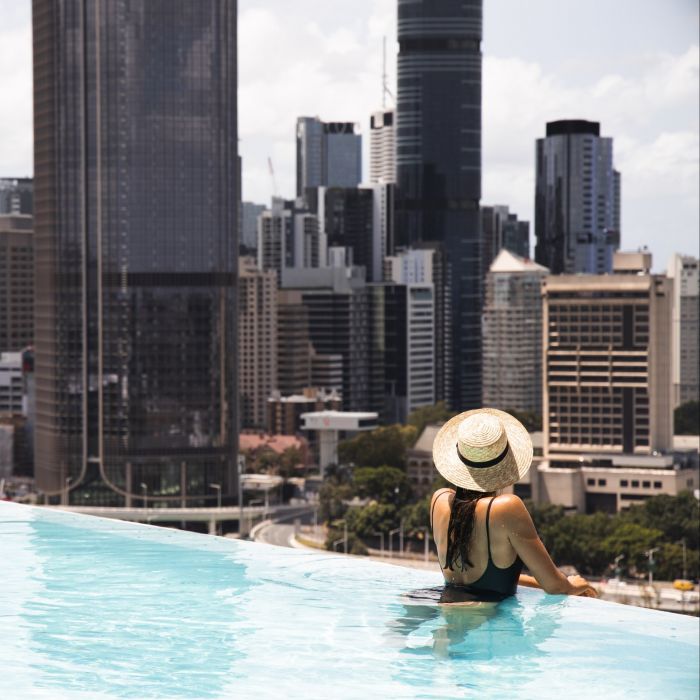 All Images credit Visit Brisbane
Australians have a peculiar habit of giving everything childish-sounding nicknames. An umbrella is a brollie, breakfast is brekkie, and sunglasses are sunnies. And thanks to Crocodile Dundee, we've all heard of their word for barbeque, a la "throw some shrimp on the barbie". This quirk of adding "ie" to the first syllable touches pretty much everything, even their cities. Brizzie just so happens to be the endearing title that Aussies have bestowed upon on one of the world's most up-and-coming jet-set cities, Brisbane.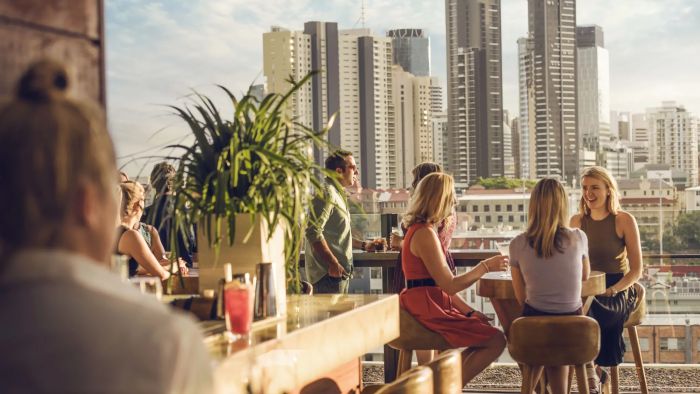 Sometimes one nickname is just not enough in Australia. Brisbane has two popular names, Brizzie and BrizVegas. Understanding the origin of the latter is a bit more difficult as it seems that everyone you ask has a different answer to offer. What it seems to mean is that Brisbane was known as a slow and boring city especially when compared to its much glitzier sister cities to the south, Sydney and Melbourne. So BrizVegas was a tongue-in-cheek way of poking fun as the city that was dull and essentially the opposite of Las Vegas. But the irony is now playing out with this mockery that has over the years less relevant and today is an absolute falsehood. For a city of under 2.5 million residents, Brisbane punches high above its weight with lavish five-star hotels, a rich arts and culture offering, an exceptional dining scene, and numerous areas to explore.
Brisbane is often referred to as the River City due to the curvy snake-shaped river that cuts through the main part of the city giving the city incredible waterfront scene. Along the river, there are parks and boardwalks where residents take the delicious views and fresh air on a stroll, jog, or bike.
The architecture in Brisbane is impressive as well with glossy skyscrapers but also neighborhoods with well-preserved Victorian-era gems mixed in. Brisbane's history begins in 1824 as a penal settlement where convicts paid their price to society for often frivolous crimes back in England. The term convict stock is bandied about there by descendants who can trace their roots back to those days and are most willing to share the crimes of which their ancestors were convicted. Throughout the city, you'll see national treasures of their convict-built sandstone structures as well "Queenslanders" which are the more common timber houses on elevated platforms and wide verandas which you'll also see throughout Australia.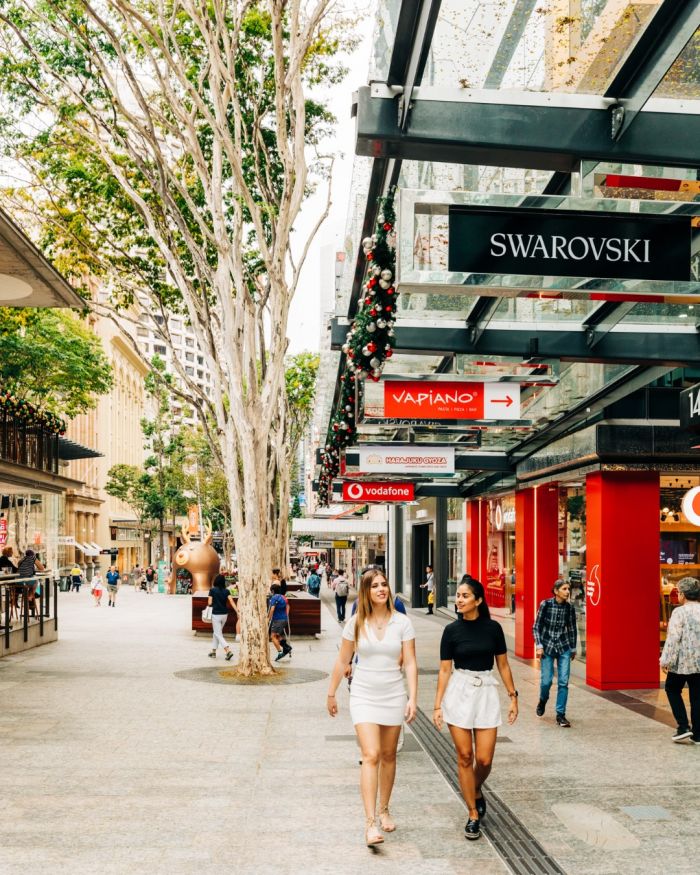 A great way to take in the sights and sounds of the city is to explore Brisbane's neighborhoods on foot. Most will immediately be taken by the central business district, frenzied with people dashing about during the day. The Queen Street Mall is one of its most popular areas, a walking street with a wide boulevard through its center with 700 shops offering everything from fashion to electronics. Brisbane offers the top luxury shopping in the region with Australia's fashion brand purveyor, David Jones, as well as Edward Street with the top international designer brands of Louis Vuitton, Chanel, and Tiffany & Co among the who's who of luxury.
The 2032 Olympics and City's New Icon, Queen's Wharf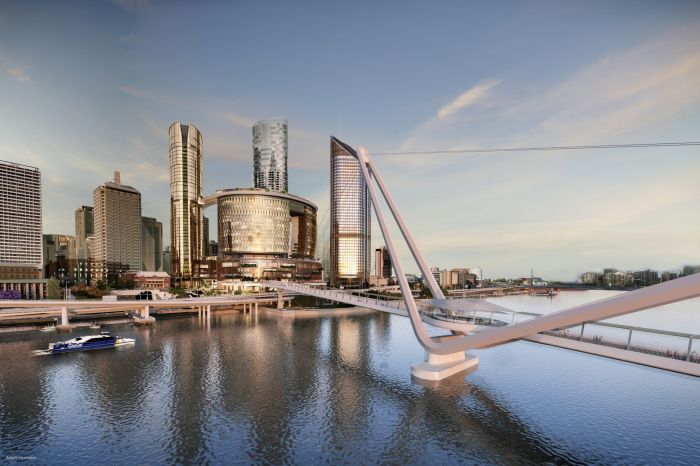 Brisbane is a city that is coming into its own on the world stage and was recently named to host the 2032 Olympics. That's a big deal and the city is more than ready for the challenge. This makes one of many good excuses for international travelers to come and check out what they are up to in the River City.
Every major city has that something special, an iconic structure that puts them on the world map. New York, for a time, was known for the Empire State Building, Dubai for The Burj Khalifa, and Singapore for the Marina Bay Sands. Well, Brisbane's claim to fame is set to open in 2022 with an ambition-to-fruition project in the form of the Queen's Warf. This investment of over 3.4 billion dollars will span over 30 acres of the central business district and, a la Marina Bay Sands will host a casino, five luxury hotels including the Ritz Carlton and a Rosewood as well as a six-star hotel. Beyond that, 1.25 million guests per year are expected to enjoy dining at 50 restaurants, a mega entertainment district, all of which makes the statement that Brisbane is a world-class city to be reconned with.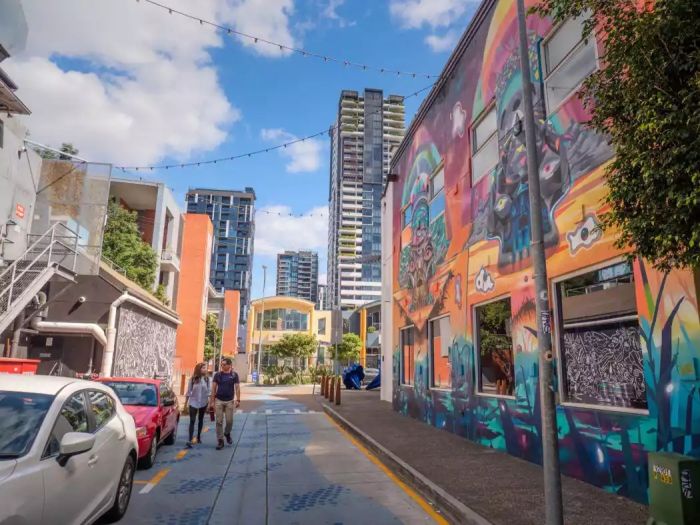 Beyond the neon lights of the central business, district are some pretty cool smaller neighborhoods with their own style and personality. You'll immediately begin to notice that this city is filled with incredible street art, masterpieces really, that are larger than life and fill the 100 square foot facades of buildings several stories high. Talk about a large canvas to paint on.

One memorable way to see these neighborhood treasures is on foot with a tour by Walk Brisbane. The tour takes a few guests through some of Brisbane's most eclectic neighborhoods and their iconic laneways, which are small alleyways found throughout the city center, pointing out the grand street art while giving a good dose of the city's history and iconic landmarks. Beyond the art, it's a chance to take in the local culture, and Brisbane is about coffee culture. We're not talking Starbucks here, in fact, Starbucks, for good reasons, has for the most part failed in Australia. Australians love to support their homegrown barristers with little neighborhood haunts far off the beaten path and are mainly only known to locals. The lovely two-hour walking tour gives the history of the downtown area, shares some cool artworks and walking lanes as well as fabulous coffee shops that chances are, you'd never find on your own.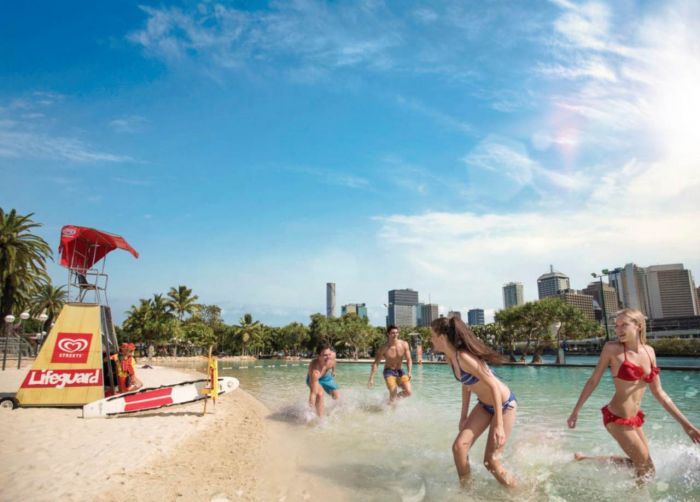 Brisbane is a relatively small city and easy to get around with distinct neighborhoods with their own sense of style. The most popular areas are the central business district, Fortitude Valley which offers Brisbane's version of Rodeo Drive, and in the South River area filled with waterfront cafes and Street Beach, a public man-made inner-city beach, pool and park. And when it comes to hotels, three urban resorts offer everything for the jetsetter in this city on the rise.
The W Hotel Brisbane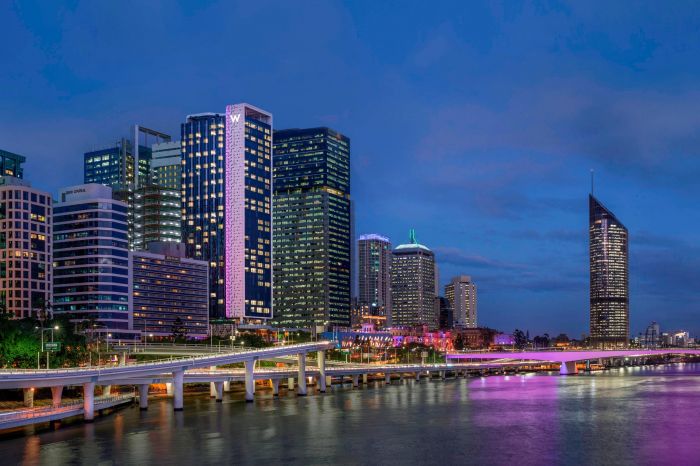 The best way to tell if a city is hot or not is to check first if there is a W Hotel there. And no W Hotel is like another. The W Hotel Brisbane is bold, dramatic, and sexy in a two-tower skyscraper that definitely makes its mark on the city skyline. The hipster cool hotel's design continues to impress within with edgy artwork and décor inspired by Aboriginal art and the Brisbane River. Indoors the designs range from theatrical to whimsical with bold colors and functional areas that double as art with sculpture-like furnishings, sensual light fixtures and lighting, and stimulating art pieces.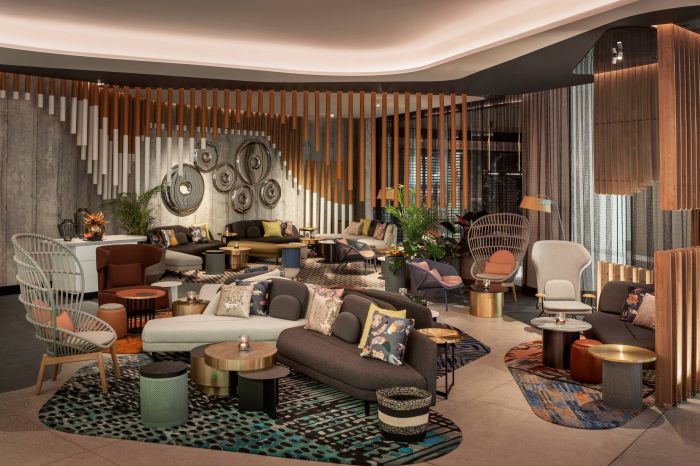 The W Brisbane is the hot spot in town especially on Fridays for the after-work set. The Living Room is located in their lobby area and morphs into a lounge with DJ and Brisbane's sexy crowd who drop in for a nosh and their over-the-top cocktails. For those with a bit of a sweet tooth, a must is their fondue, rich with chocolate, fruits, and cakes, and that makes a most decadent way to end the evening.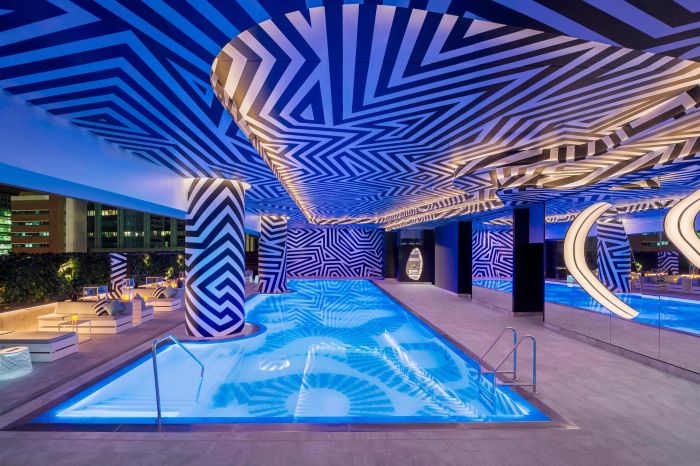 One of the W Brisbane Hotel's most stunning features is WET. The tropical-themed venue doubles as a pool, lounge, and offers a stunning outdoor lookout over the city. The pool area is electric with neon lights and a bold zebra-striped geometric design.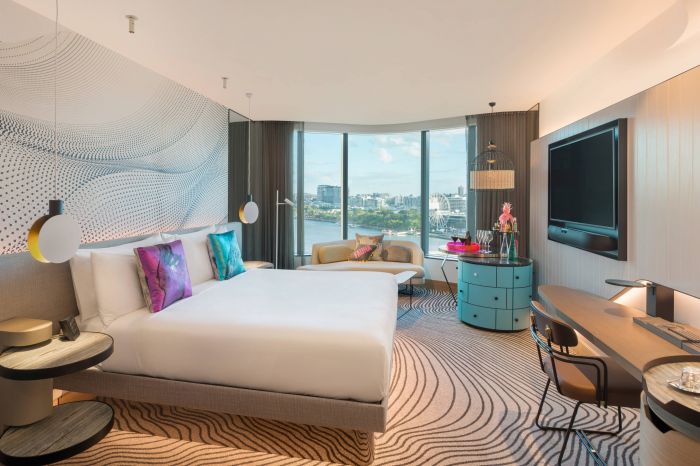 After all, this is, by the way, a hotel, so the 312 accommodations are impressive as well with bold and modern design, designer furnishings, with bathrooms that feature a farmhouse style soaking tub and sweeping views over the city.
The Calile Hotel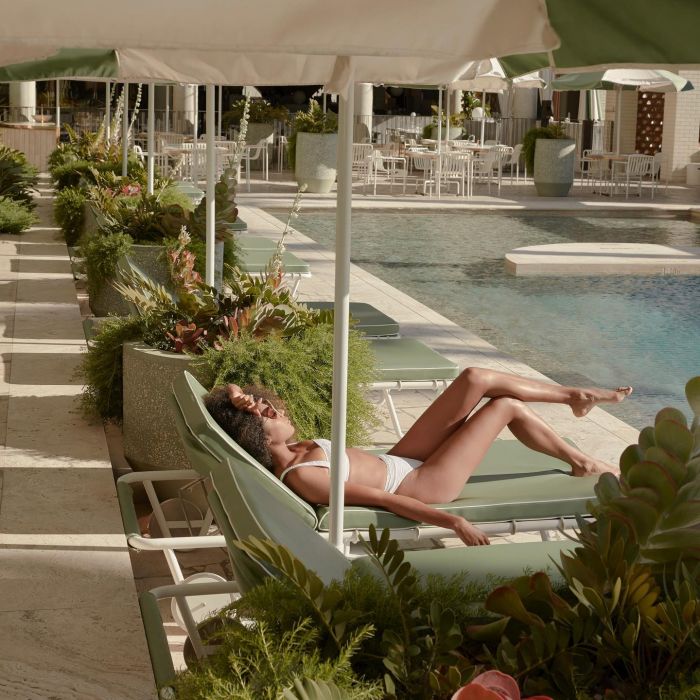 When it comes to hotels that set the foundation for luxury holidays in Brisbane, one must put the Callie Hotel at the top of the list. This five-star urban resort has quickly become a cornerstone of high society along with the leafy tree-lined shopping James Street precinct of Fortitude Valley. This is Brisbane's see and be seen scene where the well-to-do congregate for brunch on weekends or for a Michelin star level dinner at their greek restaurant Hellenika.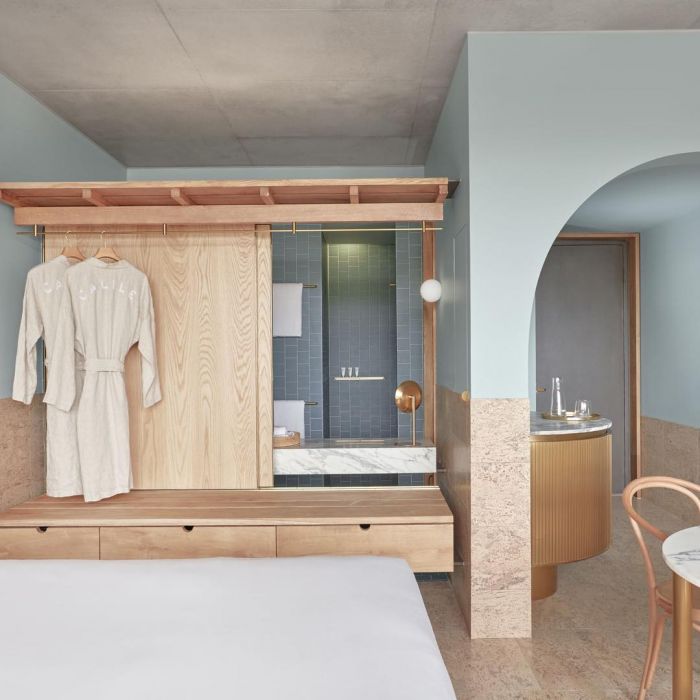 Guests of the hotel feel as if they booked a night at the Beverly Hills Hilton with a sleek yet glam minimalist design with scalloped arches, pale pink and green accents, and polished concrete surfaces. Outdoors the pool scene could double as a backdrop of a Gretta Garbo film with aqua striped umbrellas and hipsters sipping on Aperol spritzes in swanky cabanas. The 175 guestrooms ooze a restained luxury, clean, uncluttered, and sophisticated, with furnishings that blend Scandinavian and retro designs as well as a balcony that overlooks the pool below and skyline.
Emporium Hotel, South Bank
One more of Brisbane's hotels that offers bolthole of the jet-set crowd is the homegrown swanky hotel, the Emporium Hotel South Bank. This ritzy new hotel takes over the South Bank and offers some of the best views of the city and has a rooftop bar scene that would rival those found in New York or London.
The South Bank Emporium was created to impress the most jaded of luxe travelers. The first impression is at the entrance with an LCD wall the size of an Olympic-sized swimming pool that literally creates a larger-than-life video wall complete with mood-altering imagery. So instead of seeing a forgettable nondescript dull concrete wall, guests see sexy models and haute fashion shows, surfers mastering crashing waves, or wilderness scenes of some exotic hinterland. That's just one of the ' oh wow' surprises at the Emporium Hotel that seem to never cease.
The name of this hotel should really be "Gobsmacked" because that's just what happens from the entrance and throughout the stay. Inside there is just enough bling and red neon to make it thrilling without being gaudy. Even the elevator makes a statement with the entire space from floor, walls, and ceiling awash with more of those attitude-altering video screens. Don't worry, there's no sensory overload but you will feel like you are in the Austrian Alps with scenes of snow and mountains on your ascent to the upper floors. Those fancy elevators take you to their 143 rooms which are all impressive as well with edgy design, the latest in technology gadgets and amenities as well as balconies that overlook the city.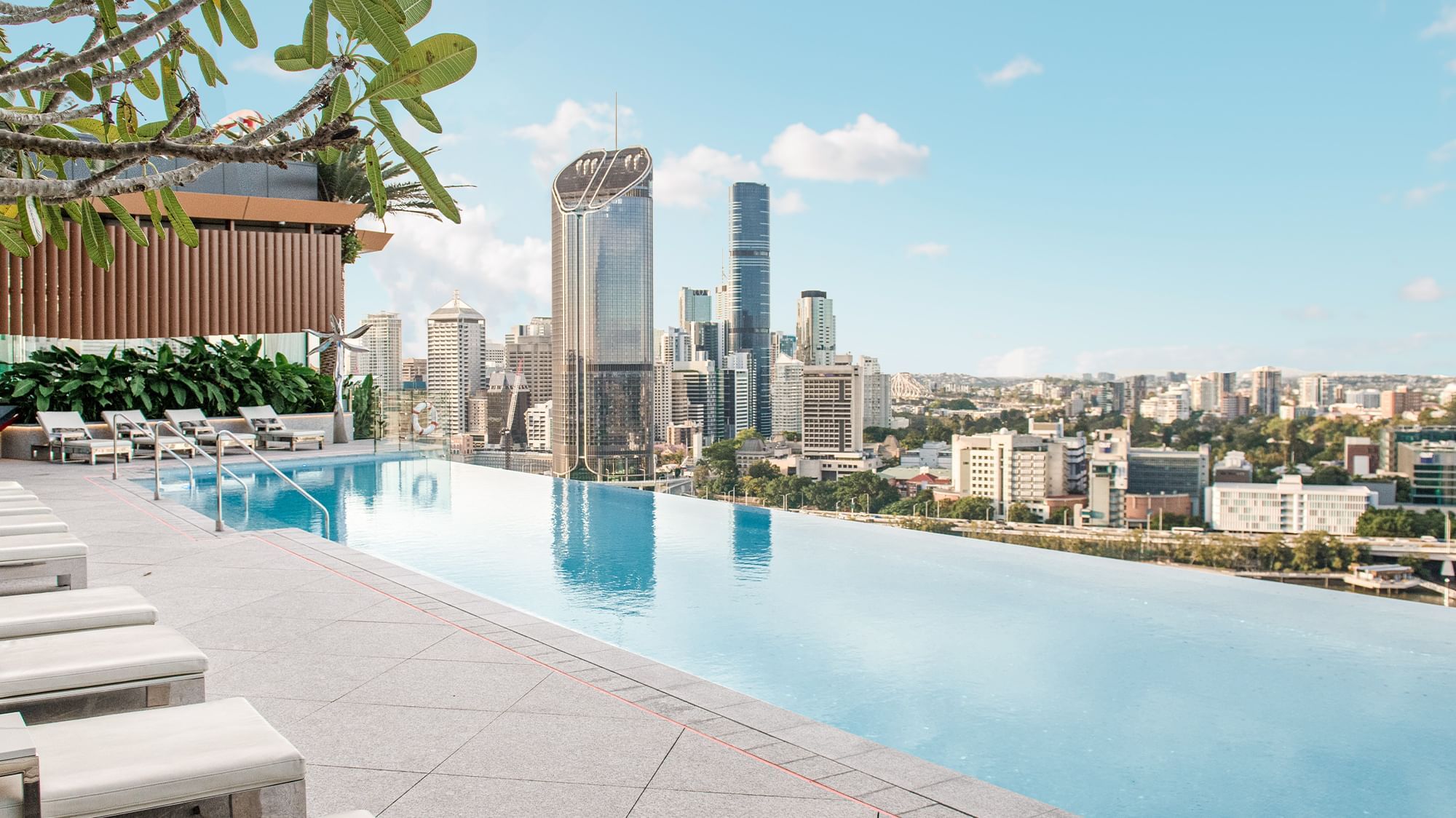 As if that wasn't enough, the rooftop cocktail bar, entertainment, and pool scene make the hotel's signature statement. Indoors the bar is chic and hipster ready with a retractable roof with their final helping of their larger-than-life LCD screens, offering the Fashion Channel's sexy shows looping to add to the vibe. Yet its most alluring feature is the wrap-around deck with arguably Brisbane's best views of the city skyline. The pool is stunning as well, overlooking the city with an infinity edge and an offering of posh cabanas to laze away the day, literally above it all.
The Brisbane Food Scene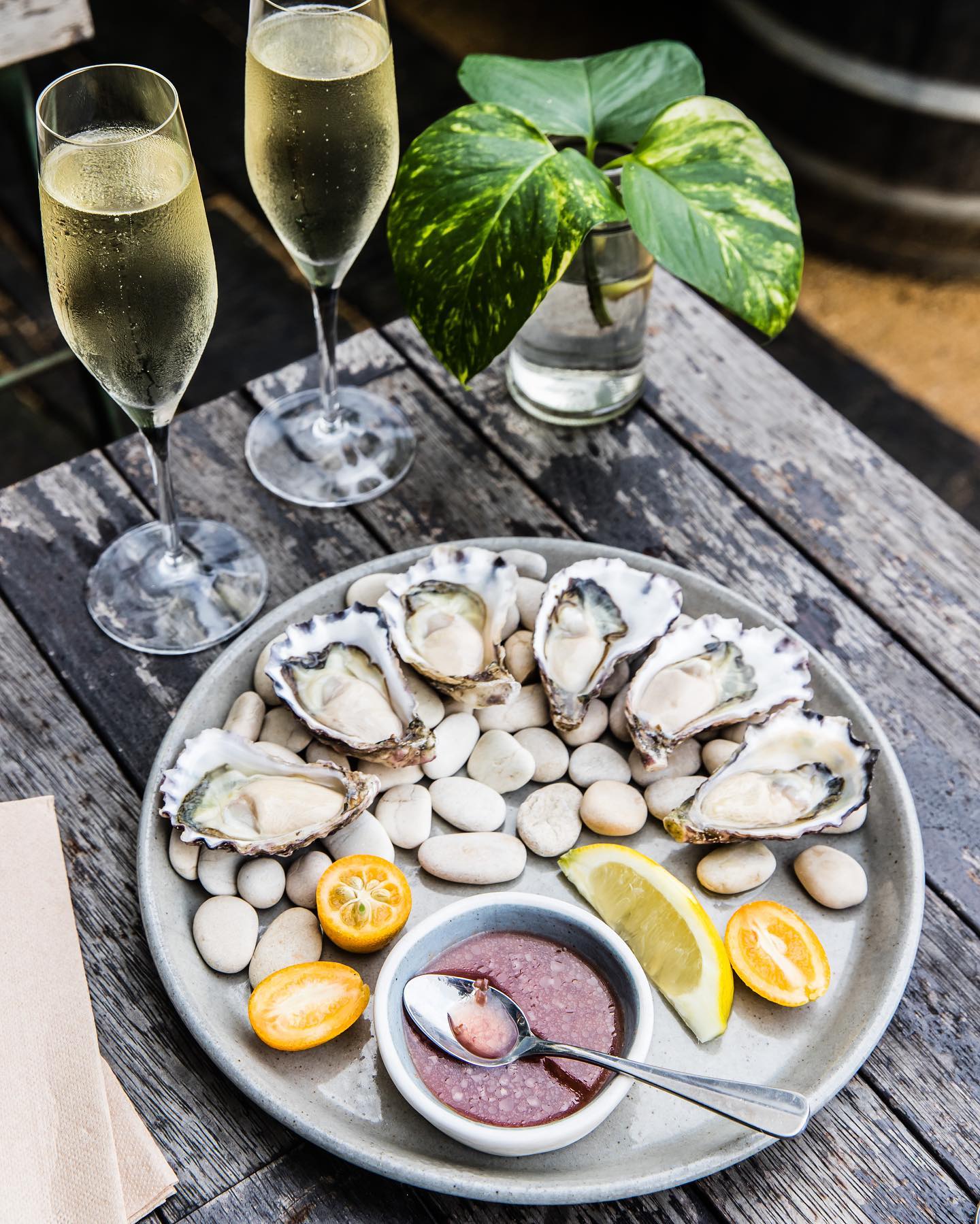 A prerequisite of any jet-set city is a culinary scene as the supporting cast for their posh urban hotels. Brisbane again punches above its weight with a bevy of exceptional eateries helmed by an invasion of top-notch chefs who apply their honed skills to the amazing and unique produce only found in Australia. Australian and, Brisbane in particular, have created a collective foodgasm of their own, New Australian Cusine.
Three Blue Ducks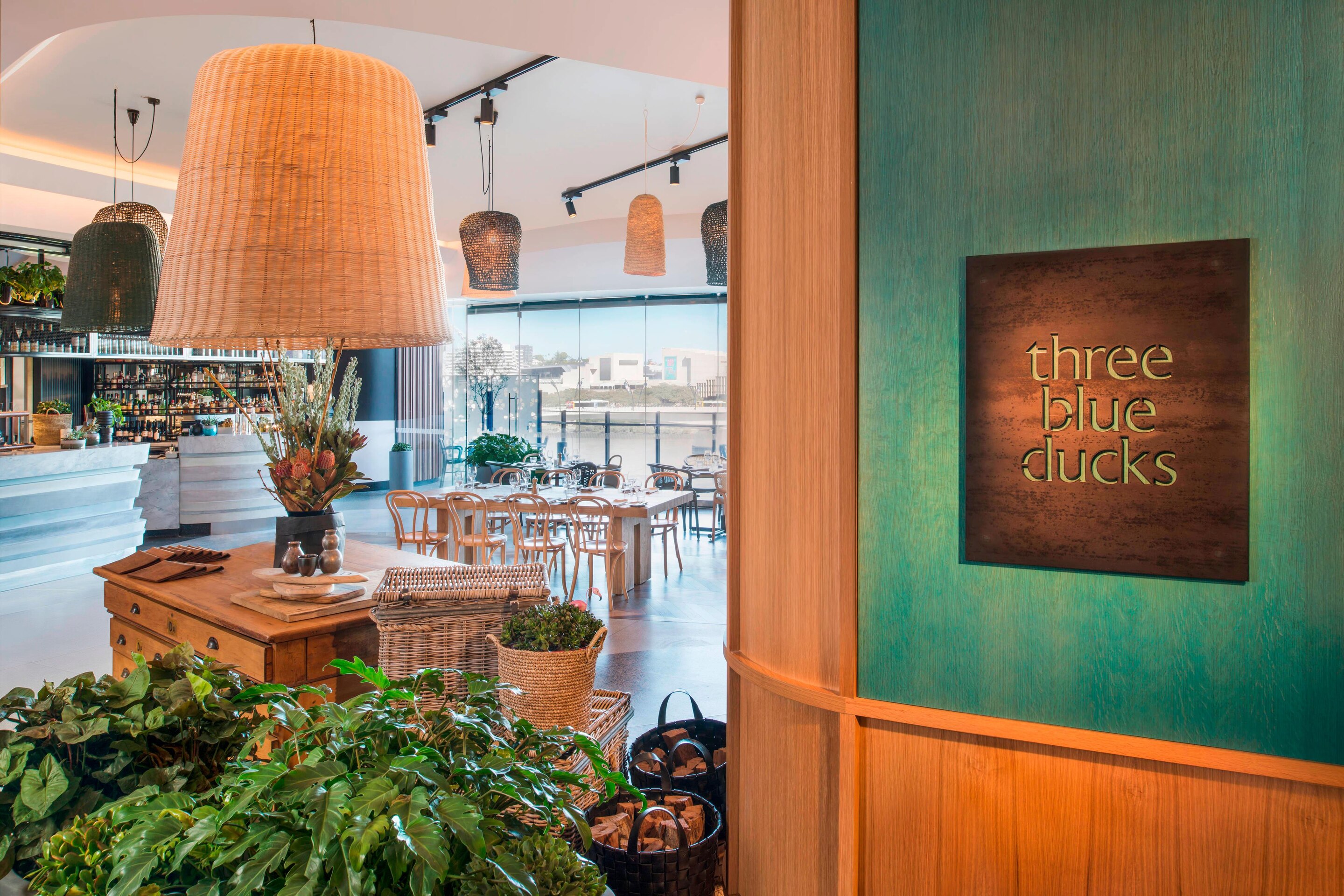 One of Australia's most acclaimed groups is Three Blue Ducks. Their story is a yummy as their food. Three guys (or Blokes in Aussie speak) traveled the world surfing and enjoying life and talking about food. Their ideas came together into what good Australian food should be: honest, ethical, and made by people who enjoyed being friends and sharing that experience with their guests. Thus was born the Three Blue Ducks.
The vibe at Three Blue Ducks is anything but pretentious, just great food sourced locally from ethical producers and served well without overly fancy techniques. At the restaurant, you'll want to wander by their open kitchen to see the chefs bustling about at their charcoal grill pit, rotisserie areas, and wood-fired oven.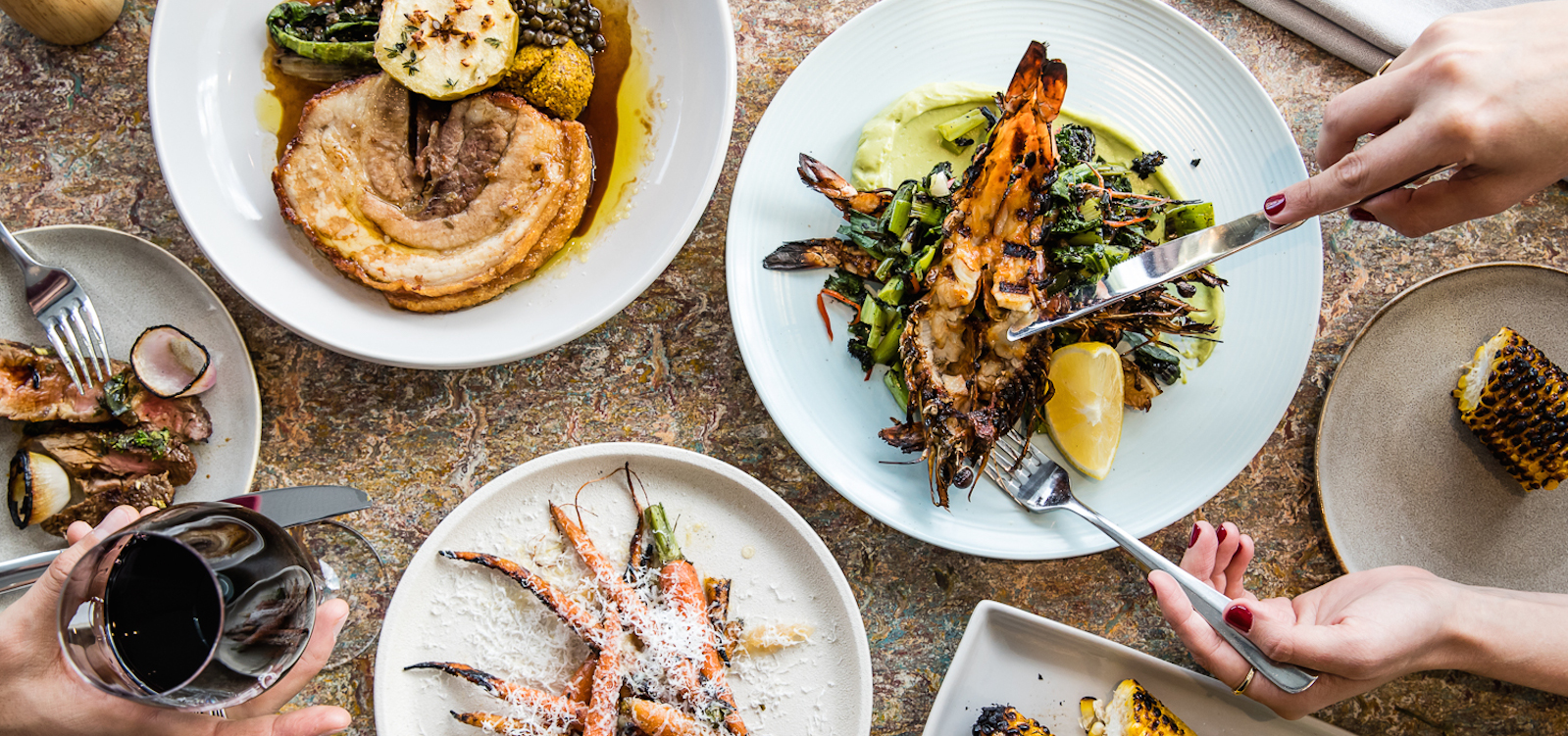 Three Blue Ducks is all about sustainably sourced, paddock to plate ingredients with the freshest seafood, probably caught that day and just a few miles away such as their Moreton Bay bugs, spanner crab, oysters. You'll taste the values of their friendship, ethically food produced locally, and great service in every forkful.
Southside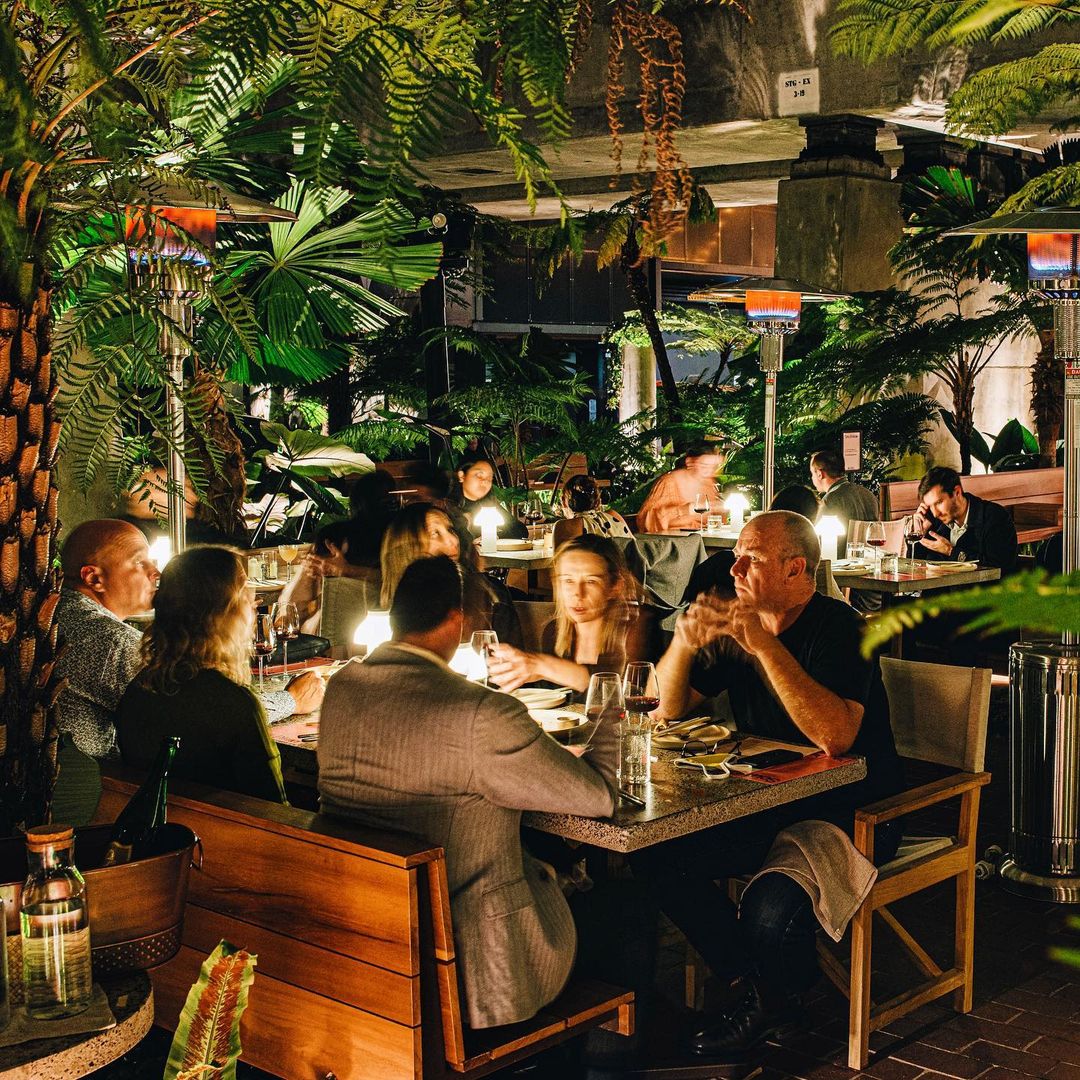 Another impact on Australian cuisine is the blending of flavors and techniques from around the world. The Southside Restaurant offers flavor-packed cuisine that using East-Asian influences. The restaurant takes Chinese and European techniques and applied them to local produce to create a trifecta of flavor. The location is ideal in the trendy Town Square district and one of the most popular laneways, Fish Lane.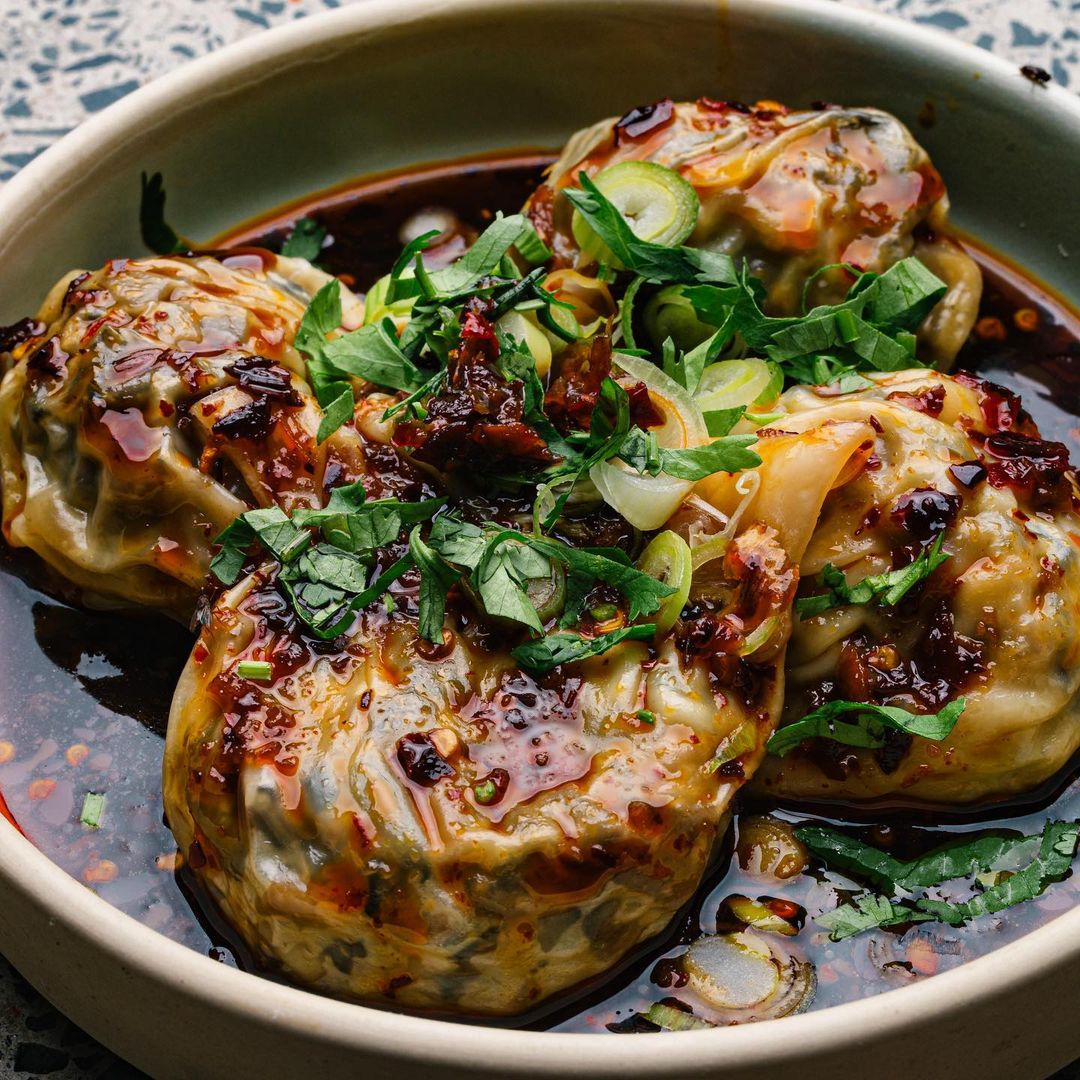 The area is home to a cool bar scene with cafes and a nice helping of Brisbane's funky street art. Must-have dishes include their take on dim sum, spicy noodle dishes, or share plates such as and with a selection of scrumptious sides. Guests dine indoors in a cozy funky setting or al fresco in an urban backdrop under a bridge but made sultry with sleek designed tables, dimmed mood lighting surrounded by tropical gardens.
City Winery Wine Tasting and Dinner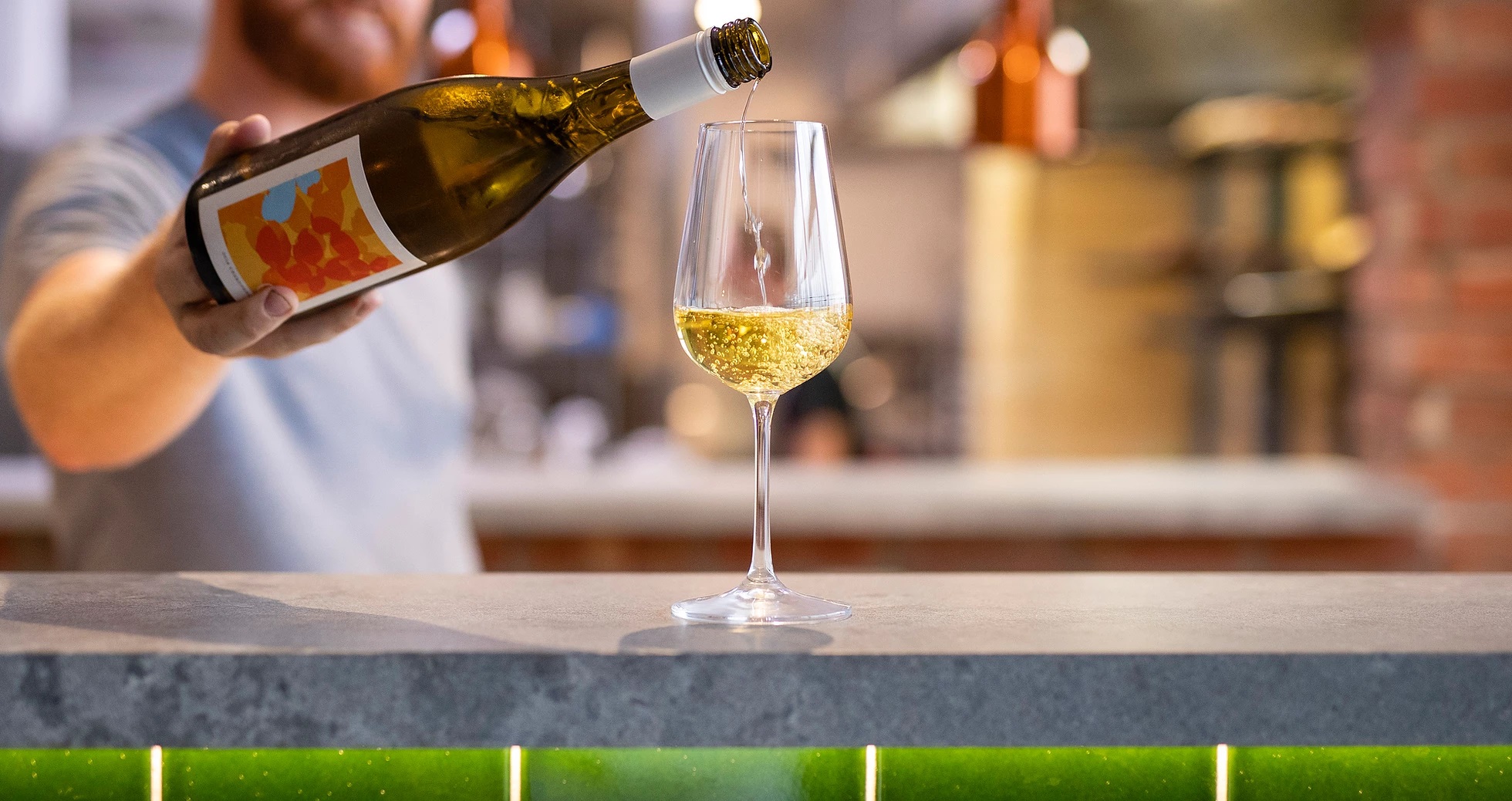 Among many offerings, Australia is known for their wine. City Winery Brisbane has taken the grapes grown elsewhere in Australia to create their own brand of locally produced wines. Several locations around Brisbane offer their wines, extensive wine tasting experiences, as well as some exquisite gastro pub cuisine. Their Eagle Street Pier location is a happening place along the river especially for the Friday after-work crowd that stops in for nibbles and to meet up with friends to start the weekend while enjoying their wide range of wines.
Gin School Masterclass – Brisbane Gin Distillery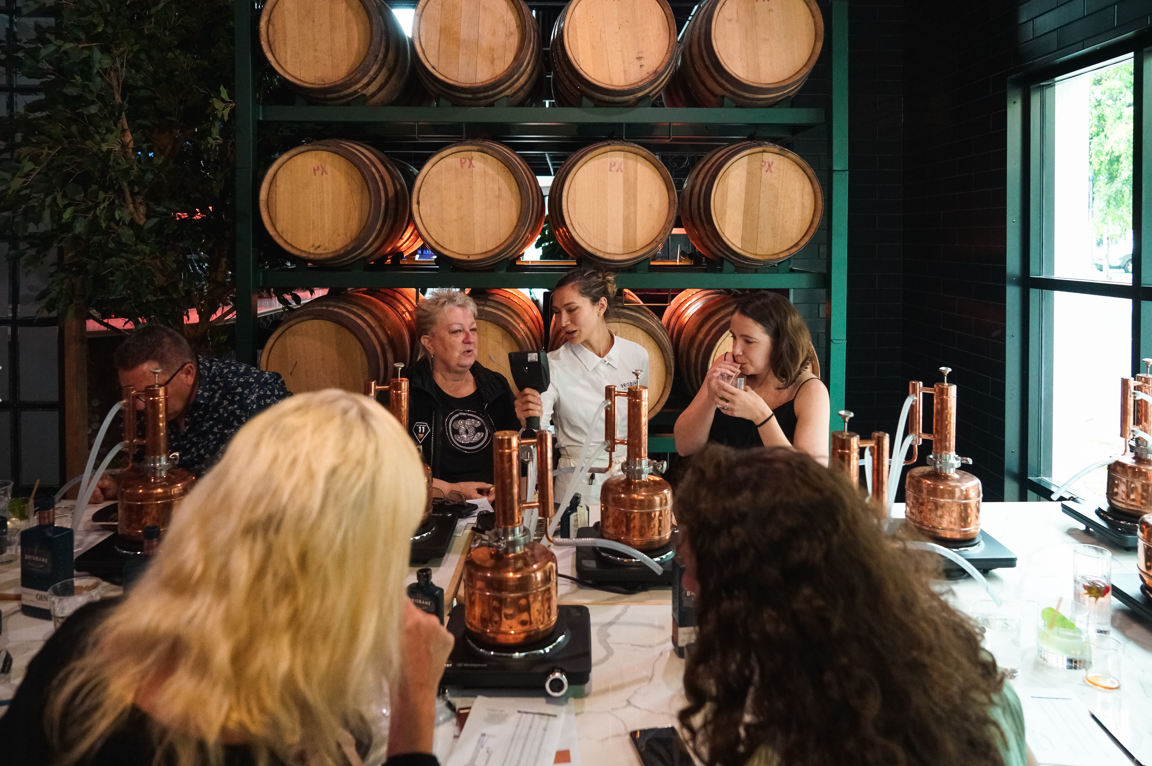 When it comes to homegrown cocktail culture, Australia produces much more than wine. From craft beers and cider to spirits, you'll find it with locally sourced ingredients and produced. The Brisbane Gin Distillery is another happening place to bend the elbow over their uber flavorful and exotic cocktails and craft gin. The venue is always a happening place for the hip crowd for drinks and food but for those who want to pull back the curtain on gin making as they provide a fun and informative Gin School Masterclass to learn the tricks of the trade.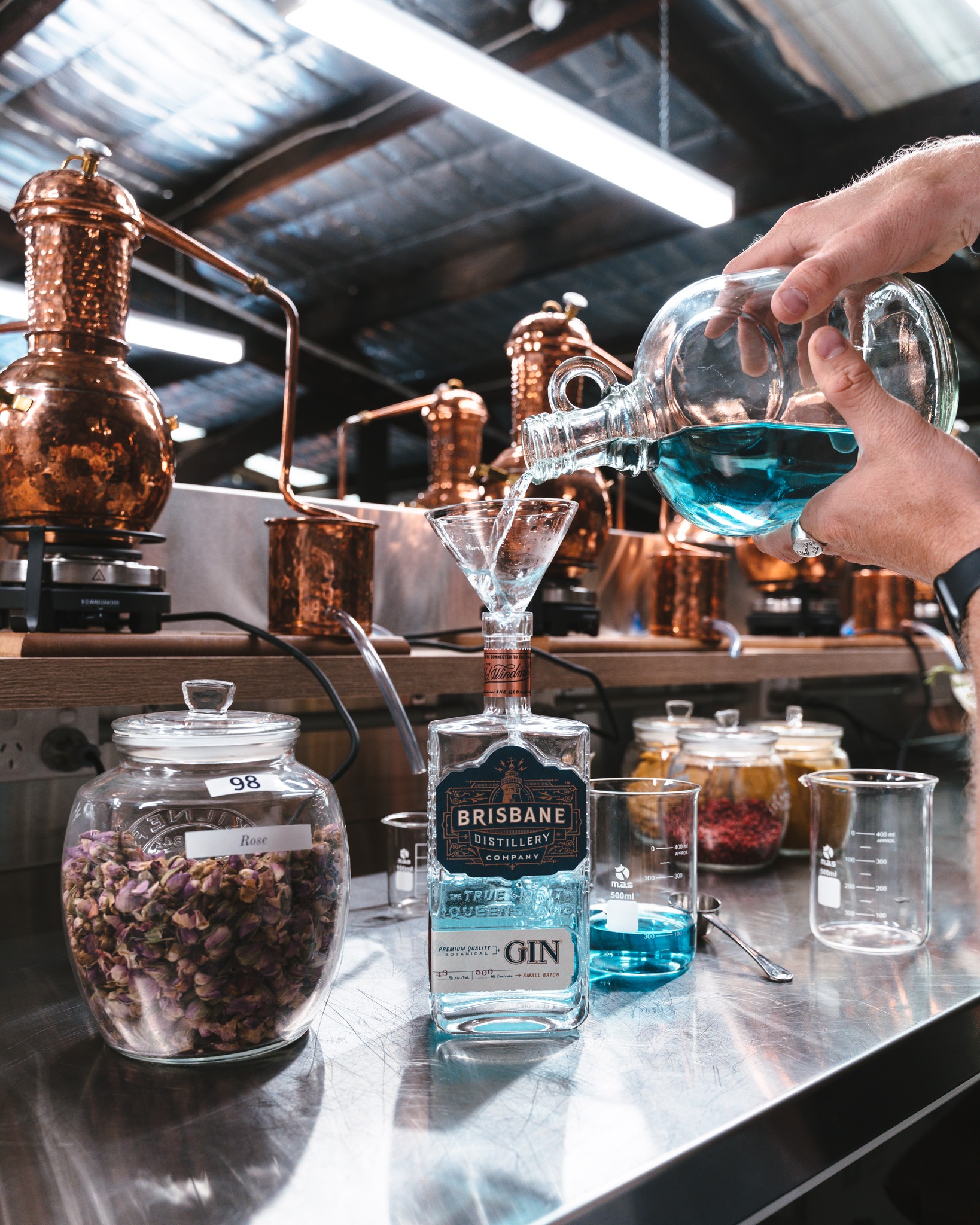 The course begins with a setting that looks more like your high school chemistry class with beakers, goggles, droppers, and a wall full of herbs and spice botanicals. There is, of course, a mini still set up for these want-to-be Hendricks Mast Distillers seeking to learn the craft. Led by their highly trained gin makers, participants mix, boil, and blend their own special bottle of elixir to take home and share with friends.
Elite Helicopters transfer to Spicers Hidden Vale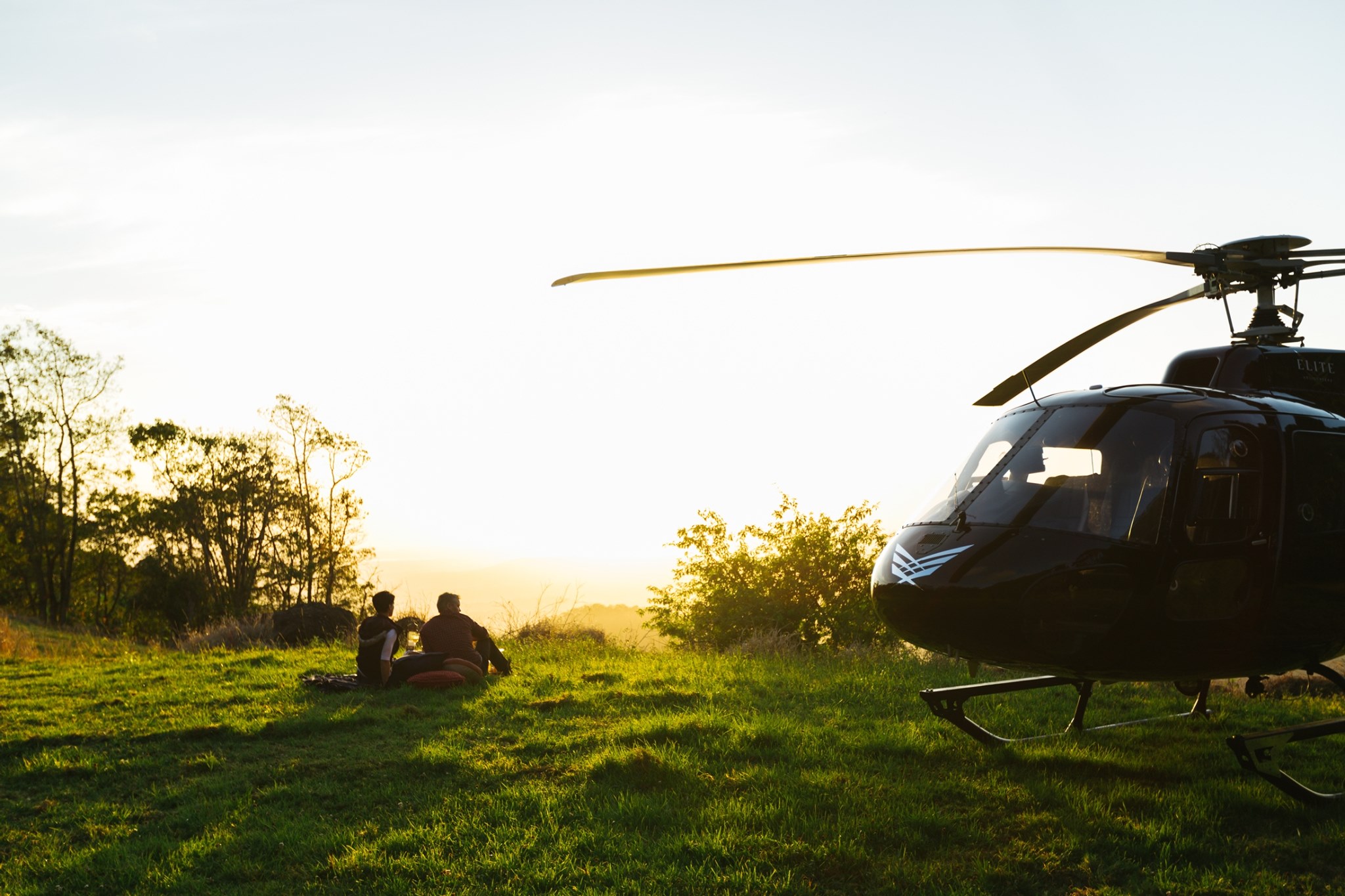 There's no more decadent way to spend the afternoon in Brisbane than a gourmet lunch in the countryside and getting there by helicopter. Elite Helicopters provides a private flight in one of their swanky new helicopters to one of the top gourmet dining restaurants in the region, Homage at Spicer's Hidden Vale. The tour begins at Elite's Helicopter hangar in Brisbane with a welcome glass of champagne. From there is an heli-adventure in their posh James Bond-esque helicopter and stunning views of the Brisbane skyline as well as the farmlands, and countryside outside of the city.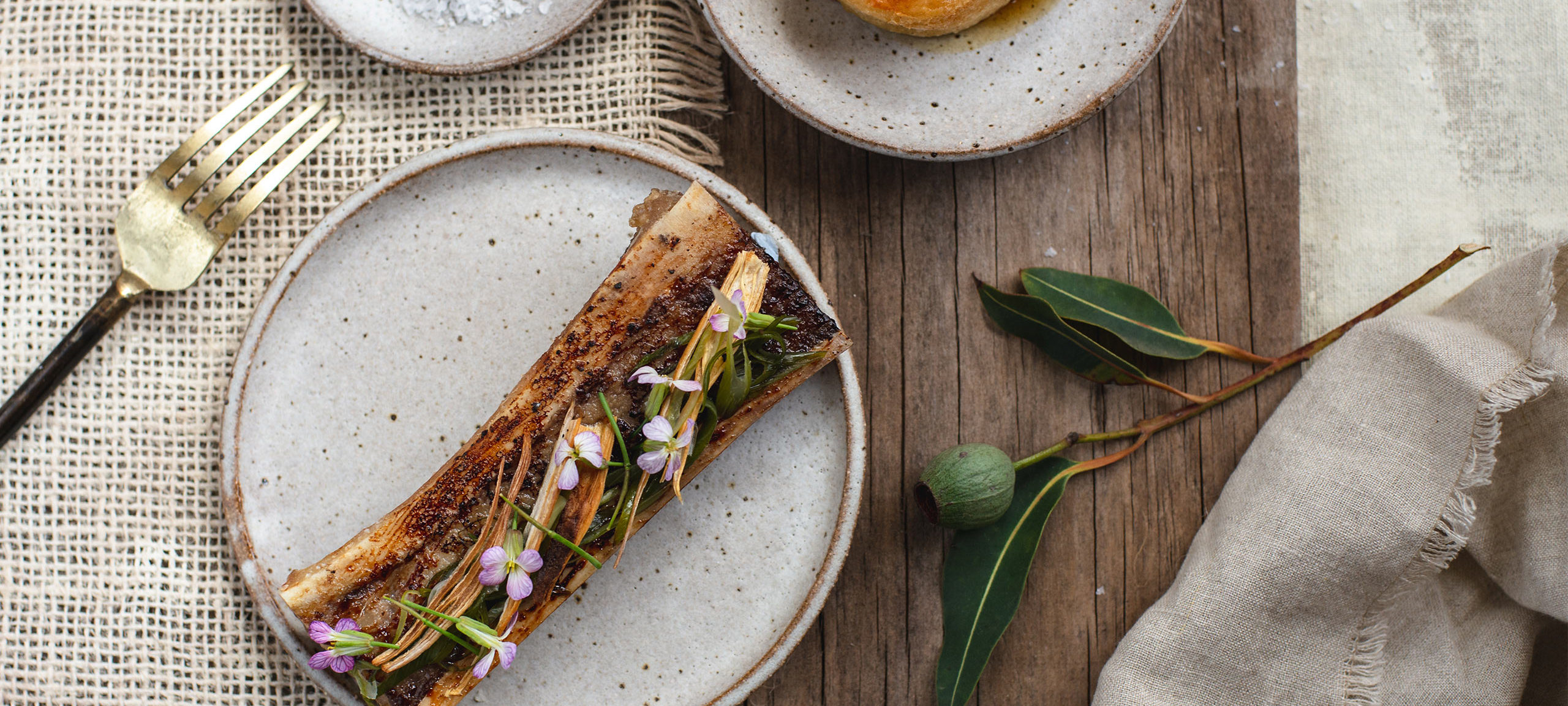 Spicer's Retreats is a brand of luxury boutique hotels and private residential properties throughout Australia. Their Spicer's Vale is a lovely country estate with sublime views overlooking farm paddocks, pristine bushland, and mountain ranges. The Homage restaurant is located in a Queenslander-designed country cottage with wide sweeping verandas to take in the views. is more than worth the trip and offers exceptional fine dining Modern Australian cuisine.
The afternoon is made complete with lunch on the veranda on locally sourced paddock to plate dishes. The scenery is a scrumptious as the gourmet cuisine, overlooking their beautiful trees and gardens and picturesque pool with endless undulating hills and mountains as the backdrop. On the return trip, guests will get a closer view of the mountain ranges and the city and all the while realizing that it simply does not get much better than this.
The Brisbane Art's and Culture Scene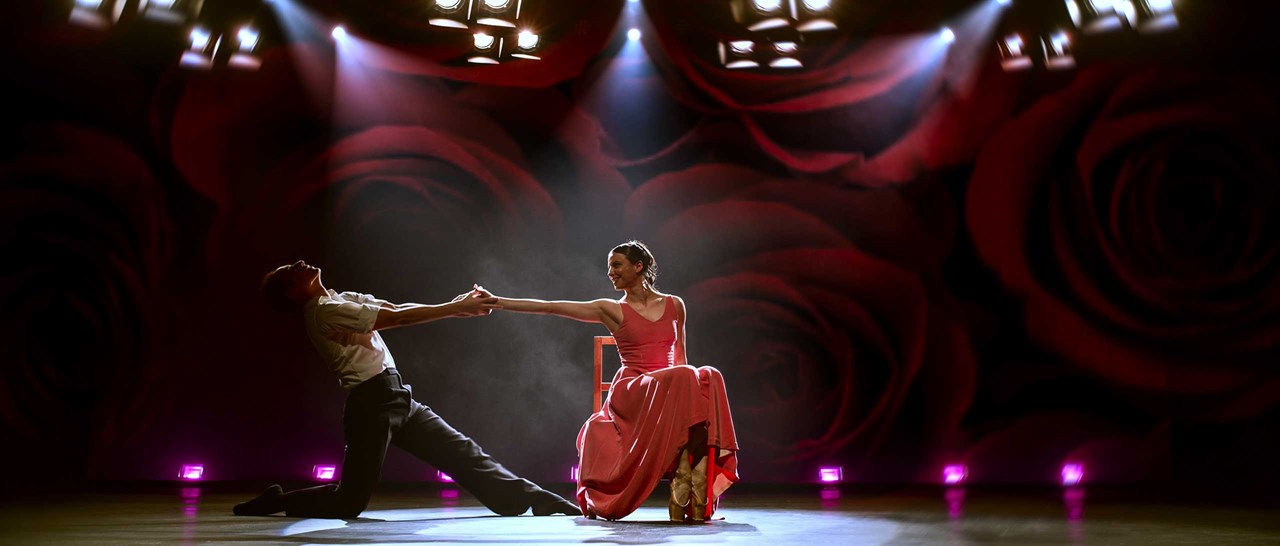 The art scene in Brisbane isn't just regional, it is world-class with performances and exhibits that would rival the most esteemed cultural centers in London, Paris, or Milan. The Queensland Performing Arts Center is one of Australia's top locations for live performances. The setting and design are as dramatic as the performances within, set along the Brisbane River on the South Bank lit up at night for all to see. The center is made up of several venues and theaters which host the top international traveling shows from theatre to opera to symphonic performances and dance.
Gallery of Modern Art
Another stellar example of Brisbane's arts and culture is found at the Gallery of Modern Art. The gallery is the current home of one of the world's most valuable collections, the European Masterpieces from The Metropolitan Museum of Art, New York. For a time visitors can take in the most prized possessions is the works of the European masters including Fra Angelico, Rembrandt, Rubens, Raphael, Goya, van Gogh, Cézanne, Monet, and others.
The exhibit includes 65 masterpieces spanning 500 years from the devotional scenes of the Renaissance era through the twentieth-century nature scenes found in post-impressionism works. These works captured the Eastern European religious, societal, and cultural movements as expressed through these priceless works of the masters. The exhibit was a masterpiece in and of itself and the perfect showcase for the exhibit with a dramatic archway, display areas with curation available from experts on the exhibit.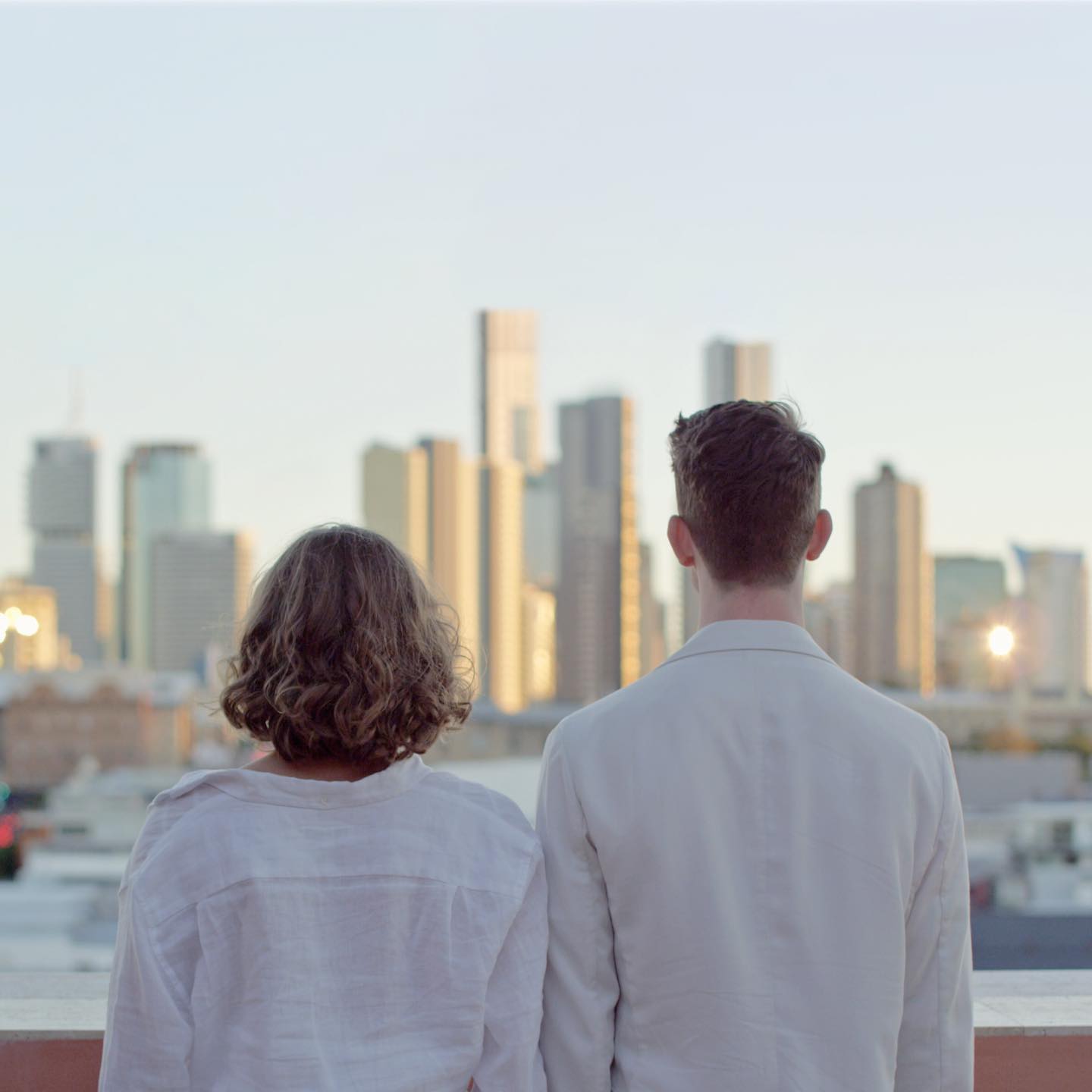 Brisbane is one of those cities that flies under the radar. It has it all to offer from posh hotels, an exquisite dining scene and so much to do and see from decadent adventures to cultural gold. Put Brisbane on your shortlist of places to visit, you'll be so glad that you did.