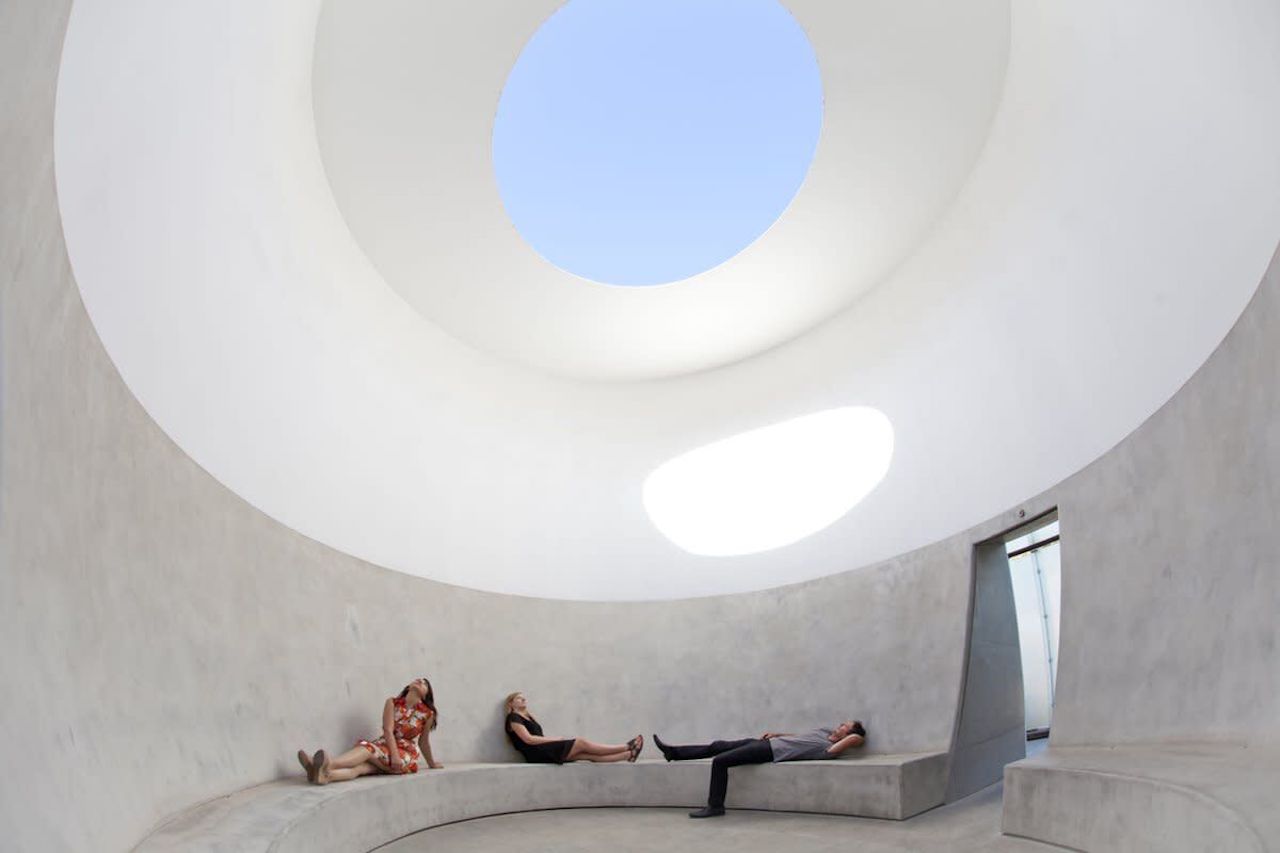 Knight Rise at SMoCA
Scottsdale is best known for its hiking trails, golf courses and upscale spa resorts, but thanks to a tight-knit creative community, the desert city in eastern Maricopa County has been an under-the-radar arts hub for decades.
Inspired by the Sonoran Desert landscape, architect Frank Lloyd Wright built his winter home Taliesin West there in 1937, while artists would head to Scottsdale for the season after summering in Santa Fe during the sixties and seventies. With its painter, potter, and printmaker collective the Cattle Track Arts Compound has long been a hub for creative souls, while the Scottsdale Museum of Contemporary Art and Wonderspaces draw a younger crowd.
But Scottsdale's creative scene doesn't stop at its stellar public art program or historic Arts District. It extends to one of its top hotels, the Andaz Scottsdale Resort & Bungalows, which partnered with Cattle Track on art direction and provides guest experiences like meet-the-artist events, tours and workshops. Here, five must-sees for art lovers headed to Scottsdale.
Andaz Scottsdale Resort & Bungalows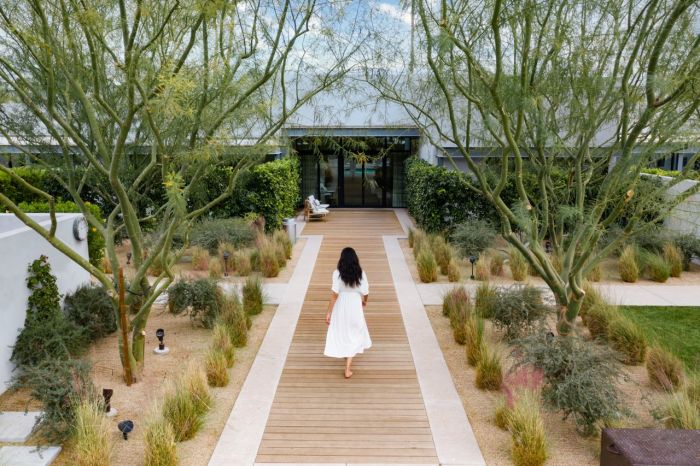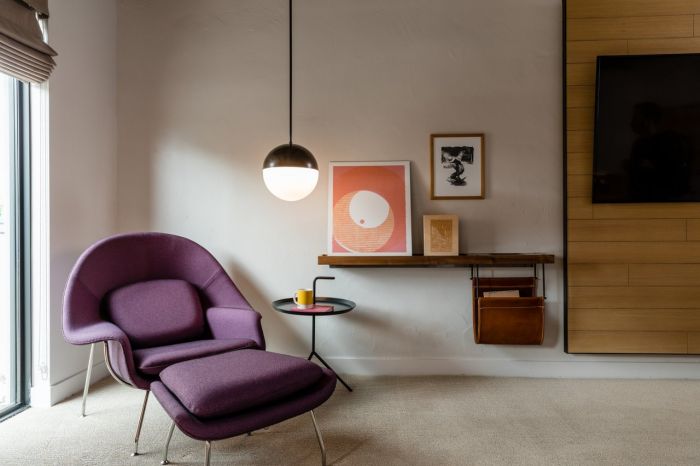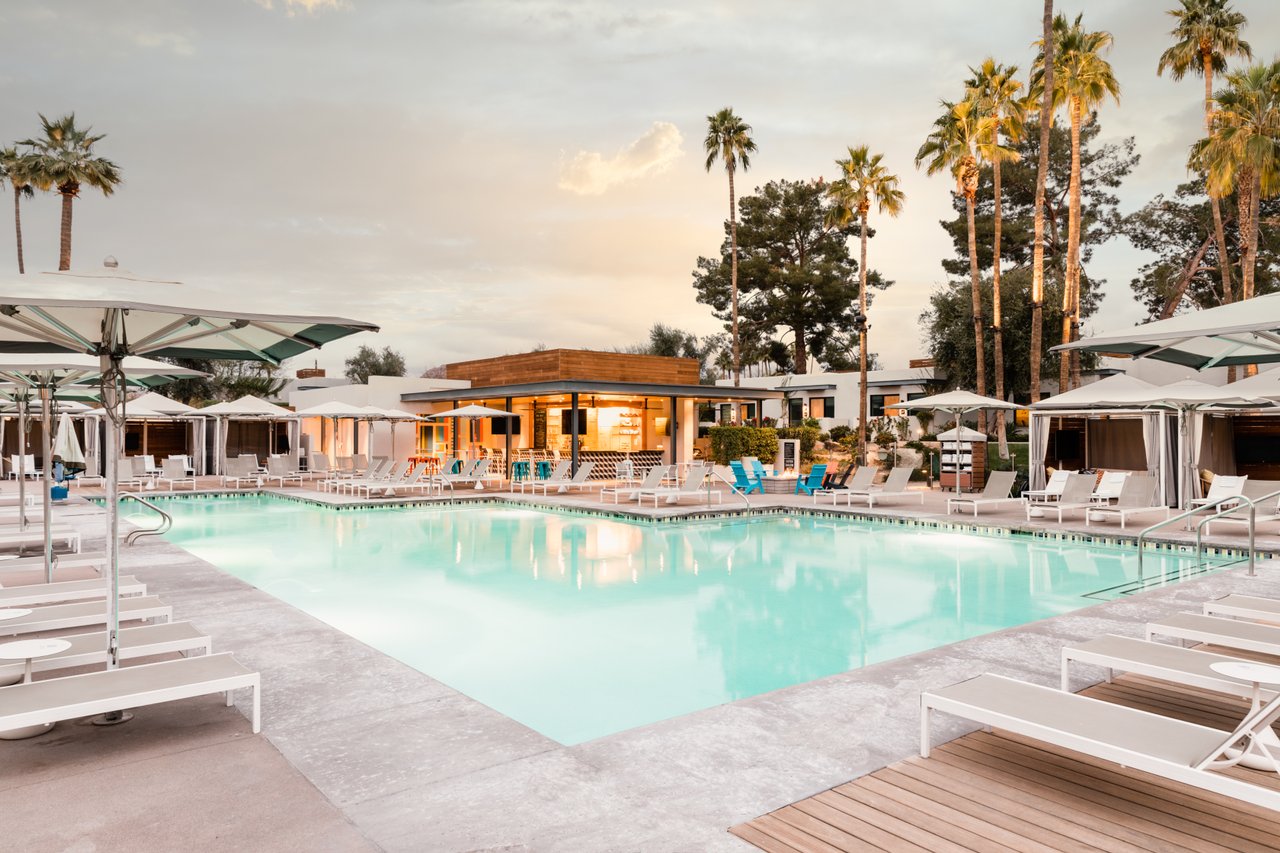 Andaz Scottsdale Resort & Bungalows
A refreshing prickly pear cocktail or mocktail is presented to guests during check-in at the Andaz Scottsdale, whose oh-so tastefully decorated single-story main building unfolds from an open-plan lobby into the Weft & Warp Art Bar + Kitchen. Beyond, the sparkling Turquoise Pool is flanked by cabanas and plenty of sun loungers. Sitting in the shadow of Camelback Mountain on 23 very secluded feeling acres in Arizona's Paradise Valley, the resort comprises a collection of low-slung modernist buildings. Its 201 bungalows, suites and villas are dotted amongst beautifully desert landscaped grounds, where you'll also find the Palo Verde Spa & Apothecary, along with a second private pool area called The Retreat.
The resort's programming is adult-focused and, despite its proximity to the main thoroughfare North Scottsdale Road, feels whisper quiet. Often decorated with original artwork and statement pieces, these days, hotel lobbies are famous for their eye-catching design credentials, but at Andaz Scottsdale, artistic touches also extend to guest rooms. Each one is outfitted with handmade furniture, including Eero Saarinen-designed Womb Chairs, hanging fiber art, and framed prints by artists from the nearby Cattle Track Arts Compound. Many items, including stoneware mugs by pottery artist Mary VanDusen, are available from a little shop in the lobby. During a stay, it's worth hopping in the Tesla house car for a complimentary drop-off at the nearby complex for a tour of the artist's studios.
Cattle Track Arts Compound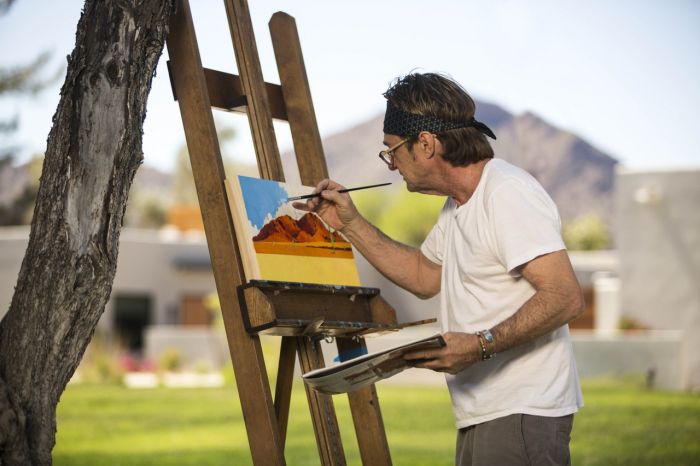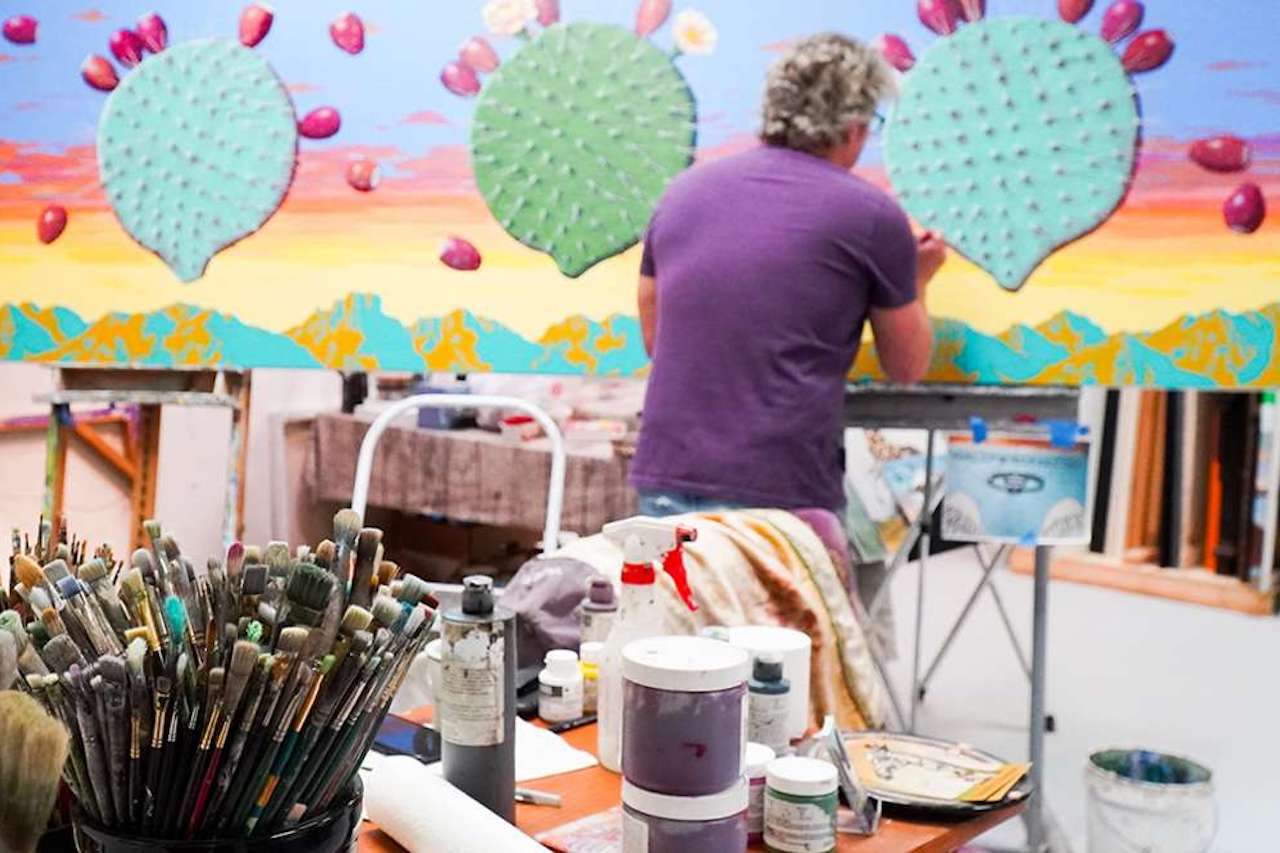 Cattle Track artists Mark McDowell (T) and Timothy Chapman (B)
A gathering place for creative souls since the 1930s, Cattle Track is still considered one of Scottsdale's most under-the-radar art spaces. Its collection of adobe buildings is home to several resident artists, including master printer Brent Bond, painter Timothy Chapman, ceramicist Mary van Dusen, and fiber artist Chance Phillips. Everyone is happy to chat with visitors as they pass through their working studios, but perhaps the most fantastic and engaging of them all is Mark McDowell, a long-time local and artist in residence since the 1970s.
McDowell and Bond were instrumental in coordinating a creative partnership with Andaz, advising on artwork direction and helping to outfit the guestrooms and bungalows before the hotel's 2017 opening. Keen-eyed travelers should look for their names etched onto a couple of barstools inside Weft & Warp where their group, The Dusty Ramblers, jam one night a week. In addition to the working studios at Cattle Track, there's a small gallery and theater where occasional talks by visiting speakers are held. However, ground broke this year on a new café and restaurant, second gallery and a handful of additional studios, which will open next summer.
Taliesin West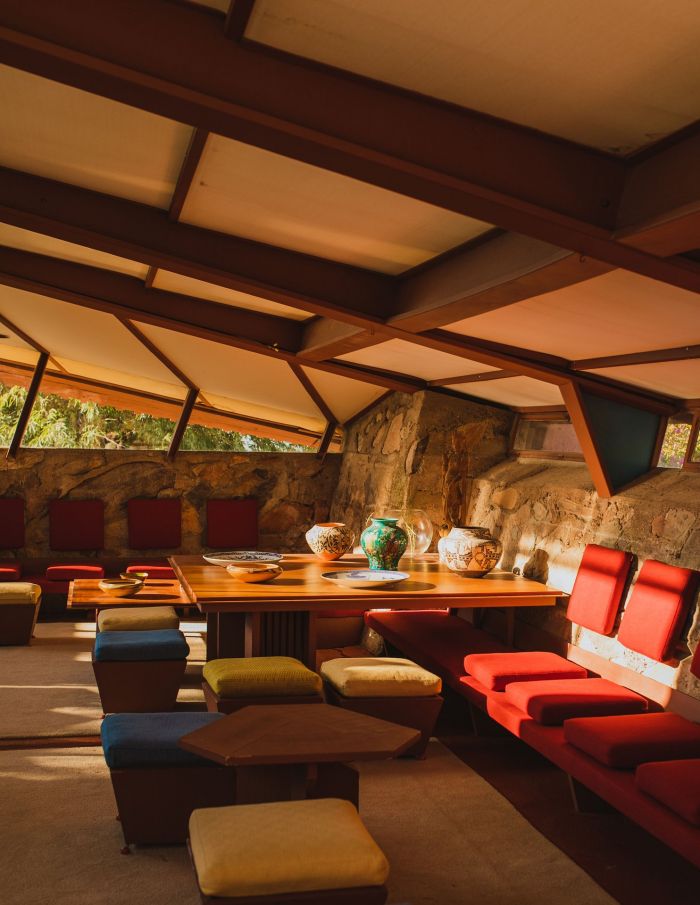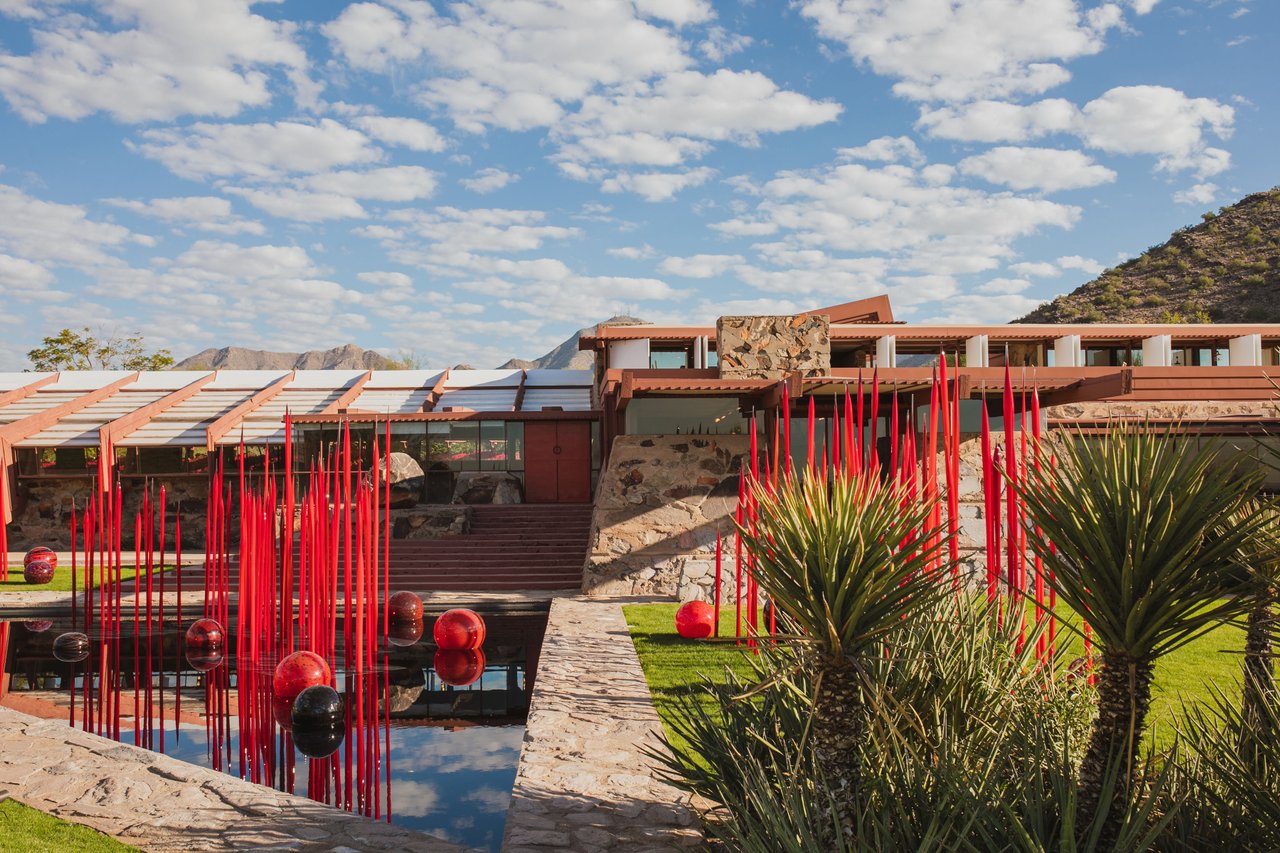 Taliesin West by Jenna McKone for Experience Scottsdale
Architect Frank Lloyd Wright was so inspired by the beauty of the Sonoran Desert landscape that he built his winter home and laboratory Taliesin West here in the late 1930s. Today, it's possible to peek inside his working drafting studio, living room (complete with furniture and collections of Native American and Asian art pieces), and theater as part of a self-guided audio tour of the building. A guided 90-minute tour is also available and offers a deeper dive into the history behind this UNESCO World Heritage Site, the architect's design philosophies, and all things Lloyd Wright. Tucked in the foothills of the McDowell Mountains in northeast Scottsdale, the series of walkways, pools and gardens - now accentuated with Dale Chihuly's large-scale glass installations – are inspiring spaces in and of themselves. Little wonder some of Wright's most notable projects were conceived there, including the Guggenheim Museum in New York.
SMoCA & Wonderspaces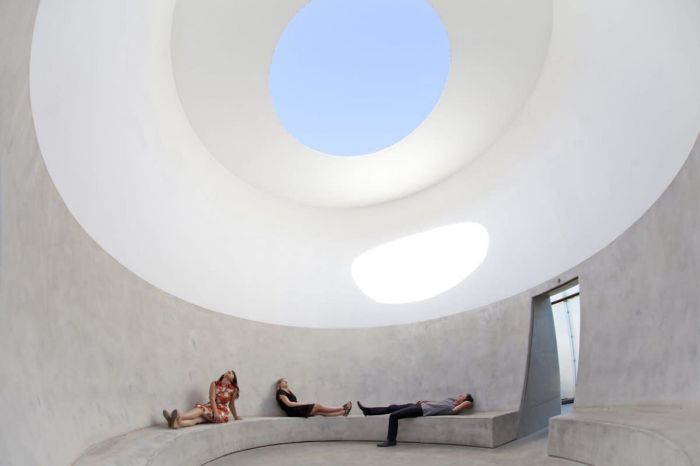 Knight Rise at SMoCA
Showcasing some of the best examples of contemporary art, architecture, and design, the Scottsdale Museum of Contemporary Art (SMoCA) opened in 1999, its minimalist retro-fit building a former movie theater. Admissions are timed, so there's plenty of space to soak in details from the three exhibitions by Brad Kahlhamer, Teresa Baker, and Beverly McIver currently on display, plus a new light-based installation by artist Phillip K. Smith that opens on October 29. Also not to be missed? Knight Rise by James Turrell whose eagerly awaited celestial observatory, the Roden Crater, constructed inside an extinct volcano in northern Arizona, is slated to open in 2024. For now, visitors are invited to "observe the sky" through his elliptical aperture in the museum's outdoor Nancy and Art Schwalm Sculpture Courtyard.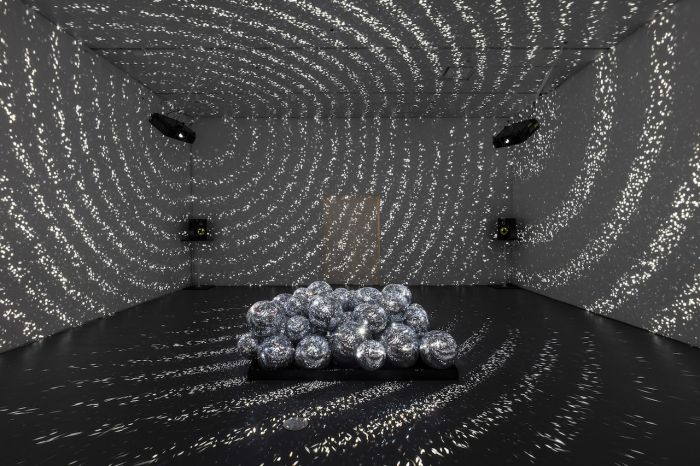 Light Leaks at Wonderspaces
With made-for-Instagram moments still very much the rage, immersive and interactive art experience Wonderspaces went from pop-up to permanent in Scottsdale Fashion Square mall at the end of 2019. Eschewing the feel of a traditional art institution and showcasing cutting-edge work by artists from around the world, its revolving lineup of 14 installations offers unique perspectives and insights on different themes. Highlights include Light Leaks by Kyle McDonald and Jonas Jongejan and Thank You Bags by Reed van Brunschot, plus new pieces The Border, a whimsical and graphical forest by Carolin Wanitzek, and Parastella created using Hubble photographs synced to electronic music by Christopher Schardt.
Getting Away to the Sonoran Desert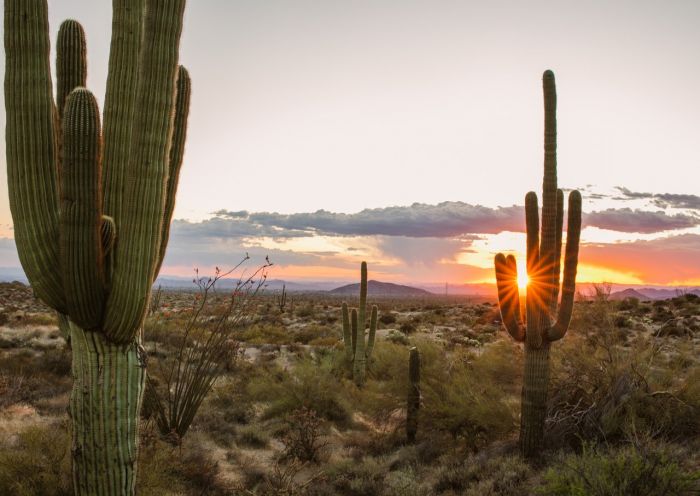 Sonoran Desert sunset in the McDowell Sonoran Preserve
Phoenix Sky Harbor International Airport is about a 20-minute drive from downtown Scottsdale. Weather-wise, the most beautiful time to visit is January through April and again from September through December. Andaz Scottsdale Resort & Bungalows run several special rates and packages throughout the year including Sonoran Summer and Desert Date Night.
Photos courtesy of Experience Scottsdale, Andaz Scottsdale Resort & Bungalows, and Kyle McDonald/Flickr