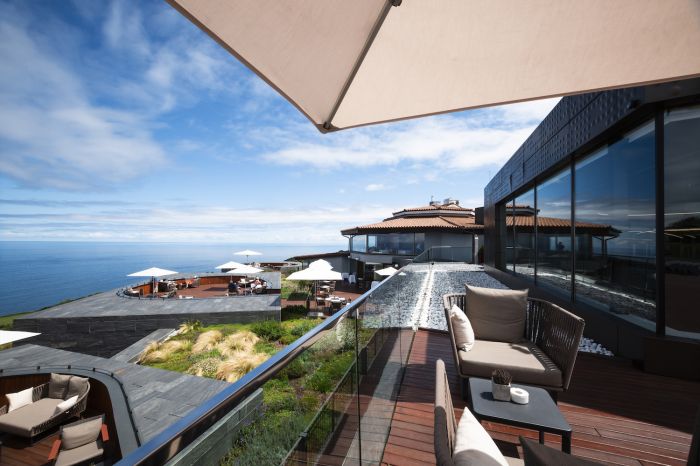 Akelarre Terraces
Known for boasting nearly as many Michelin stars as appear in the night sky, San Sebastian is all about cuisine. From its celebrated restaurants to the cozy pintxos bars that line the cobbled streets of this Basque region's Old Town, San Sebastian's culture is food focused. Perhaps no other San Sebastian chef has influenced this culture as has Pedro Subijana of Akelarre. For more than 50 years, Subijana had helmed the kitchen at his now three Michelin-starred restaurant, providing delectable reason for gastronomes to pilgrimage to the stunning restaurant overlooking the Bay of Biscay.
And since 2017 with the opening of its 22 room Relais & Chateaux boutique inn, Akelarre provides its dinner guests the opportunity to experience the full breadth of the Subijana family's hospitality. The inn serves as an ideal retreat after enjoying Chef Subijana's intoxicating multi-course meals in which he utilizes the freshest, local ingredients within his elevated versions of Spanish classics. From the dining room, simply saunter down the dramatic spiral staircase to two levels of ocean facing rooms and relax in the knowledge that your delicious journey continues in the morning with a bountiful breakfast.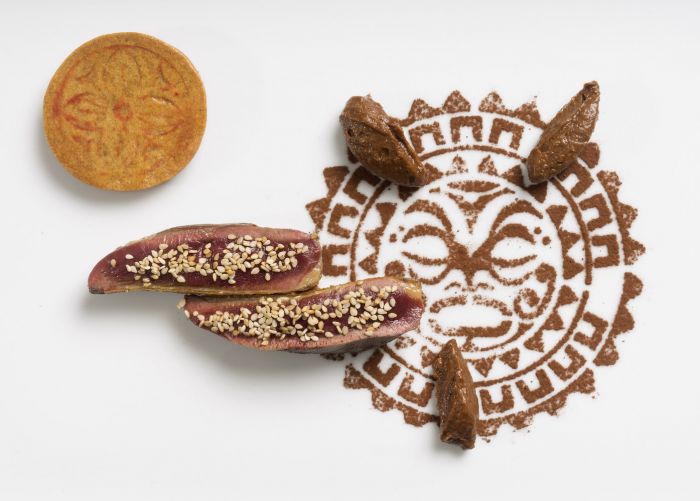 Chef Subijana's Pichon Asasdo con un Toque de Mole y Cacao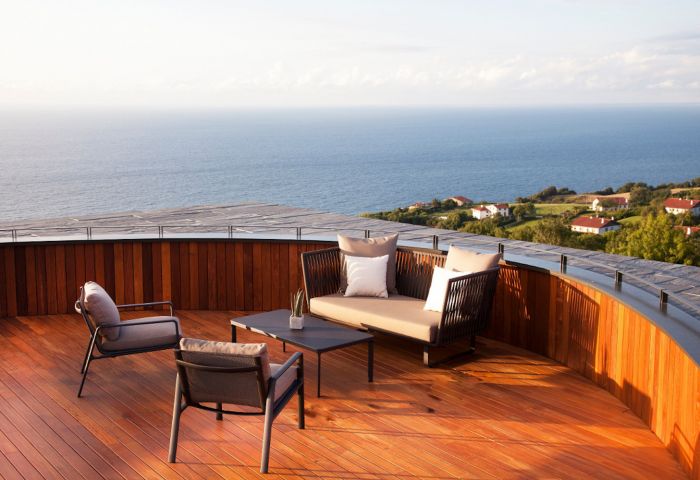 Akelarre Terrace
Situated in Monte Igueldo, where traditional homes dot the hillside, Akelarre is three miles west of San Sebastian's center. The restaurant and hotel cling to a cliff that overlooks the Bay of Biscay. A terrace of circular patio pods lines the property - each pod seemingly floating over the waves. No matter the weather, the dramatic sea views are stunning, no more so than at sunset, a sublime time of the day when aperitif is served to the dulcet strains of bossa nova tunes.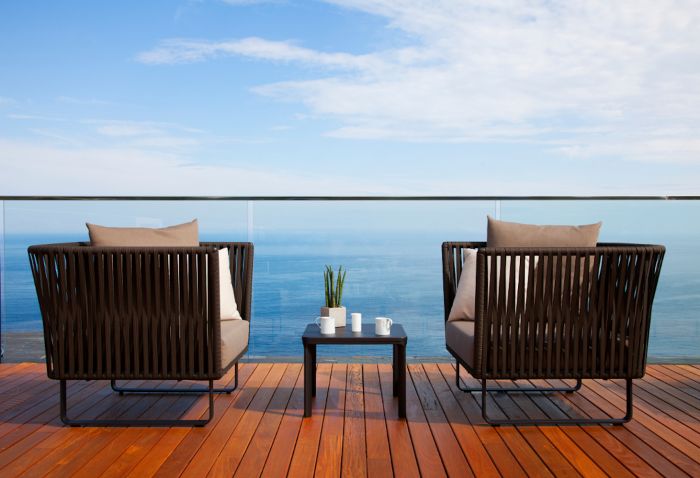 Akelarre Terrace Seating
Envisioned by Madrid-based architects Mecanismo, the hotel's modernist design is elegant in its sensual simplicity. Filita stone, oak, brass, and floor-to-ceiling windows dominate a minimalist, earth-toned aesthetic where the emphasis is placed on the sea views. In one hallway, a solo bronze Jaume Plensa sculpture is juxtaposed with the blue waters beyond. Every room, from the smallest to the larger Akelarre Suites with stone-lined plunge pools, features this view. Mid-century modern furnishings, organic amenities, furnished balconies, large soaking tubs and sumptuous bedding further serve to create a luxurious environment.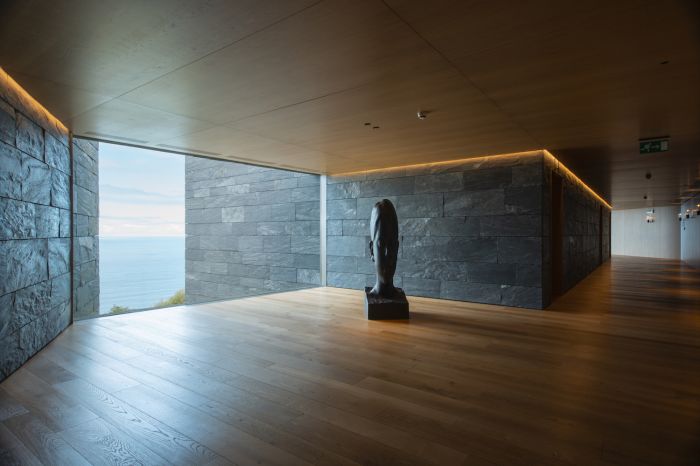 Jaume Plensa's Paula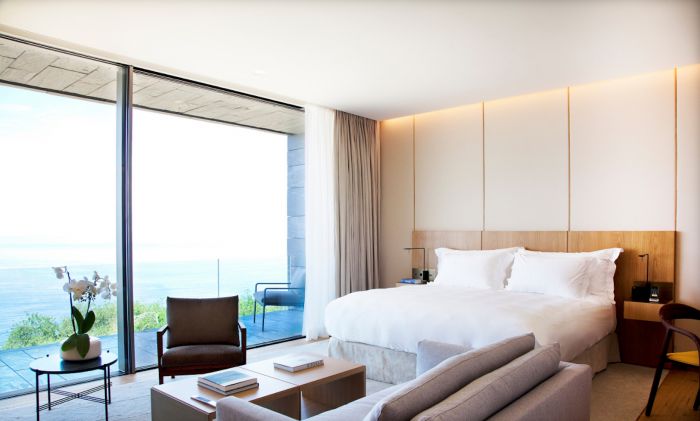 Akelarre Guest Room
Akelarre Bath
In addition to the main restaurant, Akelarre also features the more casual Oteiza, named for the late renowned Basque sculptor Jorge Oteiza, a friend of Subijana. The dishes here are less complex than those in the main dining room, yet no less beautiful or satisfying. And for breakfast, look forward to freshly baked pastry, artisan cheeses, eggs made to order, and a delicious detox green juice that is perfect for those who've overindulged the night before. Those in search of further rejuvenation can book a treatment at the hotel's sultry spa.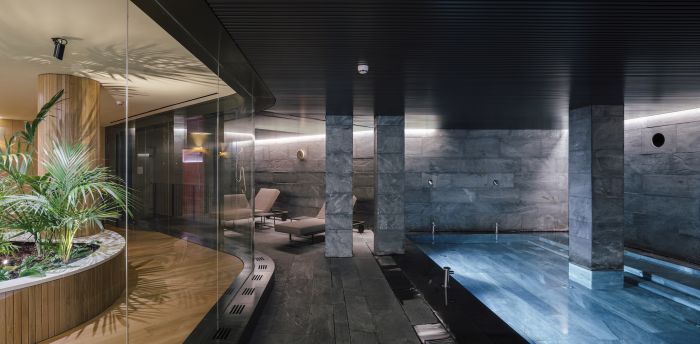 Akelarre Spa
Photos courtesy of Akelarre