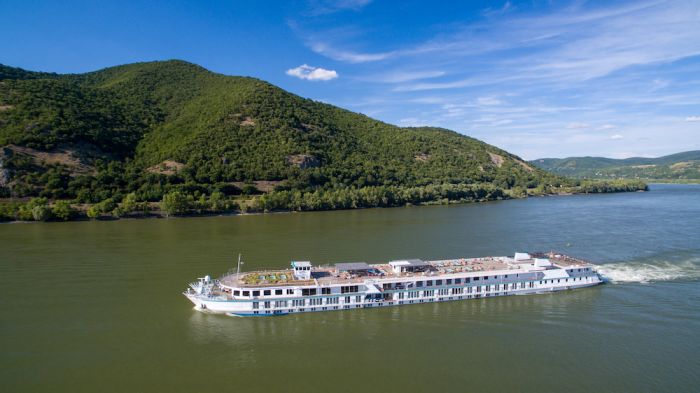 All images courtesy of Riverside Luxury Cruises
River cruising is one of the best ways to experience several great destinations on a tranquil journey. But the industry has largely been reserved for an older demographic, primarily retirees, off to see the world.
But one newcomer on the scene, Riverside Luxury Cruises, is out to elevate the entire river cruising experience while attracting a younger demographic. Seaside Collection, a German hospitality company that owns and operates luxury hotels in Germany, Spain, and the Maldives, purchased the former Crystal fleet of ships in 2022.
I sailed on one of the Riverside Mozart's inaugural sailings from Vienna to Budapest recently to get a better understanding of how this line plans to stand out from the pack of river cruises. And I'll admit, my expectations were exceeded.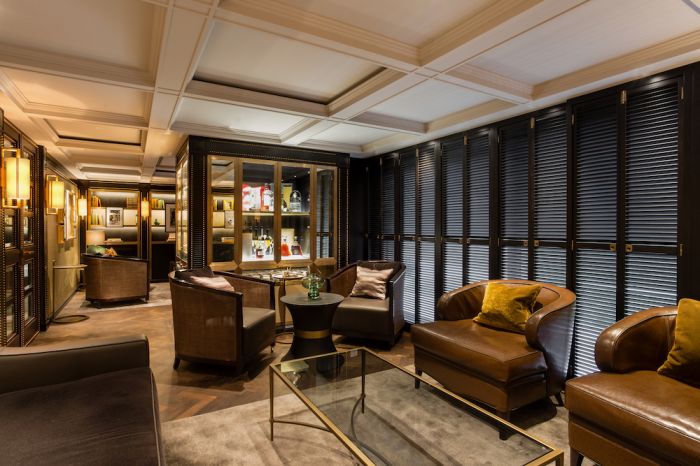 The Connoisseur Club aboard the Mozart
Prior to boarding, most experienced river cruisers will note the sheer size of the Mozart. At 23 meters wide, it's the widest ship on the rivers which is quite evident when you park tandem alongside other ships. The Mozart is twice the width of other ships and that extra space adds for a more relaxing, luxurious experience. The ship accommodates 158 passengers and sails with a hospitable crew of 82.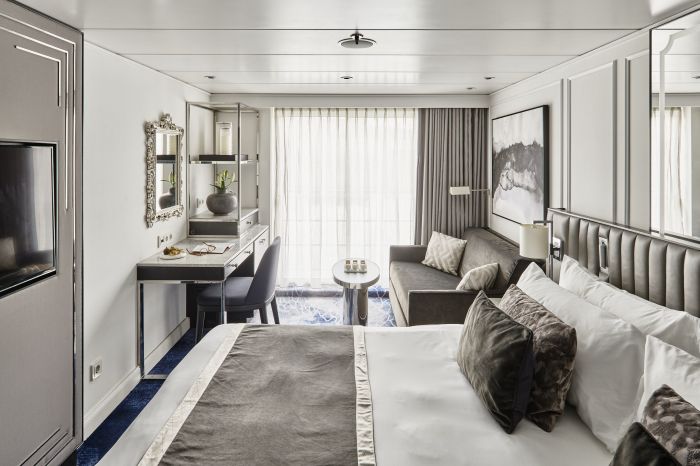 Riverside Luxury Cruises
Riverside Suite
Accommodations on the Mozart
All staterooms on the ship are suites, ranging from the 219-square-foot Riverside Suite to the 883-square-feet Owners Suite. Amenities include French balconies, marble bathrooms, Toto toilets, Nespresso®machines, and in-suite hors d'oeuvres and daily canapé service. But the best feature, by far, is having a personal butler at your beck-and-call.
Dining on the Mozart
I had read that one of Riverside's objectives, in addition to opening up the river cruise market to more (younger) travelers, is to stand out for its culinary and wine offerings. The chef focuses on serving meals à la minute with inspired local specialties that change with the destination. But Riverside is also committed to giving guests more dining choices. The Mozart features four restaurants (yes, you read that correctly, 4!), including a pop-up barbecue on deck with Big Green Eggs. But the exclusive Vintage Room is not to be missed, where you and 11 of your friends (including newfound ones), can enjoy a 7-course dinner with wine pairings. I will admit the ship's room service also came in handy for those early morning excursions.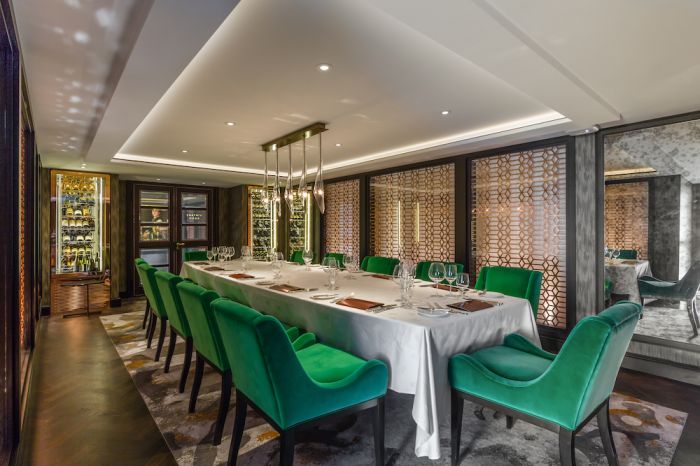 The Vintage Room on the Riverside Mozart
Onboard the Mozart
With all that extra space, the Mozart really offers some amazing onboard activities. The upper sun deck is the perfect spot for relaxing along the river with plenty of deck chairs, bean bags and loungers. I especially loved the large flower and herb gardens on the deck which can make you forget you are on the water. The ship's spa was my excursion of choice. The indoor pool (with a current for fitness swimming if that's your thing) was a great place to cool off after a day of exploring. I used the hot tub, sauna, steam room, and showers to create my own hydrotherapy circuit. The indoor gym was well-equipped and spacious. The spa offers massages, body treatments, facials, and salon services.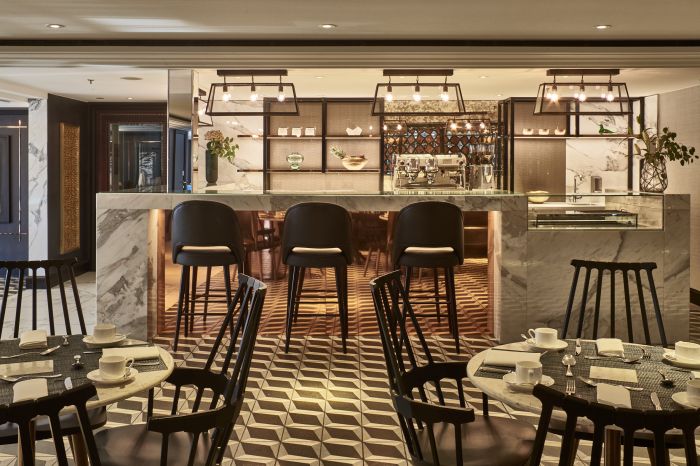 The bistro on the Mozart
Excursions on the Mozart
Although I found it pretty hard to leave the spa, the stops along the Danube presented some great opportunities for exploring. While the planned tours give you a little bit of everything, we rented e-bikes one day and took regular bikes (the Captain joined us) another day for our own curated tour. More adventurous, bespoke excursions are one way that Riverside hopes to attract a wider demographic, but also through exclusive offerings that no other river cruise can offer. As guests of the Mozart, we were treated to an after-hours tour of Vienna's Belvedere Museum for a private viewing of Gustav Klimt's famous painting "The Kiss." The company aims to offer one of these exclusive offerings on each itinerary.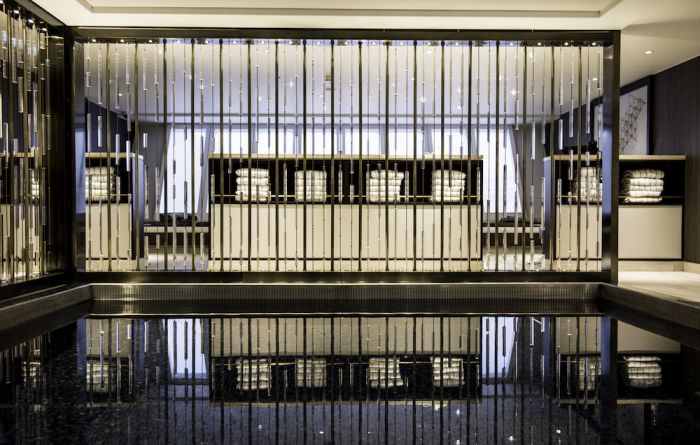 The spa on Riverside's Mozart
After I experienced Riverside Luxury Cruises, I had the opportunity to speak with the company's Americas CEO, Jennifer Halboth, about her plans to not only elevate the river cruise industry through the brand's ships, but also to attract new-to-the-industry travelers. "At Riverside, we're putting things in place to attract like-minded luxury travelers who enjoy good food, good wine, and great design," she said. "We want to see travel advisors offering river cruising to travelers in the 40-ish age range, not just to those 55+. People are traveling internationally much earlier in their lives these days so we want them to experience river cruising so it becomes one of their go-to vacations."
Riverside will be adding Starlink internet to its ships for remote workers. The company will expand its excursion offerings to include "things people can't do on their own" like private tours, exclusive access to local attractions, and opportunities to experience local culture. From pop-up bars onboard to more active and adventurous excursions to more intimate evening entertainment like a master violist, the company has a lot planned. "I want our guests to discover a really unique recipe on a curated excursion and take it home with them and make it for their friends to show their peers what a cool form of travel river cruising is," according to Halboth. "At the end of the day, we're here to create memories."