Tivoli Palácio de Seteais: part of Tivoli Hotels & Resorts Timeless Tour
Touring Portugal in Tivoli Style
It is an understatement to say that Portugal is having a moment. Visitors are exploring—and sometimes moving permanently—to Europe's western most country in record numbers. A cosmopolitan atmosphere, rich history, fine cuisine, and a strong dollar make it an exceedingly attractive destination. In an effort to see what all the fuss is about, I enlisted Portugal's grand dame hotel brand to reveal its country's treasures.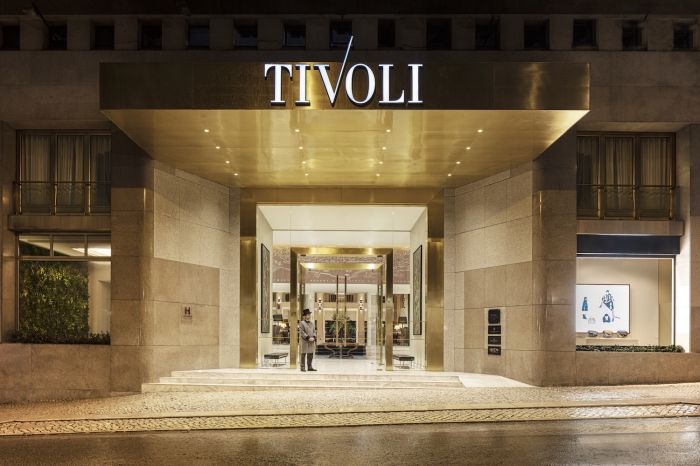 Tivoli Hotels & Resorts Timeless Tour is your curated guide to Portugal
Celebrating 90 years, Portugal's Tivoli Hotels & Resorts offer the best peek into Portuguese culture, and the brand's commemorative Timeless Tour provides an ideal—and decadent—manner in which to experience the best of the Iberian Peninsula. This tailor-made journey amongst Tivoli's five-star hotels provides a red carpet rollout to elegant accommodations, scenic vistas, culinary aspirations, and enriching cultural and historical enlightenment. Customized to my interests, the tour left me relaxed, inspired, and buoyed.
LISBON
My adventure began at the Tivoli Hotels & Resort's birthplace, Lisbon's Tivoli Avenida Liberdade, located along the capital city's exceptionally urbane avenue and surrounded by names such as Gucci, Prada, Burberry, and Louis Vuitton. After my luxury car transfer from Humberto Delgado Airport, I relished a much needed Anantara Spa Jet Lag Revival treatment prior to enjoying lunch within the hotel's elegant signature restaurant Cervejaria Liberdade, the menu of which was rife with the freshest seafood, and with Portuguese specialties such as the codfish based Bacalhau a Bras.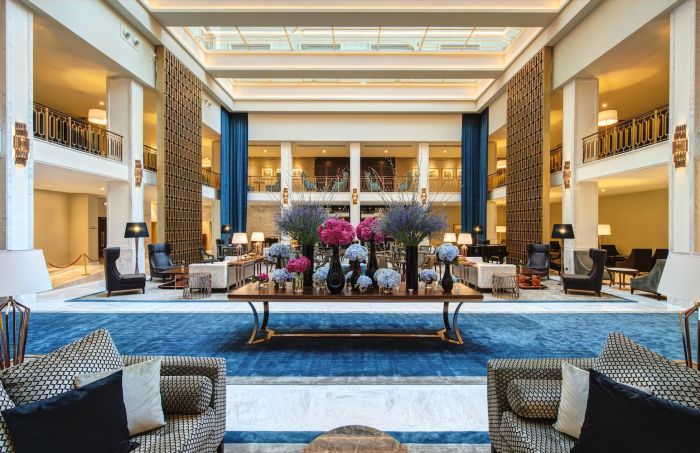 The gracious lobby at Tivoli Avenida Liberdade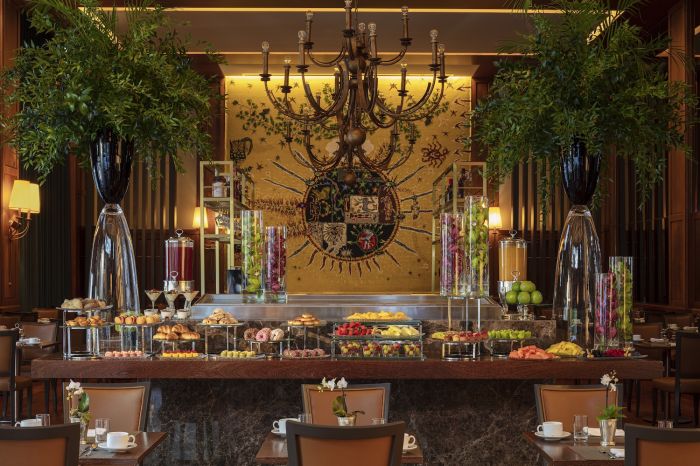 Breakfast buffet at Tivoli Avenida Liberdade's Cervejaria Liberdade
Late night sustenance was provided by Lisbon's undisputed hot spot, the hotel's rooftop SEEN by Olivier—the double entendre name of which references the scenic skyline as well as the energetic "see and be seen" vibe. The softly illuminated interior hummed with DJ-spun tunes which perfectly complimented a menu of creative sushi dishes, oysters, and Brazilian fare.
Over the course of my two days in the City of Seven Hills, I toured each of those elevations via Tuk Tuk, stopping at every scenic panorama, and with the guidance of a personal shopper, dipped into storied retailers such as the historic fragrance house Claus Porto (which supplies the hotel's luxurious bath amenities), and silversmith and renowned jeweler to the Portuguese crown Leitão & Irmão.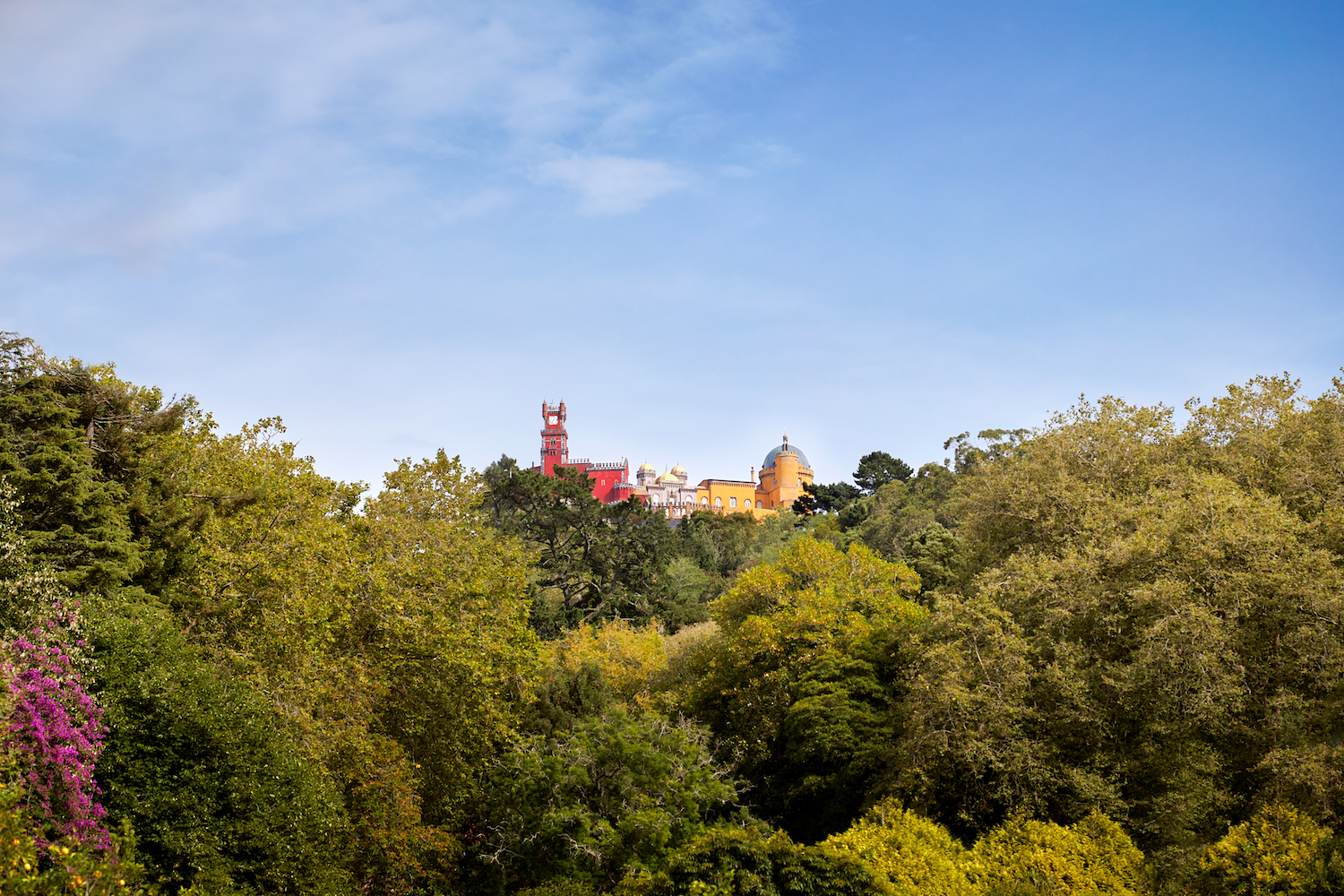 The famed Pena Palace as viewed from Tivoli Palácio de Seteais
SINTRA
Next, it was on to enchanting Sintra, a UNESCO World Heritage Site and long a romantic vacation retreat for royalty and nobility. Lush with rolling hills and labyrinth-like streets, and embraced by the sea, the region's fog and drizzle only added to the mystical atmosphere, as did my elegant 18th century accommodations at Tivoli Palácio de Seteais, where colorful peacocks roamed freely, aiding the imperial vibe. A greeting of fresh lemonade from the onsite citrus orchard set a welcoming tone, as did the playlist of smooth bossa nova covers. This 30 room boutique hotel provides an authentic and whimsical base for discovering Sintra and nearby beach town Cascais. Featuring hand-painted, historic frescoes, rich tapestries, period details, and verdant gardens, Tivoli Palácio de Seteais is the closest one comes to experiencing Sintra as did those during the Age of Enlightenment.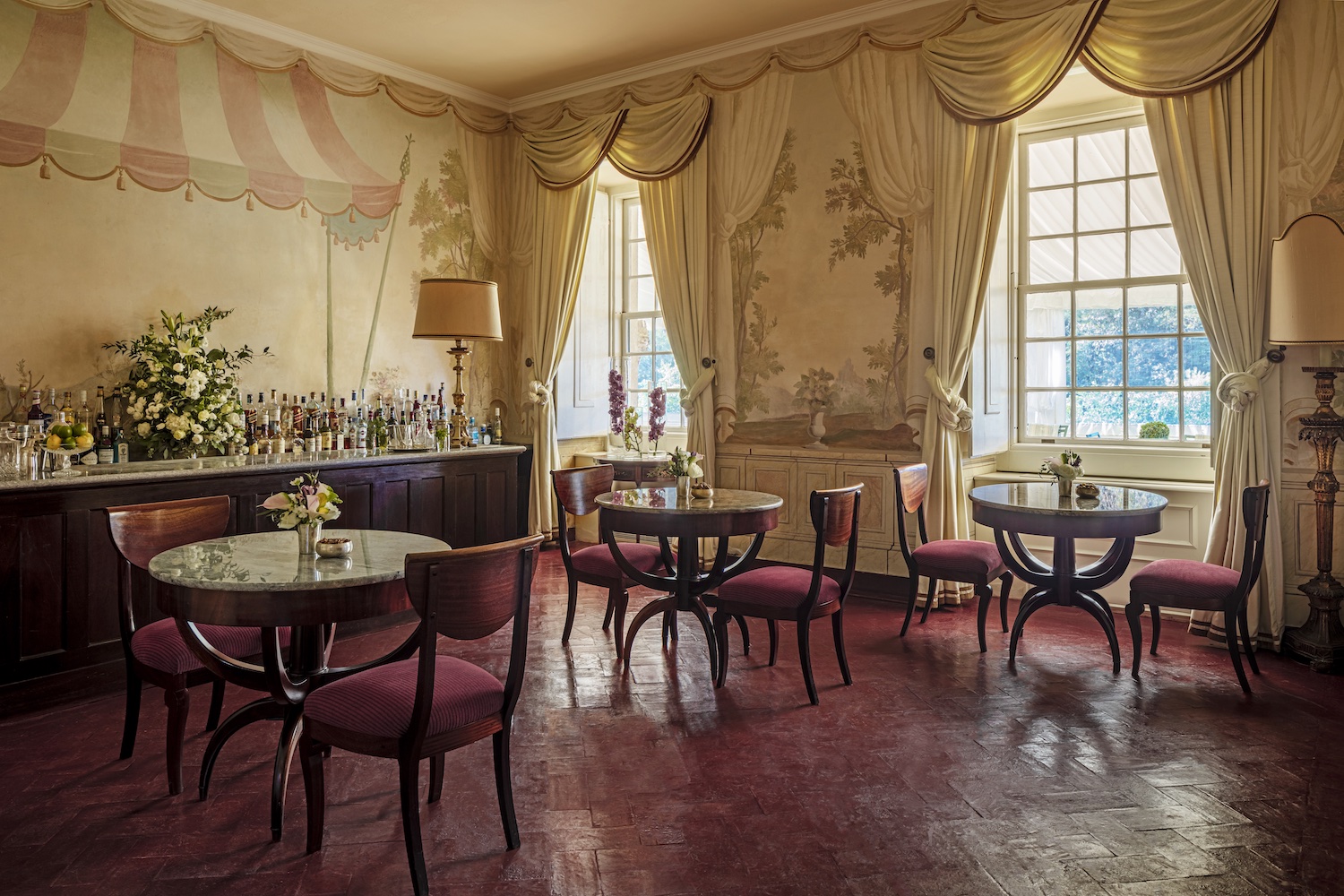 The Tivoli Palácio de Seteais bar features 18th century hand painted frescoes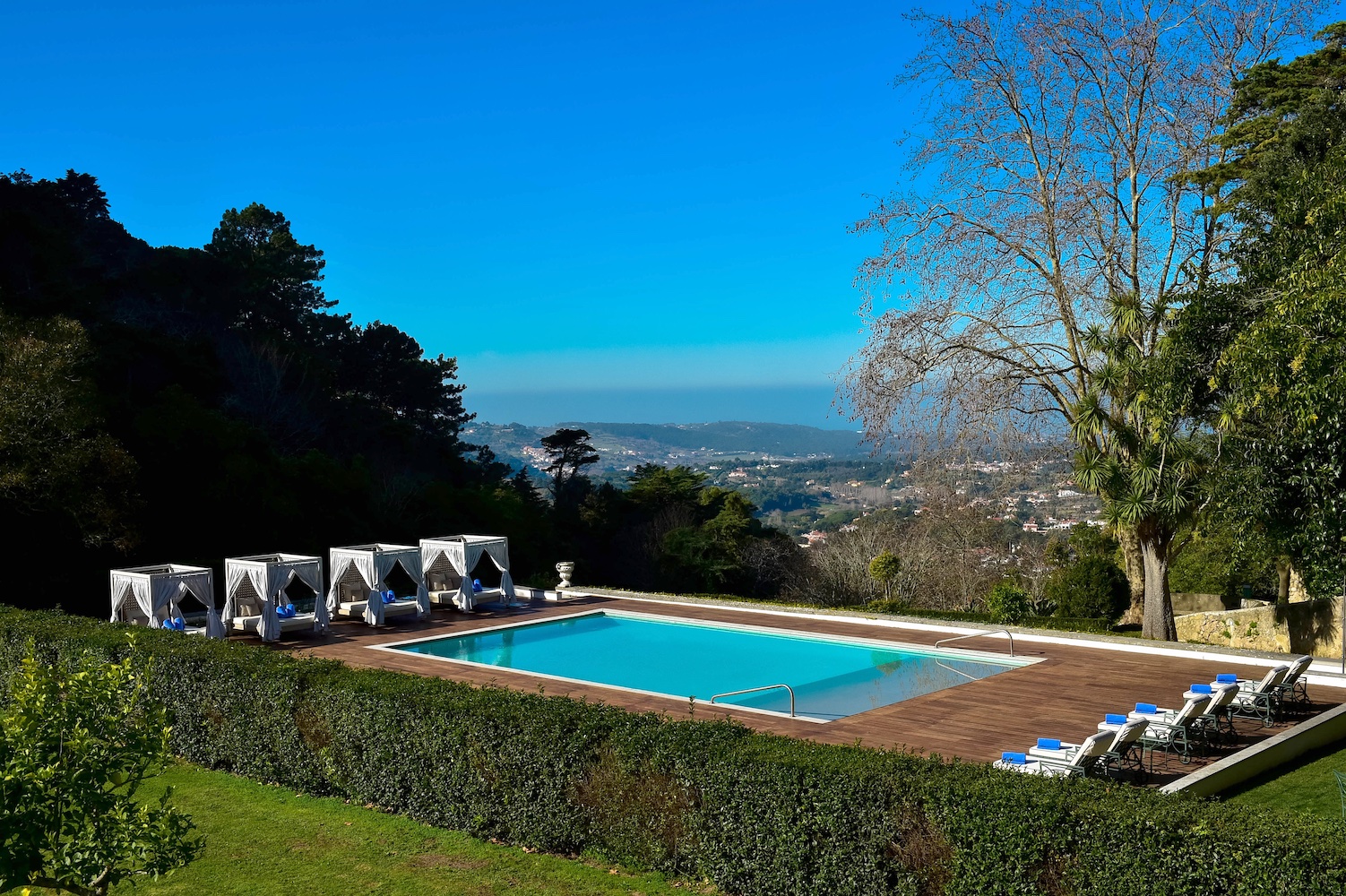 The beautiful swimming pool at Tivoli Palácio de Seteais
My Timeless Tour included a bespoke picnic lunch, a personal tour of the famed Pena Palace gardens, cocktails within the hotel's stylish bar, gourmet dinner within the ornate Seteais dining room, and a bountiful breakfast buffet to behold. In warmer weather, an outdoor terrace, resort-like pool, and chaise lounges provide welcoming spots to enjoy al fresco meals. And a dedicated wine tasting room—named for the unique Malvasia de Colares varietal, the result of the region's unique microclimate—invites tastings of Portugal's most unusual wines.
THE ALGARVE
Though Tivoli Palácio de Seteais is a place to linger, my tour continued, down the coast to Portugal's most southern region, the Algarve. This vacation destination of sandy beaches, turquoise water, and craggy, limestone, coastline cliffs that transform with every winter storm, is quickly becoming one of Europe's most popular spots, and Tivoli's two local hotels provide ideal home bases for exploration.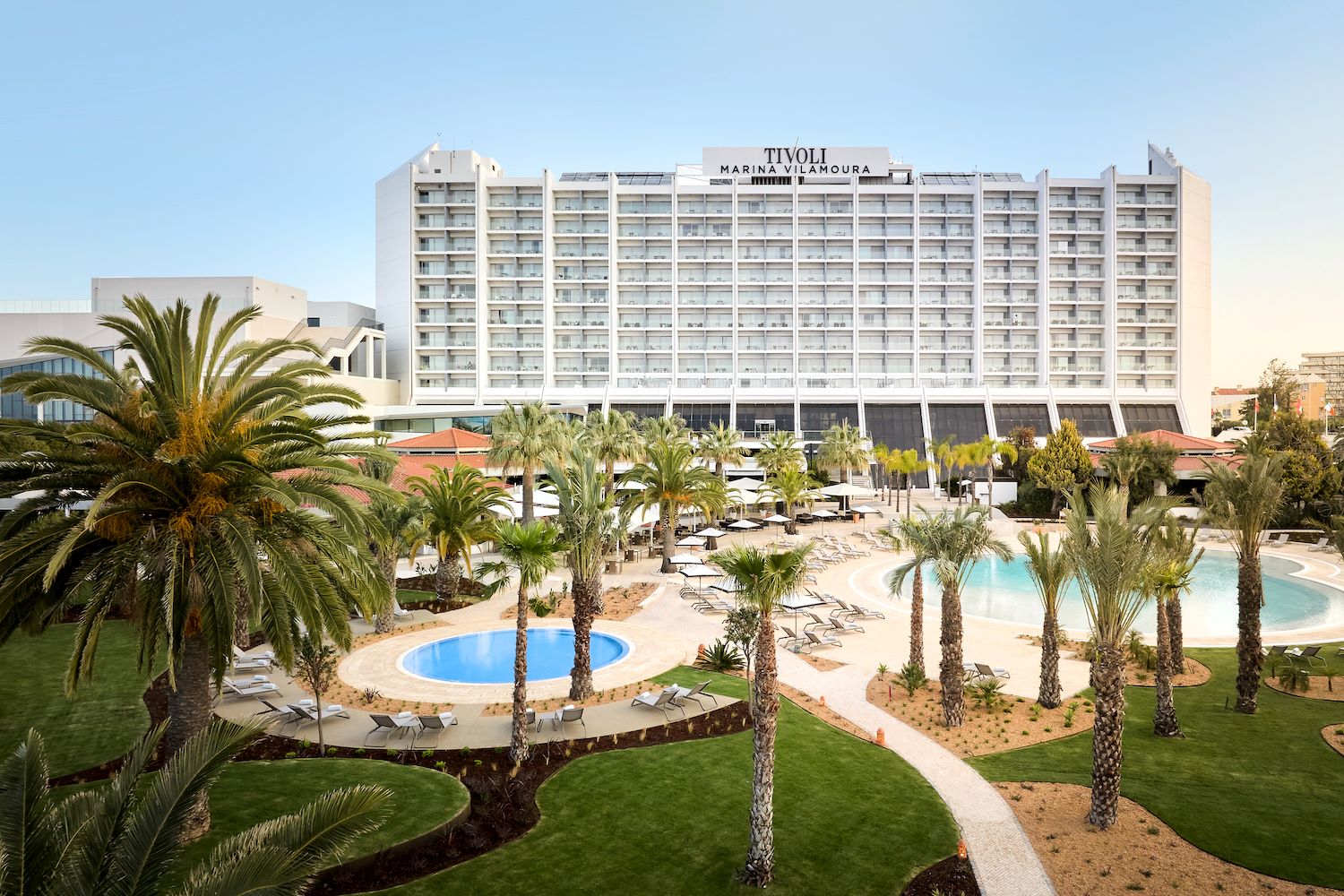 Tivoli Marina Vilamoura is modern, vibrant, and energetic
Where Tivoli Palácio de Seteais provides a step back in time, Tivoli Marina Vilamoura is modern, vibrant, and energetic. My 9th floor, Atlantic Ocean view room had me gazing upon the massive pool and the popular Purobeach club, where during warmer months, an al fresco DJ spins popular tunes for sunbathers. A marina view is the other option; rooms on this side look out over the yacht-filled harbor, lined with lively restaurants and bars. Yet guests need not venture out to enjoy the best in local libations. The hotel's Argo Cocktail Bar offers a refined setting to enjoy its "Argologists" and their intriguing mixology of classic cocktails reimagined with innovative allure and concocted from exotic ingredients inspired by journeys along the ancient spice routes.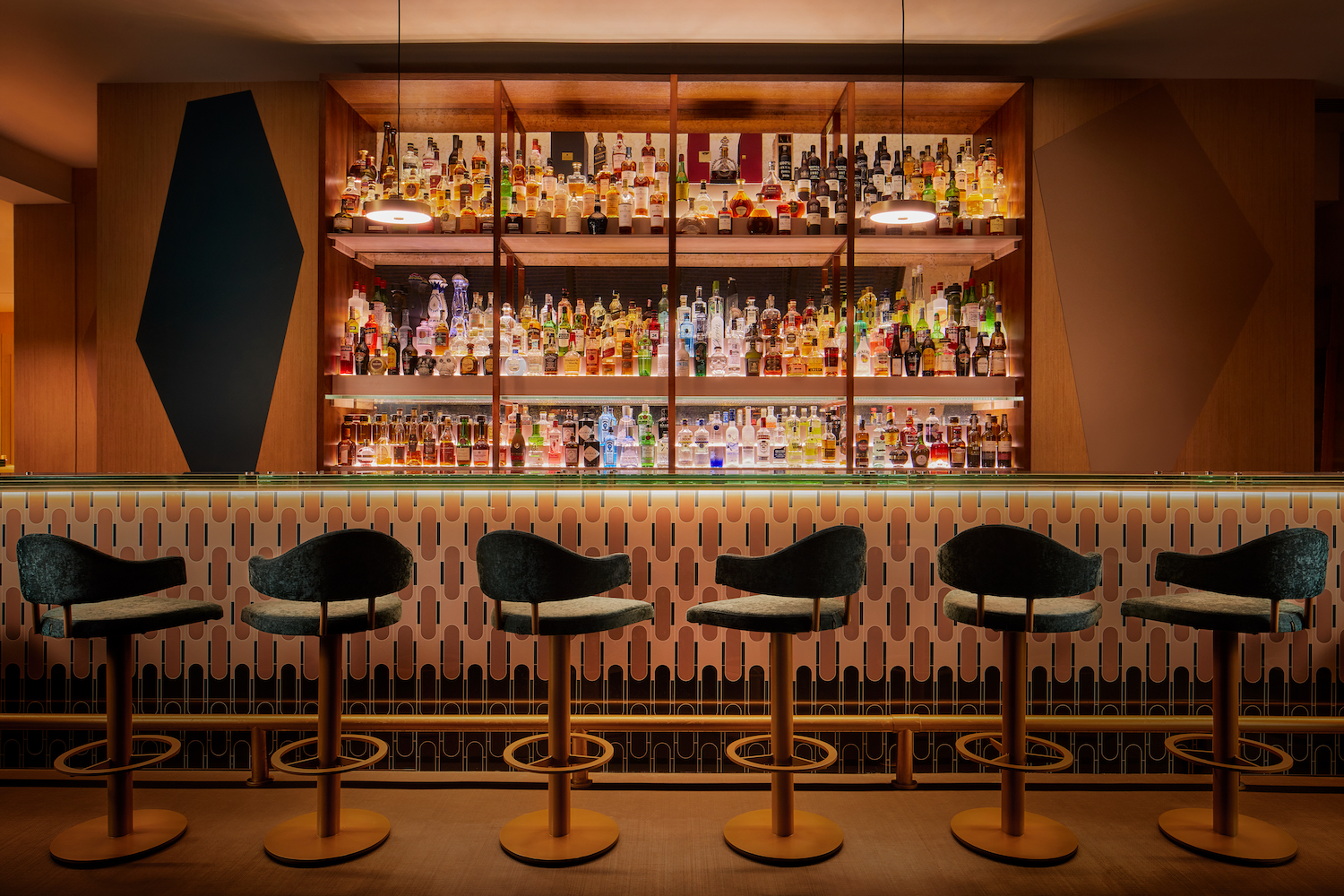 The Argo Cocktail Bar at Tivoli Marina Vilamoura serves innovative cocktails
Offerings from Argo Cocktail Bar's adjacent Pepper's Steakhouse—prime cuts sourced from around the world, seafood from across the waters, and an extensive wine list presented by a knowledgeable sommelier—rivaled that of the world's finest restaurants. And on my second night at Tivoli Marina Vilamoura, my Timeless Tour allowed for a Presidential Suite repast, complete with candlelight, music, and private dinner service.
Excursions included a transfer to the small, historic town of Loulé where a guide toured me through the Loulé Market and Loulé Criativo local craftmanship exhibition. Additional Timeless Tour options included afternoon tea, or a chocolate/wine pairing at the hotel's Glee Boutique Café, and of course a spa treatment at the hotel's Tivoli Spa.
Tivoli Carvoeiro hugs the Algarve's Vale Covo coastline
Next stop: Tivoli Carvoeiro, in great contrast to Tivoli Marina Vilamoura's flat sand beaches. Situated high atop the Algarve's rocky Vale Covo coastline, Tivoli Carvoeiro is oriented for spectacular ocean views, and its access to the miles long Seven Hanging Valley's walking trail (where my personal Timeless Tour guide led me to the most outstanding vantage points) make it an adventurer's dream. This hotel is also a gourmand's dream. During high season, locals and hotel guests gather at the rooftop Sky Bar for music, crafted cocktails, and the freshest sushi. And the hotel's The One Restaurant, well-known as one of the region's best, provides an outstanding dining experience where each course conveys the Algarve's unique story through exceptional flavors, textures, and aromas. Superlative wine pairings place an emphasis on regional varietals.
Each Tivoli hotel on my Timeless Tour was an utterly unique expression of its region, yet unified in their Tivoli brand-wide characteristics, such as the sumptuous Tivoli bed (with its crisp linens), luxurious bath amenities, gracious service, and exceptional cuisine. Count me as a new Tivoli Hotels & Resorts fan. I couldn't have asked for a better introduction to this land of the three F's (Fado music, Futebol, and the Fátima pilgrimage).
Photos courtesy of Tivoli Hotels & Resorts