By Lena Katz Jul. 24th, 2012
Real-life Magic Mikes strutted their stuff for an enthusiastic crowd July 19th, 2012 at the W Fort Lauderdale for the Third Annual 'blissguy' Fort Lauderdale Competition—and U.S. Airforce man Cole Barkett wound up winning the title. Though organizers this year were quick to piggyback on the Magic Mike movie buzz, the 'blissguy' search has actually enjoyed plenty of local support and media attention since its first run in 2010. It's a 180 from the traditional bathing suit competition—instead of lovely ladies in bikinis, it is men who appear in front of the judges who hail from Ford Models Miami, Original Penguin Menswear, Bliss Spa. This year's judges also included celeb hairstylist Ted Gibson.

After going through multiple competition rounds including a swimwear competition, dance off, and Q&A, the judges select one winner to represent "the best of health, wellness and hunky-guy glamour for the next year" on behalf of bliss spa Fort Lauderdale. We caught up with Burkett backstage right after his win to ask how he got into this in the first place, what's next, and how it feels to be the guy who puts "The 'G' in grooming and the 'Man' in manicure."




JustLuxe: How did you hear about this competition/decide to enter?

Cole Barkett: I was in the mall and the bliss representatives approached me to enter; they were hosting a Casting Call at Original Penguin. I couldn't make those that day, but I ventured to W Fort Lauderdale the following weekend to enter.

JL: What does your mom think?

CB: She expected me to win. But that's my mom. [And mothers know best.]

JL: On a scale of 1-10, how does this rank among the most exciting achievements in your life?

CB: 9 out of 10 – only because 10 out of 10 was proposing to my new fiancé. I just got engaged last week!

JL: Well, congratulations. And what's next? Will you use this to springboard over to Hollywood/Chippendales Las Vegas or a career in pageants?




CB: I have no idea – I did not expect to even make it to the top ten. Whatever comes my way, I'm up for it.

JL: As an official "face" of Ft Lauderdale hospitality, give us three reasons why you believe it's the best beach destination in Florida.

CB: W Fort Lauderdale, for one, has something for everyone. And you can bet that I'll be at the most happening W Happenings and bliss spa Fort Lauderdale events from now on. Where else in the country can you get sand, sea, sun, and the most energetic night life in the world? It's the perfect combination of relaxation and excitement.

JL: Any closing comments from our 2012 Bliss Guy?

CB: As a member of the United States Air Force, representing not only my city, but my country is always a pleasure and an honor.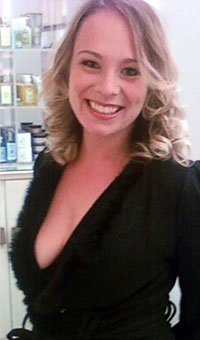 Lena Katz
Lena Katz is the author of the Travel Temptations series (SIP, SUN, SNOW), published by Globe Pequot Press in 2009. Lena is also a travel expert for Celebrations/1800FLOWERS and WEtv (online and on-air). She contributes to the South China Morning Post and ABC News online. Lena is a former Orbitz Travel blogger and former columnist for the LA Times. She's been published in Brides Magazine, Robb Rep...(Read More)