By Nicolle Monico Apr. 30th, 2021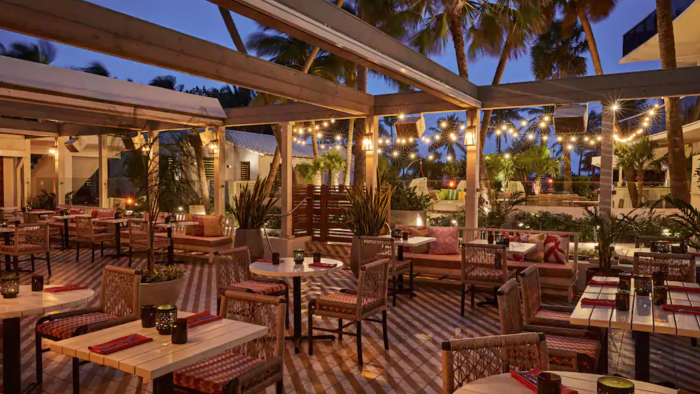 Photos Credit: The Confidante Miami Beach
Most travelers know that you can't do a Miami trip without experiencing the city's stellar dining options; regardless of your specific tastes, the Magic City's food and beverage scene is one of the best in the U.S. From mom-and-pop eateries to authentic Cuban establishments and celebrity-chef-led menus, you could spend your whole vacation experiencing the culinary scene and still need more time to explore the area's best restaurants.
During a recent visit this past April, we visited one of the area's newest hot spots: Ambersweet at The Confidante Miami Beach, an oceanfront property in the heart of mid-Beach. Named after the fruit of the same name—which can only be grown in Florida—Ambersweet's menu is an ode to the city's fresh, local ingredients and many distinct cultures.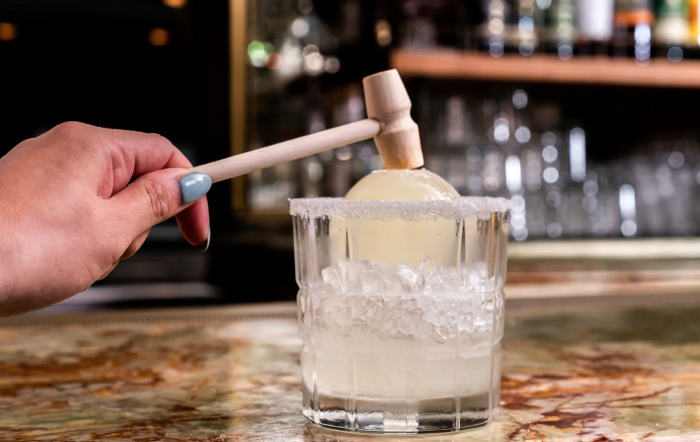 Upon arrival to the property, guests are welcomed into the eclectic and retro-glam world of The Confidante, giving them their first taste of what's to come at Ambersweet. With 3,671 square feet of space, the restaurant offers seating in its elegant dining room indoors or outside on its expansive patio surrounded by lush foliage and twinkle lights. Inside, you'll find tropical decor, whimsical accents and mid-century designs, creating a vibe that harkens back to the city's heyday.
Offering an extensive wine and cocktail list, the restaurant's beverage options showcase the area's local ingredients while crafting a playful twist on classic drinks. Using house-made syrups and fun garnishes such as the DropMe Lemon Drop's ice sphere which comes with a mini hammer to crack, the drinks are standout menu items on their own. The restaurant also offers a weekly wine tasting every Wednesday led by its General Manager Pascal Pinault which includes a chef's section of food paired with three wines.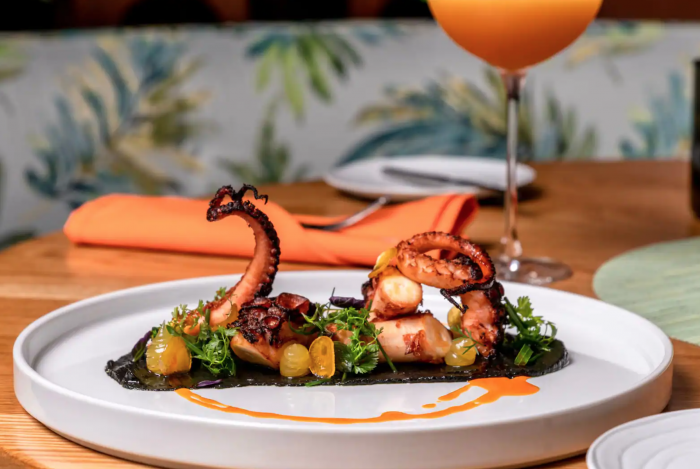 Led by Executive Chef Armando Diaz in partnership with Senior Restaurant Chef Rachel Nugent, the menu features sophisticated but approachable dishes combining the area's international flavors mixed with modern American cuisine. While there, Chef Nugent explained that many of its dishes feature citrus, whether subtle notes or more bold flavors coloring the dish in order to pay homage to the Ambersweet fruit.
Among its many provisions, we suggest starting with steak tartare and the crispy octopus. The latter is made with burnt onion, Meyer lemon, chili and herbs and topped our list of favorite dishes. Flavorful and intriguing, the octopus is the type of dish you'll find yourself coming back for time and time again.
For mains, the seared scallops with cauliflower puree, golden raisins, brown butter and citrus proved to be the perfect blend of savory and sweet. Or for something a little heartier, try the 10 oz. Dry Aged NY Strip with chimichurri and add a side of Romanesco dressed with citrus pesto, ricotta salata, Marcona almond and lemon basil.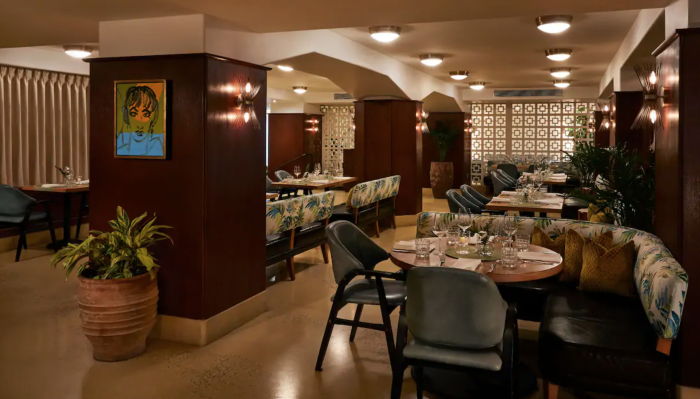 After dinner, finish your evening with a Toasted Almond martini made with Amaretto, coffee liquor, half & half and garnished with shredded coconuts and a cinnamon stick. While as rich as it sounds, it's a great way to end the meal when you need that extra little something-something to satisfy your sweet tooth. Or, if you're eager to keep the night going, pop over to the adjacent Lounge and mingle with locals and guests alike while enjoying live music from local musicians several nights a week.
Whether visiting from out-of-state or you're a local looking for your new favorite haunt, Ambersweet should be high on your list of restaurants to experience.

Nicolle Monico
Nicolle is an award-winning writer and Travel Editor using her expertise in the industry to write about luxury travel around the world. You can find her daily searching the web for the latest trends, best new hotels and most beautiful destinations to visit and share with her readers. She's been featured on The Huffington Post, Hard Assets, AMD Entertainment and Remy Martin. In 2014, she was vo...(Read More)