By Carin von Berg Jul. 6th, 2021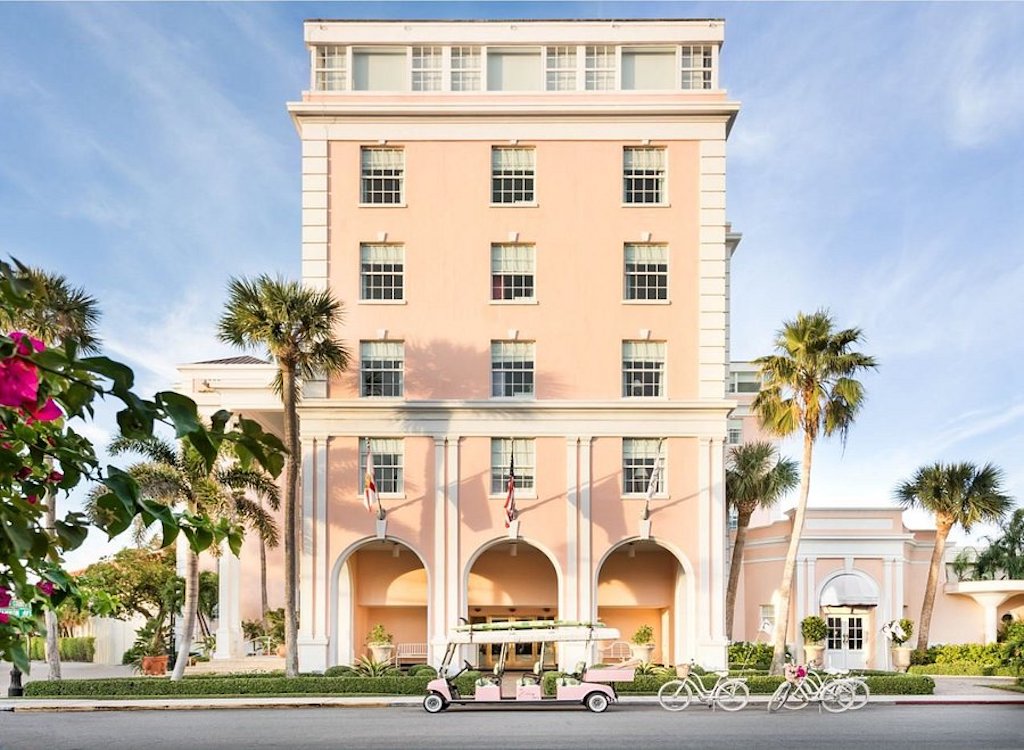 The Colony Palm Beach
It's no secret that thousands of New York City dwellers have recently relocated to Florida in order to escape Covid restrictions, crime surges and a ghost town-like atmosphere. Between September 2020 and March of 2021, 14,045 New York residents moved to Palm Beach County alone, bringing many people to dub it the "Hamptons of the South".
Palm Beach has long been a favorite winter vacation spot for the wealthy, thanks to Standard Oil Tycoon Henry Flagler who first developed the Royal Poinciana Hotel back in 1894, transforming the island from jungle and swamp land to a rich man's paradise. Addison Mizner also contributed greatly to the rapid development of the island by designing 67 structures between 1919 and 1924, including Via Mizner which is a section of swanky Worth Avenue.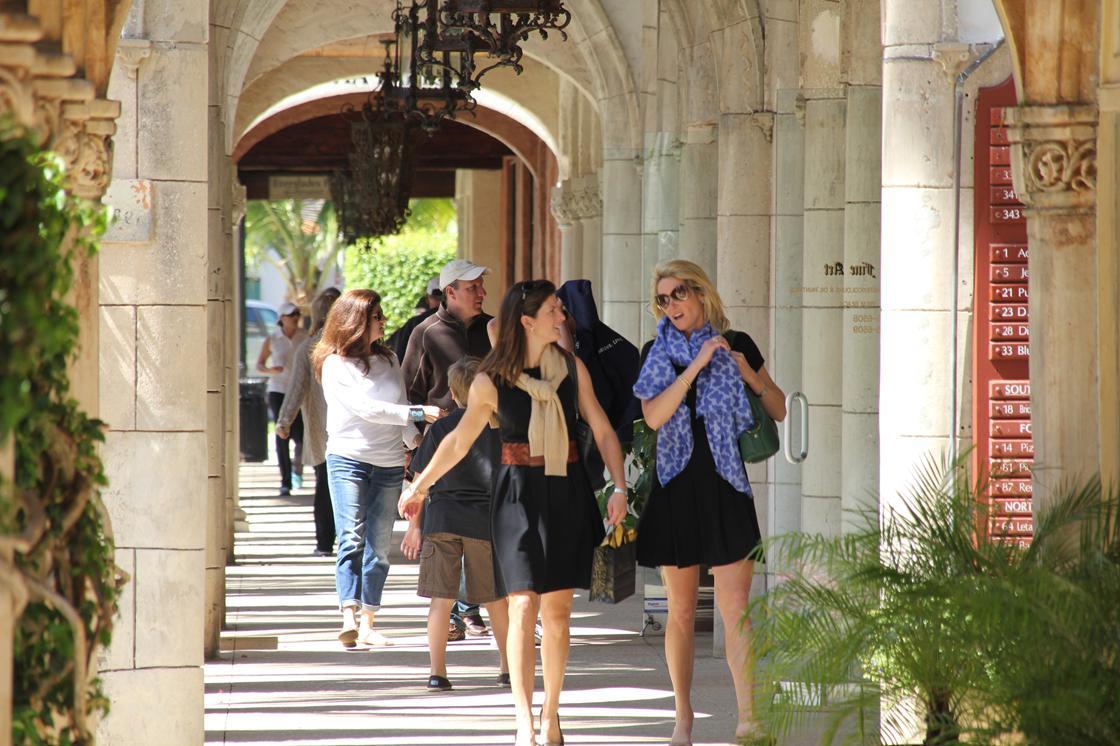 Palm Beach Daily News
With hedge funds and private equity tycoons escaping to Palm Beach to avoid high taxes, school closures and empty restaurants, it's no surprise that a slew of upscale restaurateurs followed suit, opening up New York institutions in fine dining including La Goulue, Sant Ambroeus, Le Bilboquet, Swifty's and Café Boulud.
For anyone who would like to experience a taste of all of the luxury that Palm Beach has to offer, the following establishments offer just that: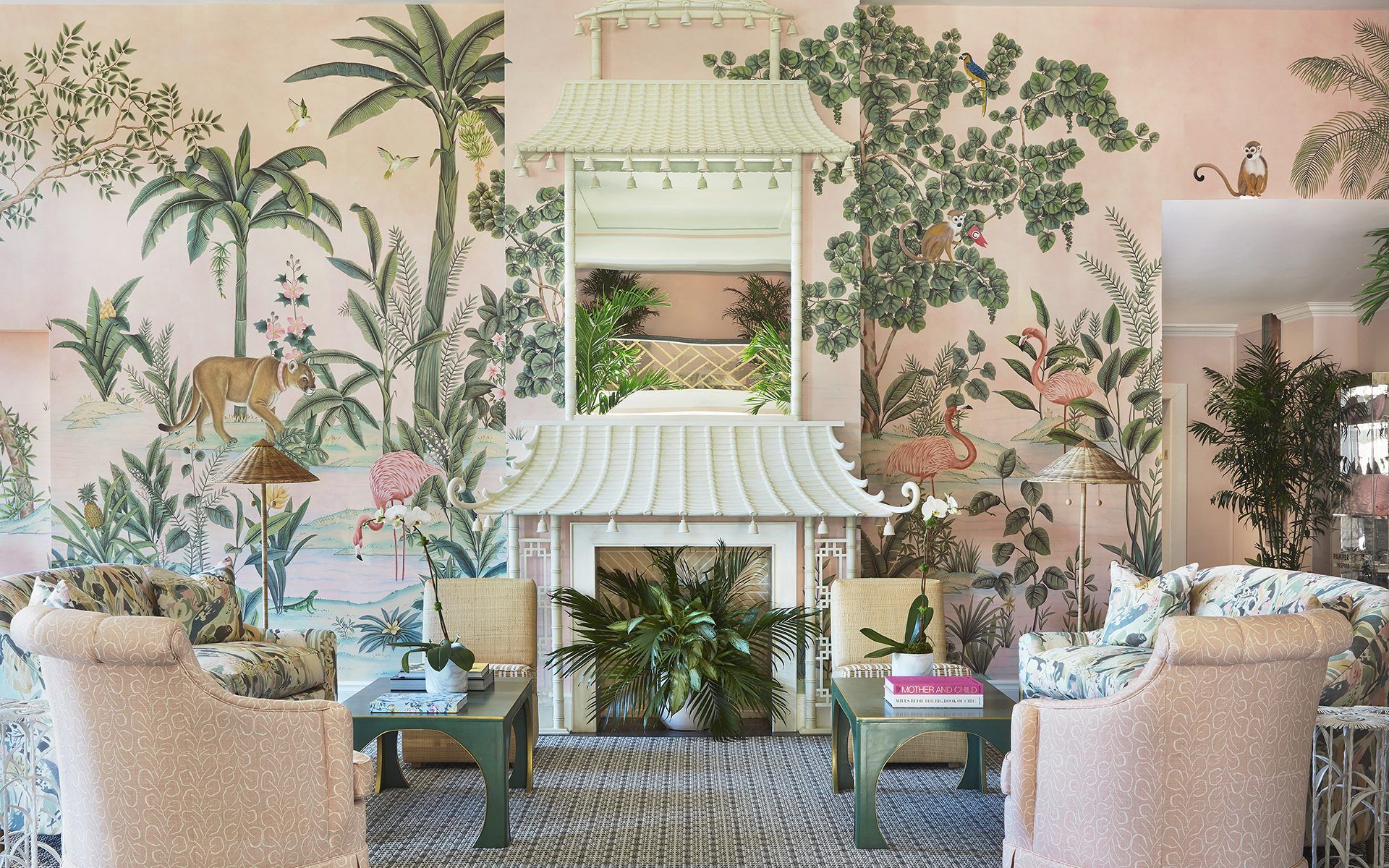 The Colony Palm Beach
STAY
For those craving exclusivities and elegance, look no further than The Colony Hotel. Located steps away from famed Worth Avenue and a five-minute walk from the beach, The Colony Hotel is truly the heart of Palm Beach. Put on your favorite dress from Lilly Pulitzer and prepare to step into a Slim Aarons portrait, complete with well-heeled guests, a buzzing pool scene, GQ valet staff, and the most inviting lobby you will ever set your eyes on. According to Palm Beach resident and owner Sarah Wetenhall, "The Colony is much more than a hotel-The Colony is a state of mind." Wetenhall, along with her co-owner husband Andrew, enlisted Celerie Kemble and Mimi McMakin of Kemble interiors to infuse the iconic property with new life without eliminating the preppy beach décor that Palm Beach is known for. You will find playful, muraled wallpaper with a tropical jungle theme, commissioned by de Gournay, adorned with bejeweled flamingos, monkeys and other exotic creatures spanning the entire lobby with the occasional white orchid peppered throughout. A black lacquered floor adds a chic touch that balances the more vibrant design elements.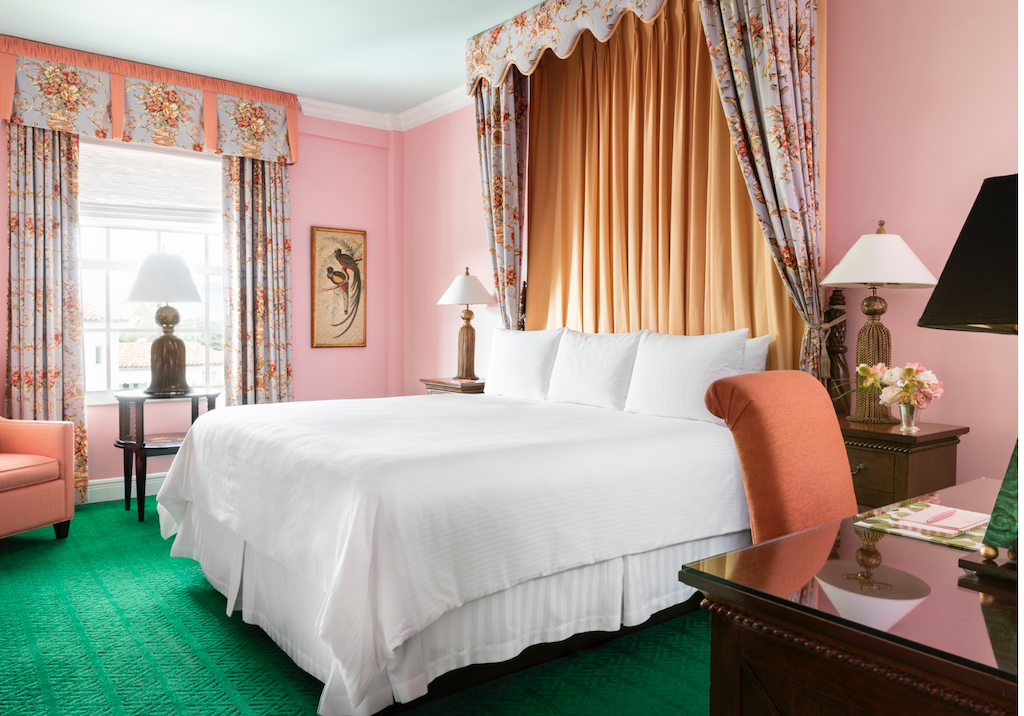 The Colony Palm Beach
The Kemble design teams' expertise also extends to the pool area, adding rattan furniture and scallop-trim umbrellas that reflect a bygone era that enticed socialites and stylish jetsetters to linger a bit longer over cocktails and canapes while sunning themselves. When hunger strikes, Swifty's POOL restaurant serves lunch, dinner and cocktails around the pool in addition to under the hotel's outdoor hanging garden. In the Living Room, guests and visitors can enjoy coffee, cocktails, and light bites daily from 3 p.m. to 9 p.m. Savor a Monkey Business cocktail to pair with your East Coast Beausoleil Oysters, caviar or tuna tartare before heading out on the town.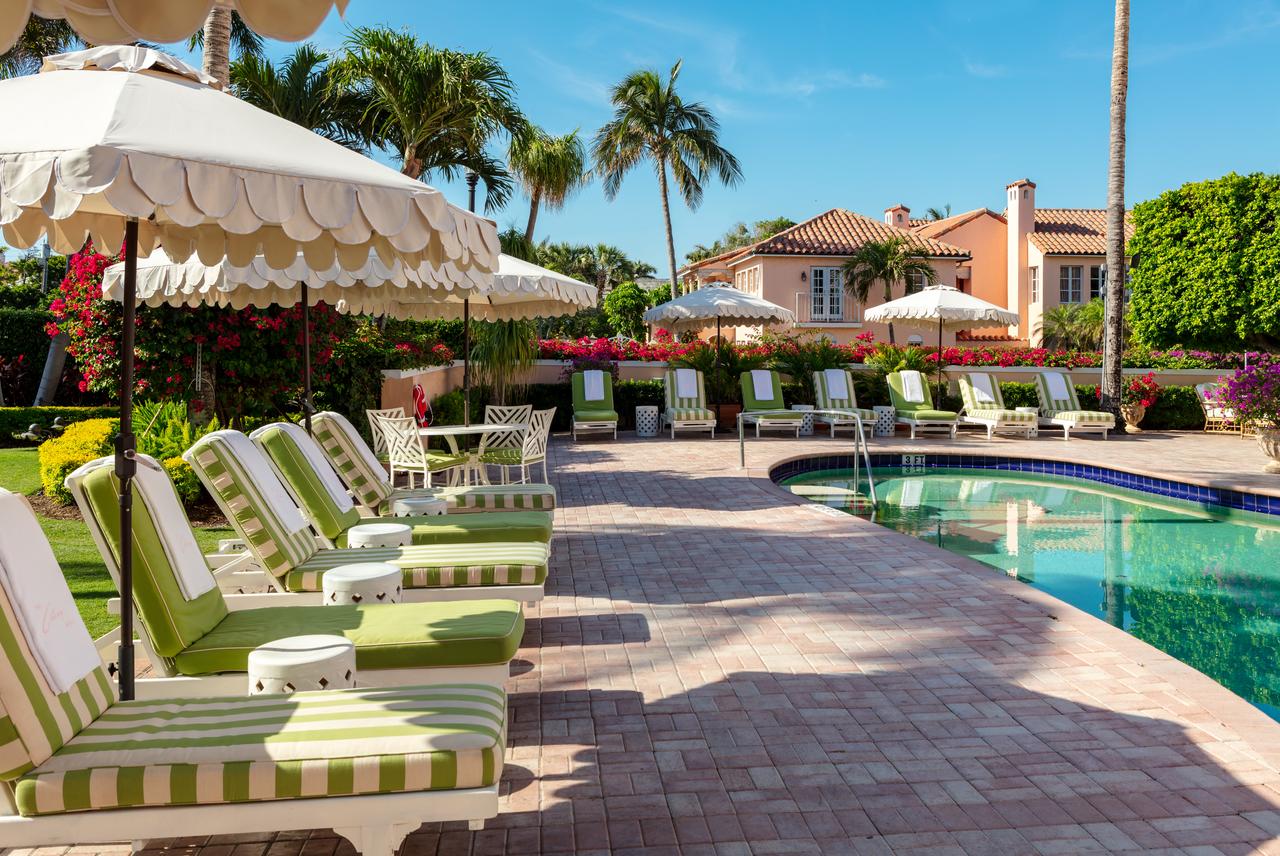 The Colony Palm Beach
Guests can choose from one of 89 unique guest rooms that feature interiors in colors from Palm Beach's palette of pink and green. Standard Guest Rooms are trimmed with dark woods and floral fabrics and contain either one king-sized bed, one queen-sized bed or two twin-sized beds. Premium Guest Rooms are larger while Junior Suites are styled after a pied-à-terre and suitable for both short and long-term stays. Superior Suites are perfect for families traveling with children as they have two bathrooms, one or two bedrooms and an intimate salon that can also function as an extra bedroom.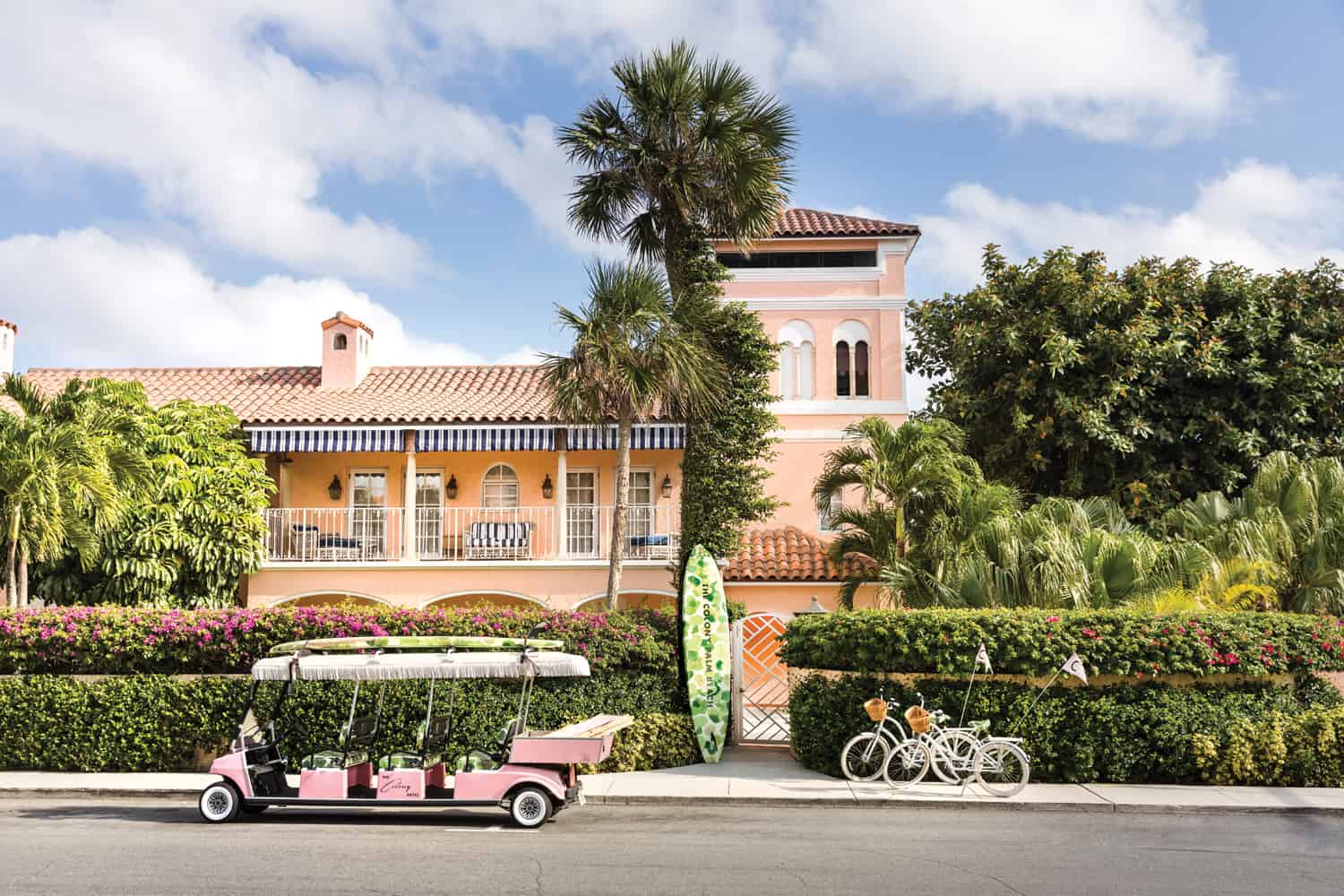 The Colony Palm Beach
The Colony's Villa Collection is the perfect option for any guest planning a stay of one month or more in order to fully enjoy Palm Beach's social season. Uniquely decorated with a color scheme, custom accents and furniture, each villa has a private entrance and includes a washer and dryer, kitchen, marble bathrooms and outdoor space. Villa guests share access to a private pool and parking.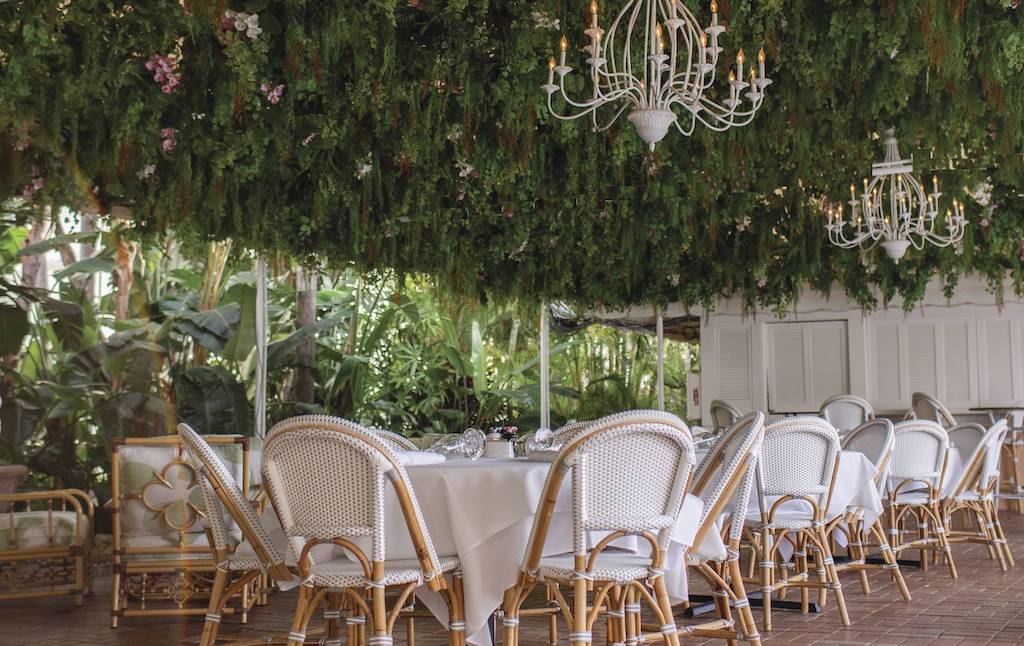 Swifty's POOL Palm Beach
BRUNCH
Swifty's POOL
Swifty's POOL is the newest addition to The Colony, delighting patrons with a colorful pool scene complete with live music sessions, signature events, a social hour, and impeccable culinary offerings. Brunch at Swifty's POOL is like none other, with an extensive Caviar Service with Beluga, Ossetra, Golden Kaluga and American Paddlefish offerings. Starters include Buttermilk Biscuits with honey and butter, Jumbo Lump Maryland Crab Meat, Jumbo Asparagus with a mustard vinaigrette and chopped egg and Chicken Liver Pâté. Popular salad choices are the Lobster Salad with Marie Rose, tarragon, iceberg, avocado, bacon, tomatoes and almonds and the slightly zesty Curried Chicken Salad. Brunch simply isn't brunch without eggs and Swifty's POOL does not disappoint with a classic Eggs Benedict with Canadian Bacon or smoked salmon, Crab Cakes Benedict with creamed spinach, capers and smoked paprika hollandaise, and Avocado Toast with creamy burrata, tomato and radish salad and 2 eggs to your liking. If your sweet tooth has gotten the best of you, order The Colony Cereal Crusted French Toast with pecan maple syrup and caramelized bananas. If you are in the mood for lunch, go for the Swifty's Cheeseburger, Maine Lobster Roll, Colony Club, Fish and Chips or Grilled Murray's Chicken Paillard.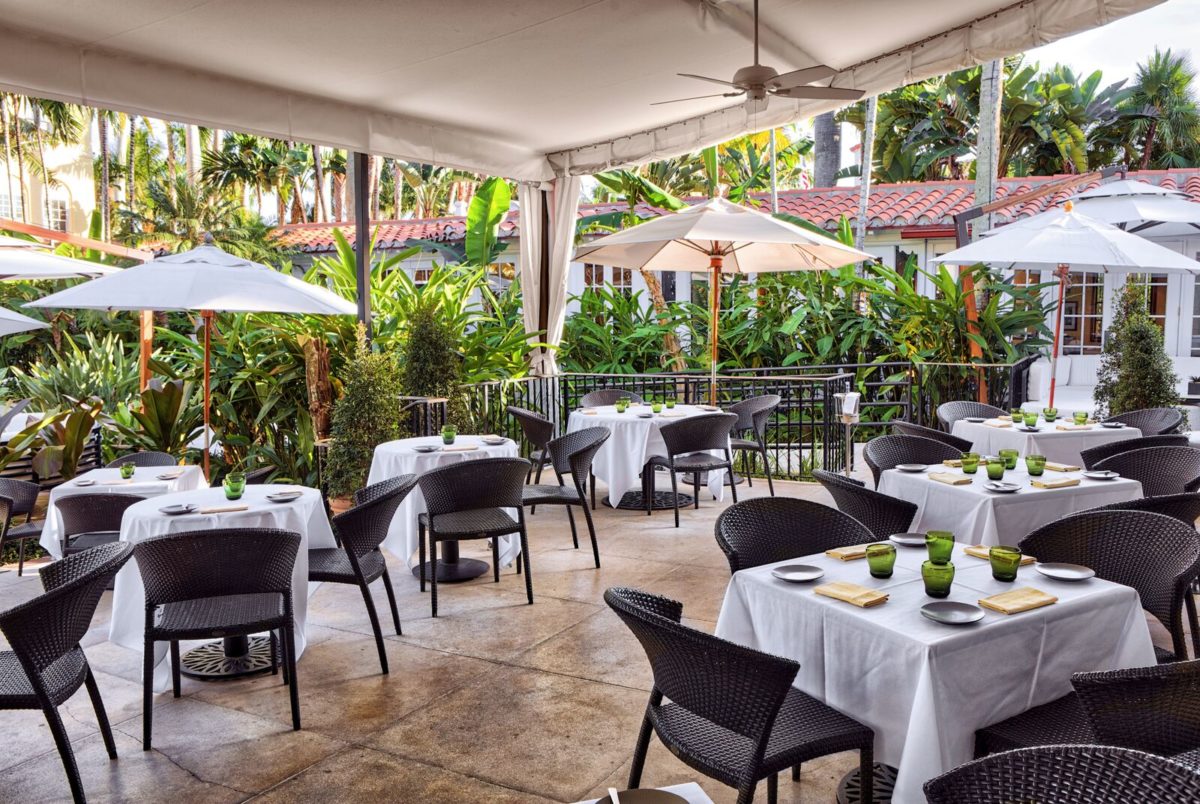 LibbyVision
LUNCH
Café Boulud
Open since 2003, Café Boulud is Chef Daniel Boulud's award-winning restaurant and the pride of Palm Beach. Located in the chic Brazilian Court Hotel, the upscale dining establishment is a favorite among the power lunch set as well as notable ladies who lunch. With both indoor and outdoor seating, Café Boulud is the ideal setting for a formal lunch or a romantic dinner on the terrace which overlooks a tropically landscaped courtyard. The modernized French American menu is a collaborative effort from Chef Daniel Boulud and Executive Chef Dieter Samijn. Locally sourced seafood is the star of the menu, infused with the classical French technique that made Café Boulud New York a culinary institution. Start with caviar or oysters or cool off with a vibrant and tasty Gazpacho Verde. If your taste buds find these options too tame, opt for the spicy Octopus a la Plancha or the Steak Tartare. Hearty appetites will delight in the selection of Dover Sole with sauce meuniere, an 8-ounce Black Angus Filet Mignon or the Pappardelle of braised rabbit with yellow feet mushrooms. The country club set will enjoy Café Classics such as the traditional Café Cobb, Wild Maine Lobster Roll or Salad Lyonnaise of confit duck leg, bacon and poached egg. Lunch is served Monday to Friday from 12 pm to 2:30 pm.

Henry's Palm Beach
DINNER
Henry's Palm Beach
Henry's Palm Beach is the epitome of all things classically American. From the stylish yet unpretentious décor, the friendly waitstaff, and the creative yet uncomplicated cuisine, Henry's is an underrated gem. New to Palm Beach's dining scene, Henry's must-have dishes for the table include Stone Crab Claws with mustard sauce (seasonal), Ahi Tuna Cones with wasabi cream, Beer Can Corn, Seared Brussel Sprouts with a Sriracha glaze, and Pigs in Pretzel Dough Blanket. Notable Hand Held items include a classic Lobster Roll, a Wood Grilled Filet Mignon Dip with caramelized onion jam, gouda and creamy horseradish and a Cuban Sandwich with mojo pulled pork. Entrées range from Cedar Plank Atlantic Salmon with a miso ginger glaze, Butter Crumb Dover Sole with creamy rice grits, Tavern Beef Wellington and a hearty and comforting Spaghetti Bolognese.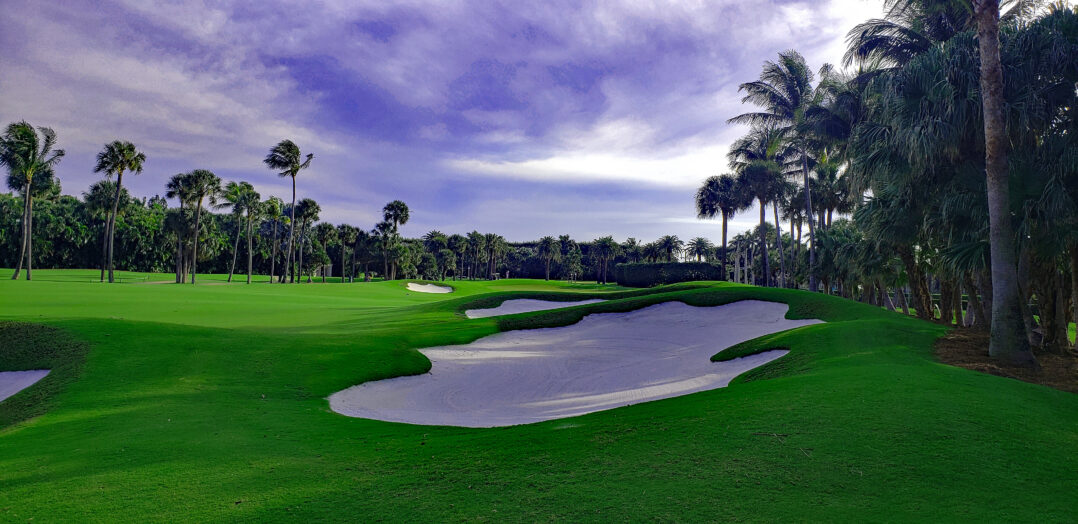 The Ocean Course Breakers Palm Beach
PLAY
The Ocean Course at The Breakers
All golf aficionados visiting Florida know that it is a sin to not set aside a tee time. The Ocean Course at The Breakers is Florida's oldest golf course. Originally designed in 1897, the course received a complete makeover by renowned golf architect Rees Jones in 2018, incorporating a variety of shapes, depths and contours with new salt-tolerant grass that elevated the course to a challenging new level. The revamped course features TifEagle Bermuda greens, six lakes, 56 sand and grass-faced bunkers, a 6,500 square-foot putting green, an 18,000 square-foot practice green and left-to-right and right-to-left holes. The course is a par 70 with yardage ranging from 4,823 to 5,778 and a slope range of 119 to 126. Private instruction and family-friendly clinics are available.
Carin von Berg
Carin von Berg lives in Los Angeles and writes about food and wine, luxury travel, beauty, fashion and luxury products. She is the editor-in-chief of Luxlife Magazine and the author of the novel Gucci Girl. In her spare time, she works as a lifestyle model when she isn't traveling to some exotic, luxury destination or dining in the latest hot-spot. ...(Read More)