By Jarone Ashkenazi Nov. 8th, 2023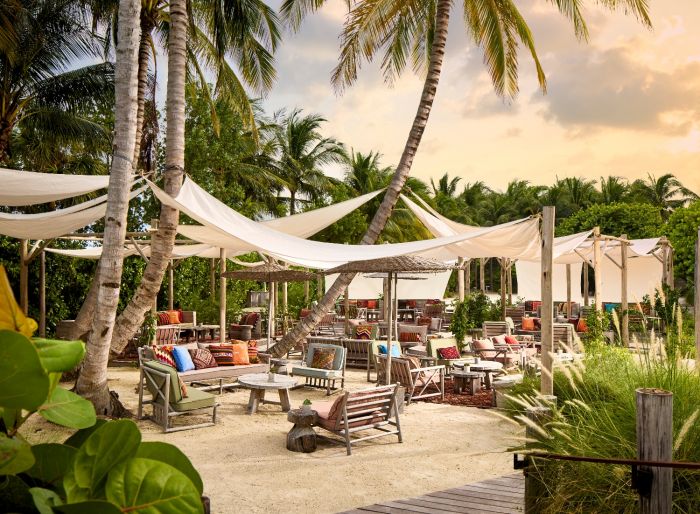 (credit: 1 Hotel South Beach)
Following hurricane season, which typically ends at the end of November, Miami is a great spot to bask in the sun and enjoy dining al fresco. At the end of fall and into winter, visitors can expect less rainfall which means basking in the sun and of course, finding some great spots to eat. Whether on a patio, rooftop or just outside, restaurants are packed to the brim at this time of the year as it seems almost mandatory to enjoy the weather and eat outside. From waterfront to ocean view to terraces and more, if you are looking for a spot to get great food, people watch and enjoy the Miami sun, look no further than these restaurants.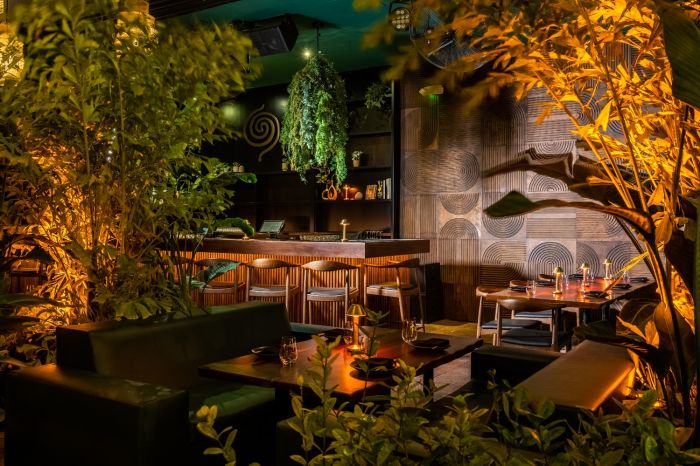 (credit: World Red Eye)
Operated by Riviera Dining Group, BÂOLI Miami is the luxury South East Asian fusion concept that transforms into a partying paradise where conviviality reigns amongst celebrities and international jet setters. The opening of BÂOLI Miami ushered in a new era of nightlife and dining on South Beach's shores by importing France's trademark sophistication and seamlessly merging it with Miami's unique vibrancy and sass. In March 2023, the iconic restaurant and nightlife venue located on Collins Avenue in South Beach reopened to the public under the direction of Riviera Dining Group (RDG) with a new menu exploring Indonesian, Thai, Indian, Balinese and Nepalese flavors, lush tropical foliage, a massive curated mural from artist Mateo Humano, two back-lit walls ideal for perfect photo moments, gold finishings, and rich wood paneled bars.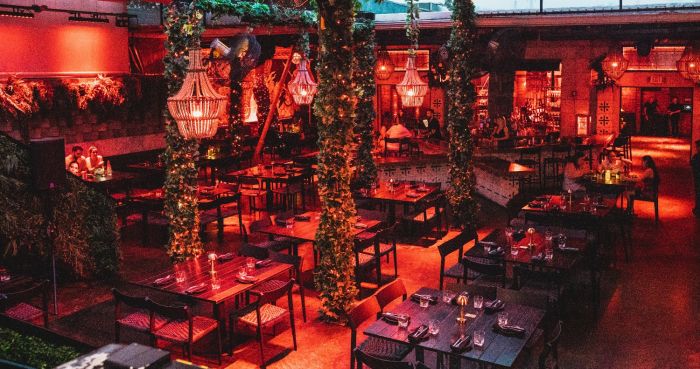 (credit: Mayami)
Located in the heart of Wynwood, is both an indoor and outdoor restaurant and lounge, serving an elevated cuisine and uniquely crafted cocktails. Dine al fresco while you savor the bold flavors of their newest dishes, while experiencing a late-night party atmosphere with aerialists and fire dancers.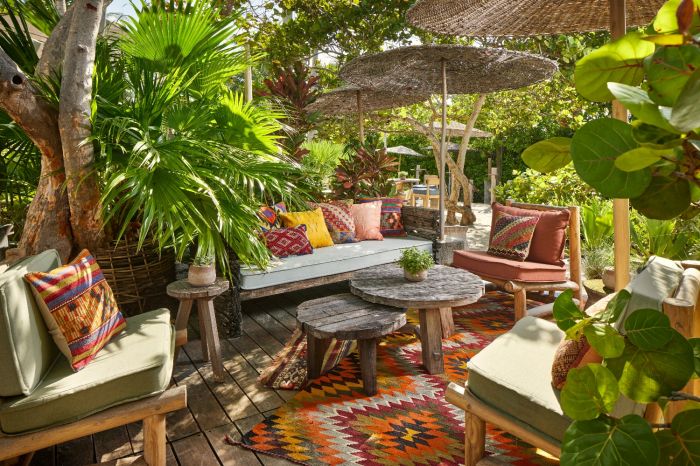 (credit: 1 Hotel South Beach)
The tropical beachfront venue formerly known as 1 Beach Club, has transformed into Tala Beach, a 50,000-square-foot outdoor oasis focusing on Mediterranean-inspired shared plates, precisely crafted cocktails and curated entertainment. This new concept will feature sprawling daybeds, overstuffed pillows, time-tested textures, an outdoor bar and restaurant serving a new menu and thoughtfully crafted cocktails, and a VIP lounge for those in search of an over-the-top experience. Hidden beneath the swaying palms and ample umbrella shading, Tala Beach will transport guests to paradise as they enjoy live beats and exciting entertainment while capturing 1 Hotel's signature ethos of mindfulness and wellness. The truly one-of-a-kind experience in South Beach will act as a gathering place for spiritual seekers, daydreamers and unconventional thinkers.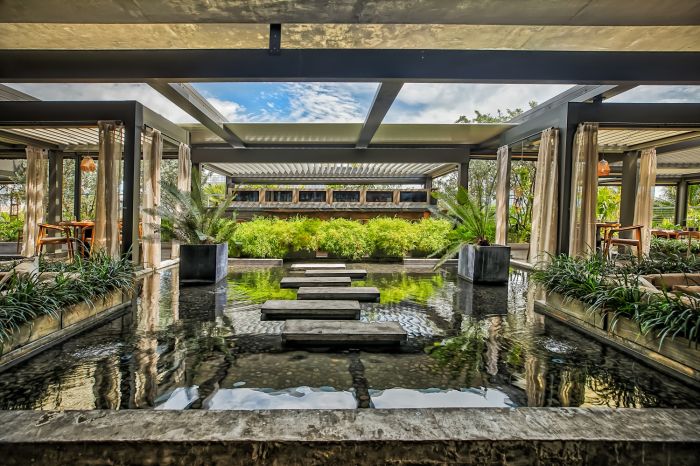 (credit: Riviera Dining Group)
In the heart of Miami Beach, MILA offers a unique, al fresco dining experience. It seamlessly blends refined taste, bespoke mixology, global music, and an unmatched ambiance, all inspired by the five elements. MILA embodies a multi-sensory, multi-venue lifestyle adventure with eclectic blends of Balearic music, delicious food, and a lively atmosphere. Come and enjoy the night, guided by the mantra of EUDAIMONIA, which means contented happiness on your journey.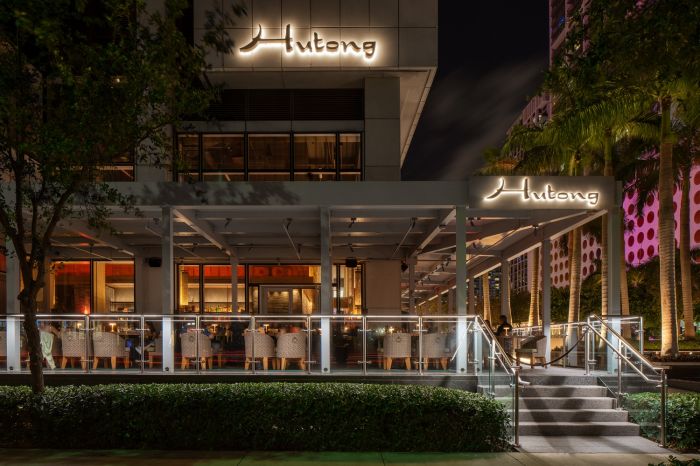 (credit: Hutong)
Located in the heart of Brickell, Hutong brings a fresh take on Chinese cuisine with its occasionally fiery Northern Chinese dishes, served in a chic space inspired by the vibrant Miami art scene combined with traditional Chinese design elements. Guests can sit and enjoy Al Fresco dining on the outdoor terrace decorated with greenery, cushioned seats and pillows, a covered awning, and a lively atmosphere - the perfect setting to indulge in the fresh flavors of Chinese cuisine.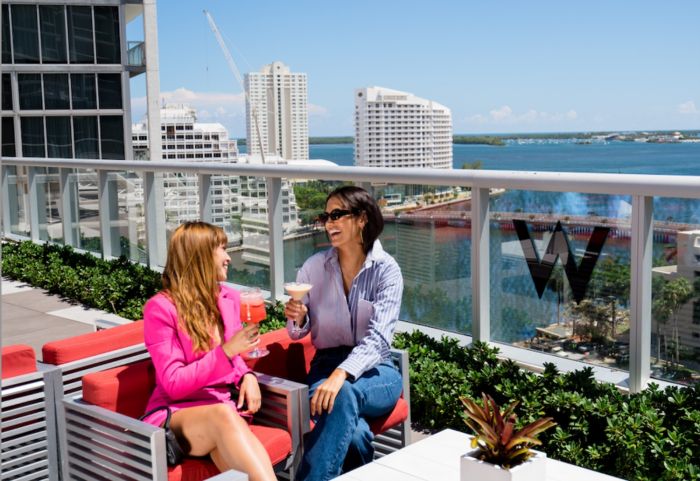 (credit: ADDiKT)
ADDiKT, located on the 15th floor of W Miami, boasts a stunning skyline view of Downtown and Biscayne Bay. For a casual elegant dining experience and a 360 degree view of Miami, ADDiKT is a top of the line restaurant experience. Offering diverse programming from half off wine bottles on Wednesdays to bottomless brunch on Wednesday, the menu offers guests an opportunity to experience innovative American and International cuisine, drawing inspiration from across the globe. ADDiKT's rooftop terrace is the perfect spot for an outdoor brunch with Biscayne bay as the backdrop to all your Instagram stories.
(credit: Swan)
Located in the heart of Miami's Design District, Swan is an indoor/ outdoor dining destination from hospitality mavens David Grutman and Pharrell Williams. Groot Hospitality opened Pharrell's first restaurant in 2018. The menu features refined rustic cuisine and dynamic communal plates, offering something for everyone. Indulge in luxurious dishes like their Caviar Pasta or the Porterhouse for two, paired perfectly with their luxurious truffle fries. After dinner, continue the party at Swan Upstairs, a lounge with chic Moroccan decor and a Maghreb aesthetic that invites guests to dance the night away with local DJs, bottle service, and eclectic vibes.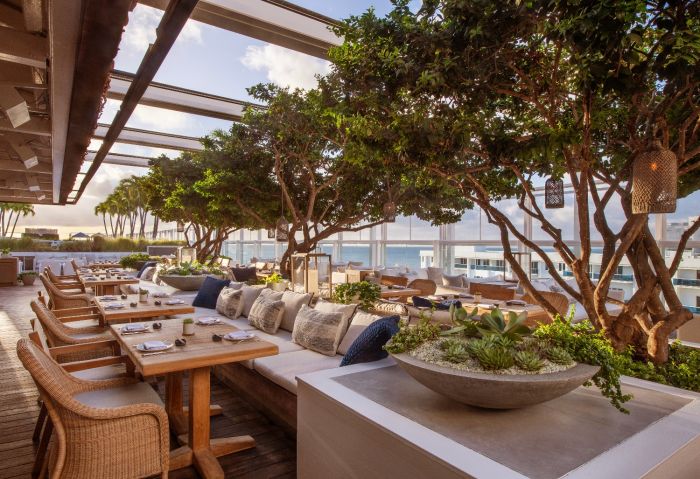 (credit: 1 Hotel South Beach)
Located at cloud level, WATR at 1 Rooftop offers unobstructed views of the Atlantic Ocean. The floating oasis offers guests Japanese-inspired lunch and dinner menus and an elevated nightlife experience. Open to the public for lunch and dinner, at night WATR is set to transform into a lively dinner scene complete with a DJ and live performances.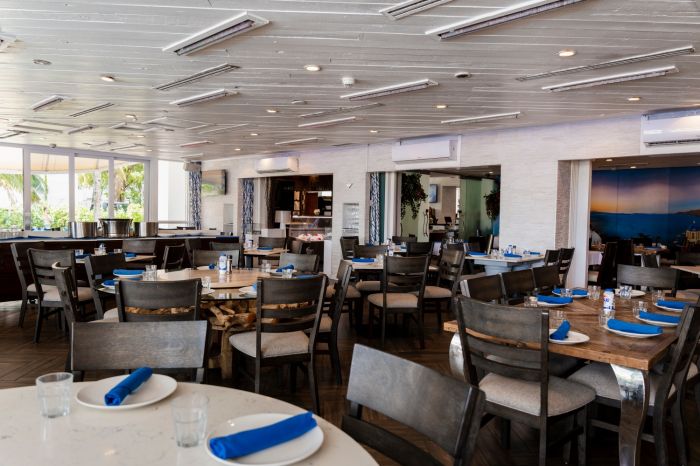 (credit: Santorini by Georgios)
A familiar staple in Miami Beach's chic South of Fifth neighborhood, Santorini By Georgios is a beachfront and poolside restaurant that brings fresh Mediterranean cuisine and Greek cultures to Miami. It has its own unique character that embodies the experience of offering something for everyone and satisfying all of its customers. Santorini's menu serves authentic Greek dishes from flavorful appetizers and wild caught seafood to gyros and kebabs as well as handcrafted cocktails. The blue and white charming restaurant design enhances the customer's Greek experience. Private events and beach and pool club cabanas are available for booking. Santorini By Georgios is the perfect place for any occasion such as an after-work drink with tapas, delicious lunch, a date night, a birthday celebration, or lounging at the pool or beach.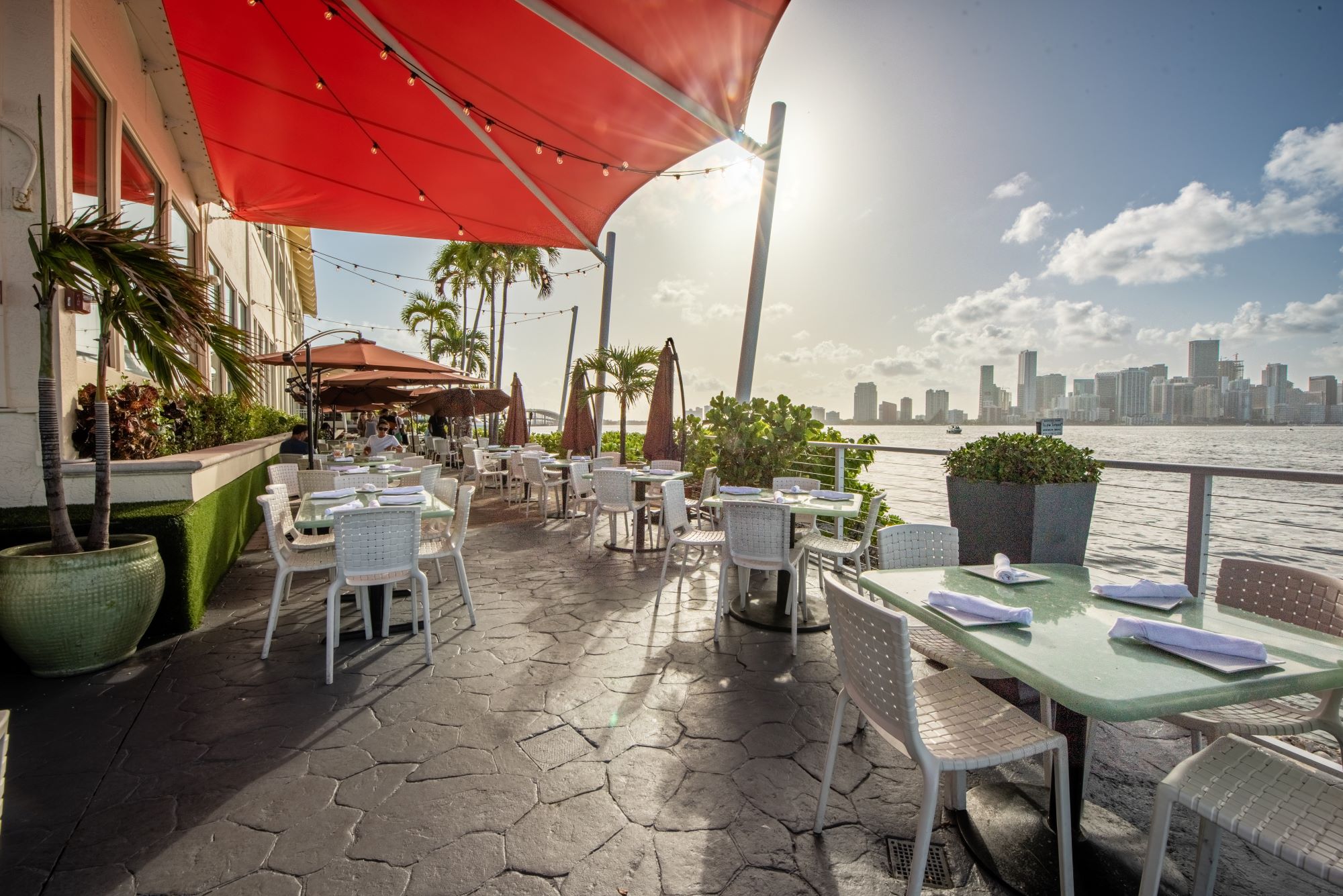 Credit: Rusty Pelican
Immersing guests in coastal elegance, Rusty Pelican Miami has been delivering delicious contemporary American cuisine and fresh locally sourced seafood for over 51 years, with outdoor patios boasting unmatched views of Biscayne Bay and the Miami skyline.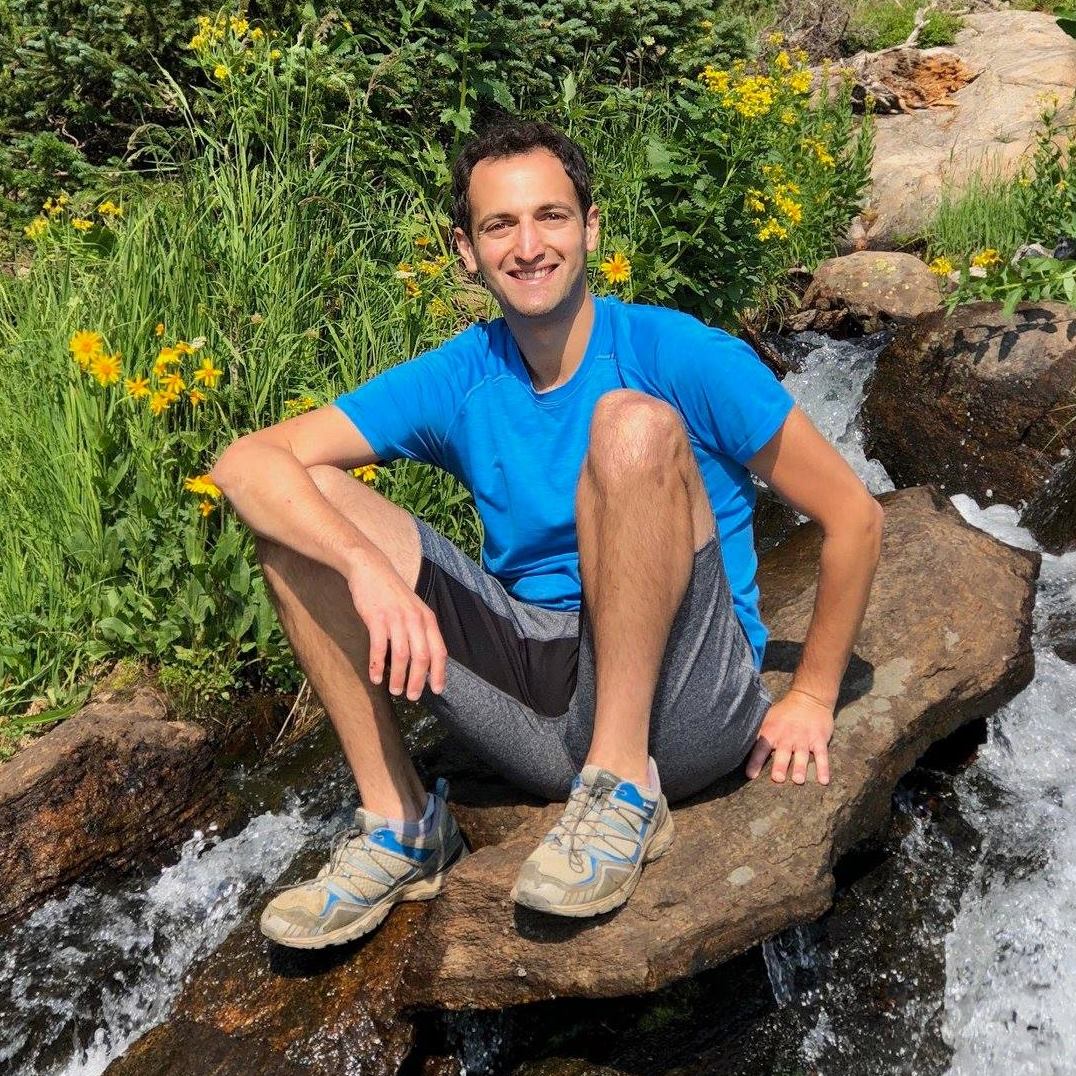 Jarone Ashkenazi
Jarone Ashkenazi is a seasoned writer who covers: travel, luxury items and other lifestyle topics. View more work at www.jaroneashkenazi.com. Connect with him on Twitter at @JaroneAsh ...(Read More)