By JustLuxe Apr. 21st, 2023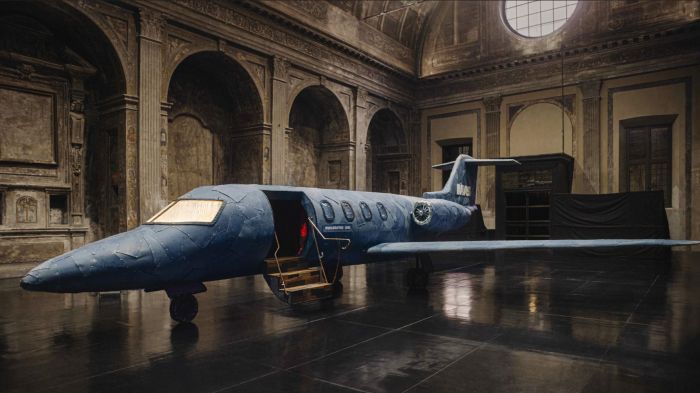 G-Star
'More or Less' exhibition ponders the intersection between the desire for more and the need for less.
Progressive denim experts G-Star RAW has formed an alliance with the acclaimed Dutch artist and fashion design innovator, Maarten Baas, to create a highly anticipated exhibit focused on sustainability and society's dilemma of consuming more in a world where the future relies on consuming less.
This first-of-its-kind exhibition, entitled "More or Less" is being unveiled inside the beautiful 17th century church of San Paolo Converso in Milan during Salone del Mobile at Milan Design Week starting today. The exhibition will feature a 15-meter-long private jet made entirely from recycled denim waste.
Maarten Baas is regarded as one of the most important designers of the 21st century, with a track record for surprising and intriguing the public. He was the obvious choice as a creative partner for a project exploring the boundaries of denim design. G-Star approached Baas with a brief to create a series of art and design pieces from a new textile board material derived from recycled denim.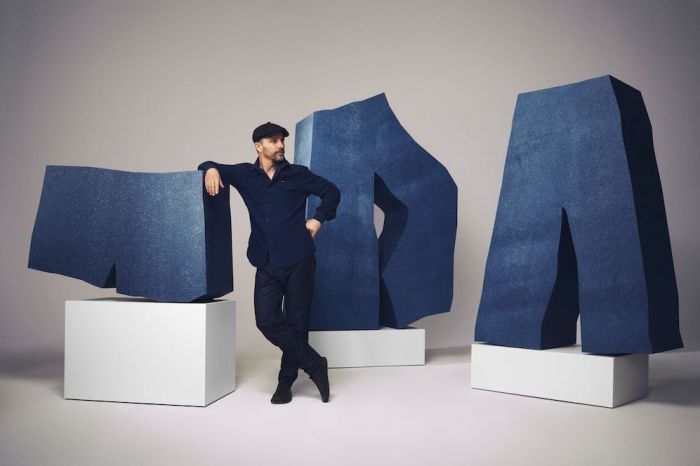 G-Star
The result is a triptych of cabinets which are both playful and functional. As well as being made from denim, and resembling a pair of jeans, the furniture can also be used to store pairs of jeans (and other denim items). All three cabinets are made of textile board material created from recycled G-Star jeans, specially developed by Danish textile innovators Really / Kvadrat. The jeans were collected from G-Star stores across Europe via the 'Return your Denim' program which allows customers to return their old jeans for recycling. During the exhibition, visitors can also bring their worn garments to screenprint with the signature message 'More or Less'.
"At G-Star we believe that there is no limit to what denim can do. In this case we're spotlighting what our denim waste can become, and how we can change waste material into something meaningful that stands out - and that makes you wonder and think. Because we all want more, but our planet needs less. That uncomfortable reality we all deal with. Yes, we are constantly aiming to reduce our impact on people and the planet, but at the same time we realize we encourage consumption as well. That symbolizes the balancing act of being both a responsible and a successful business at the same time." says Gwenda van Vliet, CMO G-Star RAW.
The 'More or Less' exhibition will be housed in the 17th century church of San Paolo Converso, providing a stunning and unexpected backdrop to the provocative designs. The show demonstrates new and creative possibilities in recycling, and is set to spark contemplation and discussion around the duality of the desire for more in these current times.
While designing the initial idea of the cabinets earlier this year, a second design concept arose in Baas' mind: an imposing fifteen-meter jet that, like the cabinets, was built using waste denim - and which is likely to provoke reactions. Not only for its massive scale, but for the bold statement it makes about the duality of sustainability issues.
"Every year in Milan I witness the tragicomic dialogue between green design and mass consumption. When G-Star approached me to collaborate, it was the perfect opportunity to focus on this relevant dilemma. After all, we are all part of the same puzzle: we enjoy our prosecco next to this private jet made from recycled materials. We are not saving the world, but are we contributing to an improvement? More or less…", says Maarten Baas.
The G-Star RAW x Maarten Baas collaboration launches on April 17, 2023 during Milan Design Week.
'More or Less' is open to the public from 18 to 23 April from 11 a.m. to 5 p.m. in Chiesa San Paolo Converso, Piazza Sant'Eufemia 1, Milan. Entrance is free.
The cabinets, which are available to purchase, are made to order, with price and delivery time available on request. The Denim Waste Plane will become part of the G-Star RAW art collection.

JustLuxe Team
The JustLuxe Team strives to bring our members and readers the very best in luxury news and conversations. We love to hear your opinions and suggestions, but most of all, we love to interact with you. ...(Read More)