By Beth Graham Apr. 18th, 2017
New Orleans' Henry Howard Hotel combines the best of a modern boutique hotel with the quaint charm of Southern hospitality. Located in the Garden District among the grand dame mansions, this stately hotel offers the perfect ambience and location for exploring the Big Easy.
Famed architect Henry Howard built the home in 1867. Today, it's a luxury boutique hotel with 18 impeccably decorated guest rooms. The home has been beautifully restored to celebrate its Greek-revival exterior with Corinthian columns. The southern front porch, complete with rocking chairs, is the perfect place to enjoy a refreshing cocktail after a day of sightseeing.
Lauren Mabry of Hunter Mabry Designs is credited with the hotel's stunning decorative features. "From our first walkthrough, we saw that the building had the charm and character we wanted in its bones, it just needed to be brought back to life. Layering the history of the building with the design was pivotal to the project's success," she said.
The hotel's parlor, with its chandeliered 12-foot ceilings and crown moulding, exude Victorian elegance. But each individually decorated guest room is the real appeal of this boutique hotel, with bare brick walls, vintage armoires, local artwork, and Beekman 1802 toiletries. Above the sculptured iron canopy beds hangs a single musical instrument. "The instruments above the beds are actually the instruments you would find in the band leading a second line, a classic New Orleans musical element. You can often see a second line during celebratory occasions. It's exciting, uplifting and engaging—all the feelings we want you to experience on vacation or even a staycation at the hotel. Throughout the hotel you will find trombones, saxophones, clarinets, tubas, drums, and trumpets," says Mabry.
Each room also features custom toile wallpaper. Graphic Designer Kathleen Fitzgerald was engaged to create toile designs incorporating local elements such as the namesake and initials of Henry Howard, a second line band, alligators draped with beads, the street car, steam boat and other New Orleans-centric themes. An overstocked snack bar includes locally-made libations and treats.
Despite the impeccable design, the property is really all about Southern comfort and hospitality. "My inspiration was the culture, people, and architecture of New Orleans," said Mabry. "The rooms are a modern version of a proper historic guest room in the grand home of a southern relative. We wanted guests to be able to come home after adventure-filled days and wake up the next morning feeling refreshed and intrigued to explore again. We felt it should be a tribute to the flavor and historically rich culture of the city, while still providing an oasis for the modern guest."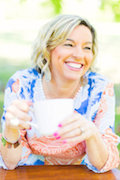 Beth Graham
Beth writes about the things that feed her soul - food, wine and travel. Read her stories at bethgraham.com and follow her journey on Instagram @Beth_In_Grahamland. ...(Read More)