By Jared Paul Stern Aug. 17th, 2017
The boutique hotel scene is only really starting to take off in New Orleans, but many of the newcomers are a pale imitation of the original: International House New Orleans. Like a truly innovative property, the International House, located in a historic Beaux Arts building that once housed the United States' first world trade center and located just a few blocks from the French Quarter, is constantly evolving. That's thanks to the owner, developer Sean Cummings, a New Orleans native and one of the young entrepreneurs helping to revive the city by breathing new life into neighborhoods and landmarks. At the same time he is giving back to the community, improving the quality of life for residents as well as helping to attract more visitors.
A man of true taste and style, in addition to the International House Cummings' "firsts" include the city's first residential lofts and the first entrepreneurial work space. Contemporary is especially important to him. The hotel is not merely a place to stay; rather it's a tribute to New Orleans today, which he describes as "an ensemble of historic architecture, colorful characters, cheerful culture, signature food and local music unlike any other city in America." International House initially impresses with its stately facade, a feeling carried over into the soaring lobby with 23-foot ceilings and soaring Corinthian columns, presided over by a backlit front desk inspired by a field of Louisiana wild Irises, a mix of marble and wood flooring, and richly upholstered furniture.
You immediately get the feeling that you're in a cool spot, but unlike some "boutique" hotels, especially those operated by bigger chains, it's not trying too hard to be hip; thankfully International House lacks the theatrical, stagey vibe of those places that often makes you feel like you're acting a part but no one gave you the script. Cummings collaborated with architect Brooks Graham and designer LM Pagano on the hotel's public spaces and 117 guest rooms, suites and penthouses. The trio hired local artisans and "wove in an eclectic mix of objects - old, new, bought, found and bequeathed," reflecting contemporary New Orleans style. Key elements are the use of indigenous woods and metals, handcrafted chandeliers, blown glass, antiques and artifacts from as far away as Africa.
The net effect is what Pagano calls "unexpected moments of pristine yet tattered grace," as good a description of New Orleans itself as we've come across. As you'd expect, the staff is competent, friendly and gracious without any of the forced bonhomie or ersatz obsequiousness that you often find at even the best hotels. Of course, International House is home to a beautiful bar, offering cocktails that are impressive even in a city world famous for its mixology. Called Loa, a voodoo term meaning deities or holy spirits, it's a haven for craftsmanship, inventiveness and integrity of ingredients, presided over by "Spirit Handler" Alan Walter. What Walter offers isn't a "bar program" but rather an "extravagant taste of place" told through rare spirits, exotic fruits and herbs, and a cornucopia of locally foraged ingredients for his bespoke aromatic syrups and bitters including Spanish moss, pine needles and honeycomb.
Loa's decor is exotic yet cozy, beautifully lit, warm and welcoming, and the finished product is served up in Walter's stunning collection of vintage glassware. It's less like having a drink than going on a journey of the senses. It may take you a minute to realize that you're even in a hotel. But just as quickly you'll realize that all "boutique" hotels should feel this magical.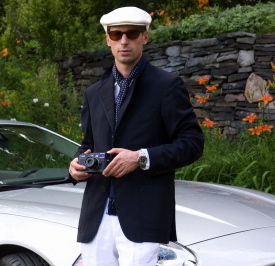 Jared Paul Stern
Jared Paul Stern, JustLuxe's Editor-at-Large, is the Executive Editor of Maxim magazine and has written for the Wall Street Journal, New York Times, the New York Times' T magazine, GQ, WWD, Vogue, New York magazine, Details, Hamptons magazine, Playboy, BlackBook, the New York Post, Man of the World, and Bergdorf Goodman magazine among others. The founding editor of the Page Six magazine, he has al...(Read More)