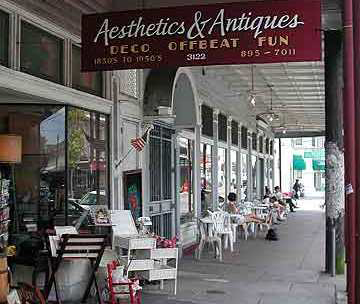 Shopping
For shopping, dining or just casual strolling, no place in New Orleans outside the French Quarter beats Magazine Street. A six-mile-long stretch of this Garden District and Uptown thoroughfare features some of the best antique stores, art galleries, craft shops and classy boutiques to be found anywhere in the city.
Magazine Street was named for a 'magazin,' a warehouse that was built in the late 1700s to house products awaiting export. Today this vibrant street features eclectic architecture from the large columned Greek Revival style of the mid-19th century to the colorful Victorian cottages trimmed in quirky gingerbread millwork.
The antiques and artwork are what draw aficionados to Magazine Street like moths to a streetlight. Whatever it is you're looking for in home décor - fine China, exquisite handcrafted items, used and new books, imported rugs, jewelry, ornate furniture, silver utensils and other tableware, crystal chandeliers and other 19th and early 20th century home furnishings - there's an excellent chance you will find it on Magazine Street. Looking for fine art to take home with you? A wide selection of galleries are open for business, offering paintings, sculptures and other artistic media that rank on a par with galleries found in other American cities.