By Nicolle Monico Dec. 7th, 2016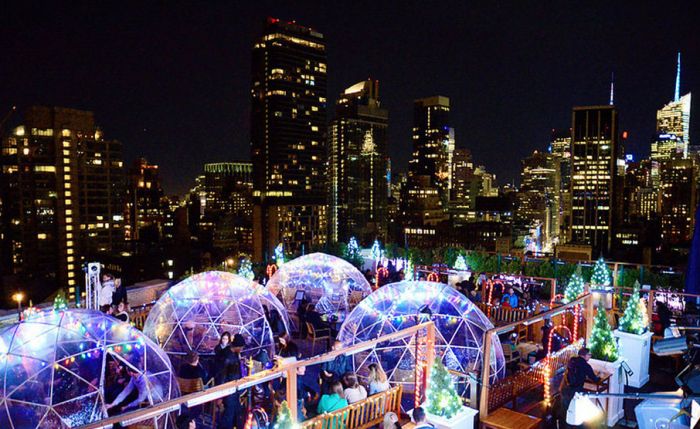 Photo Credit: 230 Fifth
There aren't many people who'd willingly choose to sit outdoors in Manhattan in the winter. New York's weather can be blisteringly cold and snowy come December and January. But this year, thanks to a new installation, guests can still enjoy al fresco meals at 230 Fifth without having to worry about the frosty weather interrupting their mingling.
Sitting on the partially-heated rooftop deck are a number of pop-up, see-through igloos that house up to 11 people at a time. Originally designed for campers, the igloos are made from one-meter thick PVC and keep out rain, snow and wind. They also allow for 360° views of the city's skyline and are decorated with lamps, rugs, sofas and televisions.
Guests can enjoy drink service which includes cocktails such as rum-spiked hot apple cider and spiced whiskey martinis. But before you check them out yourself, know that reservations can't be made and igloos are filled up with more than one party. This gives people a chance to interact with those outside of their circle of friends. The igloos will be available until the end of March.

Nicolle Monico
Nicolle is an award-winning writer and Travel Editor using her expertise in the industry to write about luxury travel around the world. You can find her daily searching the web for the latest trends, best new hotels and most beautiful destinations to visit and share with her readers. She's been featured on The Huffington Post, Hard Assets, AMD Entertainment and Remy Martin. In 2014, she was vo...(Read More)