By Kavita Daswani Dec. 21st, 2016
Nestled amidst the standard accoutrements of a hotel room—chocolate bars, salted nuts and bottles of water—is a pair of cardboard VR goggles found at The Tuscany in New York. Consider these the modern-day version of a guidebook. The idea is to slip on the goggles, download the hotel's app, and be immersed in micro-vignettes about the city, filmed by other guests, before venturing out. There are immersive 360-degree images of a father and son sharing a slice of pizza, a couple rowing a boat in Central Park, someone biking across the Brooklyn Bridge, and a rainy day in Chinatown—classic New York scenes are suddenly brought to life.
The Tuscany sits on the site of the former W Hotel in a prime Manhattan location on 39th street, between Park and Lexington, a few minutes away from Grand Central Terminal, the Empire State Building and the Chrysler Building. The property is part of the St Giles portfolio, which owns similar luxury boutique establishments in Kuala Lumpur, Penang, London, Manila and Sydney. The brand's head, Abigail Tan, also recently secured a deal to take over an existing hotel in Cuba, a place that is popping up on everyone's bucket list.
After a multi-million dollar renovation, The Tuscany has been transformed into a chic, warm and thankfully, not-overtly-trendy, property. The intimate lobby has high-backed velvet chairs and modern lighting fixtures, and in the evening, a cordoned off section becomes a lounge where guests can order cocktails and sushi.
The hotel is also known for having some of the largest rooms in the city. I checked into a Loft Suite, which is considered pretty standard among the 124 rooms, and includes its own spacious separate living room with a work area, flat screen T.V., colorful wall murals and even a fireplace. On a blustery cold early morning like this one, it's easy to want to get the heat going, pop in a pod in the Keurig machine, wrap up in the plush bathrobe, and stay in for the day. But of course, this is NYC, so there is so much to see and do across the city that staying in would mean missing some of its greatest attractions.
The Tuscany is also home to Sushi Roxx, run by an outside company, and is described as a high-energy destination. A peek inside, and you'll hear loud techno music, see flashing lights and watch as dancing waiters serve platters of California rolls and cocktails. For a quieter option, the adjacent Sushi Roxx lounge is less intrusive and offers the same menu.
Tan's burgeoning St Giles empire is one to watch: descending from a prominent Malaysian real estate family, she has an eye for well-located properties (the group's tag line is "Be Central") which she then transforms into elegant, welcoming hotels. A source at the property told me the group is on track to have 20 properties by 2020 (they now have nine).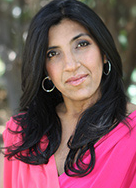 Kavita Daswani
Kavita Daswani is a Los Angeles-based journalist for a number for US and international publications, among them the Los Angeles Times, the South China Morning Post and Conde Nast Traveller and Vogue India. She loves the versatility of being a feature writer - a typical week might see her interviewing Hugh Jackman, attending a perfume launch or reviewing a hip-hop dance fitness class. She i...(Read More)