By Staff Apr. 19th, 2019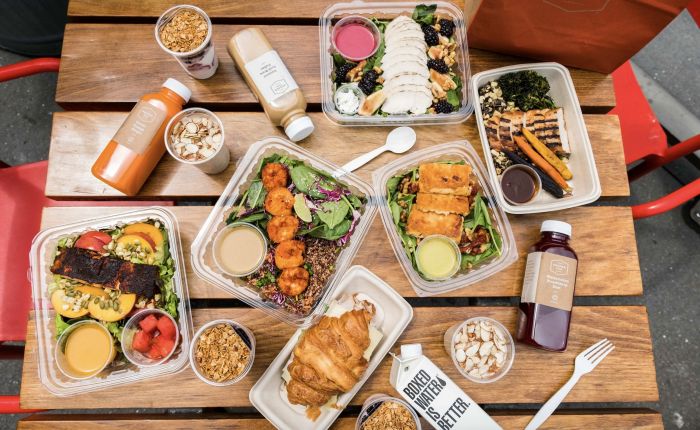 Image Courtesy of Proper Food
Those in San Francisco know of Proper Food as the go-to for high-quality grab-and-go food for breakfast, lunch and dinner. Finally, the time has come - Proper Food has made its way to the East Coast and landed in New York City. With two NYC locations, one in FiDi and the second location opening this week in Midtown, New Yorkers now have the solution to healthy, convenient, yet delicious eating that they've been missing.
Founded by husband and wife owners and co-CEOs Howard and Dana Bloom, Proper Food's mission is to change the way people eat on the go with an emphasis on high quality, locally sourced ingredients with a menu created by Chef Juan Muñoz, who applies his Michelin-star fine dining background to create unique and complex flavors inspired by global cuisines. Unlike other fast-casual and grab-and-go concepts in New York, all Proper Food items are made-from-scratch every morning and delivered from their Brooklyn commissary, ensuring maximum freshness & flavor.
With the launch of the new location also comes a handful of new dishes for Spring. Using the seasons as a guide instead of trends, Proper Food incorporates sustainably sourced, fresh ingredients in all of their dishes. Chef Juan has created new menu items that are equally as nutritionally dense as they are delicious. Some of the new offerings include: Seared Lemon Pepper Tuna Salad with Line-Caught Ahi Tuna, affron-infused basmati rice, beluga lentils, roasted almonds, Roma tomatoes, kale, house-made sherry vinaigrette; Coconut Curry Chicken with grilled free-range chicken, roasted cauliflower, saffron rice, roasted carrots, almonds, cranberries, parsley and coconut-yellow curry; and their famed Pulpo Insalata with wild octopus, chickpeas, roasted garlic, arugula, frisée, and salsa verde.
The new Midtown location can be found at 1211 Sixth Avenue and the FiDi location is located at 67 Wall Street. Both locations are open Monday through Friday, from 7 a.m. – 9 p.m., and are closed on the weekends. For more information, please visit www.properfood.com.