By Staff May. 10th, 2019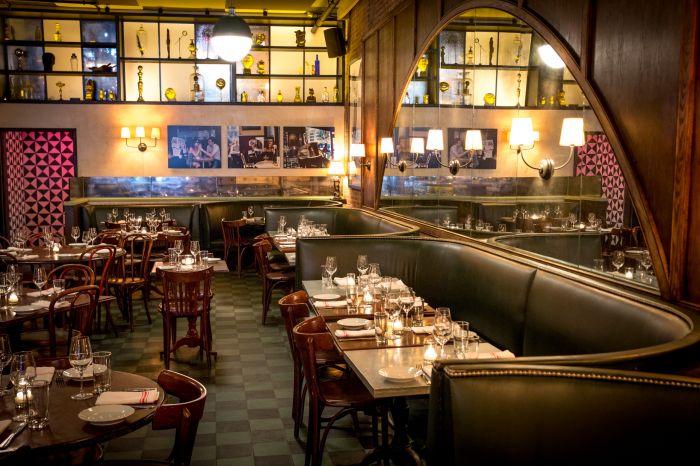 ACME
ACME has been an institution in the New York dining scene for true New Yorkers and travelers alike. Tucked away on Great Jones Street in the bustling NoHo neighborhood, ACME has continuously evolved into a dining destination to be taken seriously, while offering a slice of quintessential New York. The seasonal menu, helmed by Executive Chef Thomas Romero, showcases a variety of international flavors and techniques that are celebrated with the freshest seasonal ingredients.
After starting his culinary career at the reputable American restaurant Flora in Oakland, California, Romero moved to New York City in 2013 and worked his way through some of Manhattan's top restaurants, including Empellon Taqueria and Daniel Bouloud's db Bistro Moderne. At ACME, Romero incorporates his French training to serve simple yet elevated fare with locally sourced ingredients. Having learned to make pasta early in his cooking career, Romero also offers a selection of homemade pastas that change seasonally on the menu.
Since taking over the position of Executive Chef at ACME, Romero has revamped classics like Steak Frites while introducing new, internationally inspired items to the menu that flirt with different flavor profiles, much like the Duck Breast with seared foie gras, stuffed boy choy, raspberry coulis and duck jus, and Chef's take on a Chicken Kiev with a juicy chicken breast stuffed with escargot butter, parsley gnocci, pickled ramps and spring herbs.
We sat down to talk to Chef Romero to talk all things ACME and see what's ahead for the NoHo establishment.
JL: What is your inspiration for the new dishes on the menu? We see a lot of international influence that pulls various ethnic flavors.
TR: For Spring, we're trying a new concept wherein we take classic dishes and pairings and try to reinterpret them in new ways. Be it by finding parallels to unfamiliar cuisines or techniques or introducing unexpected flavors. I have a lot of influence from Mexican cooking, Indian expertise with spices, Japanese technique and classic French training. I try to let them all shine through to some degree. Growing up, I had access to eating a wide range of different styles of cooking and to me they make up what is a uniquely American experience. Fusion was a novel idea that attempted to create something new from long standing traditions that usually ended with some wacky results. You might call what I do an extension of that, but I want to do it in a way that makes sense either from a technical or philosophical standpoint, paying respect to the traditions that bore them. Cooking is a journey that can be unpredictable so even though we may set out with one result in mind, what ends up as the final dish on a plate can be completely different. A big part of a chefs job is listening to the ingredient and letting it sing.
JL: What was the most memorable/impactful dining experience and why?
TR: I really love what is being done at Kajitsu. They have a fascinating and rich concept, shojin-ryori. Shojin-Ryori is an ancient Buddhist eating style that is considered the foundation of modern Japanese cuisine and kaiseki. Being steeped in Buddhist philosophy, there are no animal products used. This restriction forces the cook to rely on seasonal vegetables, roots and protein alternatives such as fu, which is vital wheat gluten. The traditional order of a formal Japanese meal is followed: a small appetizer followed by a clear soup proceeding into a grilled, steamed, simmered or fried food, sometimes all four or any combination of them. Usually there will be a composed course of many small bites meant to be eaten in a particular order. After that is a rice course which leads into sweets and green tea. They are capable harnessing a dazzling array of textures within the confines of their very specific cuisine and it is truly an inspiration to partake. It is one of the most exciting dining experiences I've had in NYC.
JL: What is the quintessential dish at ACME and why?
TR: Even though it is new, we all feel very strongly that the chicken Kiev is it: a chicken breast filled with escargot butter, served with parsley gnocchi and pickled ramps. It is a fun interactive dish that we think is playful but also accessible. It looks like a simply roasted chicken breast but when it's cut into, the butter spills out onto the plate for that surprise moment.
JL: What is a common misconception you think people have about the ACME menu? (if at all)
TR: A lot of people seem to be under the impression that what we do here is much more standard bistro fare, when I feel that that's an oversimplification of what our aims are. We do keep the verbiage on the menu intentionally vague, so we have an opportunity to upend expectations.
JL: Favorite ingredient to cook with and why?
TR: The dreaded question. Chefs work with dozens of ingredients daily in an attempt to make sense of them; like a composer or artist, we manipulate raw materials in order to create harmony. There is the subject (center of the plate) and complementary components (garnish) that tell a story or suggest a moment in time. For sheer versatility, I would have to say eggs; so much is possible when using them either as they are or separated. Eggs aren't just an ingredient, they are a tool and lens through which a chef can achieve much.
JL: What is your favorite ingredient at the moment for Spring?'
TR: Right now I'm really excited for peas and Koji. Peas are among my favorite of the spring vegetables with their clean delicate flavor. Koji, while not exactly a seasonal ingredient, reads very spring to me. It is a specific type of cultured mold, Aspergillus oryzae. It is used as the culture for a number of fermented goods such as miso, soy sauce and sake. It has a mild salty flavor that adds a mysterious quality to foods.
JL: Kitchen tool you can't live without?
TR: The most important tools for a chef are obviously a knife, spoon, pen & paper. Outside of those, one tool that is indispensable is a plastic bowl scraper. It's a flat rectangular piece of flexible plastic with beveled edges and a convex side. As the name implies, it is used for scraping dough and batters out of mixing bowls with minimum effort, but they are so much more versatile! They can be used for lifting chopped vegetables and herbs from your cutting board, portioning gnocchi, squeezing that last bit of frosting from your piping bag, smearing sauces onto a plate. I try to carry one with me at all times in the kitchen and I recommend everyone does.
JL: Secret weapon spice/ingredient/technique?
TR: I think my strength is my sauce work. I've had a lot of training in classic reduction sauces and it's served me well in trying to find new approaches. In my opinion, Mexican sauces are the most advanced in terms of technique, balance and ingredients. Moles are notoriously difficult to get right. I can't necessarily make a mole every day, but I can bring the ideas underlying one to my style with intriguing results.
ACME is located at 9 Great Jones Street. For more information about ACME or to book a reservation, visit www.acmenyc.com.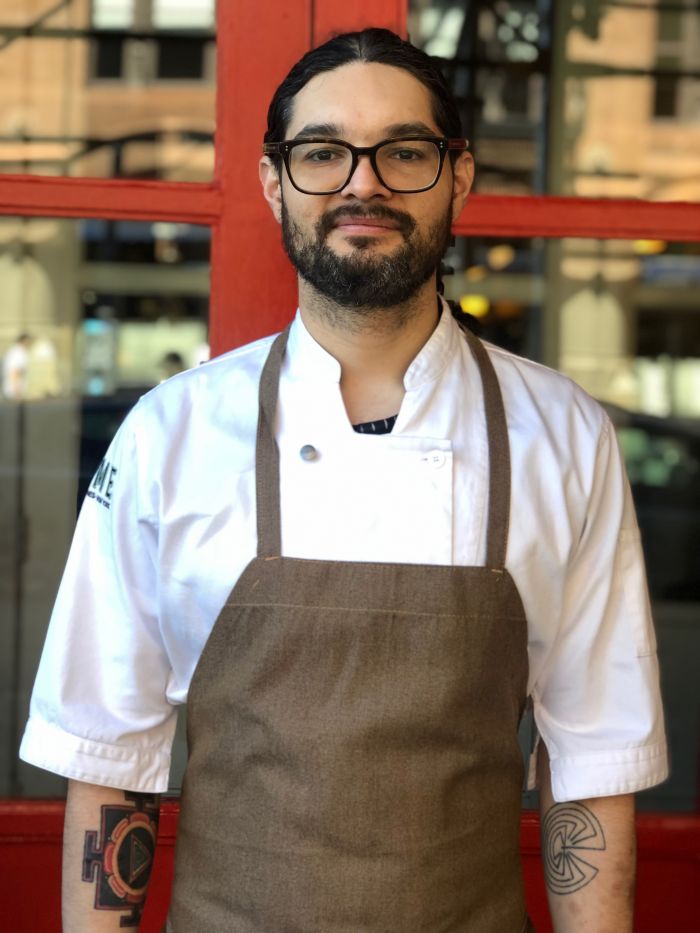 ACME