By Diane Sukiennik & Michael Reiss Oct. 26th, 2022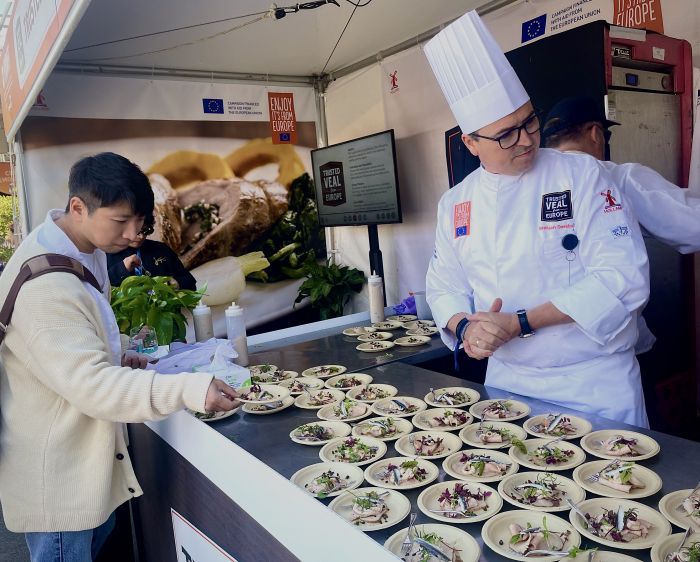 Photo by Michael Reiss
New York City shines as one of the beacons of world-class art, theater, fashion, and food. Not only do gourmets gather here for fine dining, but they make a yearly pilgrimage to the New York City Wine and Food Festival held each Fall at venues throughout the city.
The New York City Wine and Food Festival is sponsored by The Food Channel. And being so, this is a rare opportunity to rub elbows with every celebrity chef you've ever followed at demos and intimate lunches, brunches and dinner offerings.
Equally compelling is the chance to savor tempting bites of seemingly endless restaurant signature dishes at the round of tasting events scheduled from Thursday through Sunday during the festival. What's more, proceeds go to New York's leading provider of life-sustaining meals and nutrition counseling, God's Love We Deliver. The 15th annual Festival will support New Yorkers who are impacted by severe illness in their time of need. What better reason to plan a gourmet getaway?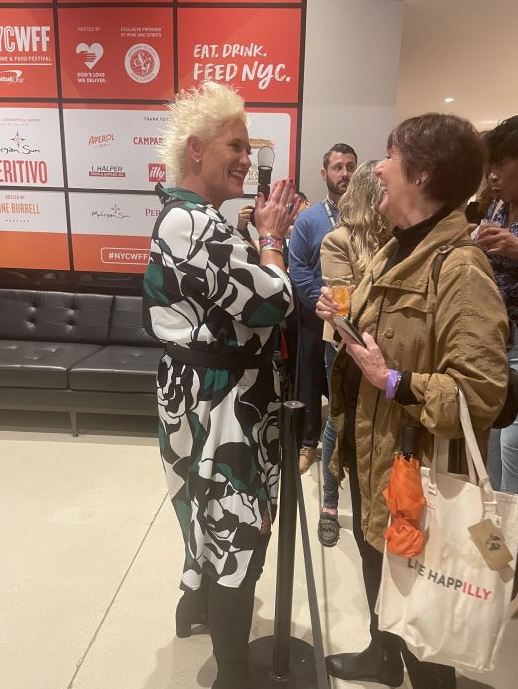 We began the festival weekend at Industry City in Brooklyn where the Aperitivo Happy Hour was hosted by Food Network personality and cookbook author, Ann Burrell. The Italian inspired bacchanal featured cocktails, wine, beer, and numerous nibbles from citywide chefs.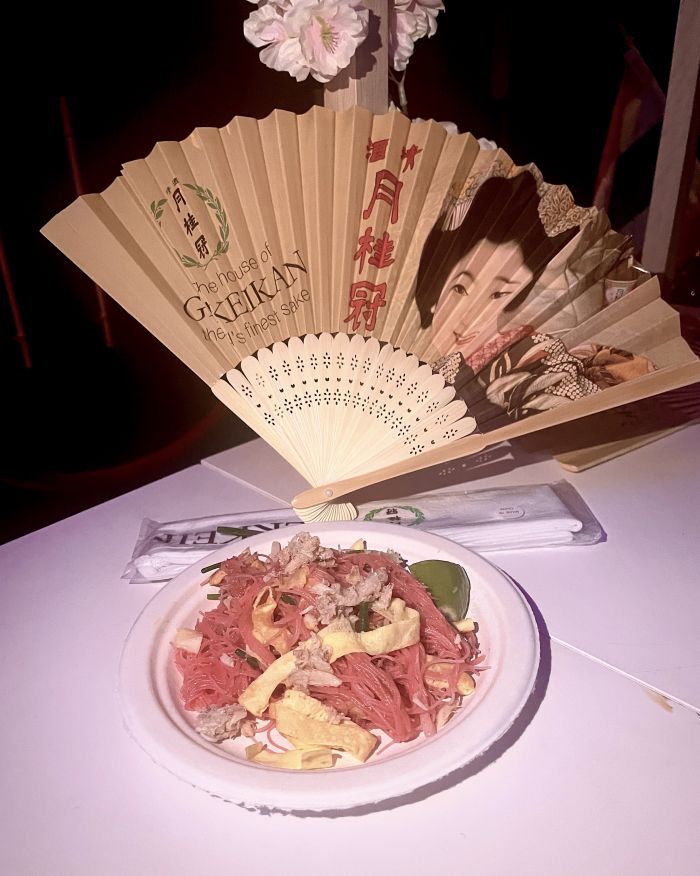 Photo by Michael Reiss
Friday's events culminated at The Taste of Asia, a late-night party presented by the House of Suntory and hosted by Jet Tila. Held on Music Row at the Hard Rock Hotel. There we washed down sushi, dumplings and noodles with spirits, wine, and beer as we danced the night away. Memorable bites included a "Thai Coconut Milk Noodle" dish made à la minute by Chef Bao Bao from Baoburg.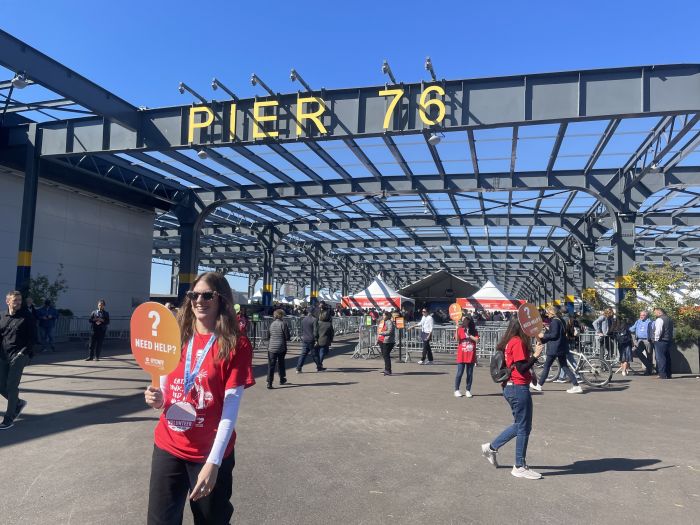 Photo by Michael Reiss
Saturday's Grand Tasting Extravaganza took us to Hudson River Park's Pier 76. Here, over a city block was filled with hundreds of libations, endless tastes from the city and surrounding areas' best chefs, culinary demos from The Food Networks super stars, entertainment and product samples galore.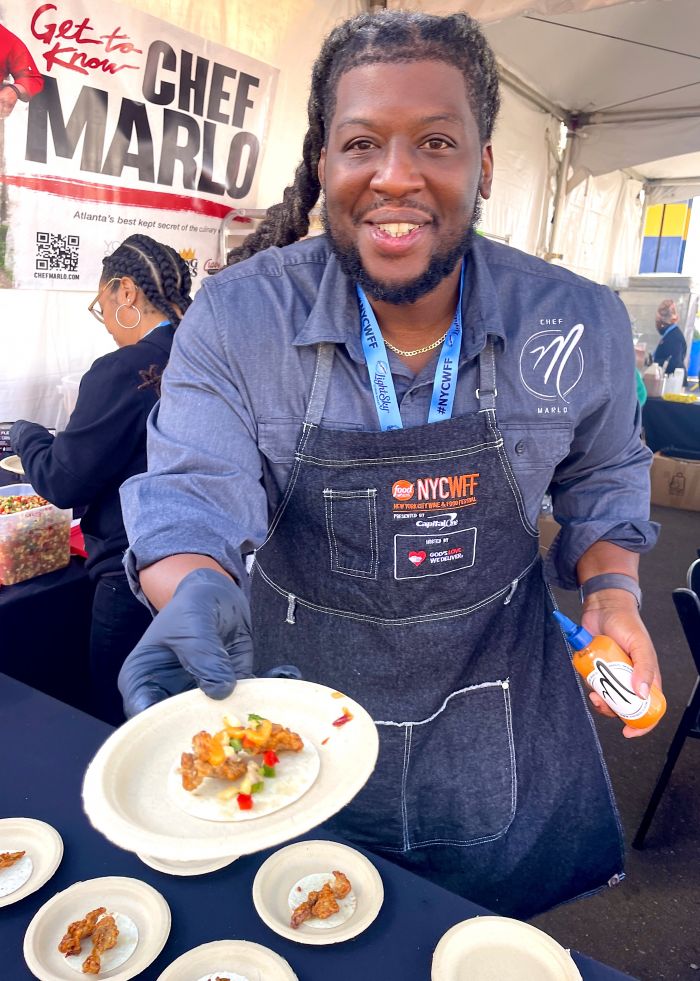 Photo by Michael Reiss
One of our favorites was Asian Glazed Oyster Mushrooms from Chef Marlo.
Photo by Michael Reiss
Sunday started with an Oyster Bash where bivalves were shucked, baked, fried, roasted and served on the half shell accompanied by beer, wine and cocktails that enhanced their briny goodness. Most memorable was Prince Caspian oyster with black caviar, fresh uni, mignonette sauce, and 24 carat gold leaf from Mollusca.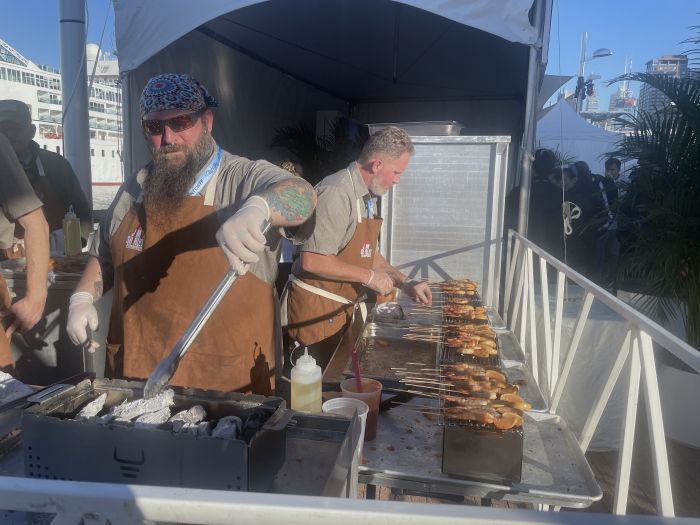 Photo by Michael Reiss
The weekend bacchanal culminated with the ultimate BBQ blowout hosted by Andrew Zimmern. Pit masters pitted their best up against each other as we gobbled the most succulent, savory bites imaginable.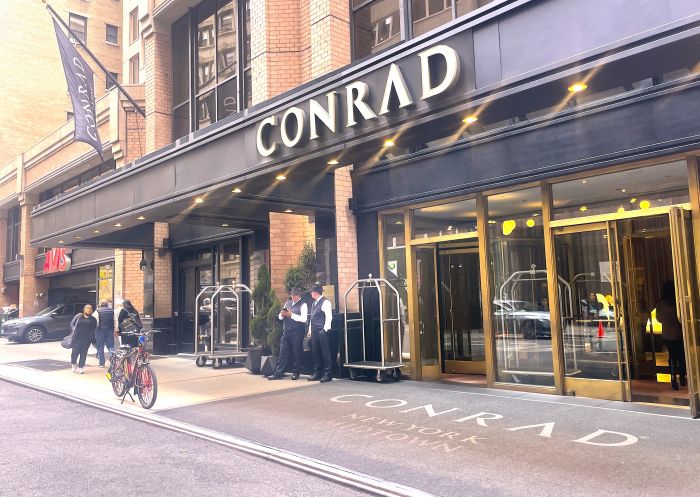 Photo by Michael Reiss
Our festival weekend was made even more memorable at the Conrad New York Midtown.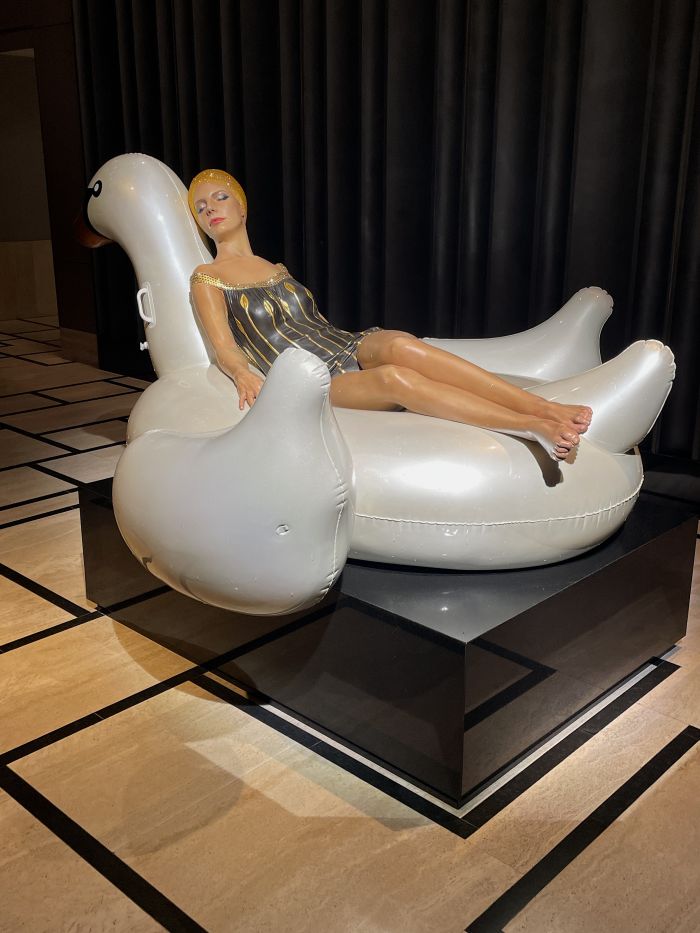 Photo by Michael Reiss
As you enter the lobby, you are greeted by a bigger than life sculpture, Leda reclining on the Swan, suggesting that you too, will have a most relaxing stay at this luxury Hilton property.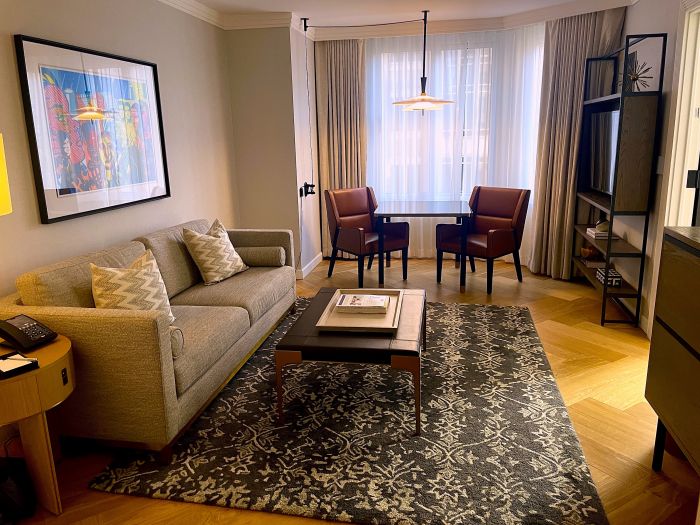 Photo by Michael Reiss
Your expectations will be met and exceeded by the accommodating, professional staff who attend to your every request in record time. The newly renovated rooms are spacious and well appointed. They are equipped with every luxury amenity including a Nespresso coffee machine, Bal D'Afrique toiletries by Bredo, luxurious bed and bath linens and motorized window treatments.
Besides the space, the quietude exudes luxury in this city that never sleeps. With a location in easy walking distance of every major shopping, dining, cultural and entertainment venue, you are a heartbeat away from the pulse of the city and steps from a sanctuary that welcomes you home.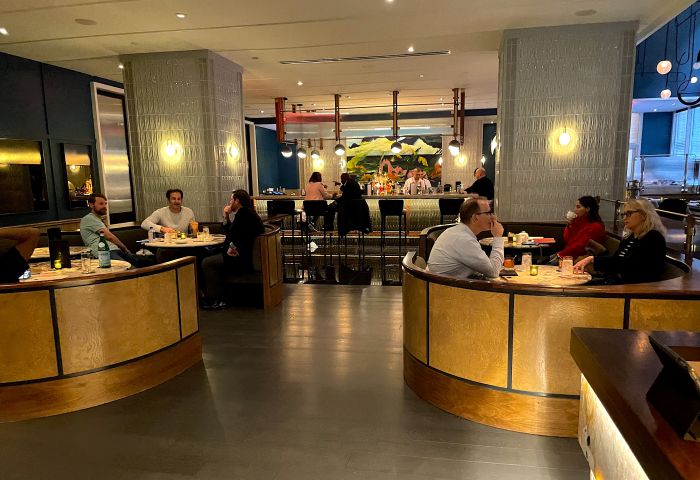 Photo by Michael Reiss
Dining at Dabble, their contemporary American restaurant, is not only convenient but delicious. Despite the name, there is no dabbling with cuisine, gracious service and beverage selection here. Dabble is polished and first rate in a sophisticated, soft-lit venue with well-spaced tables ripe for intimacy and easy conversation.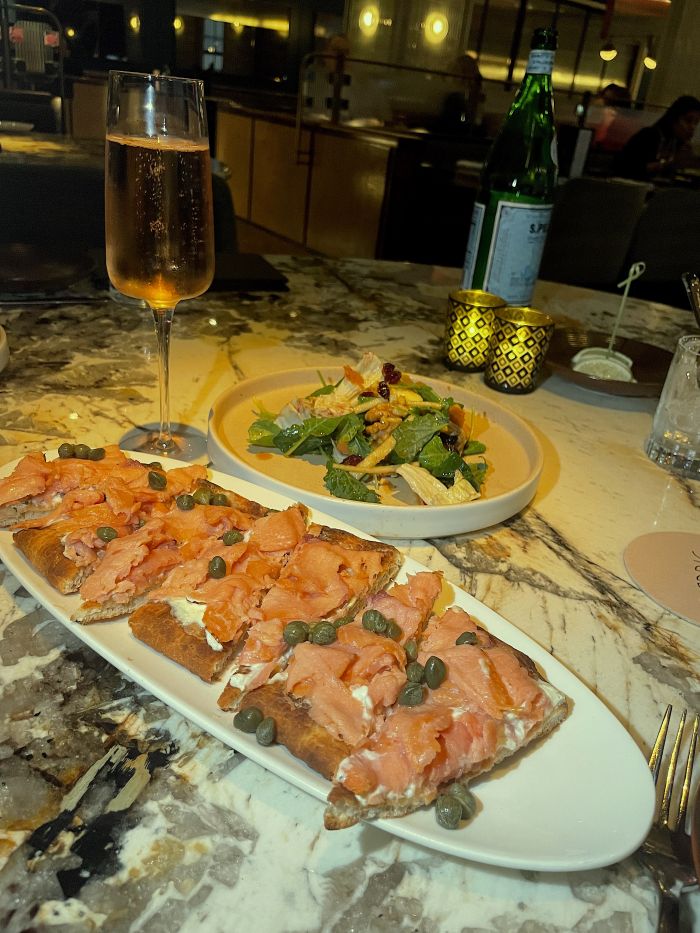 Photo by Michael Reiss
For starters, we selected the smoked salmon flatbread and apple pie salad paired with a brut and rose sparkling wine. We then devoured the shareable tasting tier with beef sliders, crab cake, tomato bruschetta and prosciutto crostini.
Their signature scallop risotto with seasonal mushrooms was paired with several flights from their thoughtfully chosen wines by the glass. A cheese course intermezzo followed and then a dark chocolate black forest mousse capped off the evening of delicious dining at Dabble.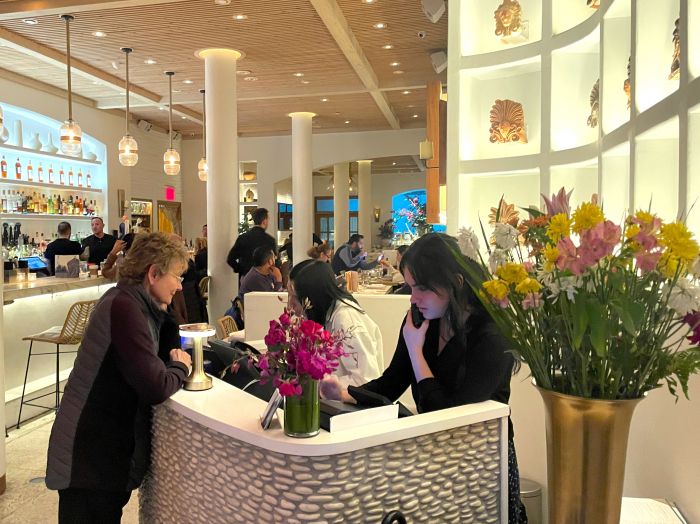 Photo by Michael Reiss
We chose Kyma located at Hudson Yards and The Flatiron for its authentic Greek cuisine. They are popular and booked solid even on weeknights for a reason. They fulfill the memory of everyone who has ever traveled to Greece or who dreams to go someday with the cuisine enhanced by a trendy décor and musical vibe.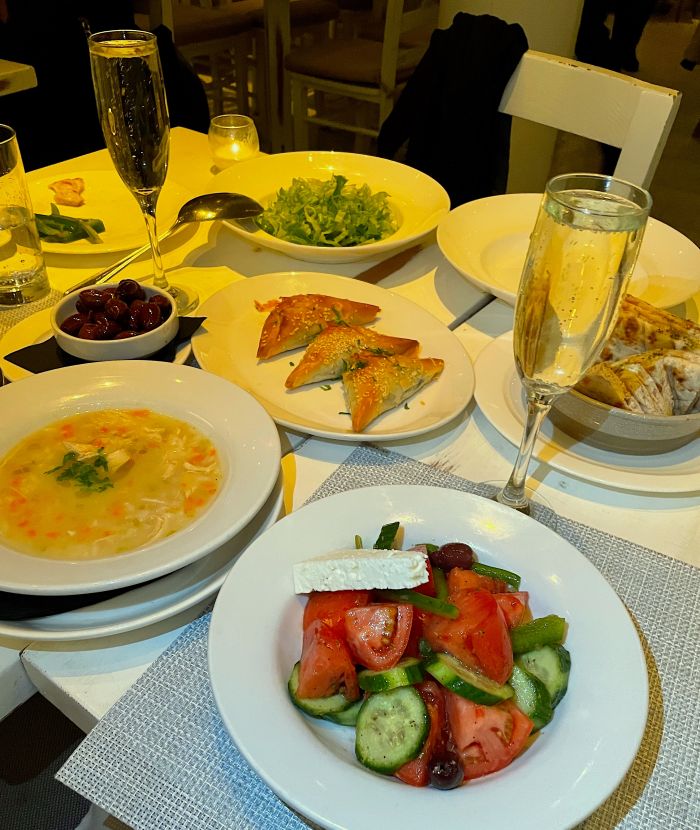 Photo by Michael Reiss
The lemon chicken soup, the Greek salad and the spanakopita are all spot on. The lobster pasta was delectable and the baklava with pistachio ice cream was decadent and worth every calorie. Their signature cocktails enhance the experience and their Greek wines add just the right touch to make this a journey worth taking.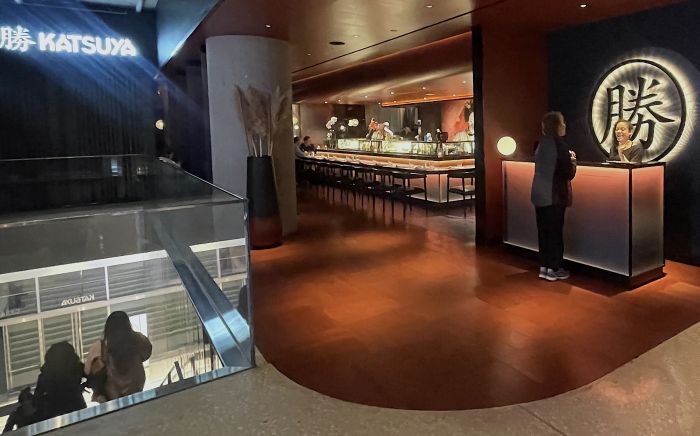 Photo by Michael Reiss
Katsuya, situated in Hudson Yards and part of the Citizen's Manhattan West Food Hall complex sets the standard for innovative sushi while honoring the time-tested Japanese traditions. Chef Katsuya combines the best of east and west to satisfy the discriminating palates of adventuresome gourmets and time revered traditionalists.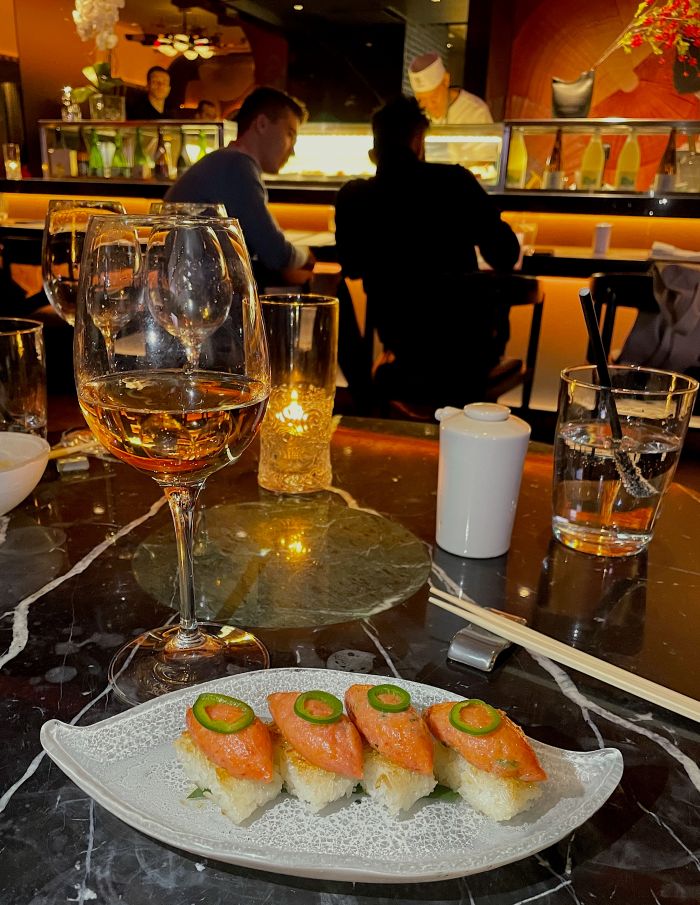 Photo by Michael Reiss
We started with our favorites and got more exploratory as the sake and night progressed. After starting with the signature spicy tuna crispy rice, we munched on crispy, crunchy slaw to accompany the vegetable and lobster tempura. The beef tenderloin toban redolent with forest mushrooms and the whole Thai snapper were visual and tasteful showstoppers. Trust your choice of beverages to the waitstaff team who are experts at pairing, and you will have an umami filled evening that satisfies all your senses.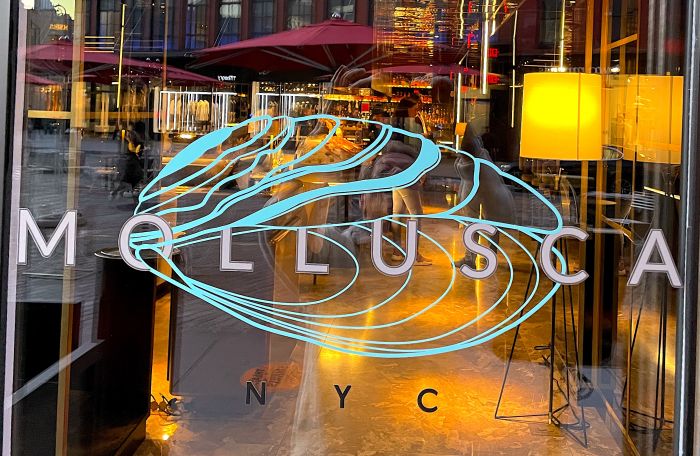 Photo by Michael Reiss
Mollusca was one of the most memorable scene stealer at the NYCWFF Oyster Bash with its decadent Mollusca oyster featured earlier in this article. The restaurant doesn't disappoint. It exudes luxury from the moment you enter this Meatpacking District location. The opulent finishes and seductive lighting make for instant intimacy.The menu follows suit with aphrodisiacal oysters and related mollusks sure to add to the mood. The mussels appetizer with a selection of 27 different sauces accompanied by dipping baguettes and super crispy frites is a bib smacking winner. Our gem salad was generous and artistically presented as was our entrée with a deconstructed Greek salad. The crème Brule was especially crackly and decadent.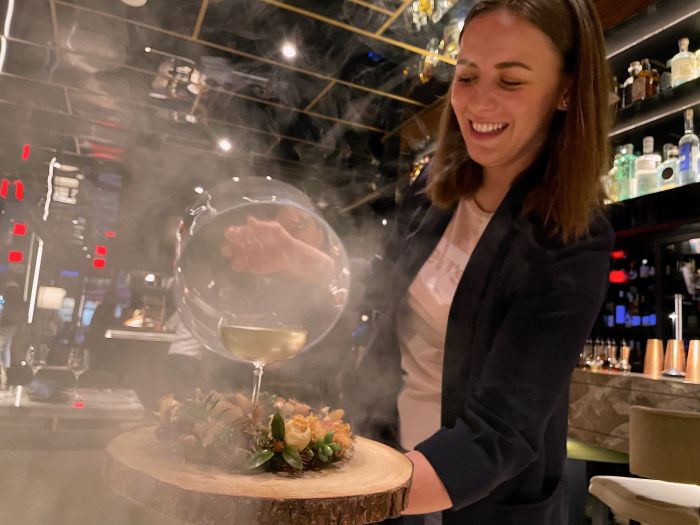 Photo by Michael Reiss
The Mollusca cocktail presented atop a wooden plank, under a smoked lid, surrounded by flowers was a tour de force that capped off the evening.
If this tasting tour of The New York City Wine and Food Festival tantalized your taste buds, plan to attend next years events, October 12-15, 2023. Check out the New York City Wine and Food Festival for details!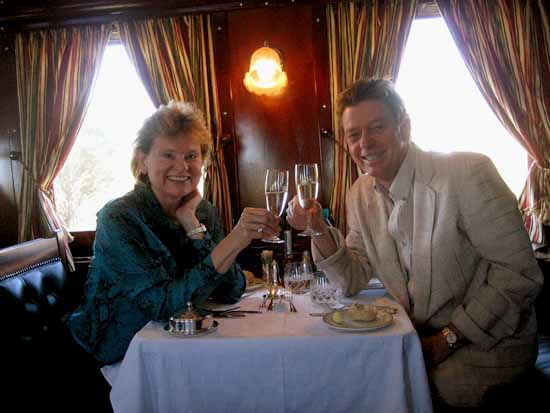 Diane Sukiennik & Michael Reiss
Diane Sukiennik is an internationally recognized writer, coach, keynote speaker, consultant, educator and licensed therapist. She is the author of The Career Fitness Program: Exercising Your Options, 11th edition, Prentice Hall, the most widely used text in colleges and universities in the subject area. A self-proclaimed 'leisurologist,' she speaks French and Spanish, is an avid world traveler and...(Read More)