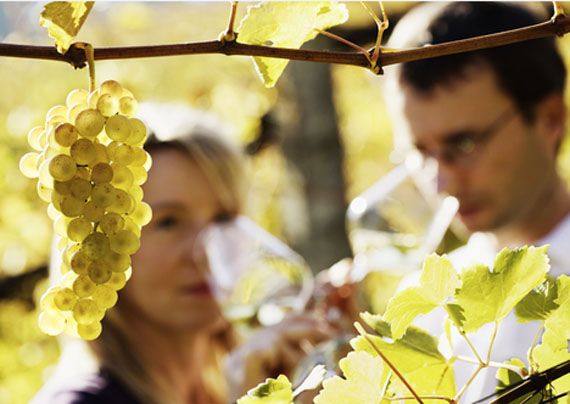 Some people want to be firemen when they grow up. Others want to be astronauts. Still others dream of being accountants (we don't really hang out with them). When we grow up, though, we want to be sommeliers. We want to sniff and swirl and sip wines and know everything about them.
We want to be able to pick a Burgundy from a Barolo and to know why Sauvignon Blanc from Chile tastes different from that of New Zealand. The only problem is, we've already got a day job and it takes years of study and training to start the qualification process. That is, until now.



American Sommelier, an organization founded in 1998 and dedicated to supporting wine professionals and raising and promoting wine awareness and knowledge for all Americans through wine education, is offering a condensed Six-Day Intensive Course in Napa this summer. Their normal Viticulture & Vinification course usually lasts 24 weeks, but oenophiles on the run can dash through the syllabus in less than a single week now.

The condensed "Viti/Vini" will run from Monday, July 25, through Saturday, July 30, and is being held at The Harvest Inn in St. Helena. Tuition will cost $3,000 and the hotel is offering a special rate of $289 a night except for Saturday night, which will be $399 for participants who choose to stay on.



Don't let the concentrated nature of the course scare you, though. American Sommelier actually allows, and even encourages, both industry professionals and consumers to take part in the class, which looks at the world's various wine regions through the eyes of a sommelier.

The course will cover topics including wine varietals, climate, geography, soil types, winemaking and grape-growing processes and philosophies, economics and food pairings - basically everything you need to know to look educated the next time you drop by your local wine shop.

When you register, you'll receive a reading list (summer reading!) and a sample quiz, along with guidelines on where to focus your pre-class studies and how to prepare before the class begins.



Each day of the course will run from 9:00 a.m. - 6:00 p.m. (except Saturday, which just goes until 11:30 a.m.), students will begin with a half-hour quiz based on the readings and the lectures. Much of the day will consist of region-based lectures paired with wines that pertain to specific points being made - usually around 20 wines a day. When was the last time you got to drink in class? The last half-hour of each class will be devoted to questions and review of the material. Finally, on the sixth day, students will be given a cumulative final exam.

It's not all lectures and tests, though. The class will take a field-trip, literally, to a vineyard and winery one afternoon, followed by an optional group dinner. Your tuition includes lunch Monday through Friday, four Schott Zwiesel glasses and a wineglass carrying case, a certificate of completion and a pin, and a year of membership with American Sommelier.



So who's going to be talking your ear off? Lectures will primarily be led by American Sommelier's President and CEO, Andrew F. Bell, whose resumé includes working with renowned hotelier Bill Kimpton, harvesting for French winemaker Frederic Lornet, and even serving as a sommelier at the celebrated, Michelin three-star Guy Savoy restaurant in Paris. So yeah, he knows his wines.

You can find more information on the Six-Day Intensive here, or email rachelkoblic@americansommelier.com. If you're ready to have some wine knowledge dropped on you, here is the link for the application form. So get started on your homework....namely, drinking!