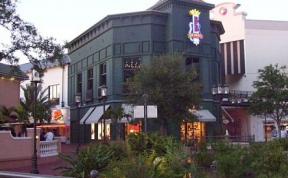 Shopping
This is Pointe Orlando - a place where you can elevate your dining experience at restaurants offering everything from casual fare to haute cuisine. Where you can discover a diverse collection of specialty shops. And where, when the sun sets, you can find a place pulsing with energy, music, and live entertainment.
Among the towering palm trees that dot our landscaped walkways, among the fountains sitting in sun-dappled squares, you'll discover an eclectic mix of extraordinary shops. From iconic brands like Armani and Tommy Bahama to chic boutiques, you'll find it at the Pointe.
Around here, there's always something going on. You'll find live music, the hottest movies (as well as an IMAX theater), and an upside-down mansion. That's right: an upside-down mansion. There's something for everyone at Pointe Orlando, where vibrant entertainment and fascinating attractions create an unforgettable experience.
What do ZAGAT and The New York Times have in common? They both said great things about our restaurants, which of course says a lot about Pointe Orlando. The fact is, whether you're looking for a romantic dinner or a meal with the entire family, this is the place to be.