By Jared Paul Stern Aug. 30th, 2018
One of the reasons – and there are several – why PARISCityVISION is considered the very best tour operator when it comes to seeing the City of Lights and the rest of France in comfort and style is its incomparable experience. Founded in 1929, the company has been welcoming discerning visitors for nearly 90 years. And they've established a loyal clientele – around 800,000 tourists every year – thanks for a focus on four major pillars of excellence: experienced operational teams, multilingual professional guides, a rich multicultural environment and continuous innovation with new Paris excursions and themes added each season.
A member of the global Gray Line network, PARISCityVISION offers more than 400 excursions to Paris as well as visits to compelling attractions such as Versailles, Giverny, Mont Saint Michel, the Loire Valley and many more, including off-the-beaten-track spots that only insiders know. They offer access to more than 50 destinations in Paris and France and more than 200 experiences, from classic to creative and premium tours, guided or freestyle as each visitor prefers, by boat, foot, bike, coach, minibus, and everything in between.
Among their most iconic offerings are the alluring Marina de Paris lunch and dinner cruises on the Seine with elegant boats, panoramic views, fabulous service and sophisticated French cuisine. Other assets include Localers, whose motto is "Explore France like a local", offering innovative and original walking tour-focused experiences in Paris drawing on the expertise and passion of 120 local guides including chefs, historians, designers, actors, and more.
Other areas of expertise include culinary tourism, featuring romantic dinners, restaurant visits, cooking classes, and winery tours and tastings; shopping trips to some of Paris' chicest boutiques and hidden treasures; once-in-a-lifetime tours via helicopter, including a jaunt to the Palace of Versailles; or a fleet of iconic Citröen 2CV cars; you can also opt for responsible and sustainable itineraries; photography courses for those looking to brush up on their skills; or even a tour of Paris' famous street art and graffiti sites.
Or how about a visit to one of Paris' legendary cabarets, like the Moulin Rouge or the even more risqué Crazy Horse? No problem at all. The culinary tours are also especially appealing, especially since in 2010 French cuisine was recognized as a World Intangible Heritage by UNESCO. You can even specify a neighborhood to focus on, from the Marais to Saint-Germain, where locals will guide you to places that others would never be able to find. Want to visit Paris over the holidays but wary of crowds or sold-out attractions? Book one of the chic Christmas and New Year's packages and leave the rest to the professionals.
For those intent on acquiring chic new Parisian wardrobes, PARISCityVISION offers the ultimate opportunity in the form of a trip to La Vallée Village, the famed designer outlet center just outside the city. Here you will have half a day to discover the most prestigious luxury brands, in-demand designers and fashionable accessories at exceptional prices, while enjoying a stroll through the quaint streets of the stylish Village. After which some fine French champagne will certainly be in order. For more information visit: ParisCityVision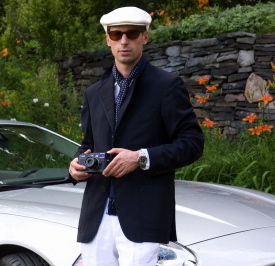 Jared Paul Stern
Jared Paul Stern, JustLuxe's Editor-at-Large, is the Executive Editor of Maxim magazine and has written for the Wall Street Journal, New York Times, the New York Times' T magazine, GQ, WWD, Vogue, New York magazine, Details, Hamptons magazine, Playboy, BlackBook, the New York Post, Man of the World, and Bergdorf Goodman magazine among others. The founding editor of the Page Six magazine, he has al...(Read More)