By Quentin Smith Dec. 20th, 2018
Image courtesy of Hotel Splendide Royal Paris
There are few places in the world more charming than Paris during the winter season. With its broad boulevards draped in sparkling lights, lavishly decorated hotels, over-the-top window displays, elegant restaurants and buzzing bars, Paris has everything you could imagine for a fun, festive and first-class holiday. The French capital knows how to eat, drink, and be merry like no other and is home to a number of unique hotels, restaurants and bars that have refined the art of doing all three. We've narrowed down our top selections for the best places in Paris to stay, play, dine and shine extra bright in the City of Lights.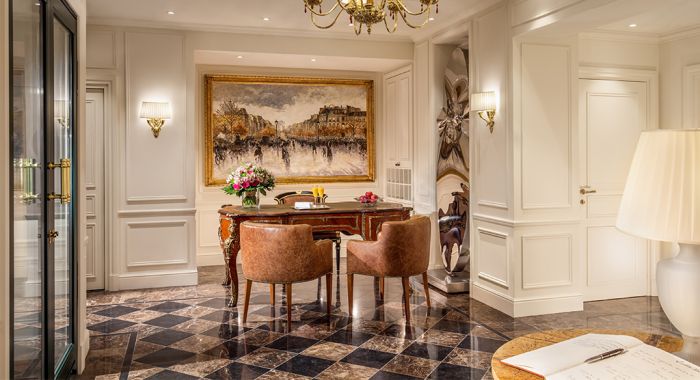 Image courtesy of Hotel Splendide Royal Paris
STAY: Hotel Splendide Royal Paris
When traveling abroad for the holidays, there's something to be said for choosing a hotel that feels like home. Located in the heart of the 8th arrondissement, Hotel Splendide Royal is a small boutique that prides itself on being just that. Discreetly tucked away on a quiet street in between the Élysée Palace and Avenue des Champs-Élysée, Hotel Splendide Royal's prime location makes it the perfect hideaway to call home for the holidays. With designer flagships and Rue du Faubourg Saint-Honoré just steps away Hotel Splendide Royal's prime location makes it ideal for engaging in the most Parisian of pastimes, shopping! With Hermes, Dior, Louis Vuitton and Cartier as neighbors, even the most seasoned of fashionistas will find their fix just footsteps away. Architecture enthusiasts and first-time visitors to Paris will enjoy hotel's proximity to the most recognizable historic landmarks of the Right Bank such as the Grand Palais and the Tuileries Gardens, all of which are reachable by foot in less than fifteen minutes.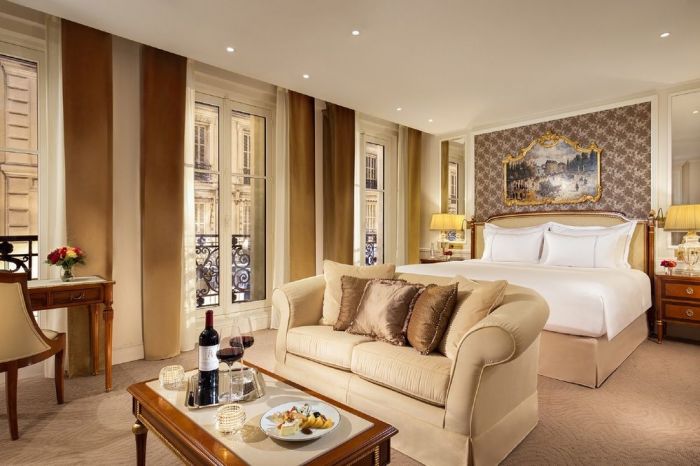 Image courtesy of Hotel Splendide Royal Paris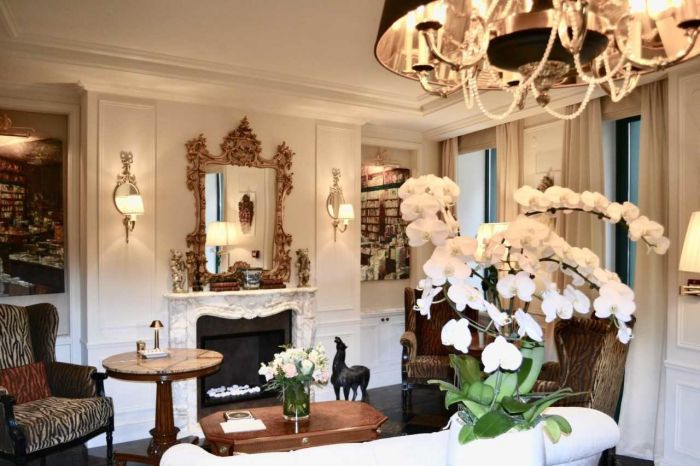 Image courtesy of Hotel Splendide Royal Paris
Housed in a 19th-century townhouse and comprised of 12 spacious suites spread across 6 floors, Hotel Splendide Royal offers guests the opportunity to experience a version of Parisian townhouse living at its most refined and luxurious. This "family home" located one of the most exclusive streets in Paris was designed to offer visitors to Paris an atmosphere of elegance and refinement without the trappings of pretension. An emerald green façade distinguishes Hotel Splendide Royal from its residential neighbors. Discretely marked only by a pair of stately topiaries, the entrance to Splendide Royal opens up to a reception area and lobby that could easily be mistaken for the immaculately designed living room of a Parisian aristocrat. With a welcoming fireplace as its centerpiece, the neo-traditional decor is further refined by modern sculpture, rare antiquities, art books and oversized urns filled with cascading white orchids.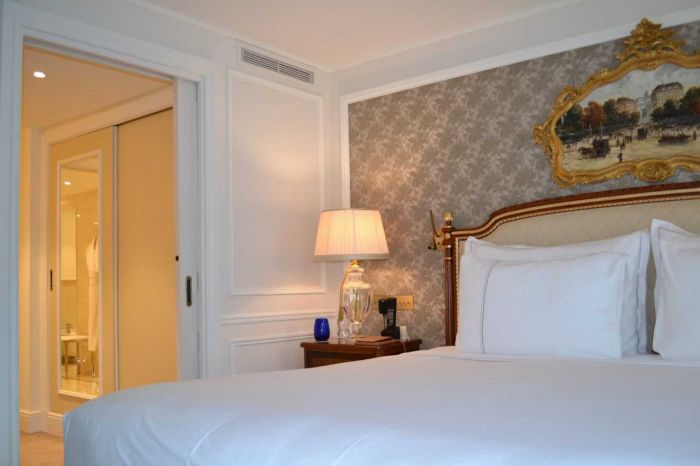 Image courtesy of Hotel Splendide Royal Paris
As for the rooms, each of the spacious and well-appointed, multi-room suites have the distinct feel of an individual pied-á-terre. Third level suites feature small balconies with ivy-covered railings, while rooms on the fifth level have large private terraces with postcard views of the Eiffel Tower. Thanks to a recent restoration and revamp of the property, all of the rooms are bright and splashed with natural sunlight filtered in from floor-to-ceiling French windows and skylights on top floor suites. The decidedly French décor draws inspiration from traditional Italian aesthetic motifs but keeps the mood light with white-washed walls, colorful textile wall coverings, plush furnishings and just enough gilded trim and Empire-style molding to underscore the elegance and historical significance of the property.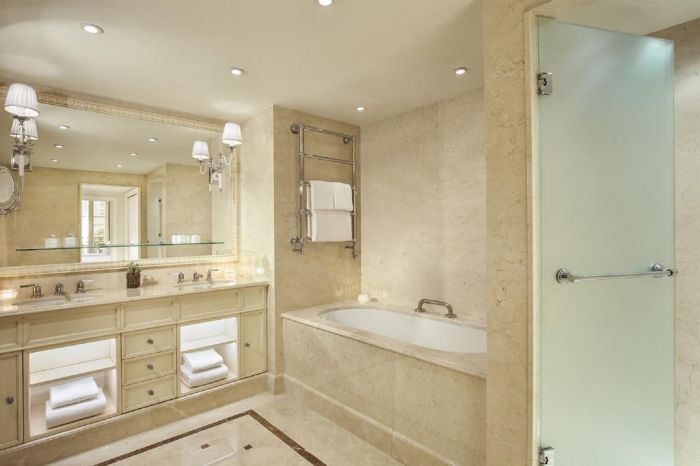 Image courtesy of Hotel Splendide Royal Paris
One of the most unique features of the rooms are dressing areas which come complete with large and ornate vanity tables fit for a queen and exceptionally spacious, spa-like bathrooms with freestanding rain showers and deep bathtubs. The separate bedroom areas feature king-sized beds topped with crisp white French bed linens and large flat screen televisions with a range of local and international entertainment options. The living rooms are exceedingly comfortable with en-suite powder rooms, large desks, full-size sofas and a second wall-mounted television. The living room is also where you'll find a discretely hidden kitchenette with the essentials for tea-and coffee-making and basic food preparation, including a sink and microwave. Wine connoisseurs will be drawn to a very special minibar offering a well-curated selection of wines from some of the most sought after winemakers in France and Italy.
Splendide Royal's in-house restaurant Tosca is a real gem and has consistently remained one of the most sought after reservations on the Right Bank. An authentic homage to modern Italian cuisine, ingredients are elevated and reinvented in ways that will pleasantly surprise even the most refined of palates. Foodies in town for the holidays have the opportunity to book a table at Tosca for Christmas Day and New Year's Eve where chef Vito Grippa has curated very special menus for each occasion. Christmas dinner begins with special dishes such as red mullet fillet with Campari cream, followed by beetroot cod fish ravioli with saffron and caviar. The meal ends with Christmas pudding and banana flambé. New Year's Eve is celebrated with inventive dishes such as lobster with crispy artichoke, stracchino cheese cream and puffed rice as a starter option, paired with veal tenderloin with parsnip, white Alba truffle and a duck liver sauce as the main course. Tosca's waiters are extremely knowledgeable and happy to expertly pair each dish with wines from the restaurant's exceptional wine list.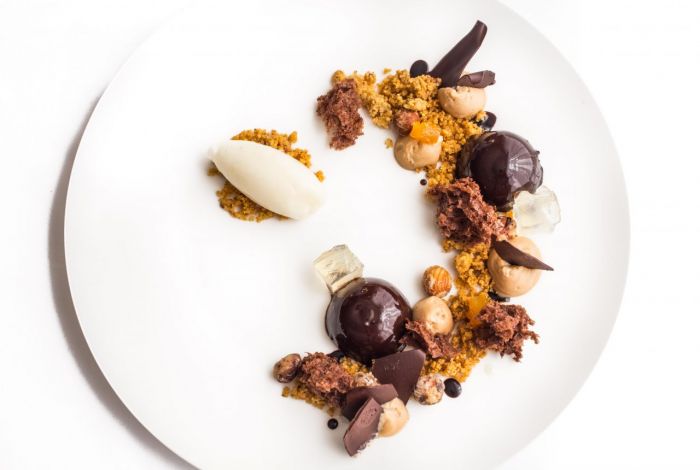 Image courtesy of Hotel Splendide Royal Paris
EAT: Le Chiberta
Located just off the Champs-Élysées, Le Chiberta is the brain child of acclaimed French chef Guy Savoy. Designed to be a slightly more budget friendly alternative to some of Savoy's more pricier restaurants, Le Chiberta has every bit of the panache and sophistication for which the Guy Savoy brand has become renowned. Housed inside of a Haussmann building, Le Chiberta is a contemporary and thoroughly modern space designed by renowned Paris architect, Jean-Michel Wilmotte. The cool and sleek decor sets the stage for a culinary experience that is as pleasing to the eye as it is to the palate. Black walls, glass wine cellars, and large abstract paintings by Bertrand Lavier and Gérard Traquandi serve as the backdrop for white-clothed tables adorned with little more than the simple steel colored salt and pepper set. A perfect blank canvas for the work of chef Stéphane Laruelle, which demands center stage.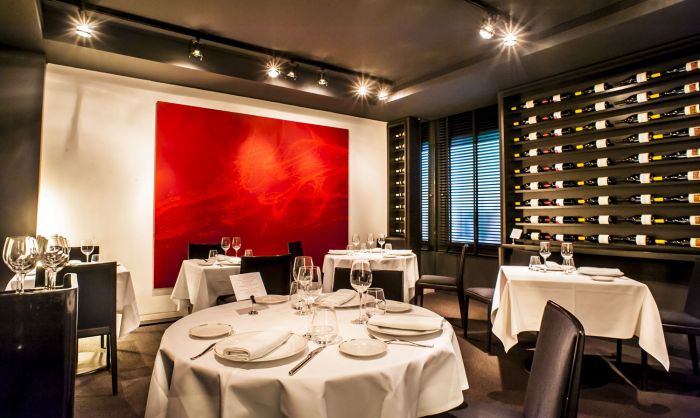 Image Courtesy of Le Chiberta
Unarguably one of the world's greatest chefs, Guy Savoy's delicate cuisine has come to be known for its balance of inventiveness and focus. That being said, it comes as no surprise that for Le Chiberta, Savoy has entrusted his protege, chef Stéphane Laruelle, to lead the culinary program of his Champs-Élysées outpost. With a resume that includes the kitchens of Faugeron, Le Crillon and Le Grand Véfour as commis de cuisine, chef Stéphane Laruelle is a master of his craft and the heart of Le Chiberta. As head chef of Le Chiberta since 2007, Laruelle has set a new standard for the Paris culinary scene and continues to win acclaim from not only his many loyal customers but also from the Michelin Guide, which bestowed a highly coveted star upon the restaurant. As a right hand to Guy Savoy himself, Laruelle has ensured that the Savoy touch is evident throughout the Le Chiberta experience. "The spirit of Guy Savoy persists in all my work," says Laruelle "but adapted to suit the unique style of our particular restaurant."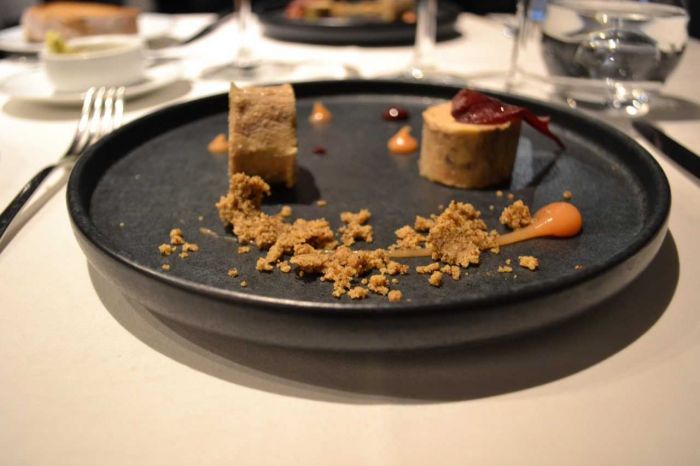 Image Courtesy of Le Chiberta
We had the opportunity to visit Le Chiberta and experience its culinary charms first hand. With chef Stéphane Laruelle and his brigade at the helm, we opted for a dinner tasting menu which began with a glass of Guy Savoy's very own Blanc de Blancs and two oysters David Hervé served with aromatic jelly and seaweed granita. This was served alongside marbled duck foie gras with red wine and sweet spices and paired with a 2012 Maury Mas Amiel Vintage Réserve port. With a nose of blackberries and mild spicy notes, with a hint of blood orange citrus, this wine was an exquisite complement to the savory duck and sweet spices of the foie gras. This eclectic and flavorful start was the perfect introduction to the Le Chiberta culinary style and the perfect palate primer for the main course; glazed sweetbreads with chanterelle mushrooms, pak choï cabbage and carrots. This course was expertly paired with a 2010 Medoc by Chateau Castera. The continued notes of blackberry with layers of rose and juniper on the entry with a touch of balsamic paired nicely with the sharpness of the chanterelles and brought out the subtle flavors of the glazed sweetbreads. Rounding out the meal was a palate-refreshing desert of grapefruit and orange flavored with Earl Grey tea.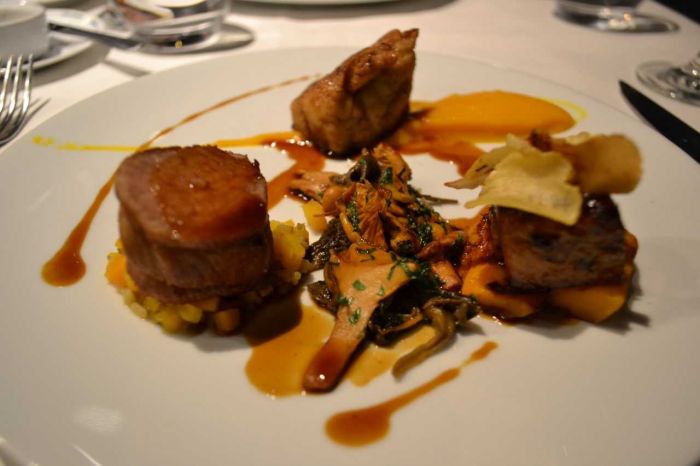 Image Courtesy of Le Chiberta
Dining at Le Chiberta is a sensory journey where both the setting and service join forces to celebrate French culinary tradition and innovation in a delicate balance of relaxed and refined. Other restaurants helmed by Guy Savoy include Monnaie de Paris, Les Bouquinistes, Atelier Maître Albert, Goût de Brioche bakery and of course, his United States flagship restaurant, Guy Savoy Las Vegas.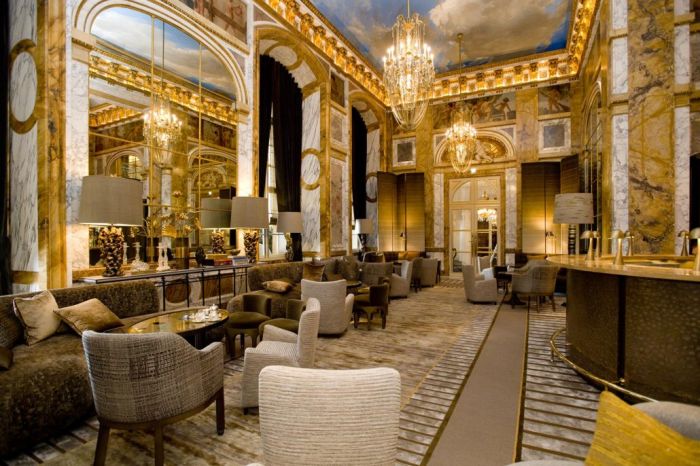 Image Courtesy of Les Ambassadeurs
DRINK: Les Ambassadeurs
Housed inside of the famed Crillon Hotel, Les Ambassadeurs is one of Paris' most buzzed about watering holes. As one of the original main rooms of Duc de Crillon's private residence, Les Ambassadeurs greets hotel guests and visitors alike with majestic 18th-century architecture brought to life by modern design elements. Recently reimagined by interior architect Chahan Minassian, the space is as an intoxicating blend of chic and cozy, with marble walls, plush sofas, gilded trim and frescoed ceilings to complete the aesthetic. As for its patrons, the worlds of business, art and fashion converge to create cosmopolitan energy that is uniquely Parisian. With Place de la Concorde as a background, Les Ambassadeurs is a magnet for an eclectic collection of individuals who appreciate a balance of refinement and relaxed. The atmosphere is vibrant and festive with live music program that includes performances by noteworthy artists, musicians and world-class DJs. Those planning to ring in the new year at Les Ambassadeurs can look forward to curated sets of dance music that will bring New Year's Eve to life well into the evening. It wouldn't be New Year's Eve without copious amounts of bubbly. Fortunately Les Ambassadeurs will have your party covered with over 100 types of champagnes; ranging from local small producers to famous labels. For those who prefer cocktails, Les Ambassadeurs cocktail list is one of the most extensive and inventive in Paris, with an assortment of libations that will impress even the most discerning of cocktail connoisseurs and spirit enthusiasts.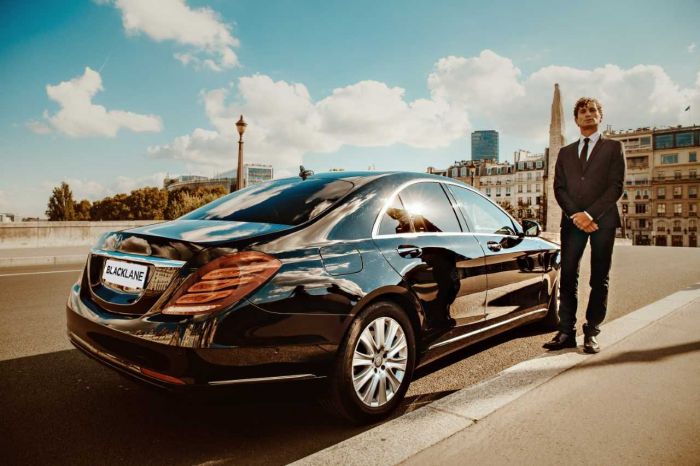 Photo Courtesy of Blacklane
TRAVEL TIP: Blacklane
As anyone who has taken a trans-atlantic flight to France can attest, arriving in Paris from either one of Paris' international airports can be a harrowing experience, especially during the holiday season. Fortunately, there is a better way to make this part of the journey as seamless as possible. Blacklane is a luxury car service that streamlines transport from the airport and throughout the city, allowing passengers to reach their arrival destinations in comfort and style. Founded by self-proclaimed "frequent travelers" Jens Wohltorf and Frank Steuer in 2011, the pair each recognized the need for a single global professional chauffeur service. The result was Blacklane, a smarter way to book and manage rides for the globe-trotting traveler. Unlike similar services Blacklane's app is fully interactive, allowing users to connect with licensed and insured, professional chauffeurs with access to a fleet of carefully selected luxury vehicles. Blacklane's all-inclusive rates are competitively priced and guaranteed at the moment of booking. The flat rate covers all taxes, fees, tolls, and gratuities. The service combines 24/7 customer care with real-time service control for tens of thousands of top-of-the-line vehicles. Passengers can customize their pick-up and transport for optimal efficiency. Passengers arriving at the regional airports can expect their chauffeur to greet them upon arrival with easy-to-spot signs on discrete iPad tablets. Within minutes you are in your luxury car and en route to your holiday in Paris with everything you may require following a lengthy airplane ride, including phone chargers and bottled water.
Quentin Smith
Quentin is a editor at the WKNDER blog and a featured Lifestyle Contributor for JustLuxe. His editorials highlight the best in travel, wellness, culinary trends, and cultural topics in the worlds of art and design. Connect with him on social media @quentinthe5th or via email at quentin@wkndermagazine.com ...(Read More)