By Quentin Smith Dec. 21st, 2018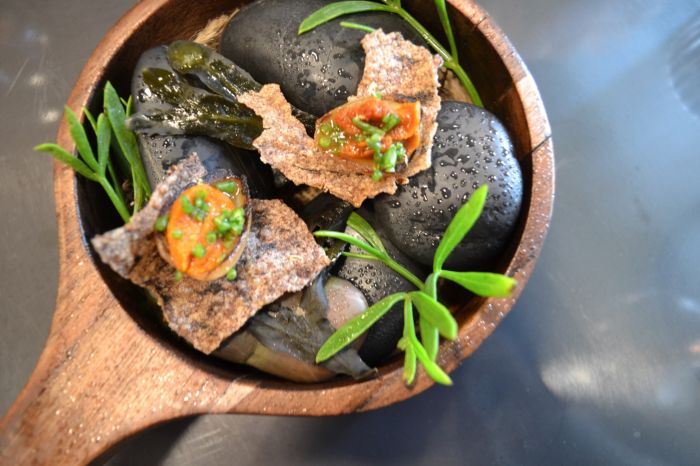 Image Courtesy of Restaurant David Toutain
Since opening in December of 2013, Restaurant David Toutain has remained one of the most innovative and talked about restaurants to establish itself on the highly competitive Paris dining scene. Tucked away behind a minimal and unassuming storefront in the 3rd arrondissement is chef David Toutain's eponymously named eatery. More culinary lab than bistrot, Restaurant David Toutain is atypical of most traditional Parisian restaurants. Anchored by a convivial, dual-level dining space filled with natural light and calming organic shapes, the restaurant invites diners to abandon all forms of pretense and allow focus to be placed on the food. Architecture devoid of extraneous ornament sets the stage for an earthy and warm interior anchored by a large live edge walnut slab table surrounded by a few smaller more intimate tabletops. These aesthetic considerations give the restaurant a casual feel that only serves to enhance the communal nature of the David Toutain experience. According to Toutain "It is very important that a guest feels relaxed and it's very important to me that people are happy and feel comfortable once seated at the table to enjoy their experience. When you are at the table for two or three hours you need to feel that way."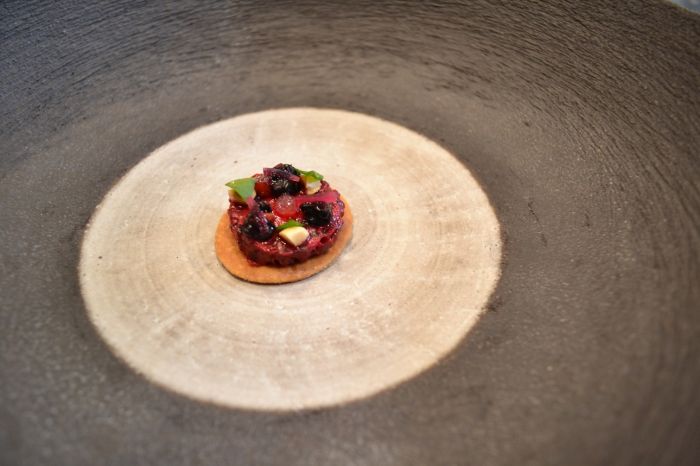 Image Courtesy of Restaurant David Toutain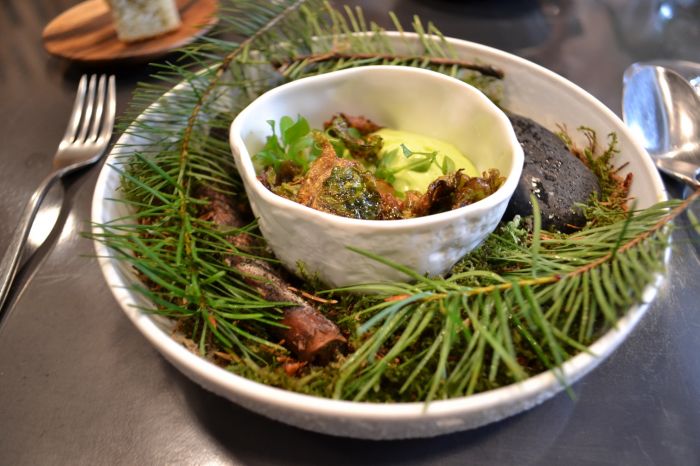 Image Courtesy of Restaurant David Toutain
Whether you opt for the lunch or dinner tasting, a meal at David Toutain feels less like formal Parisian dining and more like a relaxed gathering in the home of a good friend––a good friend who just so happens to have earned a highly coveted Michelin star. As a downtempo electro and rhythmic neo-soul playlist waft in the background, lunch is served by way of pre-fixed menus with names such as Poppy, Pansy and our personal favorite, Queen of the Meadows. Opt for whichever one rolls off the tongue (pun intended), and prepare yourself for a series of culinary creations, pairings and presentations as memorable and unique as the menu names themselves. Each dish is artfully conceived and curated by David Toutain and is reflective of his broad scope of experience and international influences; including training with chefs Alain Passard at L'Arpege, Marc Veyrat at La Maison du Bois, Pierre Gagnaire and Bernard Pacaud at L'Ambroisie.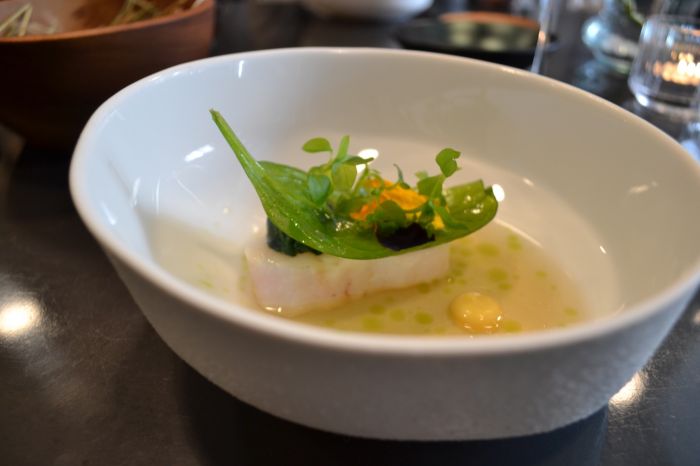 Image Courtesy of Restaurant David Toutain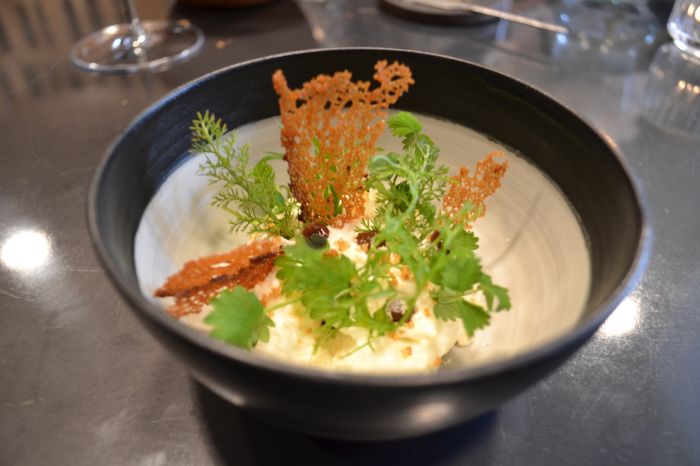 Image Courtesy of Restaurant David Toutain
The result is avant-garde cuisine that elevates and redefines expectations of French culinary traditions. "I like to tell my guests to focus on what we are doing," says Toutain. "When we work on a new plate we put our thoughts and emotions into it." This is evident in the way that local and seasonal ingredients are used in creative and inventive ways. Dishes such as a wildflower topped beetroot tartlet amuse bouche prep the palate for other seasonal delicacies such as salsify root with a sweetened parsnip mousse, crispy sea urchin with onion and roasted brussels sprouts with pine needle purée. Expect your servers to introduce exquisite pairings throughout the experience. One example is the cod with lemongrass and citrus which is expertly paired with an aromatic and floral Cote du Jura Chardonnay from Domaine des Marnes Blanches. This is followed up by the crown jewel of the tasting; a single roasted scallop served on the half-shell.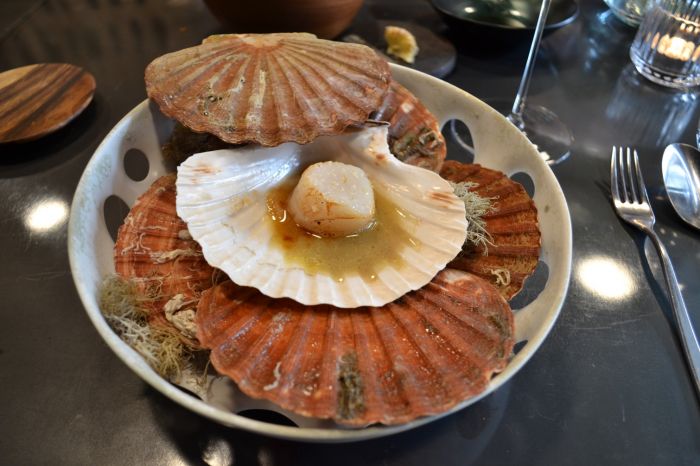 Image Courtesy of Restaurant David Toutain
Like any artist with an understanding of context and notes, Toutain deftly transitions between tastes and textures and brings the meal to a delicate finish with a savory and sweet smoked eel paired with black sesame and green apple followed by crispy chocolate with bergamot and cardamom. Restaurant David Toutain does more than just prepare food. Toutain and his team curate an all-encompassing culinary journey that truly inspires all who are fortunate enough to experience it, one creation at a time.
Restaurant David Toutain, 29 rue Surcouf, 75007 Paris. Tel: +1 33 1 45 50 11 10
Quentin Smith
Quentin is the founder of luxury sporting brand Artemaré, editor of the WKNDER blog and a featured Lifestyle Contributor for JustLuxe. His editorials highlight the best in travel, wellness, culinary trends, and cultural topics in the worlds of art and design. Connect with him on social media @artemare @wkndermagazine or via email at quentin@wkndermagazine.com ...(Read More)