By Sean Hillen Jul. 22nd, 2019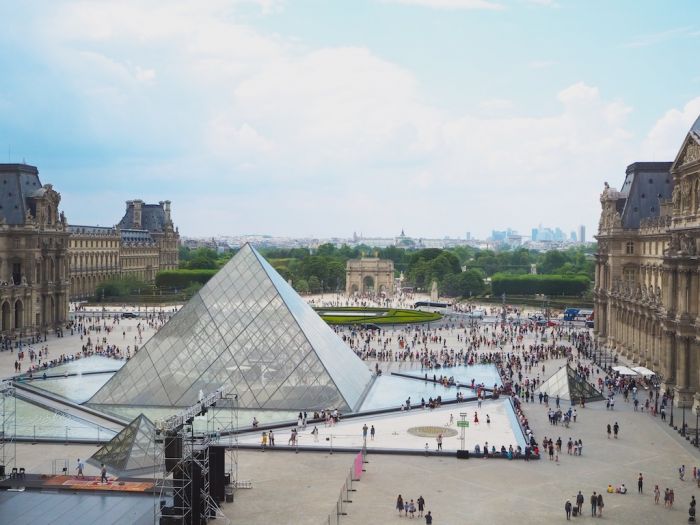 The Louvre. Photo by Columbia Hillen
Being an epicurean paradise, Paris offers bountiful pleasures for mind, body and spirit. In asking 'what makes Paris, Paris?' we gleaned through a trove of treasures and chose some.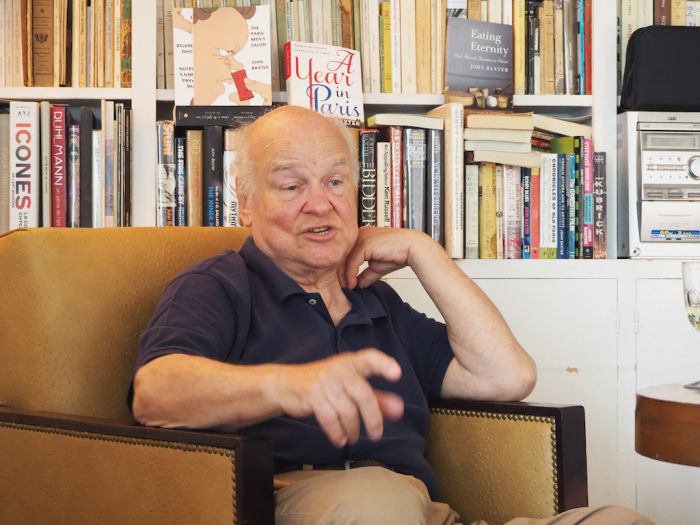 Literary Guide John Baxter. Photo by Columbia Hillen
In The Footsteps Of Writers
With more than 40 books to his name over several decades, in a wide range of genres, including many on aspects of Paris itself, there's probably no greater literary guide than Australian-born John Baxter. A self-confessed epicurean, John has organized four different types of walks encompassing 'the Lost Generation. Montparnasse and the Great Cafes;' 'St. Germaine and Odeon: The Paris of Philosophy, Architecture and Revolution;' 'The Moderns. Kerouac, Ginsberg, Burroughs, Jazz and the Beat Generation;' and the 'Paris Days of Ernest – and Hadley and Pauline – Hemingway.'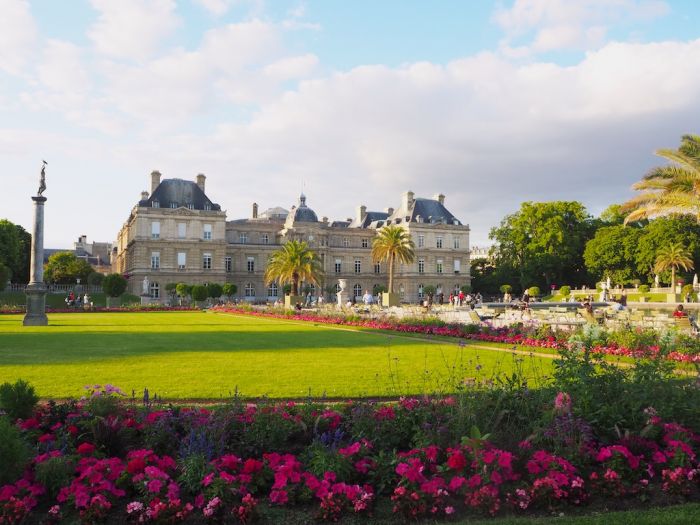 Luxembourg Gardens. Photo by Columbia Hillen
Each 3-hour walk includes a coffee break at a classic Parisian café and a stroll through the Luxembourg Gardens and ends with lunch in John's elegant apartment in a building that was the former home of Sylvia Beach, owner of the original Shakespeare and Company bookshop.
John Baxter will host a special workshop and lunch at his home as part of the Paris Writing Retreat in October.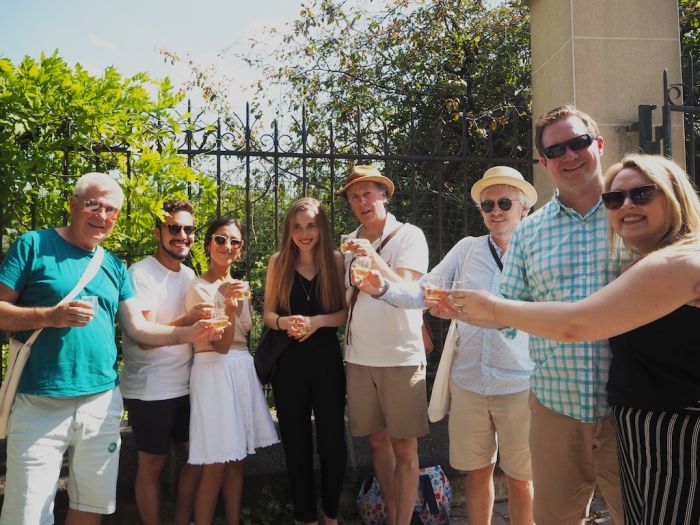 International tourists enjoy the Paris Wine Walk. Photo by Columbia Hillen
Canada-born Geoffrey Finch sipped his first French wine - a rosé - as a teenager when the daughter of a Mayor in Victoria offered him a bottle as a gift. Since then it has developed into a loving relationship. With wine that is, not the girl.
A self-confessed aficionado, Geoffrey, a former barge captain and wine dealer in England, now enjoys bringing groups around France on focused wine tours, on foot, bicycle, or by other transport means.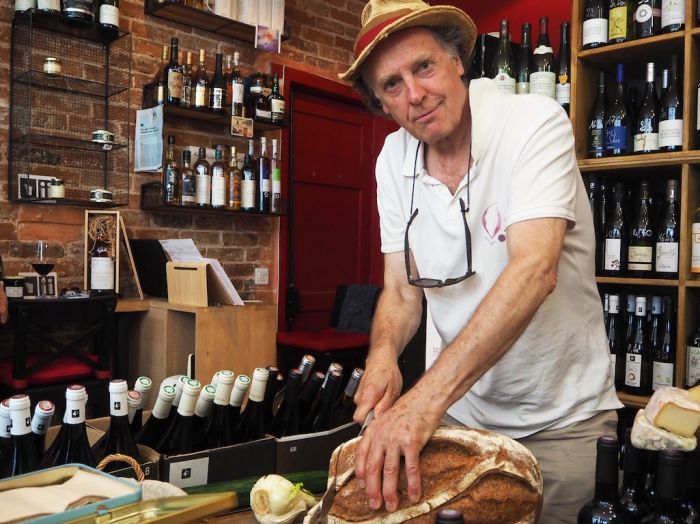 Geoffrey Finch, tour guide, preparing a feast. Photo by Columbia Hillen
I and my companion joined him for a 4-hour evening tour in the Belleville district of Paris, one that began outside a vineyard near the second-highest point of the City of Light (after Montmartre). It was a leisurely walk, filled with informational titbits and an abundance of light-hearted interludes by Geoffrey's whose T-shirt logo says 'Take A Walk On The Vine Side.' And some very diverse wines accompanied by cold cuts and cheese at several different places. You'll learn how Belleville and Bercy were very important in the development of the French wine industry and how many, and where, the various Parisian vineyards are located, as well as about the ever increasing sustainable wine trends. Summed up, it's a 'walk, talk, think, clink, drink' kind of experience.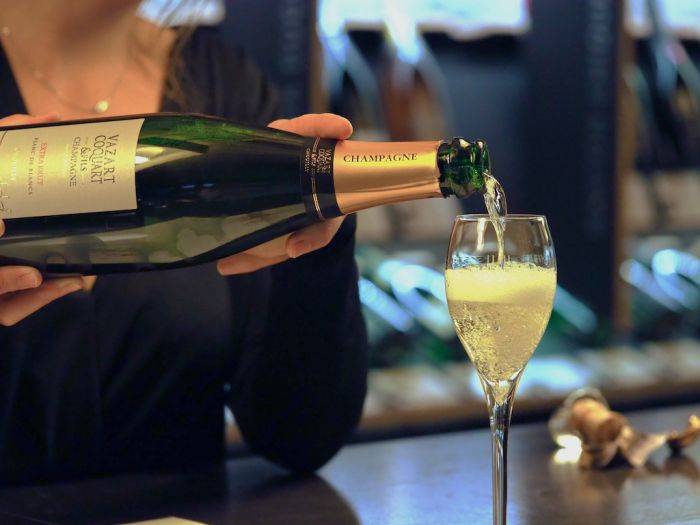 Champagne tasting at 'Dilettantes.' Photo by Columbia Hillen
Considered the most iconic sparkling wine in the world, there is no better way to quaff a few glasses while learning about this luxurious drink's illustrious history than visiting one of Paris's many champagne houses.
Located in the popular Latin Quarter, 'Dilettantes' provides a golden opportunity with tastings taking place in a cosy underground cellar. Several types of tastings are offered, with or without food accompaniment, from among 25 small producers from the four main terroirs, each producing between 20,000-25,000 bottles per year. Changed every 1§5 days, we enjoyed a blanc de Blancs from Vazart-Coquart & Fils, Chouilly as well as a brut from Maurice Grumier, Venteuil and a Fins Lieux No. 1 Millésimé Champagne Grand Cru from Pehu Simonet, Verzenay.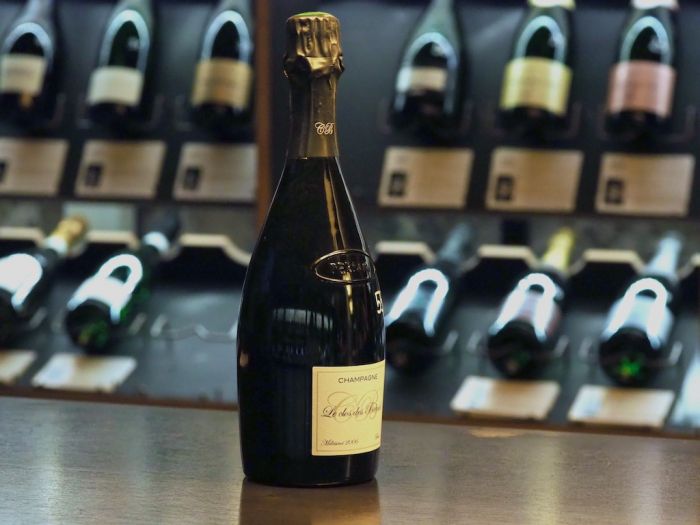 Champagne tasting at 'Dilettantes.' Photo by Columbia Hillen
Food options include a Spanish charcuterie of pata negra ham and aged comté cheese or a new caviar-champagne combo. Other tastings are innovatively linked to the senses, including artwork and music, and perhaps even a relaxing sophrology option. Groups and single clients are welcome. So attractive has the venture been, at least one successful marriage proposal has taken place there. Ask for the knowledgeable Lorelei Ricard, a caviste from the champagne region itself.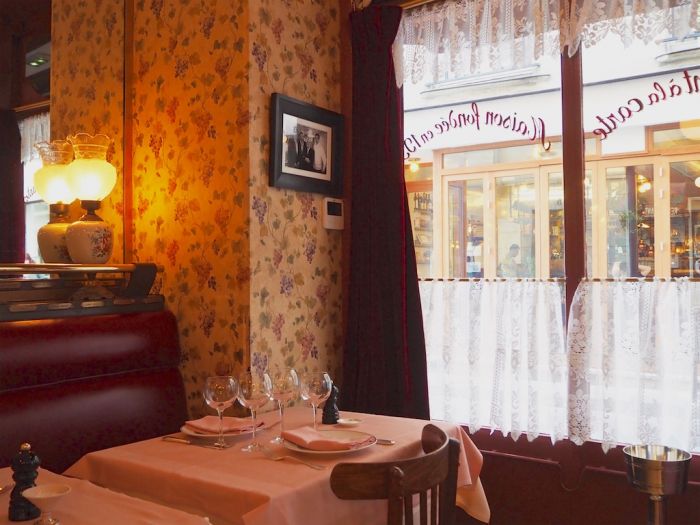 �La Poule au Pot� restaurant. Photo by Columbia Hillen
No evening in Paris would be complete without a leisurely dining experience at one of the city's historic restaurants. Established 84 years ago and re-opened last year under new owner-chef management, 'La Poule au Pot' on Rue Vauvilliers near the Châtelet-Les Halles shopping district is a fine choice. Its popularity is illustrated by the many brass plaques featuring the names of celebrities who have eaten here, including actors Bill Murray and Jake Gyllenhaal and former movie director, John Ford Copolla.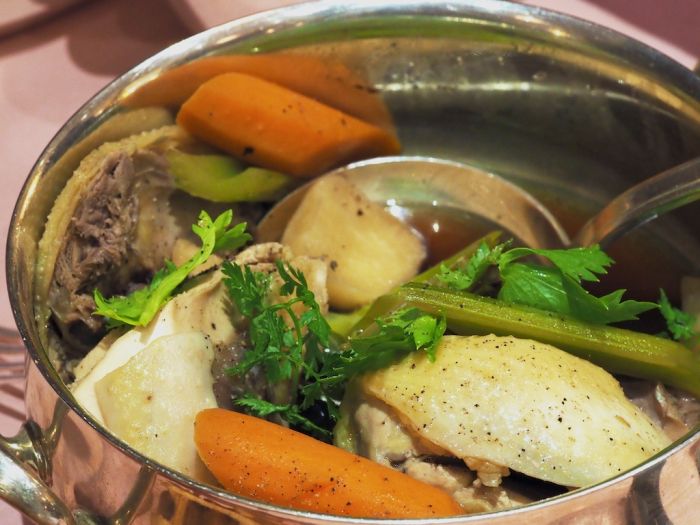 �La Poule au Pot� restaurant. Photo by Columbia Hillen
With lace decoratively fringing the front door, wine and champagne bottles filling stainless steel bowls, bronze statues, vases of fresh flowers and an interior reflecting belle epoque style, this small, intimate one-Michelin star restaurant was full on a recent Monday evening, so reserve a table early. Enhancing its classic French 'cuisine bourgeoise' ambience are mirror-tile covered pillars, floral wall paper, wooden chairs and a wooden-boxed table radio on the copper bar.
As openers, my companion and I chose the classic of all French dishes, onion soup, which our server said had been voted the best in Paris by 'Le Figaro' newspaper. I can understand why. We followed this with a dish-for-two aptly named after the restaurant itself – Poulette de Bresse au pot. Other menu items include duck, frog legs, from one of the few suppliers left, in Valence, near Lyons, owner-chef Jean-Francois Piège's home town, and entrecôte featuring beef from the famed master butcher Olivier Metzger.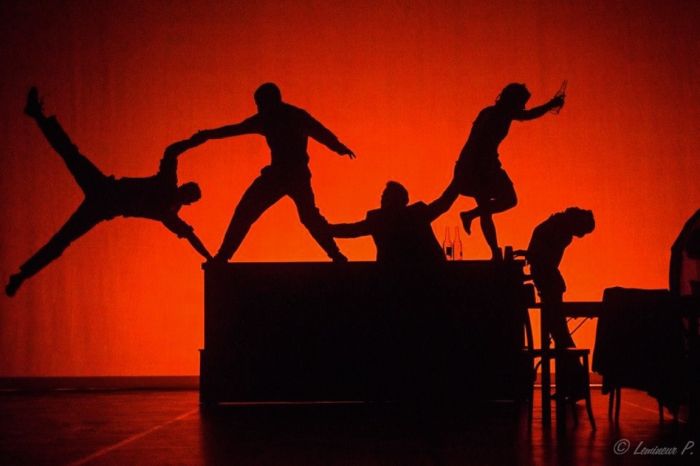 Scene from the show 'Speakeasy.' Photo courtesy of The Rat Pack
If there is one show you simply must see in Paris this summer, it's 'Speakeasy' (ends August 10, so buy your tickets fast). An exhilarating, fast-moving production by The Rat Pack, a contemporary circus company, at Palais Des Glaces, it combines precise dance choreography, much of it gravity-defying, by a troupe of six performers brimming with singing, acrobatic and acting talent, the whole drama taking place on a minimalist stage comprising two tables and chairs, a bar and a climbing pole.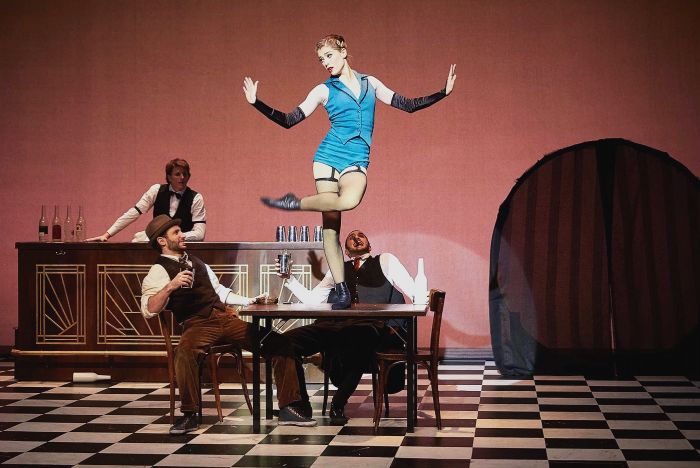 Scene from the show 'Speakeasy.' Photo courtesy of The Rat Pack
Be prepared for a feast of the visual senses as you are taken on a trip back to the American Prohibition era of the 1920s and '30s. Theatre in Paris described the show accurately, 'an amazing prohibition cocktail of music and motion,' one that mixes movie, theater arts, hip-hop dance, alcohol, gangsters, settling of scores and forbidden love.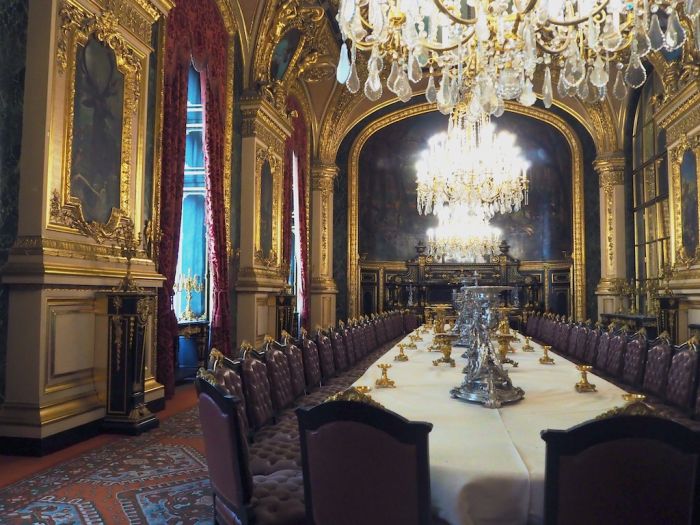 Napoleon the Third's apartments. Photo by Columbia Hillen
Memorable Museums
With more than 160 museums in Paris, visiting them all could be a small challenge. Instead, here are two, one large, one small, that give an idea of the overall artistic menu.
Louvre - the world's largest art museum, its 73,000 square-meter space is filled with 38,000 objects from prehistory to the 21st century. From the lavish to the earthy, the ostentatious to the ordinary, from Renaissance to Islam, ancient Egyptian to contemporary prints and drawings. Leonardo's Mona Lisa attracts the most attention, but a dander around the opulent apartment complex of Napoleon the Third in the Richelieu wing is an eye-opening experience, reflecting how the museum was a former royal palace. In terms of paintings, look out for 'The Card Sharp with the Ace of Diamonds,' an amusing 17th century work by Georges de La Tour. Or his innovative depiction of Joseph and Jesus, carpenter and apprentice.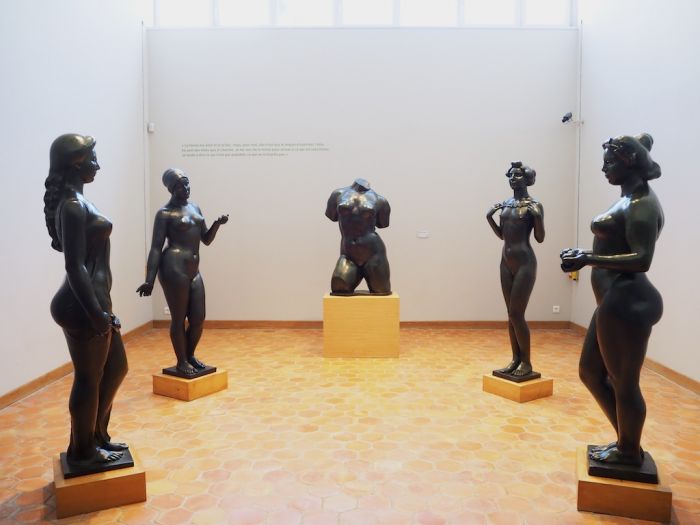 Museum Maillol. Photo by Columbia Hillen
Museum Maillol – much more manageable than the sprawling Louvre, this intimate museum features not just the sculptures, paintings and prints of 19th-century artist Aristide Maillol, including a collection of some very fine female nude portraits, but also a special exhibition featuring around 50 works assembled by Emil Buhrle, a wealthy industrialist. In a few compact rooms, you will enjoy a rare opportunity to see some of the masters within several art genres such as impressionism, post-impressionism and the École de Paris.
The 'who's who' of renown artists includes Manet, Degas, Renoir, Van Gogh, Gaugin, Toulouse-Lautrec, Picasso and Modigliani. The paintings being side-by-side means viewers can appreciate the links and differences between these various movements.
Sean Hillen
Sean Hillen has been an international journalist and editor for over 30 years and published author. His contemporary novel, 'Pretty Ugly' is an intriguing ride through the murky undercurrent of the lucrative cosmetic industry http://www.seanhillenauthor.com/  Sean's writing experience spans several continents - in Ireland, for the national daily The Irish Times and in England, as foreig...(Read More)