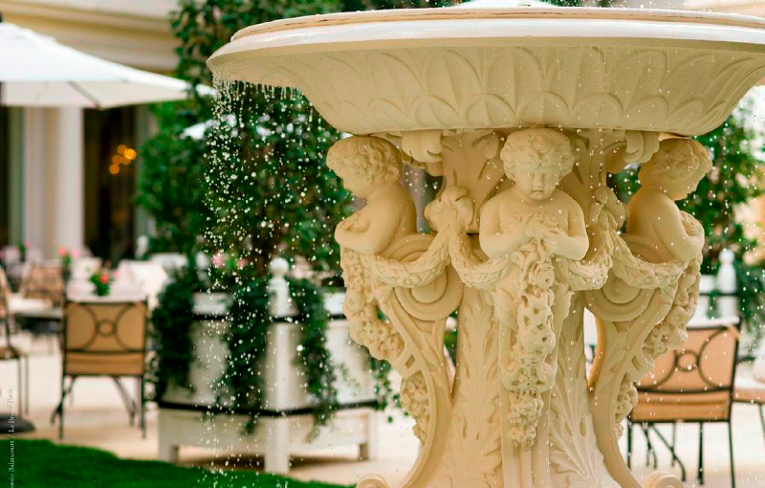 Hotels
Le Bristol Paris' exemplary service and unrivalled elegance make it the hotel of choice in the French capital. The hotel is located on the prestigious rue du Faubourg Saint-Honoré at the heart of Paris' fashion and arts district, where it has been welcoming its esteemed guests since 1925. Its 188 rooms and suites have undergone extensive refurbishment, and are spacious and bright, decorated in classic eighteenth-century style.
Accommodations
Since 1925 the hotel has been welcoming its esteemed guests to stay in its 188 rooms, of which 92 are suites. The spacious and light-filled rooms and suites have undergone extensive refurbishment and are decorated in classic eighteenth-century style.
Fabrics are only selected from the most prestigious companies. The prints, paintings and mirrors are all authentic, as reproductions are not allowed at Le Bristol, which is owned by a family of art collectors.
Dining Chef Eric Frechon, triple Michelin-starred chef, is responsible for the restaurants and bars at Le Bristol Paris, and proposes three different dining experiences:
Every day at Epicure he creates exquisite and inventive cuisine in the newly designed dining room, bathed in natural light.
114 Faubourg, le Bristol's luxury brasserie, has a delightfully warm and welcoming Parisian atmosphere. It is overseen by Chef Eric Desbordes, under the supervision of Eric Frechon.
Le Jardin Francais is a chic, cosmopolitan, very Parisian meeting place, at any time of day.
The Bar at Le Bristol is the new place to go for a night out in Paris.
Spa Partly bathed in natural light and looking out onto an interior garden, the Spa Le Bristol by La Prairie redefines the art of living at Le Bristol and raises the standards of French luxury. Because Le Bristol only uses the best products to ensure an exceptional experience, the hotel has forged an exclusive partnership for its facial treatments with the prestigious La Prairie brand. This multi-brand spa is equipped with 8 treatment rooms, including two twin rooms, a Russian room, fitness centre, hair salon and kids' club.
Meetings & Events Le Bristol Paris is an excellent choice of venue for your seminars and events. Our conference rooms are multi-purpose: most feature bay windows which open onto the hotel's large interior garden. Our chefs, pastry chefs, sommeliers and maîtres d's are trained to cater to your every requirement. All of our rooms are air-conditioned and fitted with telephone lines, and wired or Wi-Fi broadband access can be purchased.