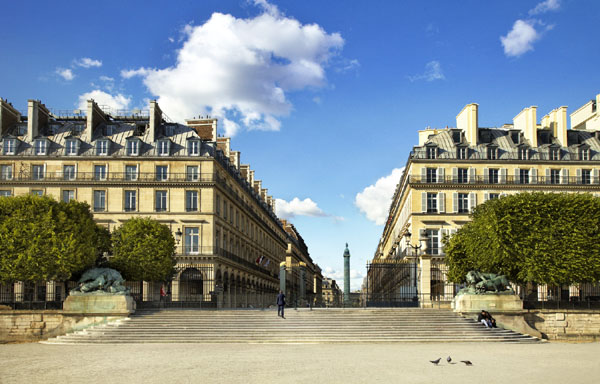 Hotels
The Westin Paris - Vendôme's ideal location in Paris' first arrondissement makes it easy for guests to combine business and pleasure.
Accommodations
Discover the perfect balance between traditional Parisian influence and contemporary design in one of our 428 guest rooms and Suites.
Each of The Westin Paris Vendôme's guest rooms is elegantly appointed; the handmade craftsmanship apparent is in every detail from the furniture to the floral arrangements. The unparalled views of the city will amaze you, and our signature Heavenly Bed will cradle you in exquisite comfort.
Our 80 suites feature a master bedroom, allowing for the utmost in relaxation, work or entertainment. Spacious and light with an exclusive decor, each suite has its own unique design.
Dining "le First, restaurant boudoir paris" located right between place Vendôme and place de la Concorde, invites you to taste an authentic and inventive cuisine, in an elegant and trendy setting designed by Jacques Garcia. Executive Chef Gilles Grasteau proposes a cuisine elaborated with high quality products and organic fruits and vegetables. Our Chef puts his devotion into respecting the seasonality and origin of the products.
When the weather permits, le First, restaurant boudoir paris, extends outdoor on its patio to become a haven of dining tranquility - La Terrasse. Discover our aromatic square, small spot of green in the heart of Paris. Executive Chef Gilles Grasteau and the Chef Barman Philippe Guidi, have been inspired by these aromatic herbs such as lavender, sage, thyme, rosemary, associating them on their menus.
The Tuileries Bar, located between place Vendôme and place de la Concorde, is a cosy and warm place proposing you all day long a wide selection of creative and refreshing cocktails and snacks. Among these snacks discover the various and original Club Sandwiches of the Tuileries Bar, imagined by Chef Gilles Grasteau. Many flavours are offered from duck to king crab. While you are savouring one of these Club Sandwich why won't you taste one of the surprising cocktails of the Chef barman Philippe Guidi. In the evening, the Tuileries Bar turns into an intimate escape from hectic Paris, ideal for sipping cocktails while lounging in one of our comfortable red armchairs. Enjoy the Tuileries Bar's 19th atmosphere and spirit provided by a collection of paintings and photographs of Opera dancers and Theater actors.
Spa The spa at rue de Castiglione introduces a Parisian interpretation of the Six Senses urban sanctuary. Perfectly integrated into its surroundings, the design draws on such elements as the Parisian sky line and Tuileries gardens and the natural and organic forms of Six Senses. The spa balances the elements of sky, earth and natural wood created in beautiful local craftsmanship.
Six Senses practitioners take guests on transformative sensory journeys, through many forms of holistic healing and sense of well-being; through options of body and beauty care, using products that are respectful and in harmony with the environment. They deliver treatments with serenity from a place of deep knowledge.
Let us help you create a spa journey to suit your individual needs and together we will ensure your spa time is effective and that you leave our hands feeling fully restored.
Meetings & Events The Westin Paris - Vendôme's meeting rooms are amongst the most beautiful ones in Paris, including three salons featuring impressive Second Empire-style frescos and the largest conference room with daylight in the city centre. Totaling 2,000 square meters (21,500 square feet), they can accommodateup to 2,000 delegates for prestigious events of all kinds, from fashion shows to theatrical productions and award ceremonies. High Speed Internet Access, spectacular lighting effects, video conferencing, and access to local and international satellite and cable channels. Whatever your technical specifications and requ