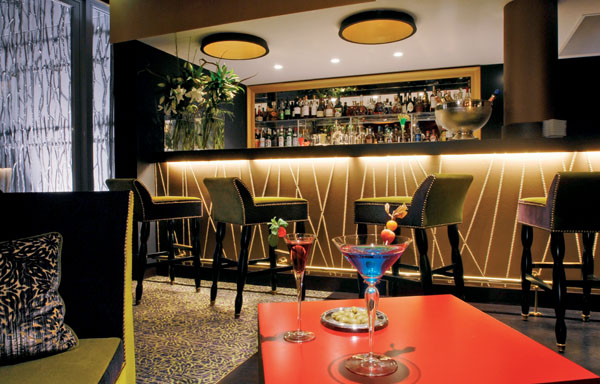 Hotels
Hotel Fouquet's Barriere offers guests 21st century luxury with a uniquely French flair. A re-creation of Haussmannian-era architecture, located in the most glamorous and elegant neighborhood of Paris, the hotel is stunning, eye-catching, and decorated in a palette of rich colors. An extraordinary creation. A juxtaposition of worlds. Unexpected shapes and materials' décor that is modern yet baroque.
Accommodations
One hundred and seven keys, forty of which open the doors to suites. An atmosphere that conveys luxury, privacy and originality. Each room offers breathtaking views of the Champs-Elysées, Avenue George V or the interior garden. A combination of gold, copper and ivory. A thick-pile, floral carpet spread throughout in warm beige tones. Canopies covered in striped velvet and damask curtains. Gold-leafed arches and columns. Shark-skin furniture. Damask curtains. Every room offers controlled atmospheric lighting, an entrance hall, separate bathrooms and toilet, work space and a brightly lit mahogany lined dressing room. The ultimate technology. Exceptional interior and exterior sound-proofing. Triple-glazed double windows. The acoustics of each room are thirty to forty per cent better than the required average.
Dining
Le Diane Restaurant
- Up a flight of marble stairs, the Diane restaurant is a veritable showcase. It sits within a circular space that opens onto a stylish terrace. Enchanting silvery grey, violet and gold tones. A world that is both traditional yet daringly modern. Silky velvet cushions. The shimmering caress of golden voile drapes. Floor lamps in keeping with those at Fouquet's. Gold leaf trees. Le Diane restaurant is a confection of refined pale colors and muted tones, accentuated with brilliant orchids and serves modern cuisine, that is rich in local produce, exclusive ingredients and is seasoned with an array of international flavors. Christofle silverware. Exclusive Royal Limoges painted China. Decorated with D, for Diane. Crystal glassware. Just forty seats.
Joy Gallery -Jacques Garcia's golden reinterpretation of the hotel's magnificent wall designed by Edouard François forms the entrance to the Joy Gallery. A totally new, totally Parisian, totally timeless venue open throughout the day. Black circular tables, low gilt cubes topped with splashes of red, seating and carpets in contrasting green and violet. Mahogany shelves, vases and shells. Delicious food. Breakfast, snacks, afternoon tea, dinner.

Le Lucien Bar -Cosy and magical, connected to the Joy Gallery- Rich choice of fine wines, champagnes, cocktails, whiskeys and more. Soft music.

The Fouquet's -Fouquet's restaurant was acquired by the Lucien Barriere Group in 1998 and fully redecorated by Jacques Garcia. It is now, more than ever before, an enduring symbol of French cultural life and is a reflection of the Lucien Barriere Group's and Desseigne-Barriere family's commitment to the world of the big screen. Fouquets 'à la carte'. The perfect alliance between a cuisine that is light and traditional, or inventive and refined. Its legendary brasserie, with its popular bar and sunny terrace.


U Spa Barriere
In the bustling city of lights, the property is also a sanctuary with its luxurious spa. The U Spa features one of the largest swimming pools, a unique aqua slimming-trail, seven treatment room, sauna, relaxation area and a cutting-edge fitness center. This luxurious 8,100sqft is a Member of Leading Spa. The promise for discerning travelers around the world. U Spa...U as in Unique. A place entirely dedicated to well-being. An entirely luxurious setting ideal for relaxation. In the heart of Paris, before or after you visit the museums, shops or join the throngs on the busy city streets, the U Spa provides a world of calm and pampering. The Spa and the new world of Terraké treatments are available to all Hotel Fouquet's Barriere guests.


Service
The letters B, C an