By Nicolle Monico Dec. 28th, 2016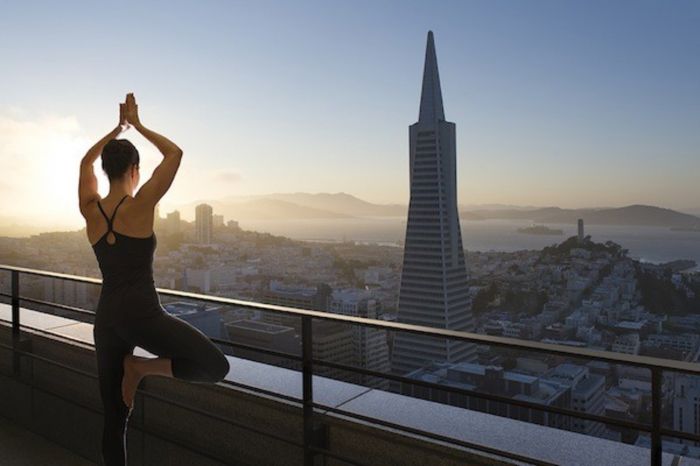 Photos Credit: Loews Regency San Francisco
Standing on the large terrace of Loews Regency San Francisco's Presidential Suite, it's easy to see why so many people love this city. Called a "bridge to bridge" view, guests of the suite can not only get a bird's eye view of SF, but can also catch a glimpse of both the Golden Gate and Bay Bridge. At night, SF looks almost magical with its twinkling lights shining across the bay, and through its soaring skyscrapers and iconic Victorian homes.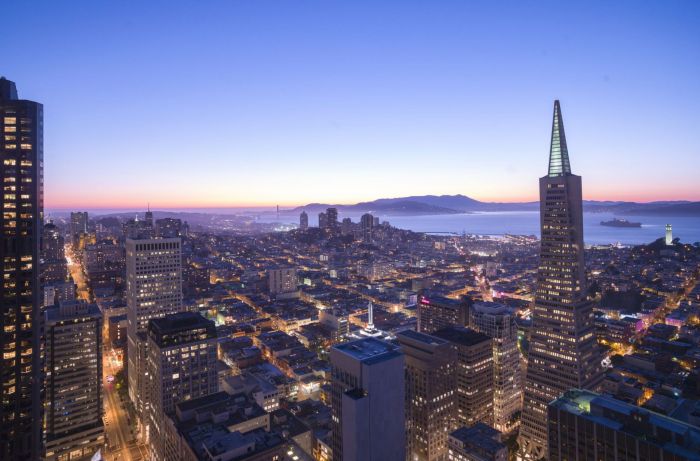 As the third tallest building in the city though, guests don't need to book the Presidential Suite to get the same picturesque sights. This is one of the many perks of choosing Loews as your home base during your City by the Bay adventure. The hotel is located in the Financial District, a short car ride away from Fisherman's Wharf, the Ferry Building, Union Square and AT&T Park. Occupying the top 11 floors of a 48-story building, the property boasts 148 guestrooms and seven suites, a 24-hour fitness center, an on-site restaurant and a spa.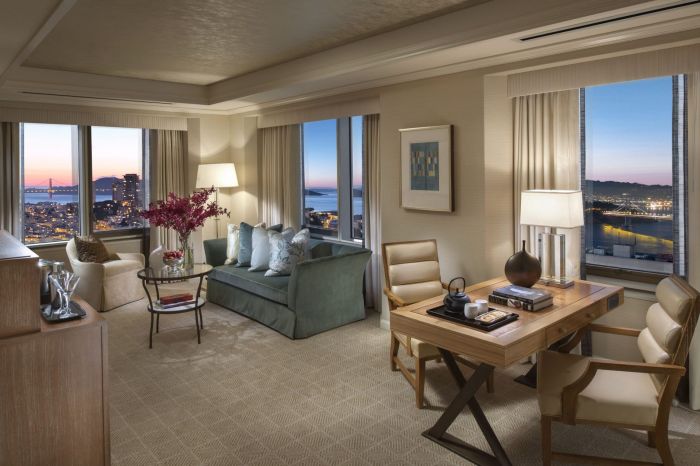 To ensure privacy and safety, in order to access guestroom levels, guests must insert their room key into elevators to get them to travel between floors. Ranging from 350-foot rooms to 2,000-square-foot suites, the accommodations all boast great city views and modern design. Inside every guestroom are large working desks, high-definition LCD TVs with digital content on demand, Italian marble bathrooms with shower/tub combinations, bathrobes and slippers, and complimentary Wi-Fi. Plus, the beds are so comfortable, you may want to ship one home with you after your trip.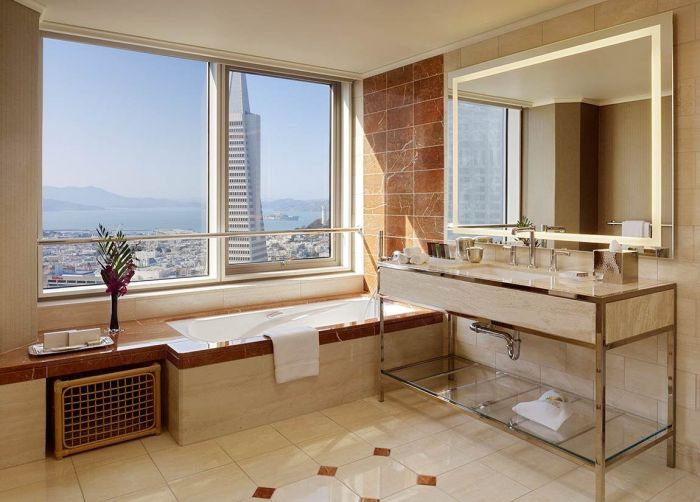 The spacious, 2,000-square-foot Presidential Suite is priced at around $5,580 a night and comes with a private terrace, a full wet bar, and a car with driver. Regardless of your room choice, however, all options feel both elegant and homey, providing a relaxing retreat in the busy city. Also, because of its location, the hotel is a great choice for business travelers (which makes up a major of its guests Monday through Friday). But thankfully, it doesn't have the bland, structured feel of a corporate hotel.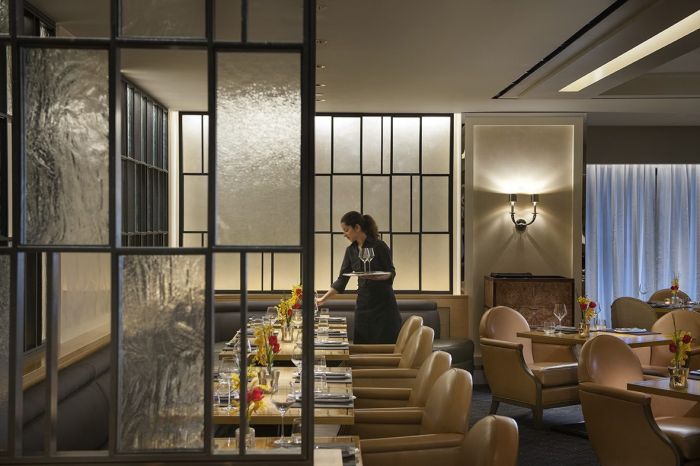 On the lobby level, is Brasserie S&P, the property's only dining venue. Although some could argue they prefer more restaurant options at their hotel, we would argue that if you're visiting a foodie city like San Francisco and not eating out, you're doing it wrong. But definitely make sure to stop into Brasserie S&P for a few meals. The restaurant is open for all meals and features dishes by Executive Chef Kevin Tanaka prepared with locally-grown ingredients. In the morning expect dishes such as Nutella French Toast and Huevos Rancheros which will pair well with a perfectly-spicy Bloody Mary. For dinner, you'll find options such as Hawaiian Ahi Tuna Tartare, a Cheese & Charcuterie plate, Grilled Sonoma Quail and a 28-Day, Dry-Aged New York Strip.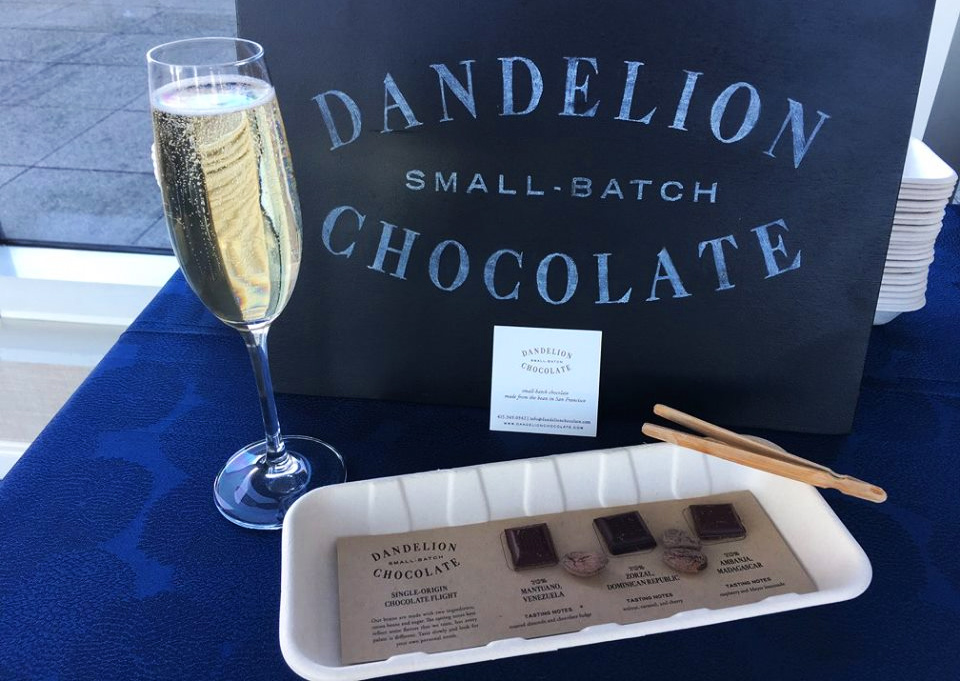 Adding on to its offerings, the property recently announced a series celebrating the city's unique culture with a monthly event for guests taking place on its 40th-story Sky Deck. Called "Culture in the Clouds," the affair takes places once a month on a Friday or Saturday evening from 5-6 p.m. and brings together some of the Bay's most notable people in industries such as fashion, theater, arts and food. During the evening, guests are treated to a hosted wine hour as they browse one-of-kind offerings and mingle with industry insiders.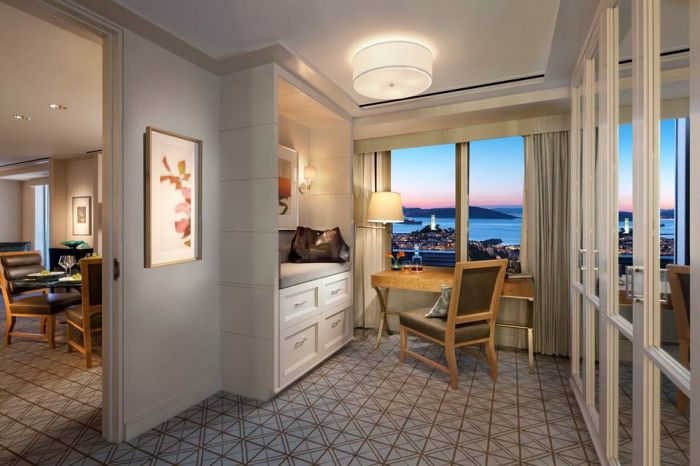 As a former SF local, it was nice to stay in a hotel that not only fit in well with the vibe of the city but also provided a restorative place to return to after a day of sightseeing. If you're looking for a party hotel with a bustling bar scene, this is probably not the property for you. The city has enough going on, the hotel knows better than to compete with the energetic pulse of San Francisco. But this is exactly what we loved about it, an upscale retreat with the right mix of relaxation and spirit.

Nicolle Monico
Nicolle is an award-winning writer and Travel Editor using her expertise in the industry to write about luxury travel around the world. You can find her daily searching the web for the latest trends, best new hotels and most beautiful destinations to visit and share with her readers. She's been featured on The Huffington Post, Hard Assets, AMD Entertainment and Remy Martin. In 2014, she was vo...(Read More)