By Carin von Berg May. 10th, 2019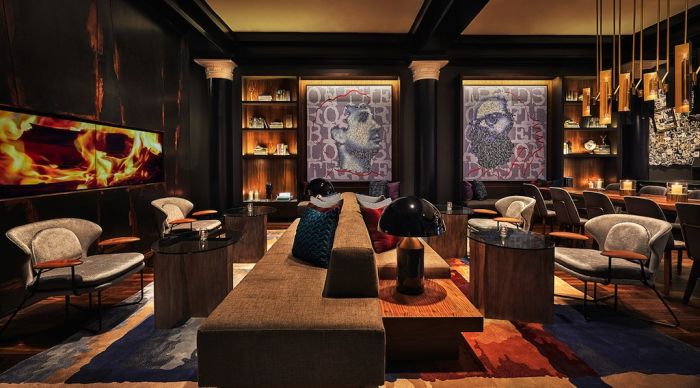 Hotel Emblem Lounge
Part of The Viceroy Urban Retreats, the recently opened Hotel Emblem ticks off all the boxes when it comes to delivering an eclectic décor, quirky amenities, a strong bar program, and an artisanal coffee shop in a luxury, boutique hotel setting. If the old-fashioned hotel formula of pool, stale breakfast buffet and nondescript guestroom overlooking parking lot doesn't do it for you, perhaps it's time you try experiential or immersion travel. Cue the Hotel Emblem: Where the ghosts of the Beat Generation rub shoulders with the ME generation.
"San Francisco is one of the most diverse and extraordinary cities in the country, and it is our goal with Hotel Emblem to reflect and tell the story of its distinct character and expressive history," said Brad Busby, General Manager. "Every detail, from the symbolic name choice to the dramatic, purposeful design, is an expression of the pioneering nature of the city and its people. We are honored to debut Hotel Emblem as one of the most authentic and dynamic new destinations for drinking, dining, culture and accommodations in San Francisco."
Guests are cheerfully greeted right away by hotel staff as they are whisked into the sleek and modern lobby that is decorated in a mid-century theme with an unconventional book-filled Writer's Alcove. The inventive design of Hotel Emblem's lobby and communal spaces was helmed by San Francisco-based design firm Wilson Ishihara. The design elements nod to Viceroy's signature warmth and elegance.
Hotel Emblem Lobby
Ingeniously designed around a Beat Generation theme, the Hotel Emblem is conveniently situated in Union Square's theater district just steps away from Nob Hill. You don't have to be a budding poet or starving artist to see the charm of Hotel Emblem. You simply have to be open to a refreshingly new and decidedly contemporary way of experiencing a hotel stay. Take a self-guided tour or book a Beat Generation tour through the hotel's Underground Concierge so you can see the vibrant city of San Francisco through the eyes of free-thinking writers Allen Ginsberg and Jack Kerouac. Our very knowledgeable and personable tour guide led us to the haunting and iconic Vesuvio Cafe on Columbus Avenue where we enjoyed Dark n Stormy cocktails as we learned about the rebellious and ground-breaking history of the Beat Poets and notable figures Bob Dylan and Francis Ford Coppola who were both frequent visitors.
Afterwards, we wandered by the City Lights Bookstore and were treated to Pinsa, a lighter, lower caloric and airier version of pizza, at the famous Barbara Pinseria & Cocktail Bar of San Francisco. If this wasn't enough, we indulged in a decadent bowl of Clam Chowder AND Cioppino at neighborhood favorite Sotto Mare Oysteria & Seafood before strolling by Caffe Trieste and Li Po Cocktail Lounge in Chinatown on our way back to the hotel.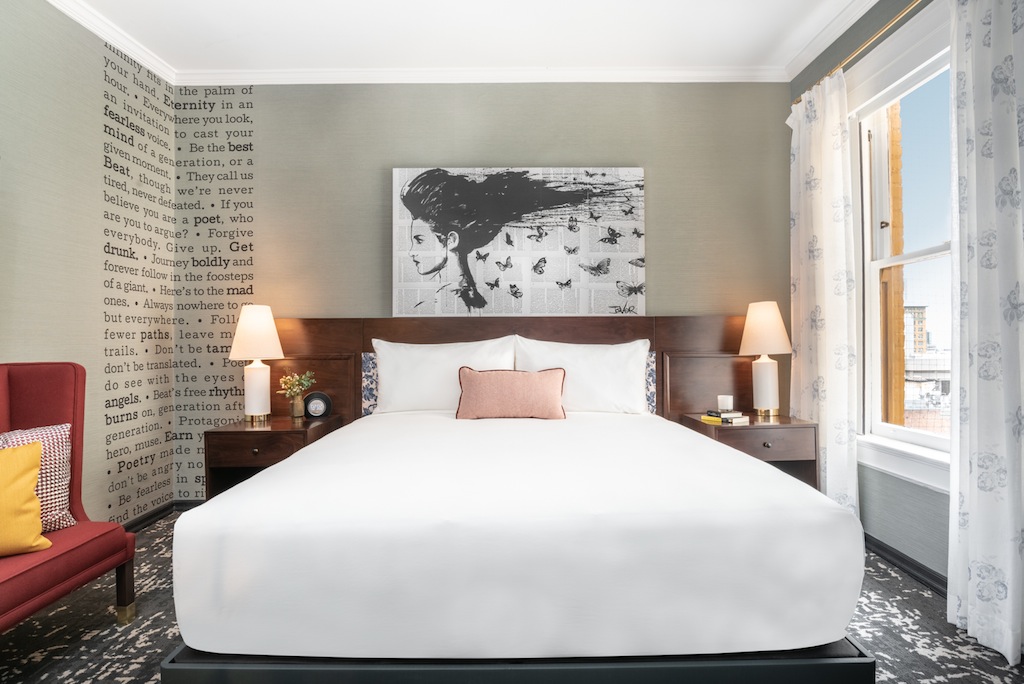 Hotel Emblem Deluxe King Room
After the long but enriching tour, you will be happy to retreat to your cheekily appointed room and perhaps you will be inspired to do some writing of your own at your writing desk complete with an inspiration board. Borrow one of the hotel's typewriters or a book from the Book Butler program that offers a collection of Beat Generation literature curated by the legendary City Lights Book Store.
Hatch Design Group masterfully revamped the Hotel Emblem's 96 guestrooms. The cozy rooms have vibrant but not overly stimulating artwork and pops of color mixed in the form of lush, velvet couches that contrast perfectly with the sage green walls and plush, dark carpet. The chic and well-lit bathrooms are playfully decorated with stencils by Ginsberg and have an oversized mirror, black granite vanity, ROIL by Amanda George hair care and body products and marbleized showers (some rooms have a tub/shower combo).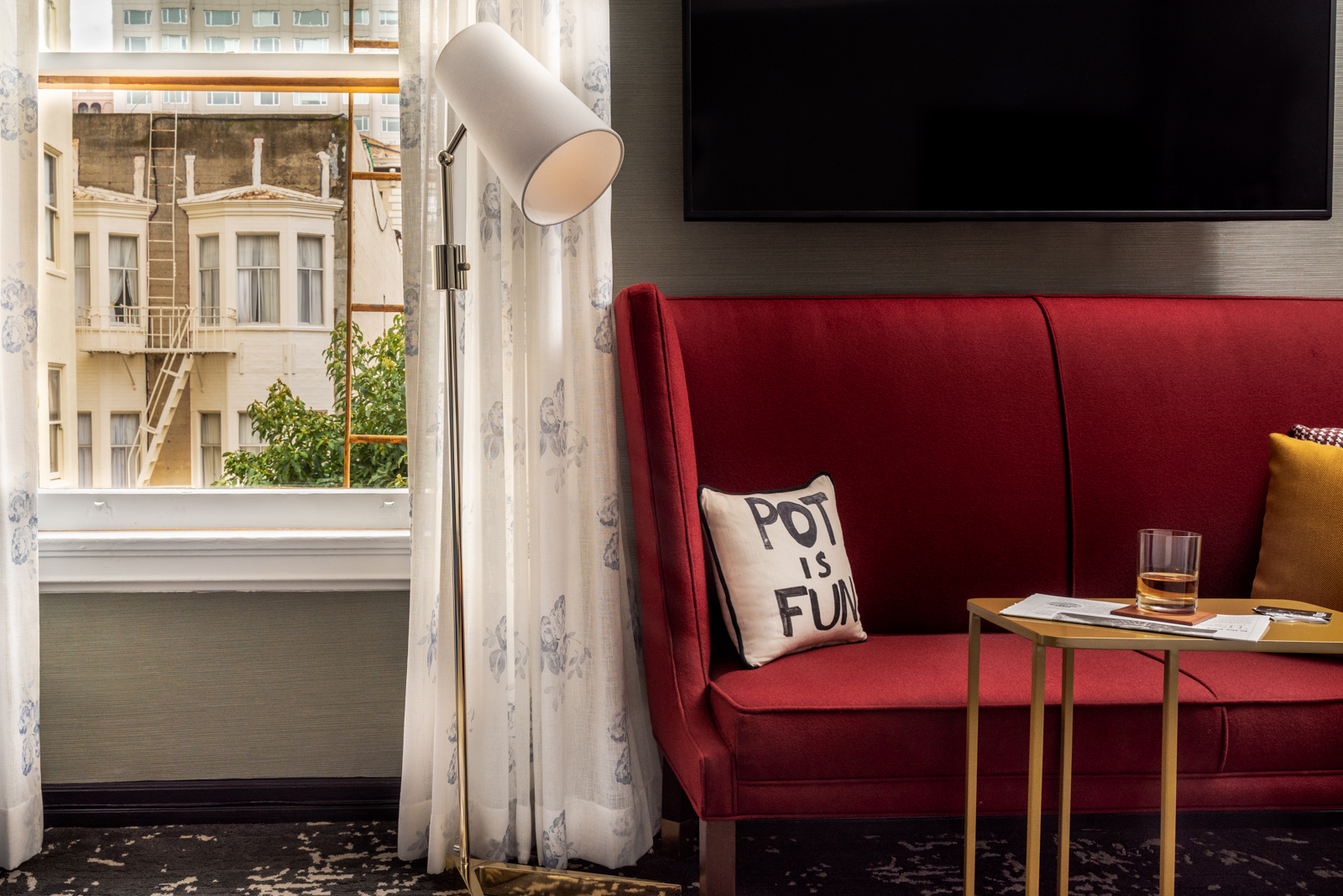 Hotel Emblem
Before or after dinner, grab a hand-crafted cocktail in the speakeasy-inspired Obscenity Bar & Lounge. Let resident cocktail guru Nora Frazier guide you through the menu that includes classics such as The Fleming (Vesper) and The Keroauc (Old Fashioned) in addition to signature offerings like the Mexico City Blues of mezcal, absinthe, lime, cardamon bitters, agave, cucumber and mint or the Howl of gin, cointreau, hibiscus infused syrup, raspberries and lime. If you're lucky, you may catch live jazz or a poetry slam. Spirited conversations are welcome as every nook and cranny of Hotel Emblem has been designed to provoke lively thought and discussion.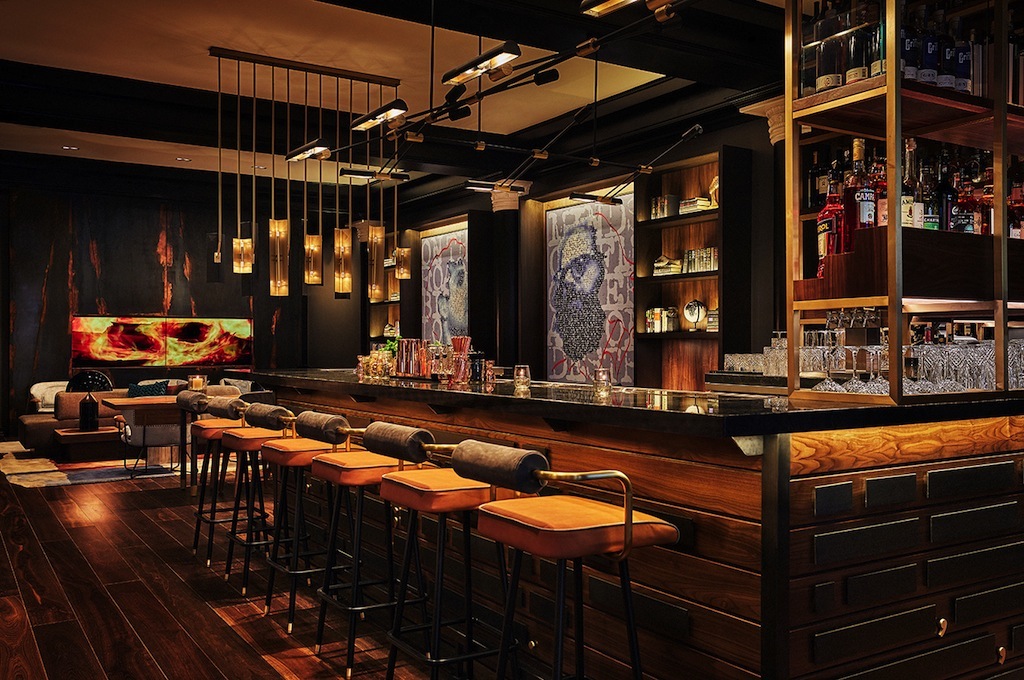 Obscenity Bar
Bluestone Lane coffee shop serves Australian inspired, artisinal coffee and progressive cafe fare. Must-haves are the to-die-for Avocado Toast with poached egg, Banana Toast with almond butter, cinnamon and honey and the super-healthy and hearty bowls. Bluestone Lane is open daily from 7:00am to 5:00pm.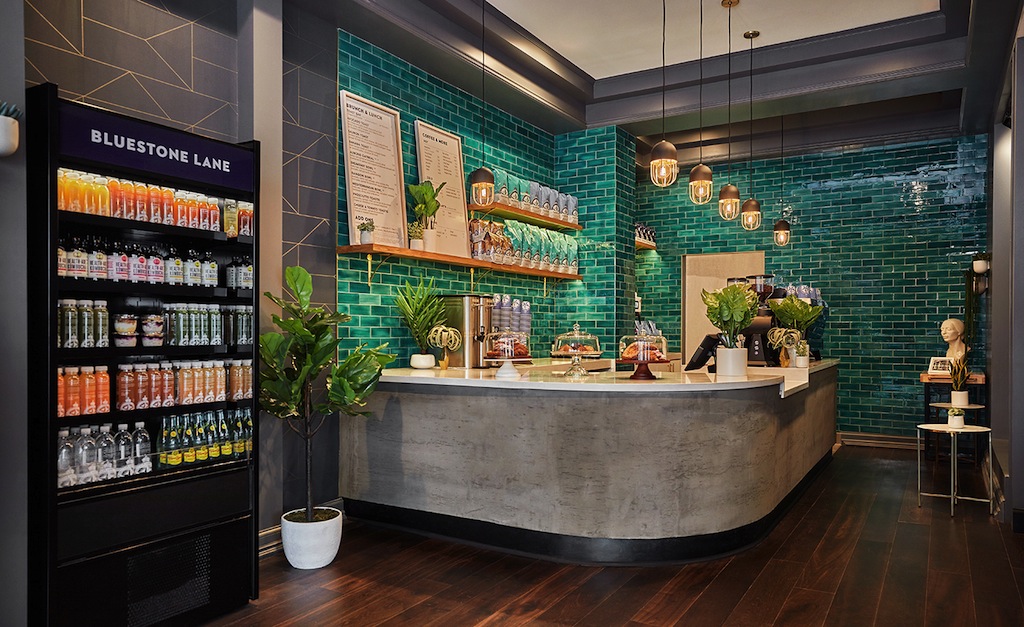 Bluestone Lane Cafe
Carin von Berg
Carin von Berg lives in Los Angeles and writes about food and wine, luxury travel, beauty, fashion and luxury products. She is the editor-in-chief of Luxlife Magazine and the author of the novel Gucci Girl. In her spare time, she works as a lifestyle model when she isn't traveling to some exotic, luxury destination or dining in the latest hot-spot. ...(Read More)