By Fran Endicott Miller Jul. 13th, 2022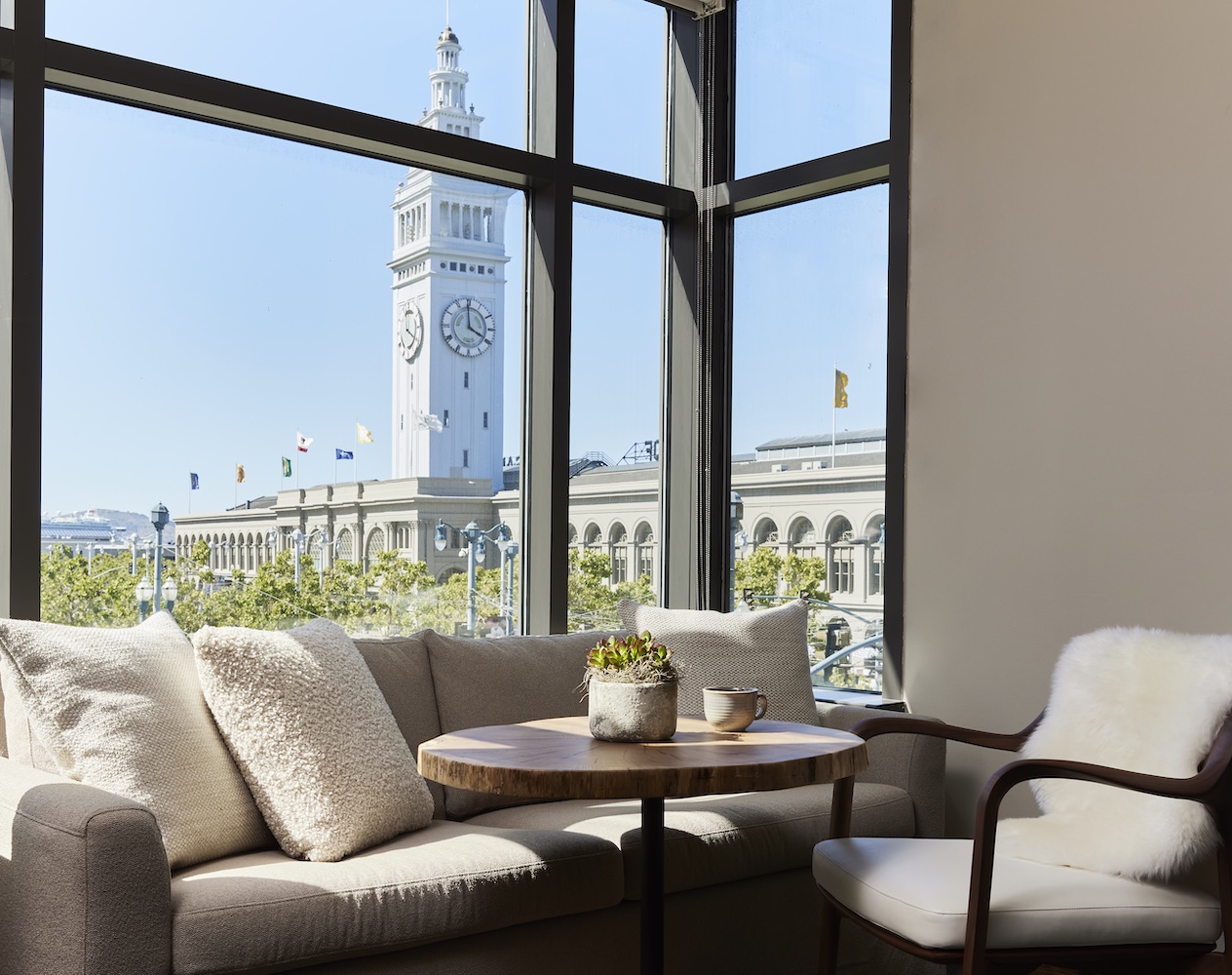 1 Hotel San Francisco Ferry Building View Room. Photo by Aubrie Pick
If we are to believe the edict that in real estate, location is everything, then San Francisco's newest hotel truly has it all. A waterfront setting and Bay Bridge views are enough to make 1 Hotel San Francisco a dream destination. But this luxury hotel brand takes things further with sumptuous design elements rooted in nature, posh amenities, and a restaurant that fully captures the essence of California cuisine.
Just one of a handful of 1 Hotels worldwide, the San Francisco locale is a beautiful example of the brand's environmental ethos. 1 Hotels launched in 2015 with the opening of exclusive properties in Miami's South beach and Manhattan's Central Park, followed by Brooklyn, West Hollywood, Sanya (China), and Toronto. (Several more openings are planned soon.) The brand is inspired by a simple idea: those that travel the world should also care about it. 1 Hotels upholds this vision by channeling nature through design and culinary partnerships while connecting with the local community and taking sustainable steps to make a difference.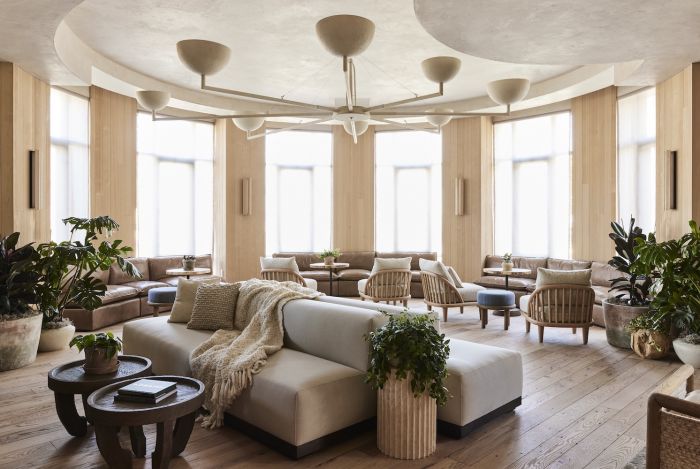 1 Hotel San Francisco East Lounge. Photo by Aubrie Pick
In San Francisco, this translates to biophilic design - the concept of creating a connection to nature via buildings and landscapes. In its communal spaces, the hotel's neutral toned interiors are infused with native greenery, exposed brick, warm terra cotta accents, and commissioned pieces by local artists. The lobby floor is made of reclaimed barn wood, and elevator landings and corridors utilize sustainably salvaged, reclaimed redwood from the original San Francisco Bay Bridge. All hand-loomed rugs and carpets are created from natural plant fibers and recyclable wool. The vibe is calm and soothing – a sanctuary within the hustle and bustle just outside the front door.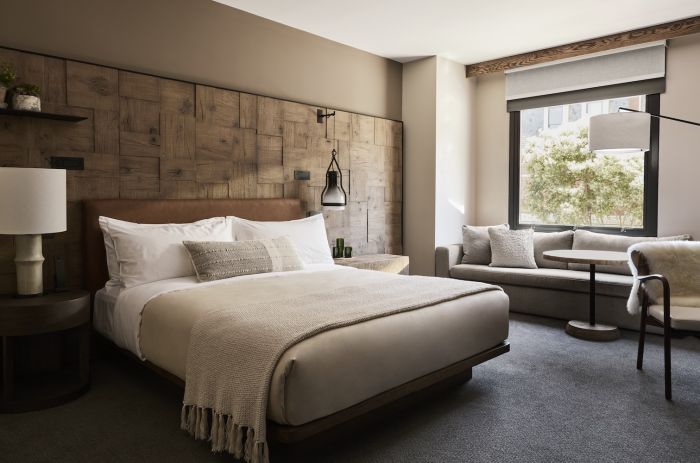 1 Hotel San Francisco King Room. Photo by Aubrie Pick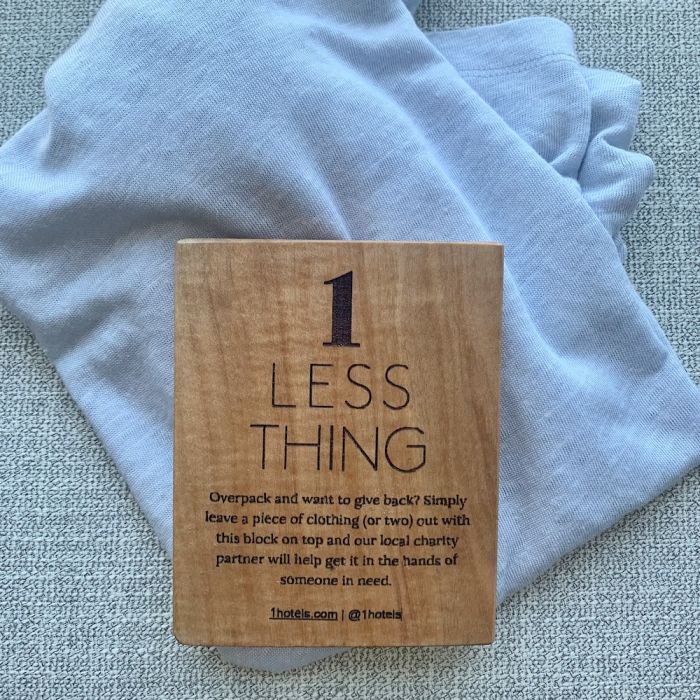 The 1 Less Thing Program Invites Guests to Give Back. Photo by Fran Miller
That sense of calm is heightened within the 186 rooms and 14 suites, many of which feature panoramic bay and bridge views. (8th and 5th-floor terraces allow for al fresco viewing of the famous San Francisco fog and its ingress and egress.) Stocked mini bars feature natural and organic treats, and cozy, sweatshirt-like hooded robes wrap guests in plush softness. The 1 Less Thing program invites guests to lighten their load by leaving behind a clothing item that will be donated to a local charity partner.
The hotel's restaurant, Terrene, also benefits from the 'location' real estate precept. Featuring an expansive bay-facing outdoor patio as well as a stunningly beautiful dining room with a green ceiling adorned with preserved plants, Terrene draws inspiration from the region's legacy of culinary innovation. The menu features an abundance of local, fresh, organic, and sustainably-sourced natural ingredients, some of which grow on the rooftop chef's garden and are used in captivatingly creative cocktails, such as the Napa Dreaming *S* (Hangar 1 Buddha's Hand Citron Vodka, lemon, fresh sage & floral white wine syrup, Napa Cab float, Buzz Button dust, and pink peppercorn) from the '50 Mile Highlight' menu that features artisanal spirits and ingredients sourced within 50 miles. Don't miss Terrene's selection of nutritious and delicious smoothies as well as the freshly baked cookies.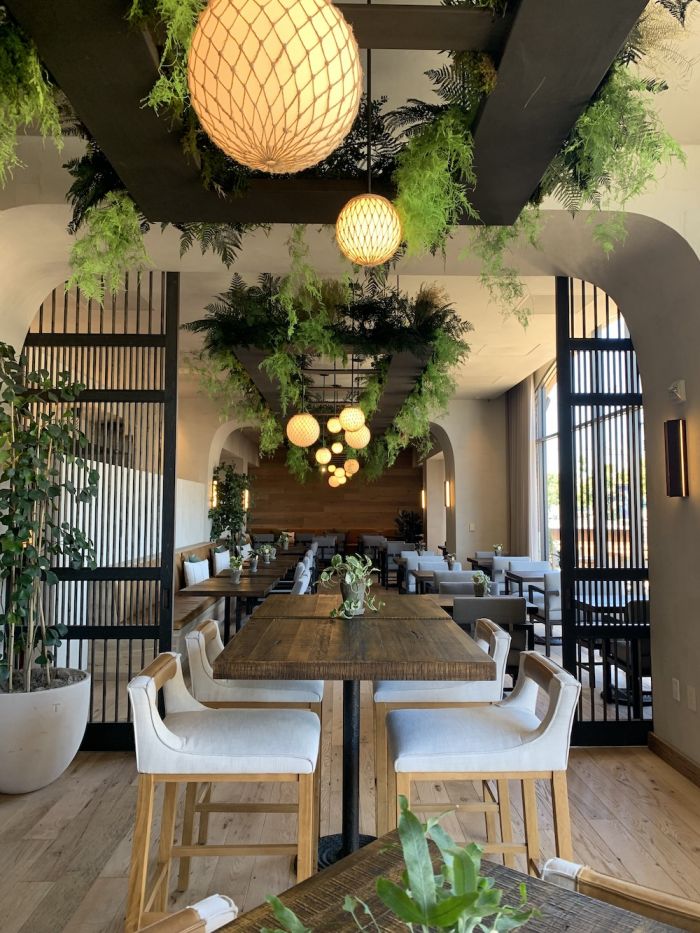 1 Hotel San Francisco Terrene Dining Room. Photo by Fran Miller
Finally, the hotel's full-service Bamford Wellness Spa features bespoke treatments using Carole Bamford's organic body and skincare products. Mind and Movement programs include complimentary Wednesday and Saturday yoga and fitness classes, and the 24/7 The Field House fitness studio features state-of-the-art weight training and cardio equipment, including Peloton bikes. Guests can borrow one of the hotel's electric bikes to tour the city, and they can also enjoy the Audi Electric Vehicle Experience by taking advantage of the house car or test driving the Audi e-tron, the official electric vehicle of 1 Hotel San Francisco.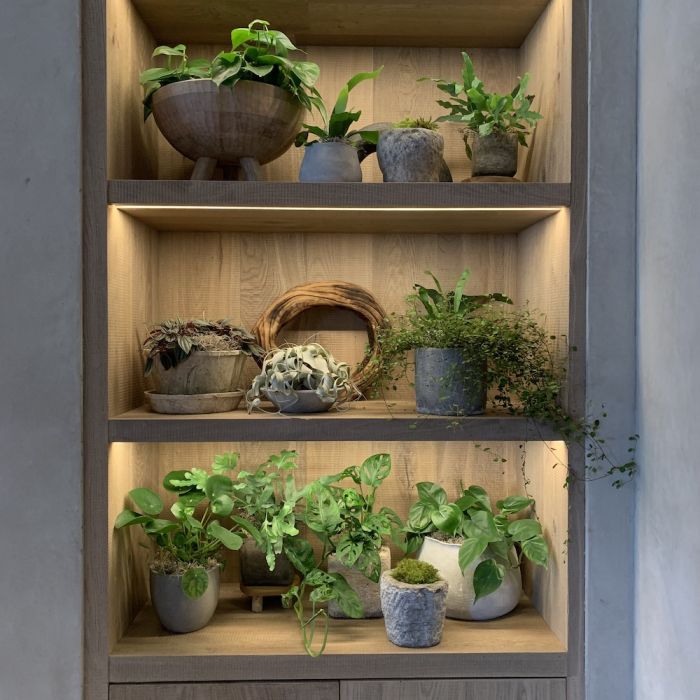 1 Hotel San Francisco Lobby Decor. Photo by Fran Miller
'1 Hotel San Francisco is an inspiring example of what our brand stands for," said 1 Hotels Founder and CEO & Chairman of Starwood Capital Group Barry Sternlicht. "It is a tangible extension of our vision and purpose: to place holistic wellness at the forefront of our operations for our guests, local communities, and the planet. This vibrant and eclectic city has long been at the forefront of driving sustainable change in architecture and design. Inspired by that rich history, our goal is to infuse an urban oasis with the natural beauty of the Northern California landscape and the sensibility of this dynamic community."
8 Mission Street, San Francisco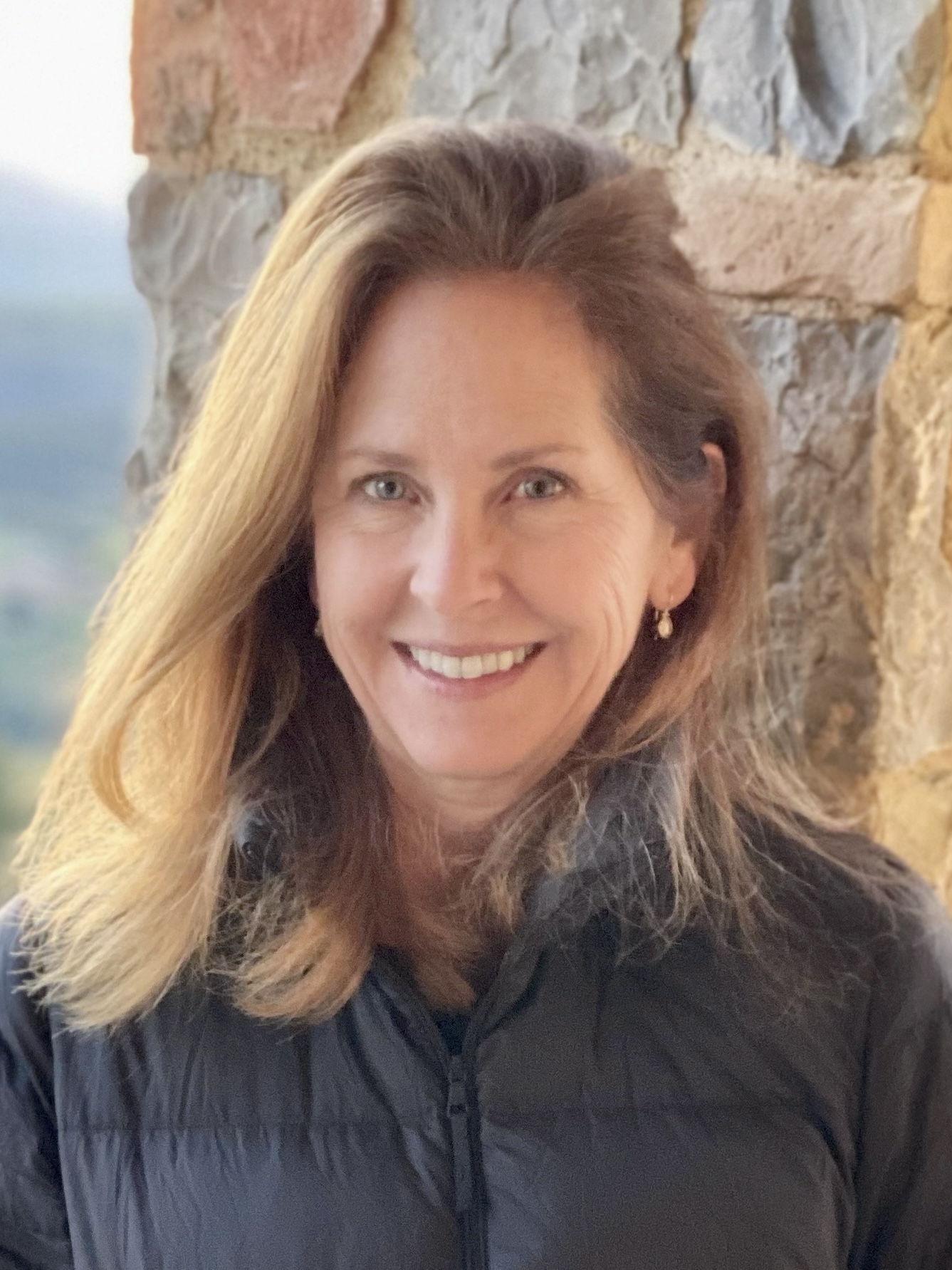 Fran Endicott Miller
Fran Endicott Miller is a luxury focused freelance feature and travel writer for a variety of lifestyle publications and websites, editor-at-large for JustLuxe.com, senior contributor to Napa Valley Life Magazine, and a California editor for luxury travel concierge service Essentialist, specializing in the Napa Valley. Prior to her journalism career she held positions in the fields of politics, te...(Read More)